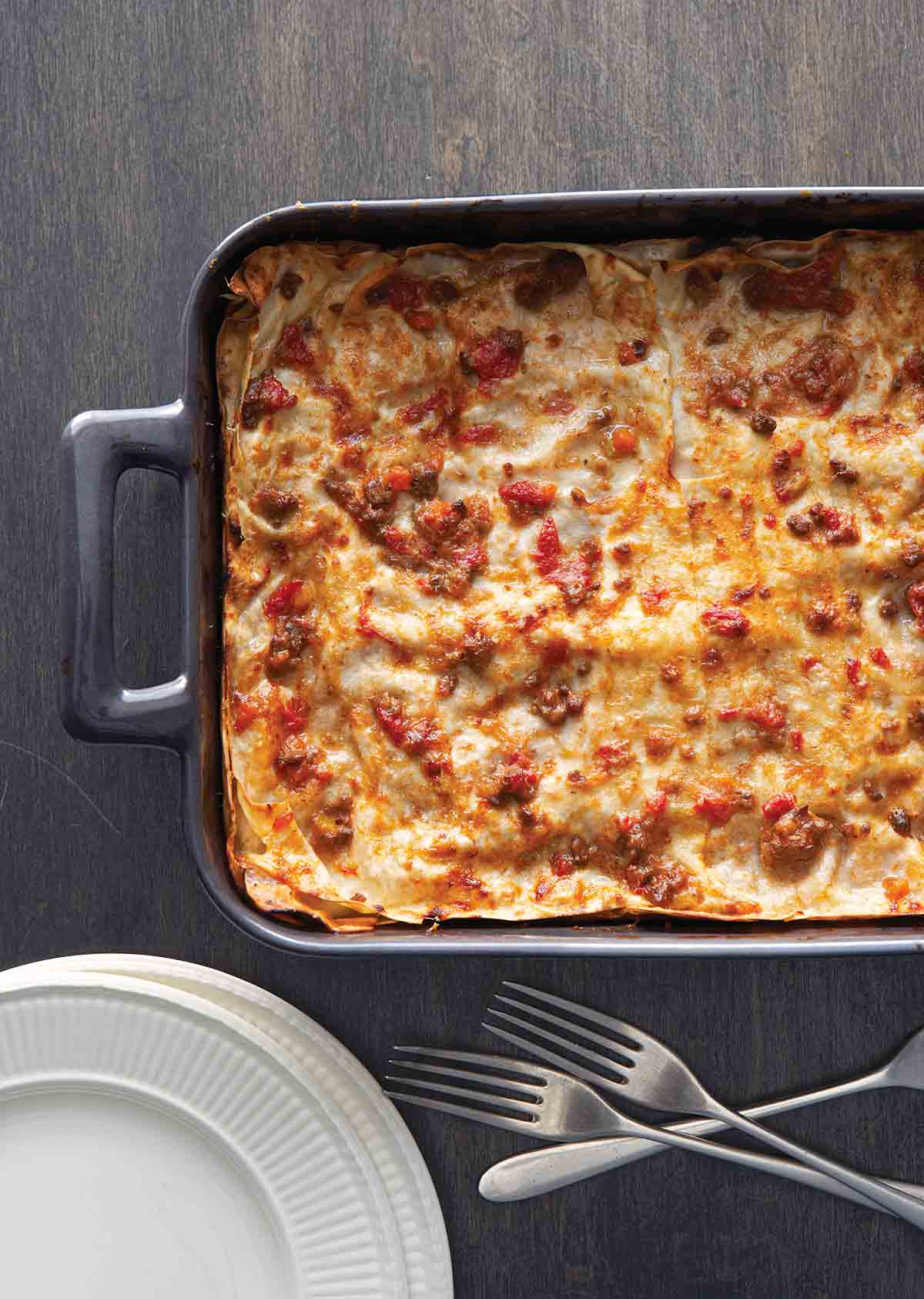 I've always looked upon making my own pasta as a virtuous endeavor. Like tithing, volunteering, or rotating my tires on a regular basis. So when I told The One I was going to make Giuliano's lasagne with homemade noodles, he gave me a very impressed nod of the head. I liked that. He was even more intrigued when I hauled out all my new KitchenAid rollers and cutters along with a ruler, broomstick, and 00 flour. Clearly I meant business.
This recipe is a cinch to follow. Guiliano writes that you can make it over two days, but if you're organized (which I'm not), you can make in an afternoon—which I did. My only problem was that I had to stop rolling the dough two settings before the narrowest setting that the recipe specified because the dough was stretching too thin. Thinking I perhaps made a mistake and had already rolled it into pasta oblivion (after all, I was picturing those hefty-hefty, thick-as-plywood lasagna noodles of days gone by), I posted a picture on Facebook in the hopes of getting feedback. And who should reply? None other than the doyen of Italian cooking—Marcella Hazan. She wrote, "Nice touch David, to lay out the pasta on checked fabric to display its transparency. Homemade egg pasta is at the top of the pasta pyramid, and homemade lasagne alla Bolognese commands the very peak. Why have so few refused to make that ascent? Congrats, D.L." As you can imagine, I was practically vibrating with pride. Read more "Lasagne Bolognese" »
On the fringes of Lisbon, in the picturesque section of Belém, are two shrines that every year draw hundreds of thousands of pilgrims. The more imposing is the Mosteiro dos Jerónimos, the Manueline-style monastery that contains the tombs of venerated kings and queens, Vasco da Gama, and the national poet, Luís de Camões.
Nearby is a pastry shop called the Antiga Confeitaria de Belém, home to what is arguably the Holy Grail of Portuguese sweets: pastéis de Belém. The recipe for which has been a secret for centuries. Having been raised in a Portuguese-Catholic family, I looked at the monastery, then at the confeitaria, and joined my fellow sinners in the happier-looking line in front of the shop.
This adoration of the pastéis is easy to understand after you've taken a bite. The confection's shell is made from massa folhada, Portugal's equivalent to France's puff pastry. It spirals up, creating a nest of hundreds of crisp layers. Inside is a luscious, warm custard. Rarely do a dozen make it home intact.
The proximity of the monastery to the bakery is no accident. Until the 19th century, monasteries were Portugal's research, trade, horticultural, and confectionary epicenters, around which rose small businesses. Originally, lay bakers made the pastéis behind the Jerónimos walls and sold them to the public.
Read more

"Pastéis de Belém–The World's First Pastéis de Nata"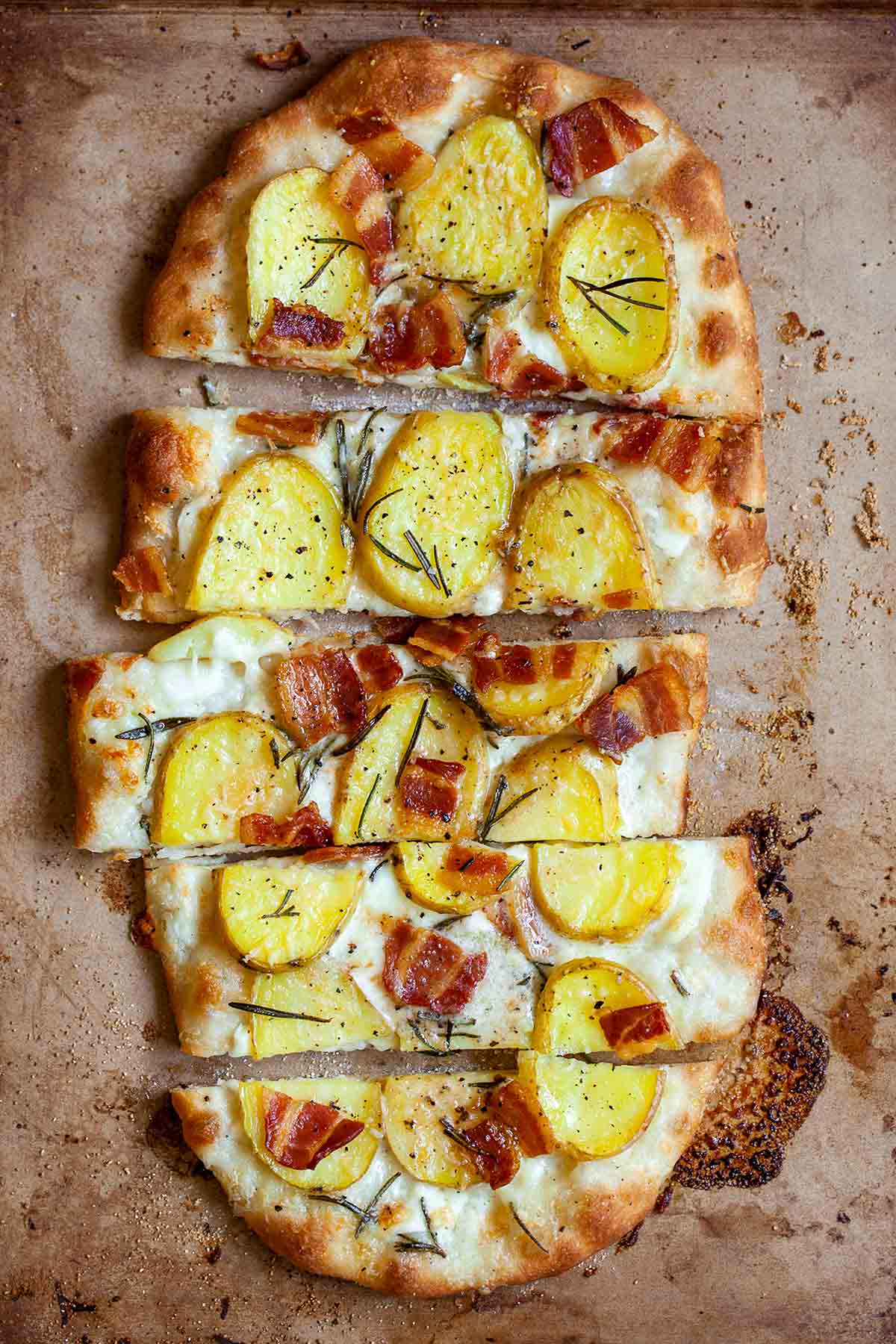 I am not ashamed to admit it publicly: I'm a Solanum tuberosum freak. Yep. Lock me up and throw away the key to the pantry. In other words, I'm a potato fanatic. I wave my freak flag high and proud. I worship all sizes and shapes of this seductive tuber. In fact, so deep goes my freakiness for the starchy little fellows that I have, on many occasions, eaten for dinner nothing but a big-ass bowl of mashed potatoes. (And, yes, I'm well aware of all the big-ass references you're probably thinking of that can be inserted here, but I'd happily risk your sniggers than be less than my true, unadulterated self.)
Read more

"Potato Bacon Pizza"