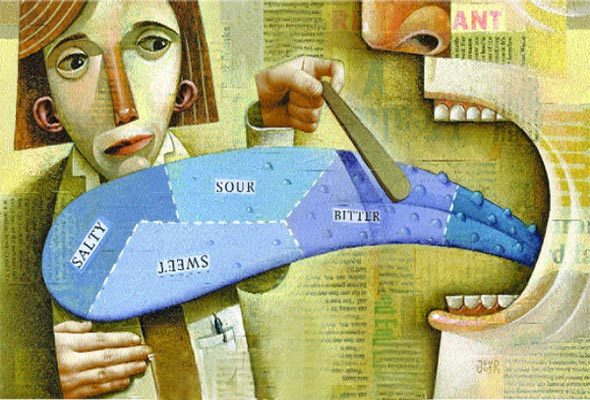 Originally published January 9, 2006
Being a supertaster was the last thing on my mind when my dentist said, "Don't eat anything for the next few hours," snapping off a pair of latex gloves and dropping them into the trash. "You could bite your cheek or tongue. Could be nasty." I'd been white-knuckling it in the chair for almost an hour because I had to get a filling regrouted. Owing to a pain threshold of a third grader, I insisted he dope me up as much as possible. The result was my mouth was numb from the divot of my upper lip all the way back to my right ear. I rubbed my fingers across the side of my face; it felt as if I were touching the stubble of an unkempt stranger. "Remember —" he called after me as I walked out of the office.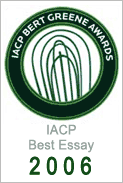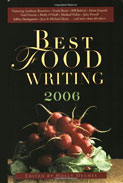 "No eating, got it," I said and headed to my favorite burger joint. I've downed hundreds of thousands of meals in my life without incident, I reasoned, I'm sure I can manage another.
As I took a bite of my cheeseburger, I experienced that curious post-dental sensation, as if I'd lost muscle control on the side of my face. I couldn't tell if the food was being demurely chewed or was dribbling down the doughy-feeling chin of that stubbled stranger. But an even curiouser thing happened: On the numbed side of my mouth, I couldn't taste anything. It was as if my taste buds had been Novocained, too. I wasn't about to let a little anesthesia keep me down—there was food at stake here—but after a few more bites, I gave up. The anxiety of wondering if I looked like a slobbering Saint Bernard proved too much, and I headed home. Read more "Tales of a Supertaster" »
The One and I wanted to wish you all a very Merry Christmas and a Happy New Year, so we got up early to make a video. Why we didn't think to do this last week, when we weren't rushed, I'll never know. But at least you can see the snowfall through the windows on this white Christmas. Read more "The Ho of Christmas Morning" »
Originally published December 24, 2003. 
I've been a haunted man for 13 years, and I place the blame squarely on Tiny Tim's crooked little shoulders. It was December 1990, and I had just finished rereading A Christmas Carol. Inspired by Tiny's exultant prayer, "God bless us every one," I decided that I, too, would have a proper Christmas dinner. The next day I marched into my local butcher shop in Brooklyn and ordered a goose. Luigi, a short, rotund man who had to stand on a milk crate to talk to his customers, leaned over the meat case and cocked an eyebrow: "Have you ever made a goose before?"
"Puh-lease," I replied, even though the only experience I had cooking fowl was microwaving Swanson turkey dinners. "Plenty of times."
"What size do you want?" he asked, obviously trying to entrap me. But I outwitted him.
"Oh, the usual."
When I returned several days later to collect my bird, Luigi instructed me in the ways of goose cookery. While he babbled on about something to do with pricking the skin and draining the fat, I imagined myself parading into the dining room with a bird so splendiferous, my guests couldn't help but break into a chorus of "God Rest Ye Merry Gentlemen." Read more "The Goose of Christmas Past" »