Apple cider steamed mussels are a no-brainer for the autumn. Plump mussels are steamed with cider, a bit of cream, and onions. And, of course, you need frites on the side, all the better to sop up that creamy apple-infused cooking liquid.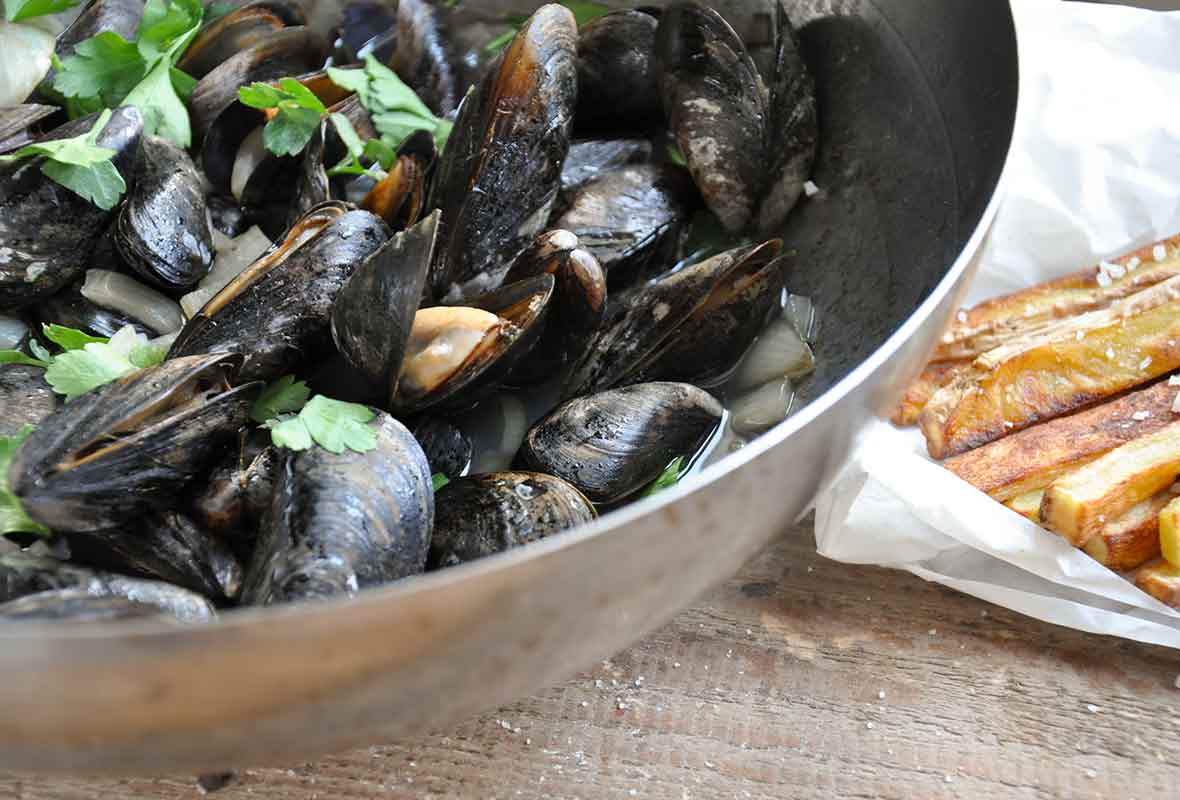 Ever notice how everything sounds better in French? Take this recipe title. It's utilitarian but, to be frank, it's sorta clunky. Yet in its original French, it's moules au cidre et frites maison. Wrap your lips around that. And then wrap your palate around this recipe. It draws on the classic ingredients of the Normandy region along the coast. And we're quite fond of its French accent.–Renee Schettler Rossi
Apple Cider Steamed Mussels
Quick Glance
20 M
45 M

Serves 4 to 6
Print Recipe
Ingredients
For the frites

5 large russet potatoes, scrubbed and peeled or unpeeled

Mild olive oil, for the baking sheet

Salt

For the mussels

4 to 6 pounds mussels

2 tablespoons extra virgin olive oil

1 large yellow onion, diced (about 1 cup)

2 cups dry hard cider*

Pinch salt

4 tablespoons fresh parsley, chopped

Splash heavy cream (optional)
Directions
Make the frites

1. Preheat the oven to 425°F (220°C).

2. Julienne the potatoes into large sticks—these should be thicker than shoestring fries and approximately the size of fast food french fries. Make certain they're all uniform in size. Toss the potato sticks in a large bowl with enough oil to coat them evenly.

3. Use a paper towel with a dab of vegetable oil to coat a baking sheet, and then spread the potatoes in a single layer that's not terribly crowded. If you have too many potatoes for a single layer, set the aside for a second batch. Sprinkle the frites with salt and bake for 30 minutes, flipping them after 15 minutes to bake evenly on both sides. Remove and let cool slightly before serving.

Make the mussels

4. Meanwhile, thoroughly wash and de-beard the mussels by scrubbing or cutting away any threads that remain. Remove any mussels that are already open or have broken shells.

5. In a large pot, heat the olive oil on medium heat and sauté onion until transparent, about 5 minutes. Stir in the mussels and toss until lightly coated in oil. Add the cider and salt and cover the pot. Increase the temperature to medium-high and cook until the shells open, about 8 minutes. Discard any mussels that do not open.

Assemble everything

6. Divvy the mussels among individual bowls. Garnish with fresh parsley and serve with the fries on the side and extra empty bowls for the discarded shells.
*Hard Cider Note
There's apple cider and there's hard cider. And it's crucial that you understand the difference when you make this recipe. The former is all apple and spice and innocence that you sip, warm or cold, and make fall memories of apple picking and hay rides and fall football games. The latter is the boozy and tipsy-inducing variant on apple cider. It's the bad influence, if you will. It's crisp and either slightly sweet or somewhat dry and slightly effervescent and a real refined riff on the former. Don't confuse the two in this recipe. Make no mistake, you want the boozy sort for these moules frites. And you want a cider that's dry—that is to say, not sweet. Your local selection will vary depending on your location, but here's a look at some of the best hard ciders available.
Apple Cider Steamed Mussels Recipe © 2015 . Photo © 2015 Nicholas Ball. All rights reserved. All recipes and photos used with permission of the publisher.
If you make this recipe, snap a photo and hashtag it #LeitesCulinaria. We'd love to see your creations on Instagram, Facebook, and Twitter.