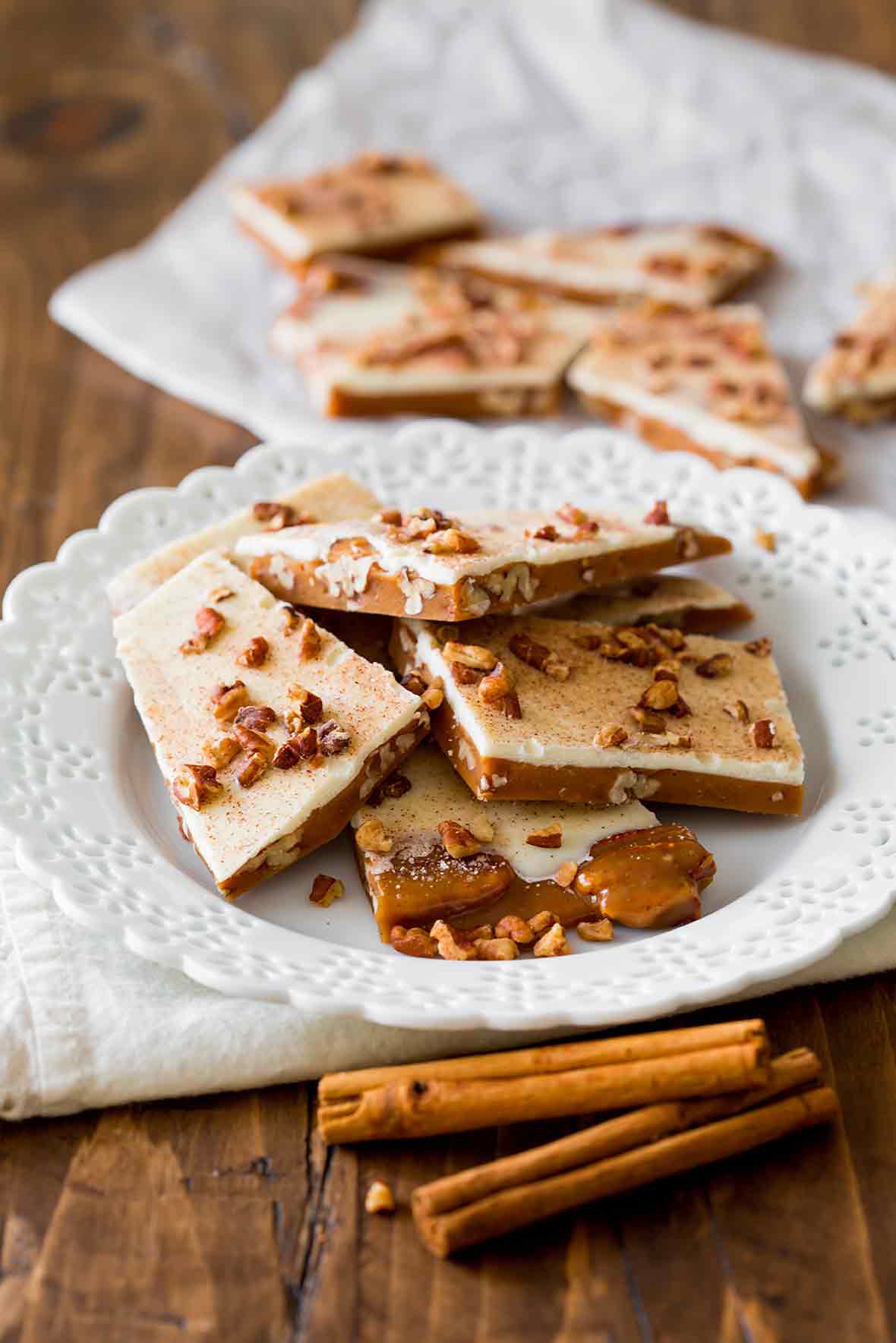 Cookbook author and candy sorceress Sally McKenney openly asserts in her book Sally's Candy Addiction that she's part of the pumpkin spice craze that commences sometime in September and doesn't stop until Christmas. Even though there's no actual pumpkin in this pumpkin spice toffee, you still get a hit of that familiar autumnal pumpkin spice flavor. And there's nothing wrong with that.–Renee Schettler Rossi
Random Acts Of Kindness Note
Remember back in the '90s when seemingly half the population had slapped bumper stickers that read "Random Acts Of Kindness" on their beat-up Volkswagons? We think of those bumper stickers—and the underlying sentiment—whenever we make this pumpkin spice toffee. The thought process starts with what a lovely gift this pumpkin spice toffee would make. That leads us to make a mental note to stir together an extra batch for our friends and neighbors next chance we get. Then we start thinking how the toffee never fails to put us in a lovely mood. That leads us to spend a considerable amount of time pondering whether the toffee has the same effect on others? Which gets us thinking that perhaps we should test this theory. And that leads us to imagining what it would be like to gift batches of this toffee to the elderly little lady three houses down who likes to chat, the homeless guy asking for change just outside the grocery store, the twenty-something standing too close to the curb who just got splashed head to toe by a taxi careening through a rain puddle, and, you know, others who could use some random acts of kindness. Anyways, that's what we think when we make this toffee. What do you think when you make this toffee? Let us know in a comment below.
Pumpkin Spice Toffee
This pumpkin spice toffee is made with pecans, sugar, butter, white chocolate, pumpkin pie spice, and lotsa love. An easy yet impressive food gift that'll have people clamoring for more.
Equipment
Large baking sheet; 12-by-17-inch (30-by-43-centimeter) jelly roll pan or a similar-sized rimmed baking sheet; pastry brush; candy or deep-fry thermometer
Ingredients
1 1/2

cups

raw unsalted pecan halves

,

coarsely chopped

2

sticks (8 oz)

unsalted butter

,

cubed, plus more for the baking sheet

1/2

cup

warm water

1

cup plus 2 tablespoons

granulated sugar

1

teaspoon

salt

1

teaspoon

light corn syrup

1

teaspoon

store-bought or pumpkin pie spice

6

ounces

white chocolate

,

broken into small pieces

1/2

teaspoon

ground cinnamon
Instructions
Preheat the oven to 300°F (150°C). Line a large baking sheet with parchment paper and line a 12-by-17 inch (30-by-43 centimeter) jelly roll pan with a silicone baking mat or lightly butter it.

Spread the chopped pecans on the parchment-lined baking sheet and toast for 7 to 8 minutes, or until very lightly browned. Transfer the pecans to a plate.

In a 3-quart (2.8-liter) heavy-duty saucepan over medium heat, melt the cubed butter, stirring about every 2 minutes with a wooden spoon. Once the butter has melted, add the water, 1 cup (200 grams) sugar, salt, and corn syrup and stir constantly until the sugar dissolves. Swap the spoon for a water-moistened pastry brush and brush down the sides of the pan. Attach a candy or deep-frying thermometer to the pan, making sure not to let the tip touch the bottom.

Once the sugar has dissolved, bring the mixture to a boil. Rapid bubbles, a thicker consistency, and a slightly darker color will form around 235°F (113°C). Continue to cook, stirring once every minute or so, until the candy reaches the soft crack stage or 290°F (143°C).

Remove the pan from the heat and stir in the pumpkin pie spice and 1 cup toasted pecans. Immediately pour the toffee onto the prepared jelly roll pan and smooth it into an even layer with a wooden spoon. The toffee should be thick and not spread all the way to the edges of the pan. Let the toffee cool for 5 minutes, then sprinkle the top with the white chocolate. Wait for the white chocolate to soften and melt from the heat of the toffee, then spread the melted white chocolate into an even layer using a rubber spatula or the back of a spoon. Sprinkle the top with the remaining toasted pecans.

Quickly mix the cinnamon and remaining 2 tablespoons (25 grams) sugar together in a small bowl. Sprinkle on top of the pecans. Refrigerate for 20 minutes, or until the white chocolate has set.

When the toffee has set, remove it from the refrigerator. Cut it into pieces using a sharp knife or break it into pieces as large or small as you desire. (You can store the toffee in an airtight container at room temperature in a cool, dry place for up to 2 weeks or you can freeze it for up to 3 months and thaw it overnight in the refrigerator before serving.)
Nutrition
Serving:
1
portion
Calories:
181
kcal
Carbohydrates:
21
g
Protein:
2
g
Fat:
11
g
Saturated Fat:
3
g
Polyunsaturated Fat:
5
g
Monounsaturated Fat:
2
g
Trans Fat:
1
g
Cholesterol:
3
mg
Sodium:
156
mg
Potassium:
80
mg
Fiber:
1
g
Sugar:
20
g
Vitamin A:
9
IU
Vitamin C:
1
mg
Calcium:
34
mg
Iron:
1
mg
Nutrition information is automatically calculated, so should only be used as an approximation.
Recipe © 2015 Sally McKenney. Photo © 2015 Sally McKenney. All rights reserved.
---