Champagne truffles—made with bittersweet chocolate, cream, brandy, and, natch, bubbly—are homemade orbs of dessert spectacularness gilded in ganache. A perfect food gift or cocktail party conversation starter.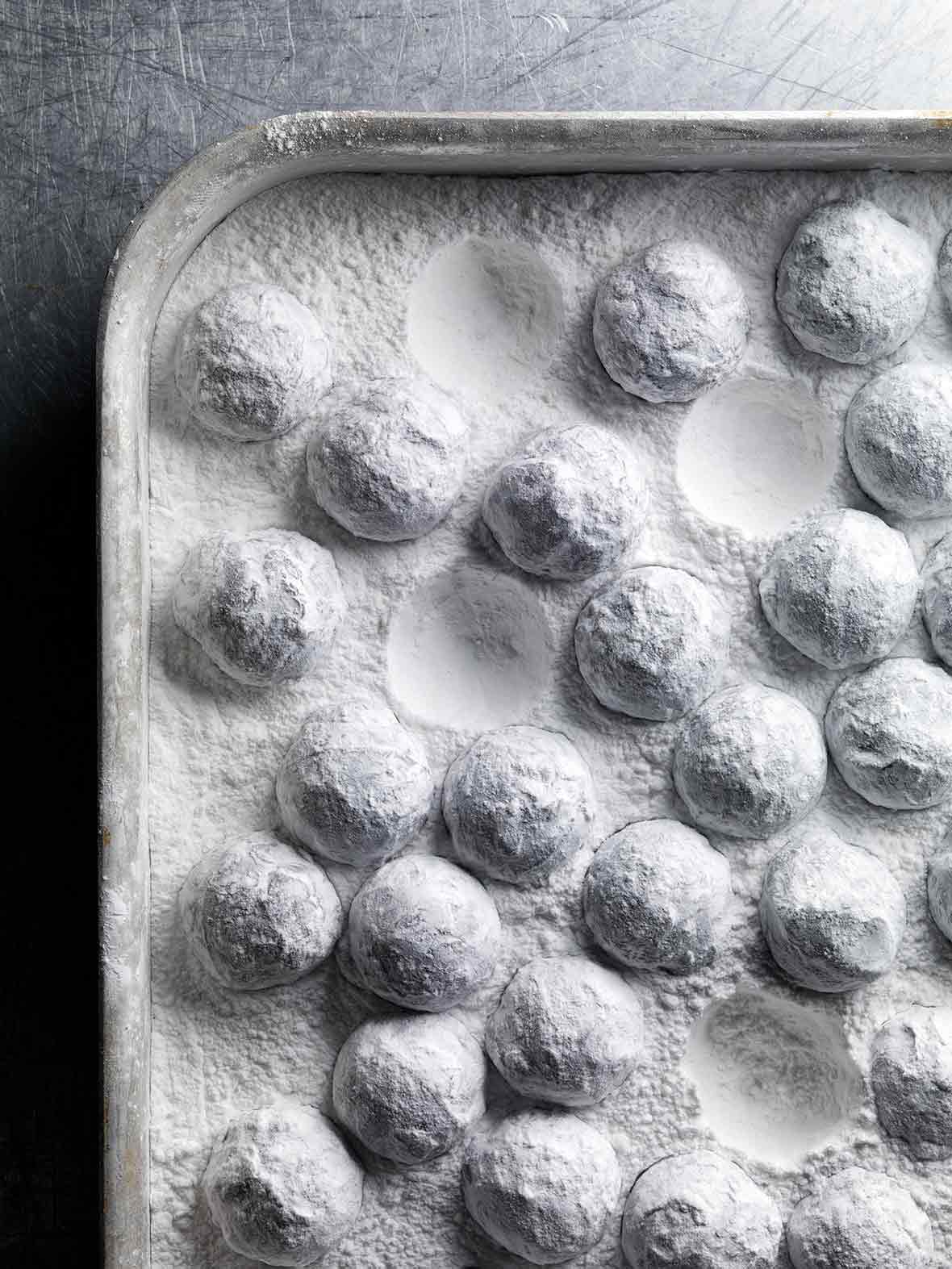 Champagne truffles. They're essentially spectacularly splurge-worthy indulgences made with rich, creamy ganache spiked with Champagne and brandy and then enveloped in dark chocolate and tossed with confectioners sugar. In other words, they're creamy, fudgy, boozy, ganache-gilded little orbs of decadence. Definitely our choice of cocktail party dessert, especially for New Year's, as well as a lovely gift for the person who has everything. Also essential for when you need either a use for leftover Champagne (shame on you!) or an excuse to open up a bottle. Originally published December 23, 2016.–Angie Zoobkoff
Champagne Truffles
Quick Glance
2 H, 25 M
8 H, 15 M

Makes 40 to 50
Special Equipment: Disposable piping or pastry bag or squeeze bottle
Print Recipe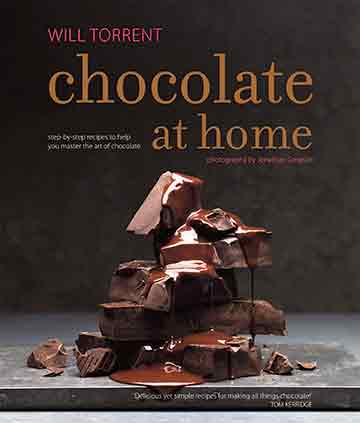 Ingredients
For the ganache

1 1/4 cup chopped milk or semisweet chocolate

3/4 cup chopped dark or bittersweet chocolate (70 to 85% cocoa)

1/3 cup heavy cream

Pinch salt

1/4 cup lovely quality Champagne

2 teaspoons brandy, preferably Cognac

For the Champagne truffles

40 to 50 dark or bittersweet chocolate truffle spheres* (optional)

2 cups tempered dark chocolate, or more as needed

3/4 cup confectioners sugar, sifted

3 teaspoons cornstarch

3/4 cup cocoa powder (optional)
Directions
Make the ganache

1. Toss the chopped chocolates in a bowl.

2. Dump the cream and salt in a small saucepan or pot over low heat and bring to a gentle boil when bubbles just start to appear. Immediately pour the warm cream over the chocolate, stir briefly, and then set aside for 3 minutes to let the chocolate melt. Stir again to ensure the chocolate is melted and smooth. (If the chocolate isn't completely melted, it can be gently rewarmed in a microwave at 50% power in 5-second increments or in a heatproof bowl set over a pan of barely simmering water.)

3. Add the Champagne and brandy to the melted chocolate and stir until you have a smooth, shiny ganache. Let cool at room temperature for 3 to 5 hours. (Alternately, you can cover and stash the ganache mixture overnight in the fridge.)

Assemble the Champagne truffles
4. If using chocolate truffle spheres*, remove the protective lid on the chocolate spheres and leave them in their plastic holder ready to fill. Scoop the cooled ganache into a disposable piping or pastry bag or squeeze bottle. Pipe enough ganache into each sphere to fill it and use a metal spatula to scrape across the opening in order to achieve a perfectly flat surface that will become the truffle bottom. Return to the holder and let set in a cool, dark place. If the ganache becomes too stiff to pipe, it can be gently rewarmed in a microwave at 50% power in 5-second increments or in a heatproof bowl set over a pan of barely simmering water. If you are hand rolling the truffles, gently form the ganache into 1- to 1 1/2-inch diameter spheres, place on a rimmed baking sheet or in a resealable container, and refrigerate until you're ready to coat them in chocolate.

5. After you've tempered the dark or bittersweet chocolate, place it in a shallow bowl. Sift the confectioners sugar and cornstarch together in a bowl and spread half the mixture on a rimmed baking sheet or large plate. If using cocoa powder, sift it into a bowl and spread half the mixture on a rimmed baking sheet or large plate.

6. Line another rimmed baking sheet with parchment paper. Dip a truffle in the tempered chocolate to coat. Remove from the chocolate using a dipping fork, tapping the fork on the side of the bowl to allow any excess chocolate to drip back into the bowl. Gently place each truffle on the baking sheet or plate with the confectioners sugar and sift the remaining mixture in the bowl over the top and sides so each truffle is evenly coated. Carefully transfer the coated truffles to the lined baking sheet to set before serving. Repeat with the remaining truffles, coating half with cocoa powder in place of confectioners sugar if desired. Place the truffles on a plate, loosely cover, and refrigerate for up to several days. For the most insanely creamy Champagne truffles experience, bring to room temperature prior to indulging.
*What Are Truffle Spheres?
Truffle spheres or shells are perfectly round, premade chocolate shells that can be filled with ganache to create impressive and professional-looking homemade truffles. You can buy them online and at some specialty stores. They're really not essential unless you want truffles that are perfectly round.
Champagne Truffles Recipe © 2014 Will Torrent. Photo © 2014 Ryland Peters & Small. All rights reserved. All recipes and photos used with permission of the publisher.
If you make this recipe, snap a photo and hashtag it #LeitesCulinaria. We'd love to see your creations on Instagram, Facebook, and Twitter.