LC CLOUDY WITH A CHANCE OF MEATBALLS NOTE
We've often found that a mood can be made dramatically less pouty merely with the presence of meatballs. Learning to discern this is sorta like learning to predict the weather forecast. You know, cloudy with a chance of meatballs.
Finnish Meatballs
This is so Finnish and probably one of the dishes that really remains in my mind from my childhood.
Ingredients
3

slices

white bread

,

crusts removed

2/3

cup

milk

2 1/4

pounds

ground pork and beef

1

large

egg

1

red onion

,

finely chopped

2

teaspoons

ground allspice

4 1/2

tablespoons

butter

2

tablespoons

olive oil

1

tablespoon

all-purpose flour

1

cup

sour cream

Lingonberry or cranberry jam (homemade or store-bought)

,

for serving
Instructions
Soak the bread in the milk in a large bowl for about 30 minutes or until it has absorbed all the milk and is very soft. Add the ground pork and beef, egg, onion, and allspice and season with salt and pepper. Knead together well with your hands, then form into small balls about the size of walnuts, rolling them between your palms so that they are compact and won't fall apart when cooking.

Heat 2 1/2 tablespoons butter with the olive oil in a nonstick skillet. Fry the meatballs in batches, turning them once during cooking. (You will have to work quite quickly and take care not to burn the butter and oil. If necessary, wipe out the skillet between batches and start again with a little less butter and oil.) Transfer the cooked meatballs to a heavy-based saucepan with any onion that is on the bottom of the skillet and continue with the next batch.

Sprinkle the flour into the skillet and mix with a wooden spoon until it is smooth. Add the remaining butter and let it melt. Continue cooking, stirring almost continuously, until it is a golden color. Remove the pan from the heat and very slowly pour in 2 cups hot water, standing back a bit. Mix in quickly, then return the pan to the heat. Stir in the sour cream and mix well, then carefully pour over the meatballs. Season lightly with salt and pepper and cook, covered, over very low heat for 10 to 15 minutes, until you have a thick creamy sauce with soft meatballs to serve with berry jam and boiled potatoes.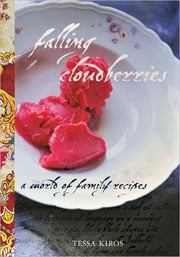 Nutrition
Serving:
1
portion
Calories:
1043
kcal
Carbohydrates:
19
g
Protein:
51
g
Fat:
84
g
Saturated Fat:
35
g
Polyunsaturated Fat:
4
g
Monounsaturated Fat:
34
g
Trans Fat:
4
g
Cholesterol:
297
mg
Sodium:
315
mg
Potassium:
919
mg
Fiber:
1
g
Sugar:
6
g
Vitamin A:
903
IU
Vitamin C:
3
mg
Calcium:
217
mg
Iron:
6
mg
Nutrition information is automatically calculated, so should only be used as an approximation.
Recipe © 2009 Tessa Kiros. Photo © 2009 Manos Chatzikonstantis. All rights reserved.
---
Recipe Testers' Reviews
I don't cook with allspice all that often, so when I saw this recipe, it piqued my interest. I made this recipe on a weeknight, and it took me an hour and forty-five minutes total time. That said, it was worth it. I followed the recipe to a tee, but with two minor changes.

First, I pulled three slices of French bread from my freezer for this recipe. They absorbed the milk well but were still a bit firm in places after 30 minutes. To avoid large pieces of bread in the meatballs, I pulled the bread apart before adding it to the mix. It worked just fine. Second, I had to skim some fat off of my meatball/sauce combination while it was in its final cooking stage. After skimming, I was left with a nice sauce. The recipe was easy to make.

We enjoyed the meatballs with boiled potatoes and salad. In the future, I will wipe out my pan between Steps 2 and 3. I will also make a double batch – one for immediate consumption and one for freezing. I will cook the second batch thoroughly and freeze them after Step 2. This recipe reminded me why I should be cooking with allspice more often. The meatballs come out tender and flavorful by themselves. Add in some Lingonberry jam, and you've just upped the game. I already want more!
Being a big fan of Swedish meatballs, these are a nice alternative. You will enjoy some of the same flavors, and the omission of the nutmeg allows for the allspice to shine. The red onion is a nice change as well, as it provides a bit more bite.

I make my own bread, so I used my whole wheat sourdough, which worked out fine. The recipe doesn't call for salt or pepper, so I added 1 1/2 tsp of salt and 1 tsp of pepper to the initial mix. I always make a little tester to fry in the skillet before finalizing to check the seasoning. I added about 1 tsp more salt and 1 tsp pepper plus added about 1/2 tsp more of the allspice before I got the flavor I liked. I ended up with about 34 meatballs.

As the meatballs are a bit moist, I let them firm up in the fridge for 2 hours before searing them in the skillet. Something to note as well, my local butcher's ground pork had a rather high fat content, so I needed to remove a bit of excess fat before I made the gravy, so that's something to watch out for. You really don't want more than 1-2 tablespoons of residual fat left before you make the gravy. There were lots of nice bits of onion left in the skillet, which really helped flavor the gravy.

I served the meatballs with some roasted carrots and potatoes. I don't keep lingonberry jam in the house, so I omitted that from the plating. These would be a nice party appetizer as a change up from your typical meatball recipe.
As I have celiac disease, I obviously didn't use regular white bread, but substituted white gluten-free bread, which worked just as well. I also substituted white rice flour for all-purpose flour. The recipe specifies ground allspice, but I like to toast whole allspice and grind it for a fresher, more intoxicating flavor. Of course, that is not necessary, but is my personal preference.
These meatballs are nothing really unusual at all, but are very tasty with the creamy sauce. We do not have lingonberries here, and at the time I did not have lingonberry preserves, so I used cranberry jam. Red currant would also work nicely. The slightly sweet yet savory meatballs contrasted nicely wit the tart jam. Perhaps next time I will add a touch of freshly-grated nutmeg as well. To sum up — a simple and basic — yet delicious — meatball recipe that deserves to be enjoyed again and again.