This whole wheat pizza dough is made with whole wheat flour, honey, yeast, yogurt, and olive oil—simple, healthy ingredients—and requires only 10 minutes of effort.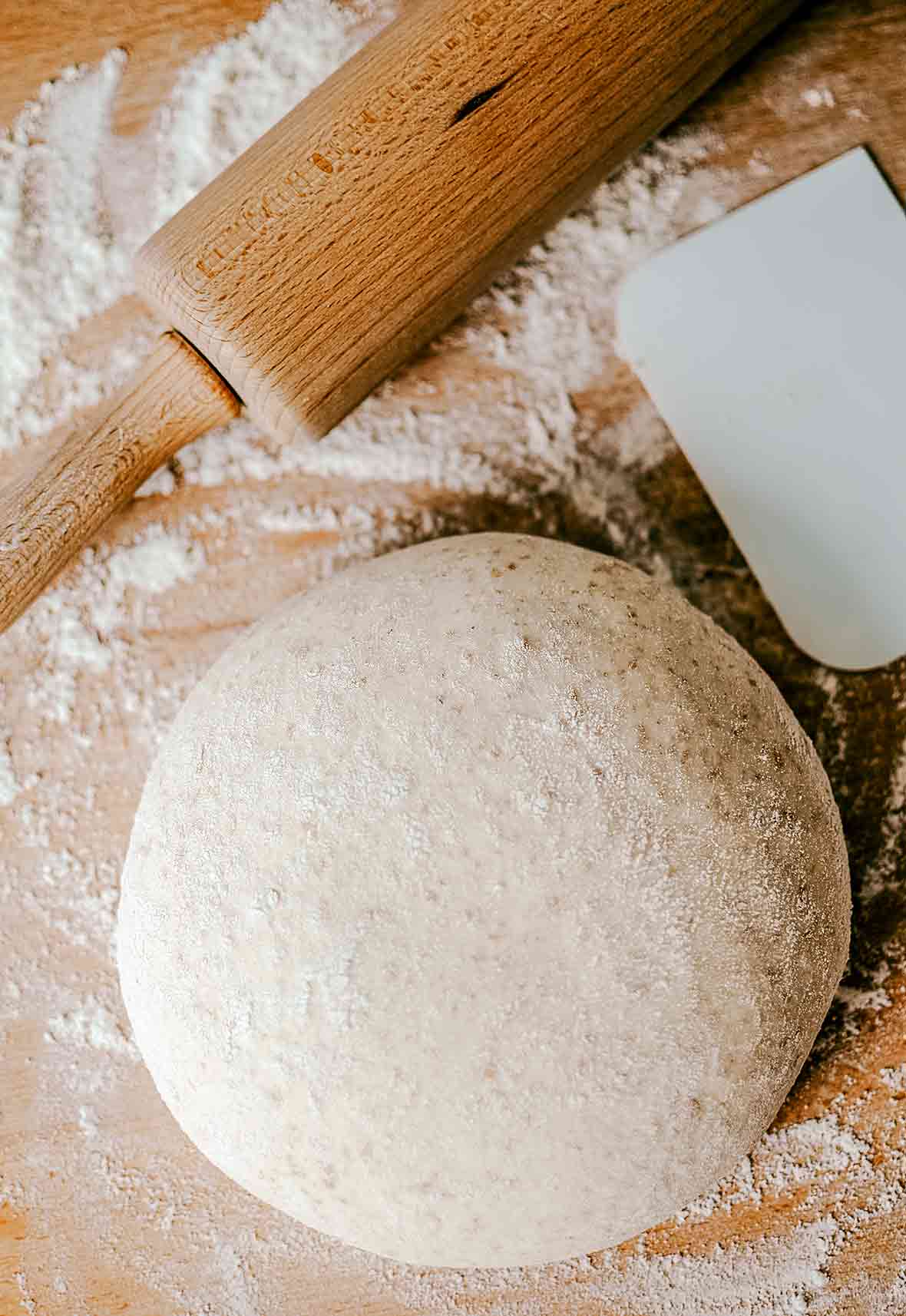 Yes, whole wheat pizza dough can make a decent—actually, a spectacular—pizza crust with all the requisite crusty, hand-stretched goodness you want. And it comes together with everyday ingredients in less time than it'll take you to get takeout. Here's how to make it.–Angie Zoobkoff
Whole Wheat Pizza Dough
This whole wheat pizza dough is made with whole wheat flour, honey, yeast, yogurt, and olive oil—simple, healthy ingredients—and requires only 10 minutes of effort.
Ingredients
1

tablespoon

honey

3/4

cup

warm water

1

packet (2 1/4 teaspoons)

instant yeast

preferably SAF Red Instant

1/4

cup

whole milk yogurt (not Greek-style)

2

cups

whole wheat flour

plus more for dusting

2

teaspoons

salt

2

tablespoons

extra-virgin olive oil

Flour

for dusting (optional)

Cornmeal

for baking (optional)

1

tablespoon

olive oil (optional)
Directions
In a medium bowl, combine the honey and water and then sprinkle the yeast evenly over the top. Add the yogurt, flour, salt, and oil, and stir with a wooden spoon or rubber spatula until the flour is completely incorporated. The dough should be soft and somewhat sticky but still hold its shape.

Cover the bowl with plastic wrap and let the dough rest for 10 minutes.

Uncover the dough, sprinkle it lightly with additional flour, and knead it in the bowl until it becomes resilient and springs back, about 1 minute, dusting with additional flour as needed to prevent it from sticking to your hands. The dough should be able to hold a round shape, but the surface won't be completely smooth.

Cover the bowl tightly with plastic wrap and set aside at room temperature for 30 minutes. (Depending on how warm the ambient temperature is, the dough may rise only slightly or not at all. Don't worry, the yeast will do its work in the oven. Pizza is, after all, a flatbread.)

At this point, the dough is ready to use or it can be refrigerated, still tightly covered in the bowl, for up to 3 days before using it straight from the fridge.

If you're making a pizza of your own creation, preheat the oven to 450°F (230°C). Place an inverted baking sheet or a pizza stone in the oven. Line a pizza peel or cutting board with parchment paper. If desired, slick the paper with 1 tablespoon olive oil or simply dust it with flour or cornmeal. Lightly flour a work surface. Dust the pizza dough with flour and gently flatten it on the work surface and spread out the dough with the heel of your hands. Use a floured rolling pin to form the dough into a 1/4-inch (6-mm) thick round that fits the size of your pizza peel. (The thinner it is, the crispier the end result will be.) Working your hands under the rolled dough, carefully lift it and transfer to the prepared parchment paper. (Alternatively, in place of a peel and parchment, you can also simply slick a second baking sheet with olive oil and then transfer the rolled-out dough onto it and assemble the pizza there.) Scatter your favorite toppings on the dough and bake until the edges of the crust are deep golden brown and crisp, 20 to 25 minutes. Remove the pizza from the oven and transfer it to a cutting board. Use a pizza cutter to cut into 8 slices and serve immediately. If using a different pizza recipe, proceed as directed.
Show Nutrition
Serving:
1
portion
Calories:
297
kcal
(15%)
Carbohydrates:
49
g
(16%)
Protein:
9
g
(18%)
Fat:
9
g
(14%)
Saturated Fat:
2
g
(13%)
Polyunsaturated Fat:
1
g
Monounsaturated Fat:
5
g
Cholesterol:
2
mg
(1%)
Sodium:
1174
mg
(51%)
Potassium:
262
mg
(7%)
Fiber:
7
g
(29%)
Sugar:
5
g
(6%)
Vitamin A:
21
IU
Vitamin C:
0.1
mg
Calcium:
42
mg
(4%)
Iron:
2
mg
(11%)
If you make this recipe, snap a photo and hashtag it #LeitesCulinaria. We'd love to see your creations on Instagram, Facebook, and Twitter.
Recipe Testers' Reviews
Most important thing to know is that you CAN make a good whole wheat pizza at home. The whole wheat flavor was really great (I used an organic local California stone-ground whole wheat from Keith Giusto.
This pizza dough can be made straight through in a single evening or, with a little planning ahead, you can let the dough rest overnight in the fridge. I tried it both ways, starting with a same day run of the full recipe, then following up with a rested hand-stretched dough. Each yielded a nice pizza but with somewhat different results in the crust. I think the immediately rolled crust ended up a bit too firm, and I was curious about whether time would let the gluten develop more. After 2 days cold fermentation, the flavor in the hand-stretched dough was the best and more pizza-like.
I found for rolling out and for the hand-stretched dough that a small amount of flour and parchment paper worked great and I use a dusting of cornmeal on the parchment with great results. I try to never use olive oil directly on my pizza stone.
For the overnight batch, I used my Danish bread dough hook and the dough came together in half the time, so I preferred that. Kneading was easy and the dough had a very decent texture. On the overnight rest, I began stretching the dough straight from the fridge as directed, but using a technique from Artisan Bread in Five, I stretched the dough into a disk, let it rest, pressed with fingers to flatten, resting, gently stretching to about about 10" diameter.
For the third pizza, another overnight hand-stretched batch, I let the dough come to room temperature before stretching and found the result the most tender after baking.
If you turn your oven on when the dough starts the first rest it should be at temp by the time your dough has had 30 minutes.
I try and opt for the whole wheat or whole grain versions of products when possible and pizza dough is no exception. But that said, my past experience with 100% whole wheat pizza dough is that most times their texture is on the dry side, which is a bummer. But happily, this unique whole wheat pizza dough recipe incorporates whole milk yogurt into the mix and the results are beautiful! This recipe will be my go-to pizza dough recipe from here on out!
I could tell from the first kneading of this dough that it was going to be different; it just felt softer and more "cushiony" than most other whole wheat doughs I have made. It rose nicely after just 40-minutes and was really easy to roll out. The only thing I would suggest is that you par-bake the dough without any sauce or toppings; in a 450°F oven, I would par-bake for 5 minutes. I know because I made the dough twice; once as the recipe suggests without par-baking and smothered in sauce and toppings before being baked, and secondly par-baked and then topped and baked again. I think because this dough is moister than other whole wheat doughs if you add liquid like a sauce or even raw veggies (which will inevitably release liquid when cooked) to the top of this tasty dough, it leads to a soggy crust, unfortunately. But par-baking the crust for me really worked well! It allowed for the dough to form an initial crust and create that needed barrier so that the crust browns nicely and the interior dough isn't mushy.
I used Fleischmann's active dry yeast and coarse Morton's Kosher salt. I did use cornmeal on my round, parchment-lined pizza pan as well In Step 1, yes, the dough was soft and a bit sticky after mixing in the flour, but it held its shape nicely. The timing in Step 2 of kneading it for 1 minute was accurate as well. I let it rise in Step 2 for 30 minutes exactly in my kitchen and it about double in size during this time. I used the dough right away and did not refrigerate it.
I topped my pizzas with tomato sauce, hot crumbled Italian sausage, and a mixture of thinly sliced radicchio and fennel. Those toppings plus some torn fresh mozzarella and into the oven it went! A scattering of torn fresh basil and a pinch of crushed red pepper flakes to finish off the hot pizza and we were good to go. Like I said, this recipe truly is wonderful and changes my impression of homemade whole wheat pizza dough. It has a lot of flavor and a very lovely texture. I would just suggest par-baking it as stated to that the interior of the crust underneath all of your toppings isn't too soggy. (This did make a 13-inch pizza which we sliced into 6 generous slices).
The crust was crisp with a little chew. More like a flatbread. Flavor is great!This pizza dough comes together in 5 minutes in a single bowl. Using a wooden spoon to mix it worked perfectly. The dough is slightly sticky, as the recipe indicates. After covering it for 10 minutes to let it rest, I kneaded the dough for 1 minute in its bowl with just an additional sprinkle of flour. The texture was stretchy and smooth. Baking time was slightly less than the recipe indicated, about 18 minutes, but I made my pizzas on the thinner side.
I used my pizza stone and the parchment/peel method for transferring, which always works perfectly. I made 2 pizzas and have enough dough left for a 3rd. Each pizza yields 8 slices; therefore, I would say 8 servings for the entire batch of dough, assuming most people would eat 3 pieces.
Originally published July 07, 2020
Recipe © 2018 Lisa Q. Fetterman | Scott Peabody. Photo © 2018
Nruedisueli
. All rights reserved. All materials used with permission.
If you make this recipe, snap a photo and hashtag it #LeitesCulinaria. We'd love to see your creations on Instagram, Facebook, and Twitter.