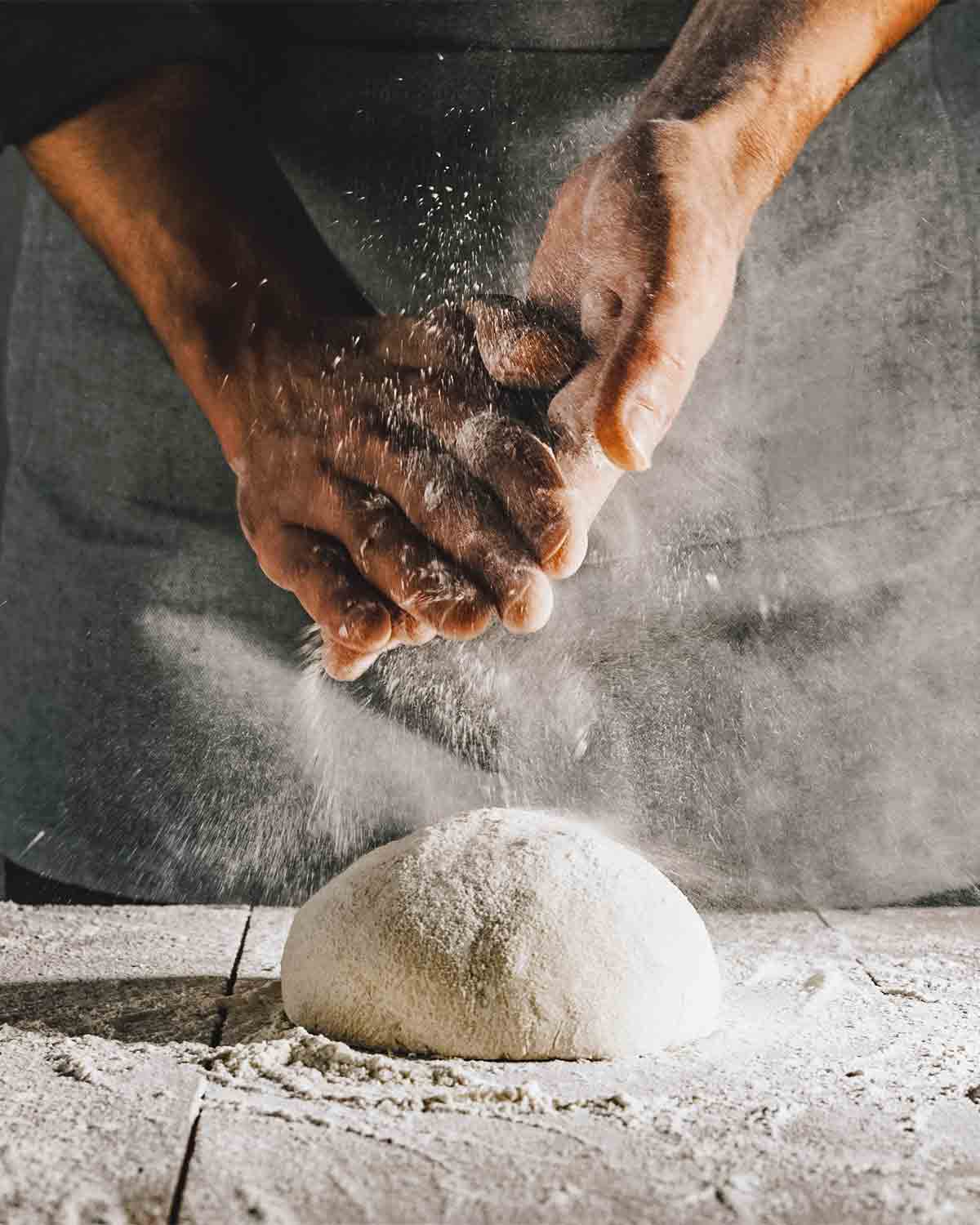 Many pizza doughs require a lengthy initial rise—overnight or longer—and sometimes a second rise. The result can be impressive. There's just one problem with that. Pizza crazings wait for no one—and, by extension, no dough. Rather than compromise quality, we turn to this godsend of a quick pizza dough that's easy to work with and doubles in an hour. It's from the same folks who created a riff on white pizza with mushrooms and ricotta.–Renee Schettler Rossi
Quick Pizza Dough
This quick pizza dough, which is incredibly simple to make and requires only 1 hour to rest, means that homemade pizza on a weeknight is now a reality.
Ingredients
1 1/4

cups

warm water

1

tablespoon

granulated sugar

1

package (1/4 ounce)

active dried yeast

3 1/2

cups

"00" flour or all-purpose flour,

plus more for the work surface

3

tablespoons

olive oil

2

teaspoons

kosher salt
Instructions
In the bowl of an electric mixer fitted with the dough hook, combine the warm water, sugar, and yeast. Let sit for 5 minutes.

Add the flour, oil, and salt and mix on low speed until the flour is incorporated, about 1 minute.

Increase the speed to medium and mix until the dough is smooth, 4 to 8 minutes. Place the dough in a lightly oiled bowl, cover, and let rise for 1 hour in a warm place.

Once the dough has finished rising, punch it down and divide it in half (each half will be about 14 oz [400 g]). Knead each piece on a lightly floured surface for 1 minute. Cover both dough balls with a clean cloth and allow to rest for 10 minutes.

Proceed as directed with your pizza recipe.
Nutrition
Serving:
1
serving
Calories:
329
kcal
Carbohydrates:
50
g
Protein:
7
g
Fat:
11
g
Saturated Fat:
2
g
Polyunsaturated Fat:
1
g
Monounsaturated Fat:
8
g
Sodium:
1169
mg
Potassium:
82
mg
Fiber:
2
g
Sugar:
3
g
Vitamin C:
1
mg
Calcium:
13
mg
Iron:
3
mg
Nutrition information is automatically calculated, so should only be used as an approximation.
Recipe © 2020 Julie Albert | Lisa Gnat. Photo © 2020 nerudol. All rights reserved.
---
Recipe Testers' Reviews
I make a lot of pizza at home. A lot. The dough in this recipe is particularly good. The method is easy enough for a beginner and the finished product is decent enough to meet approval from seasoned bakers. I used a combination of 00 flour (324 grams) and white flour (228 grams) because that's what I had on hand and it was fine.
The resulting crust was airy and elastic. I did think that the 1 tbsp of sugar was too much but it didn't really affect the taste of the finished product.
This is a quick and easy recipe for when the urge for pizza strikes. The dough is the easiest one I have ever made, it only required 4 minutes of mixing on low (my stand mixer seems to be quite vigorous!) to come together. It rose perfectly within an hour.
While I NEVER object to a pizza night, I don't always plan well enough ahead (ideally a day before). I have tried several methods of "hurry up" or same-day doughs, but always felt a little disappointed. This dough is definitely an exception, and turns out an absolutely delicious pizza that really does all come together in about 2 hours.
Because we are a small household, I only wanted to cook one pizza, so I saved the second ball of dough in an oiled 1-quart container in the fridge for the next day. My bonus pizza. That overnight rest let dough rise again, but I lightly degassed it when placing it in a larger bowl and covered with cling wrap to let it gently come to room temp about 2 hours before I planned to assemble the pizza. I found when it came time to shape the pizza that I needed even less flour, and could nearly hand shaped it, using a small pastry roller to ease the final stretching. I also increased the herbs a bit (double the oregano, and used a generous 2 t fresh thyme), while reducing the ricotta a bit. On the brushed edges I sprinkled just a pinch of Maldon sea salt—the flakes baked onto the crust like little gems.
If you are like me and are not totally confident transferring a pizza to the stone, assemble it on parchment with a bit of cornmeal and leave it on to bake! And if you want to make this even easier for a weeknight, you can start the dough the night before, and after your initial rise, just stash it in a container that gives it room to grow a bit in the fridge overnight.
When it came time to shape the dough, it was very easy to work, with minimal flour and I was able to stretch it nearly all the way by hand, without tearing, barely using the roller at all. For BOTH pizzas, I put them on parchment with a bit of cornmeal to assemble and bake, because I wanted to avoid oil seeping into my baking stone and burning. Also, I just am not very good at transferring a pizza off a peel and get very good results leaving the parchment in place, sometimes removing it the last few minutes. I like the texture and distinct burst of salt that the Maldon flakes give. The second pizza actually had a smaller weight but looked bigger because it rose more and got those lovely desirable bubbles.
While this is a great recipe for 2-hour pizza, if you made the pizza dough OR wanted just one, it is a fabulous bonus the 2nd day.
My stand mixer is a well-experienced (older) K5SS model, so I stayed close to the mixer to make sure the bowl didn't jump off the arms. Stand mixers where the base is fixed or newer models probably don't require a hand steadying the bowl with dough at medium to higher speeds, but this is a relatively light weight of dough and the dough hook throws things about somewhat unless there is enough weight in the recipe!