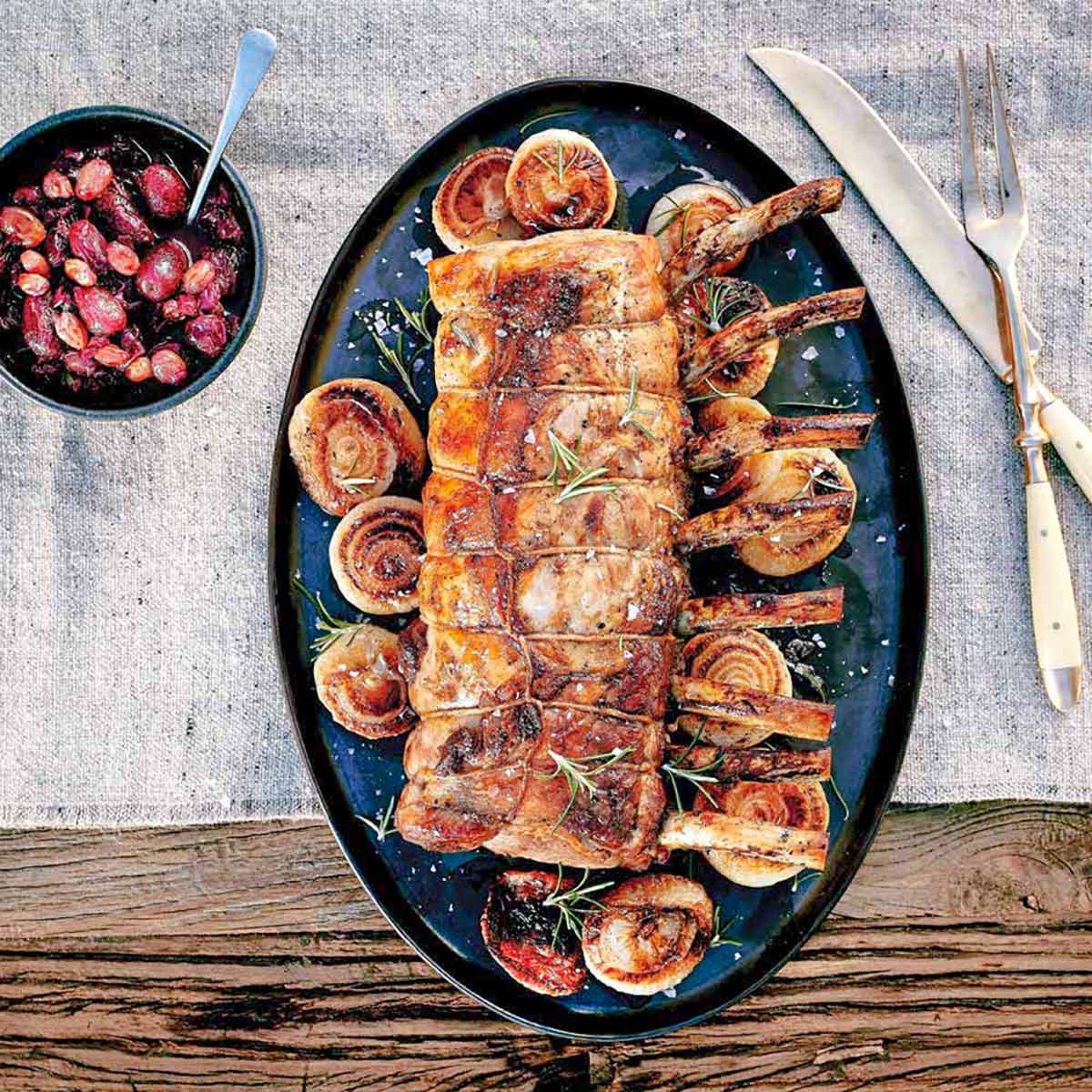 This roasted pork loin, with its sweetly caramelized onions and a rave-worthy sidekick of a quick grape and mustard seed chutney, is nearly as beautiful to present at the table as it is profoundly satisfying to eat. Perfect for a fall family gathering or anytime you want to dress to impress with very little effort.–Jenny Howard
Roasted Pork Loin
This roasted pork loin is brined and then roasted with onions and rosemary and served with a tangy grape and mustard seed chutney. It's one of our best autumn dinners, whether Sunday night supper or Saturday night entertaining in style.
Ingredients
For the roasted pork loin
2

quarts

ice cubes

3

cups

water

1

cup

medium-bodied

,

dry white wine (such as Chardonnay)

2/3

cup

Diamond kosher salt or 1/2 cup Morton's kosher salt,

plus more for seasoning the roast

6

tablespoons

granulated sugar

8

black peppercorns

2

tablespoons

fennel seeds

12

thyme sprigs

1

inch

piece ginger

,

sliced

4

cloves garlic

,

smashed

One

(5 1/2- to 6 1/2-pound)

bone-in pork loin*

,

frenched and tied (the fattier the pork, the better the taste!)

3

tablespoons

extra-virgin olive oil

Freshly ground black pepper

16

cipollini onions

,

peeled but left whole, or 1 pound (500 g) red or yellow onions, peeled and cut into 1/2 to 3/4-inch (12 to 18-mm) wedges

3

rosemary sprigs

,

plus leaves for garnish
For the grape and mustard seed chutney
1/3

cup

yellow mustard seeds

2

teaspoons

mild-flavored oil such as rice bran oil

1/2

cup

chopped yellow onion

2

pounds

small to medium seedless red grapes

1

cup

red verjus

,

or substitute dry red wine or red wine vinegar, plus a large pinch of granulated sugar

1

star anise pod,

crushed and finely ground

1

teaspoon

ground coriander

2

teaspoons

ground cinnamon

1

cup

golden raisins

1/2

teaspoon

kosher salt
Instructions
Make the roasted pork loin
Put the ice in a large bowl.

In a medium saucepan over medium heat, combine the water, wine, kosher salt, sugar, peppercorns, fennel seeds, thyme, ginger, and garlic and bring to a simmer, stirring to dissolve the salt and sugar.

Remove the saucepan from the heat and pour the brine over the ice. Let cool to 45°F (7°C) on an instant-read thermometer. You should have about 8 cups brine.

Place the pork loin in a large container, brining bag, or heavy-duty resealable plastic bag. Add the cooled brine, immersing the pork loin completely. Refrigerate for 12 to 24 hours.

Preheat the oven to 400°F (200°C) convection or 425°F (220°C) conventional. Have ready a shallow roasting pan large enough to fit the pork loin.

Remove the pork loin from the brine, discarding the liquid. Set the pork loin, bone side down, in the roasting pan and use paper towels to pat it dry. Let sit at room temperature for 30 minutes.

Rub the pork loin with 2 tablespoons olive oil and season all over with 1 to 2 tablespoons kosher salt and a few grinds black pepper. Roast the pork loin for 30 minutes.

Meanwhile, in a medium bowl, toss the onions and rosemary sprigs with 1 tablespoon olive oil.

Reduce the oven temperature to 350°F (175°C). Add the onions and rosemary to the roasting pan, scattering them around the pork loin. Return the roasting pan to the oven and roast until an instant-read thermometer inserted into the center, away from the bone, registers 137°F (58°C), about 45 minutes more.

Remove the roasting pan from the oven, loosely tent with foil, and let the pork loin rest for 20 minutes before carving.
Make the grape and mustard seed chutney
In a small, dry skillet over medium heat, toast the mustard seeds, shaking the skillet occasionally, until mustard seeds are slightly toasted, fragrant, and just beginning to pop, about 2 minutes. Remove from heat.

In a 4-quart saucepan over medium heat, warm the oil. Add the yellow onion and cook until soft, stirring occasionally, about 3 minutes. Add the grapes, stirring to combine, and cover the saucepan. Cook, stirring often, until the grapes begin to wilt, 10 to 15 minutes.

Add the verjus, star anise , coriander, cinnamon, raisins, salt, and the toasted mustard seeds and stir well. Cook, uncovered, over medium heat, until the liquid has reduced and the mixture is thick, 10 to 15 minutes. Remove from heat. Serve the chutney warm or cold. (You can cover and refrigerate the chutney for up to 1 month.)
Serve the pork loin
Snip the twine and carve between the bones for individual chops. Serve each chop with some of the pan juices and roasted onions. Garnish with rosemary leaves. Serve, passing the grape and mustard seed chutney separately.
Notes
*What You Need To Know About Choosing A Pork Loin
A boneless pork loin is easy and good and will work fine enough in this recipe if that's all you can find. That said, a whole bone-in pork loin is just as simple to prepare and yes, really has more depth of flavor than boneless. The bones impart serious flavor to the meat and help it retain moisture as it roasts. And when it comes to drama, well, there's no contest. The whole roast looks spectacular. And everyone gets their own chop with a bone to gnaw on. Ask your butcher to french and tie the roast for you.
Adapted From
Season: Wine Country Food, Farming, & Friends
Buy On Amazon
Nutrition
Serving:
1
portion
Calories:
729
kcal
Carbohydrates:
50
g
Protein:
50
g
Fat:
39
g
Saturated Fat:
11
g
Polyunsaturated Fat:
5
g
Monounsaturated Fat:
19
g
Cholesterol:
143
mg
Sodium:
271
mg
Potassium:
1367
mg
Fiber:
5
g
Sugar:
35
g
Vitamin A:
171
IU
Vitamin C:
15
mg
Calcium:
132
mg
Iron:
4
mg
Nutrition information is automatically calculated, so should only be used as an approximation.
Recipe © 2018 Justin Wangler | Tracey Shepos Cenami. Photo © 2018 Alan Campbell. All rights reserved.
---
Recipe Testers' Reviews
This was a beautiful roast pork loin to feed a crowd and my guests raved about the chutney.
I was unable to get a bone-in loin so I had to settle for a boneless one but the finished dish was just as lovely I thought this served way more than 8; however, since there was no bone to account for any of the weight, so I guess it would serve more. Even if it was bone-in, I think it would easily serve 12.
Cook time for the pork roast was accurate and I used a mix of red and yellow onion wedges, which were nicely softened but not caramelized when the roast was finished cooking. I sliced the roast and scattered the onions around the meat on the serving platter.
I served it with mashed potatoes, sautéed green beans, and roasted cauliflower.
Beautiful dish for fall.
This really is two separate recipes that can be used together…or not depending on your preference.
I ordered the meat from the butcher and it ended up being a little on the smaller end. The brine was very easy to make and not very time-consuming to put together. I used a William Hill Chardonnay for the wine and allowed the meat to marinade for approximately 18 hours. The roasting went as expected and I pulled it about 5 minutes earlier than indicated on the recipe due to the smaller size of the roast and it registered the correct temperature.
I was unable to find cipollini onions and substituted red onions in their place. The end product produced a very moist, juicy, and perfectly cooked roast yet it lacked flavor. I think if the brine was amped up somewhat, that might do the trick. I salted and peppered the roast on the outside prior to roasting and thought the outside edges were extremely salty yet didn't penetrate into the pork. The meat needed more flavor.
The chutney, too, came together very easily. I was unable to locate verjus and used red wine vinegar as a substitute along with 2 tablespoons white sugar. I wasn't sure how I would like the chutney, but was pleasantly surprised and found it delightful. I would definitely like to try this again with verjus. The chutney definitely was a nice addition to the pork roast.