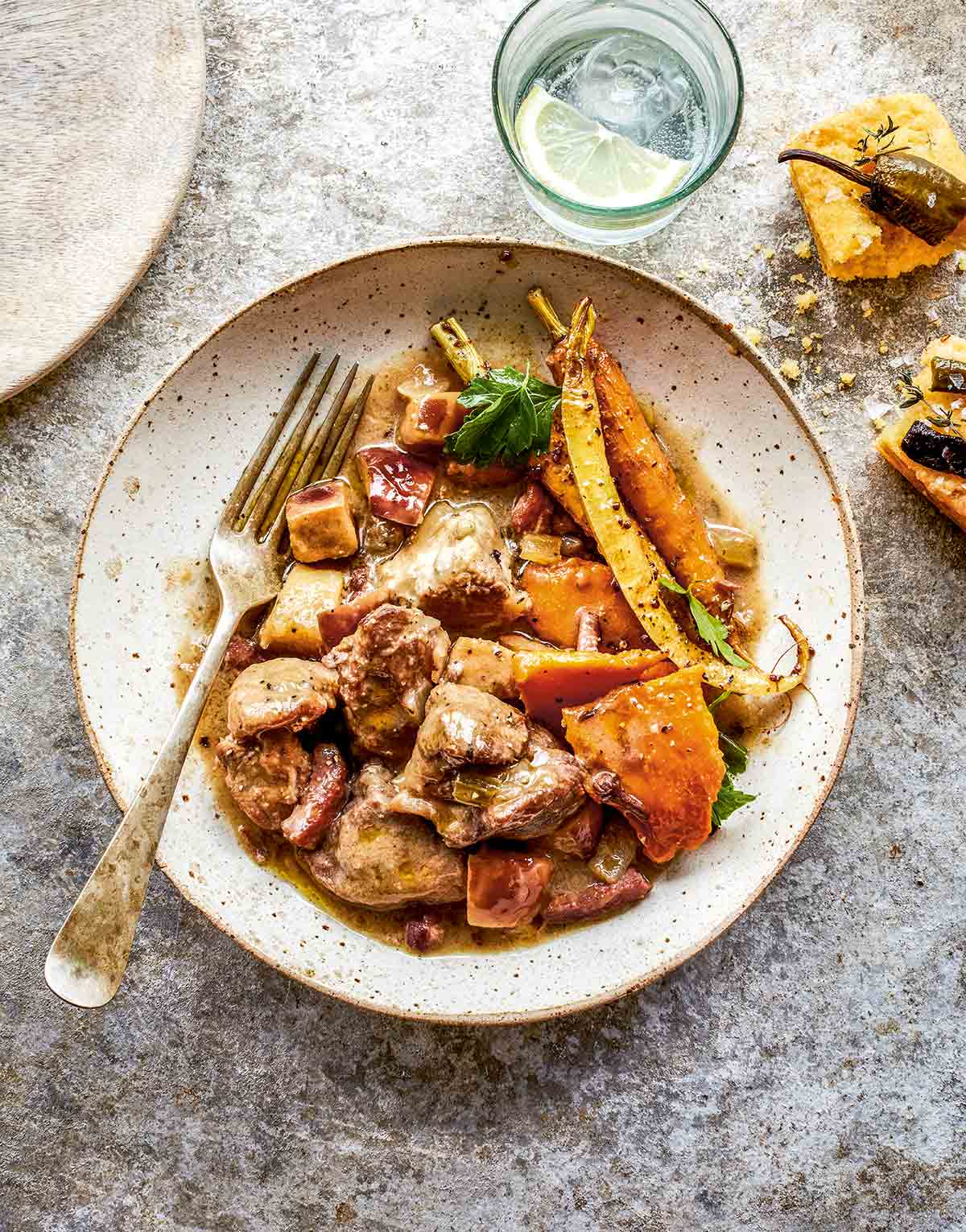 Pork shoulder slowly cooked in an aromatic, deliciously tangy yet slightly sweet mulled cider sauce. [EDITOR'S NOTE: We decided to forego the whole roasted pumpkin, although if that trips your fancy, knock yourself out!]–Theo A. Michaels
Pork Casserole with Apples and Cider
This pork casserole with apples and cider, made with slow-cooked pork shoulder that's gently braised in a cider gravy with apples and mustard, is autumn comfort food at its finest.
Ingredients
Olive oil

,

for frying and drizzling

1

pound, 5 ounces

pork shoulder or Boston butt

,

cut into chunks

2

ounces

bacon

,

cut into matchsticks

1

(about 6 oz)

white onion

,

diced

1

celery stick

,

diced

2

garlic cloves

,

sliced

1 to 2

tablespoons

all-purpose flour

2

cups

dry (hard) cider

A few sprigs of fresh thyme

3

fresh or dried bay leaves

6

cloves

1

small

cinnamon stick

1

tablespoon

apple cider vinegar

1

(about 6 oz)

apple

,

cored and cut into chunks

1

tablespoon

Dijon mustard

1

tablespoon

pure maple syrup

Salt and freshly ground black pepper
Instructions
Preheat the oven to 350°F (177°C).

In a large ovenproof saucepan over medium heat, warm 1 to 2 tablespoons oil. Working in batches to avoid crowding the meat, add the pork chunks and brown on all sides, about 6 minutes. Transfer the pork to a bowl, cover, and repeat with any remaining pork, adding oil if needed.

Add the bacon to the pan and cook, stirring as needed, until crisp, about 12 minutes.

Stir in the onion, celery, and garlic, and cook until the onion is translucent, about 5 minutes.

Sprinkle the flour over the ingredients in the pan and stir to ensure it's well incorporated into the onion mixture. (If you prefer a thinner sauce, use 1 tablespoon flour; for a thicker sauce, use 2 tablespoons.) Then pour in the cider.

In a spice bag or a cheesecloth pouch, combine the thyme, bay leaves, cloves, star anise, and cinnamon stick.

☞ TESTER TIP: The spice bag or cheesecloth isn't essential. It simply makes for easier removal of the spices and herbs later on. If you don't have one, don't worry, just toss the herbs and spices into the pan…just don't forget to retrieve them later.

Add the vinegar, apple, mustard, maple syrup, and spice mixture to the saucepan. Return the browned pork to the pan, pouring in any cooking juices that accumulated in the bowl, and stir to combine.

Transfer the casserole to the oven and cook, uncovered, until the pork is very tender, about 90 minutes.

Remove and discard the spice pouch or cheesecloth and season the casserole with salt and pepper to taste. Let rest for 10 minutes before serving.
Adapted From
Share: Delicious Platters & Boards for Social Dining
Buy On Amazon
Nutrition
Serving:
1
portion
Calories:
359
kcal
Carbohydrates:
10
g
Protein:
31
g
Fat:
17
g
Saturated Fat:
6
g
Polyunsaturated Fat:
2
g
Monounsaturated Fat:
7
g
Trans Fat:
1
g
Cholesterol:
109
mg
Sodium:
257
mg
Potassium:
580
mg
Fiber:
1
g
Sugar:
6
g
Vitamin A:
31
IU
Vitamin C:
2
mg
Calcium:
47
mg
Iron:
2
mg
Nutrition information is automatically calculated, so should only be used as an approximation.
Recipe © 2020 Theo A. Michaels. Photo © 2020 Ryland, Peters & Small Mowie Kay. All rights reserved.
---
Recipe Testers' Reviews
This is a very comforting yet unique twist on a classic combination of apple and pork. The addition of the star anise, cinnamon, and clove gave it a really warm and multi-dimensional flavor profile that reminds me of something North African. The sauce created with the dry cider as a base was really finger-lickingly good.
Served along some simple glazed carrots and a rose cider, this is a perfect home-cooked meal for a cool day.
This dish didn't disappoint: the flavors were perfectly balanced and the combination of spices put a subtle, fresh twist on the classic combination of pork with apples. Because I realized that I'd run out of maple syrup only once I'd already started cooking, I substituted date syrup, which worked really well (and I imagine honey would have been good, too).
The taste of the apple chunks (because I doubled the recipe, I used two—one Red Topaz and one Braeburn) didn't stand out, though I blame that mainly on the fact that I was using out-of-season apples. When I make this again—and I definitely will—I'll do it in the fall with a more acidic apple that stands up to the flavors of cider and pork, and also because this is such a quintessential fall dish.
I would make a few other small changes: I might add some parsley before serving, both for color (this turned out to be a very beige-brown dish) and for the herbaceous note. I'd also add a pinch or two of salt and some pepper (the lardons and mustard are salty, so it only needs a little bit of extra salt), and I might (depending on what I'm serving on the side), cut the amount of flour in half. Two tablespoons of flour to two cups of liquid makes for a fairly thick sauce, and I prefer the taste of a thinner, less bound sauce, because I feel like the flour can mute the flavors and make the sauce too stodgy. (Incidentally, the sauce in the picture accompanying the recipe looked much thinner than mine.)
I cooked it uncovered and the sauce didn't over-reduce and the meat was beautifully tender, though not falling apart, after 1 1/2 hours. It was a reasonably fast dish—for a braise, anyway.
I used an organic French cider from "Coteaux Nantais" (the French cider is what you often find in German grocery stores) and it was very good.
I served this with couscous, sautéed red and yellow peppers, and a kohlrabi-carrot slaw, and it was a delicious combination that I can't wait to repeat once summer is over and the temperatures dip.