Turkey recipes that are guaranteed to impress not just everyone at the table but the cooks in the kitchen. Whether you want to cling to tradition and roast it or go a little further flung and brine, smoke, or deep-fry it, you'll find your centerpiece here. And we're including foolproof carving instructions to make things even simpler on you this year.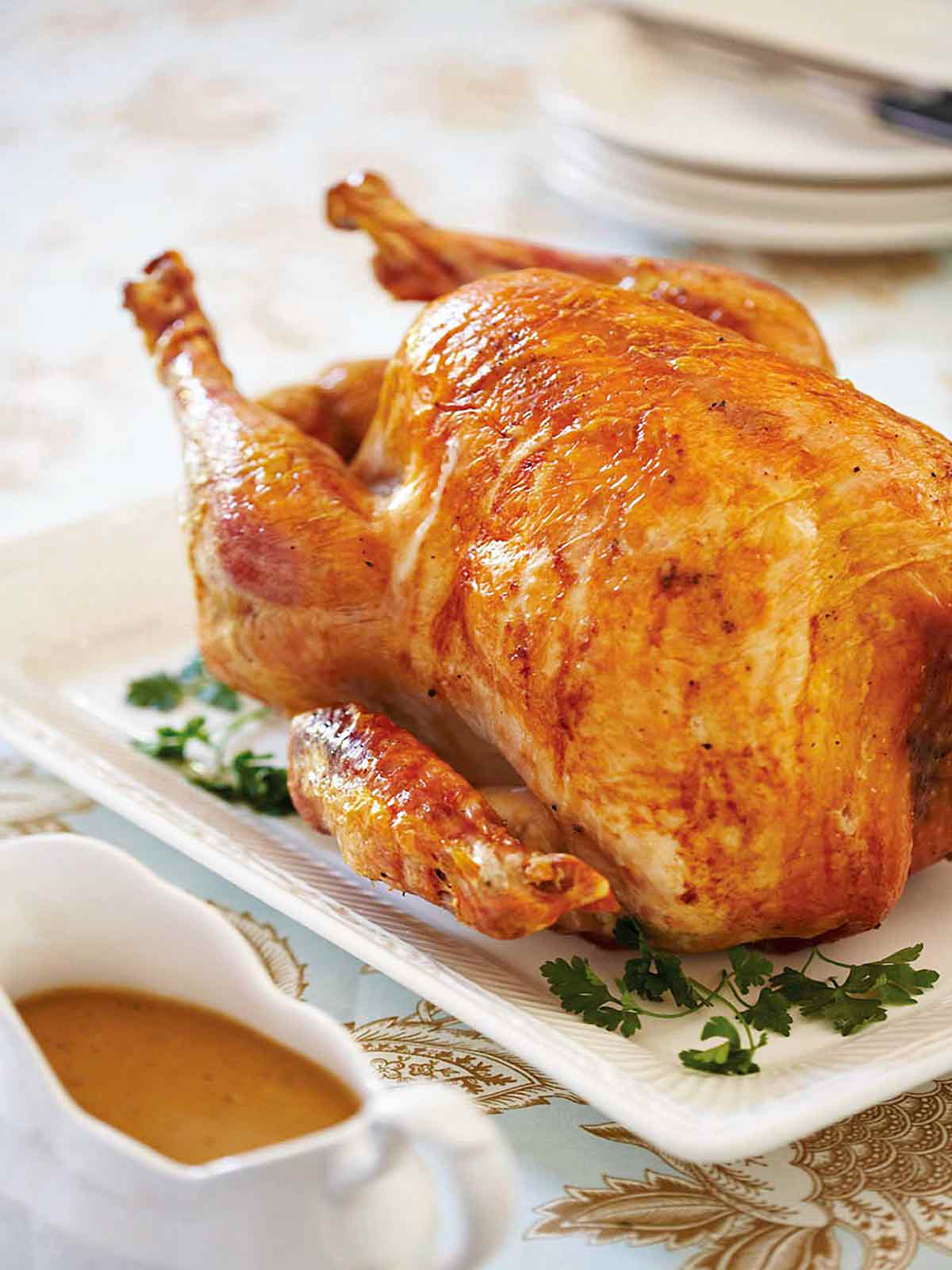 This old-fashioned roast turkey and gravy shows why covering turkey with cheesecloth while you roast it is the perfect trick to ensuring tender meat and shatteringly crisp skin. And there's no need to stuff, truss, brine, or otherwise fuss with it.
Recipe
This dry brine turkey gets blanketed in a salt and sugar rub overnight and is then rinsed and roasted until golden. The result? Perfectly moist and tender turkey. No basting required.
Recipe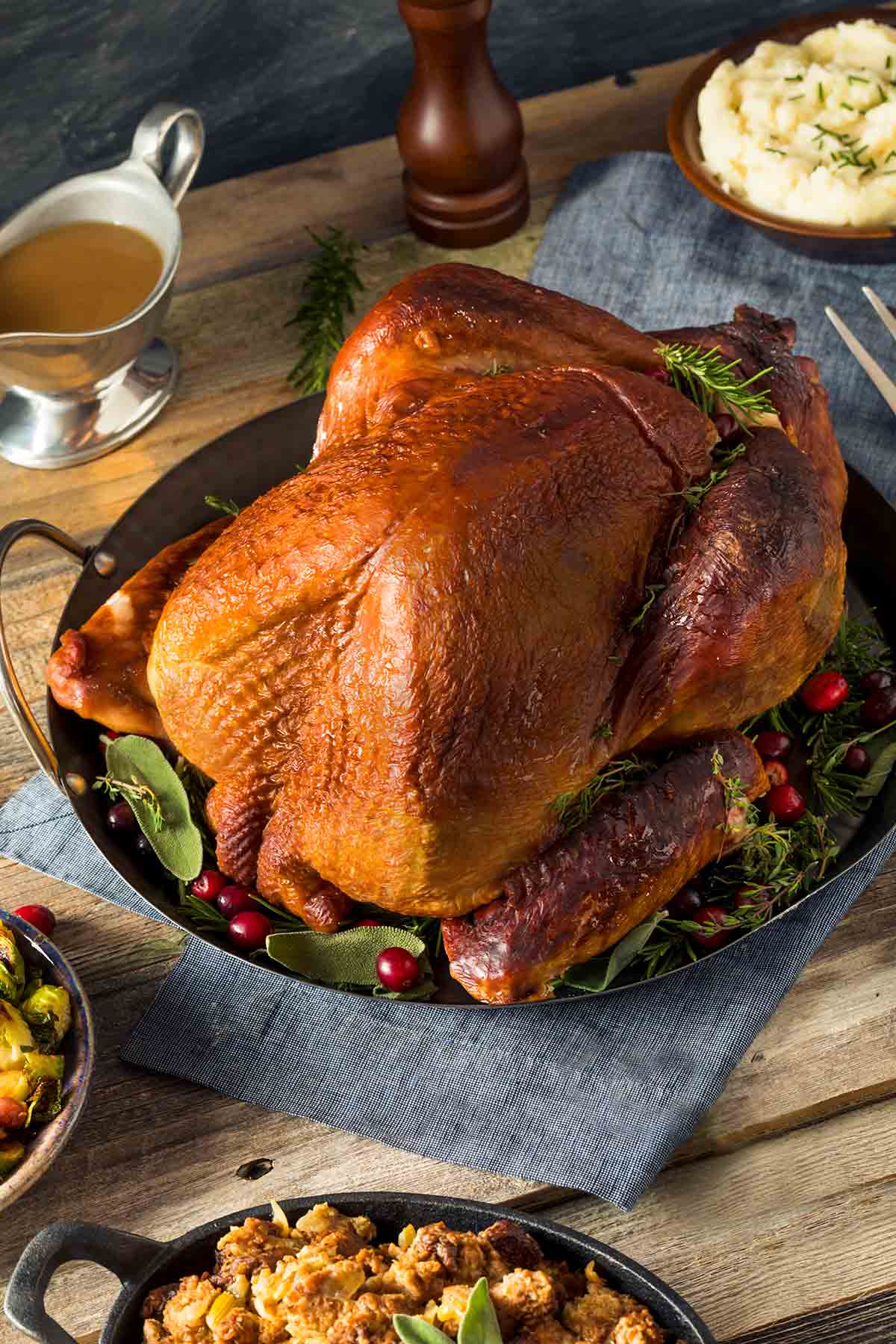 Most of us eat turkey only once or twice a year—at Thanksgiving and possibly at Christmas. However, once you taste smoked turkey prepared in your own smoker, you may find yourself wanting it a little more often.
Recipe
The stock for this classic Thanksgiving turkey can be made up to 3 days in advance and refrigerated or up to 3 months ahead of time and frozen. Or you can make it Thanksgiving morning before you put the turkey in the oven.
Recipe
It's a safe bet that every cook will be called upon to roast a turkey at some point in his or her life. Since it's usually a once-a-year endeavor, there's not much room for practice.
Recipe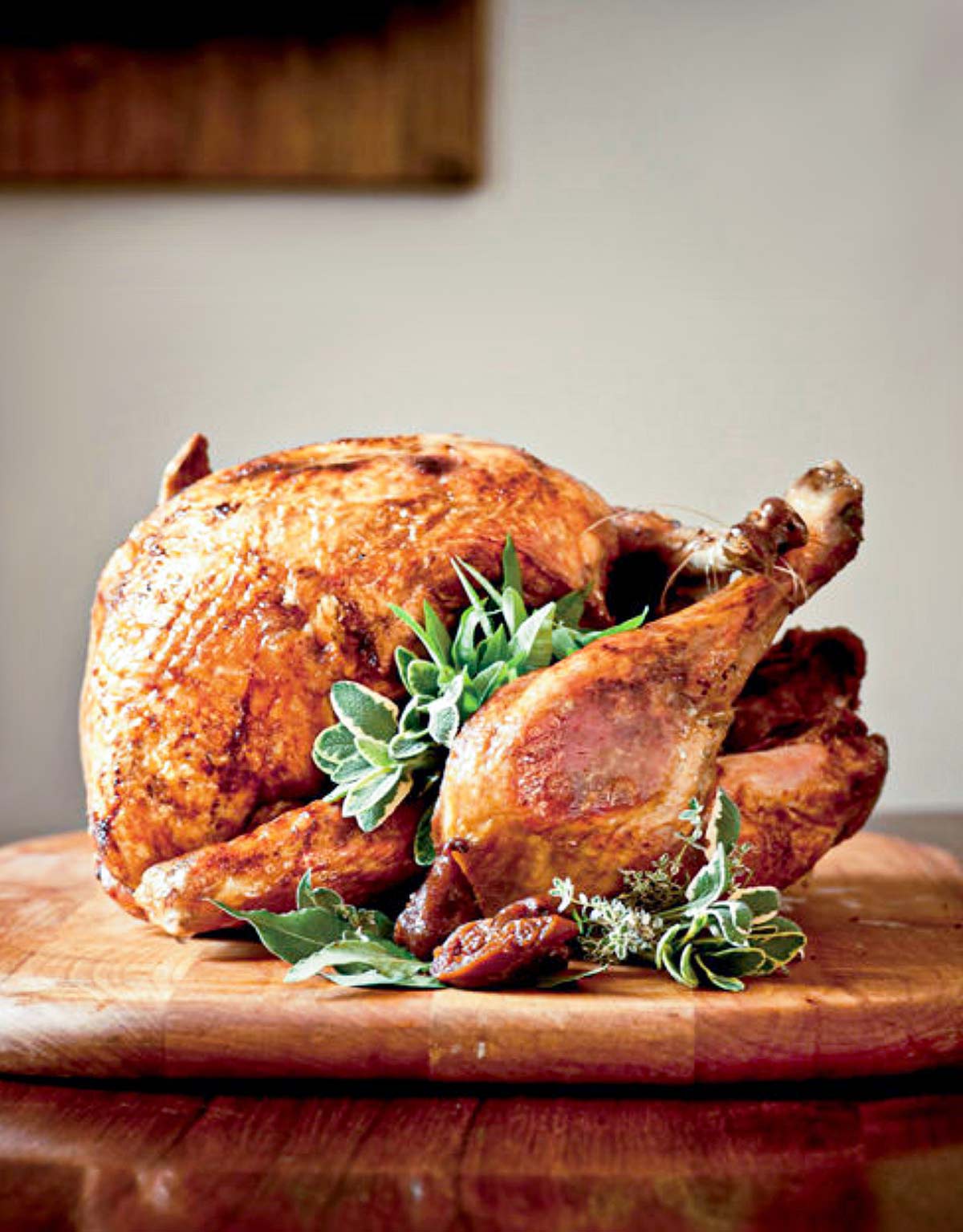 This deep-fried turkey, which requires no brine and no injection, is the juiciest and most tender we've ever tried and has just the slightest Cajun lilt. Here's how to (safely) make it.
Recipe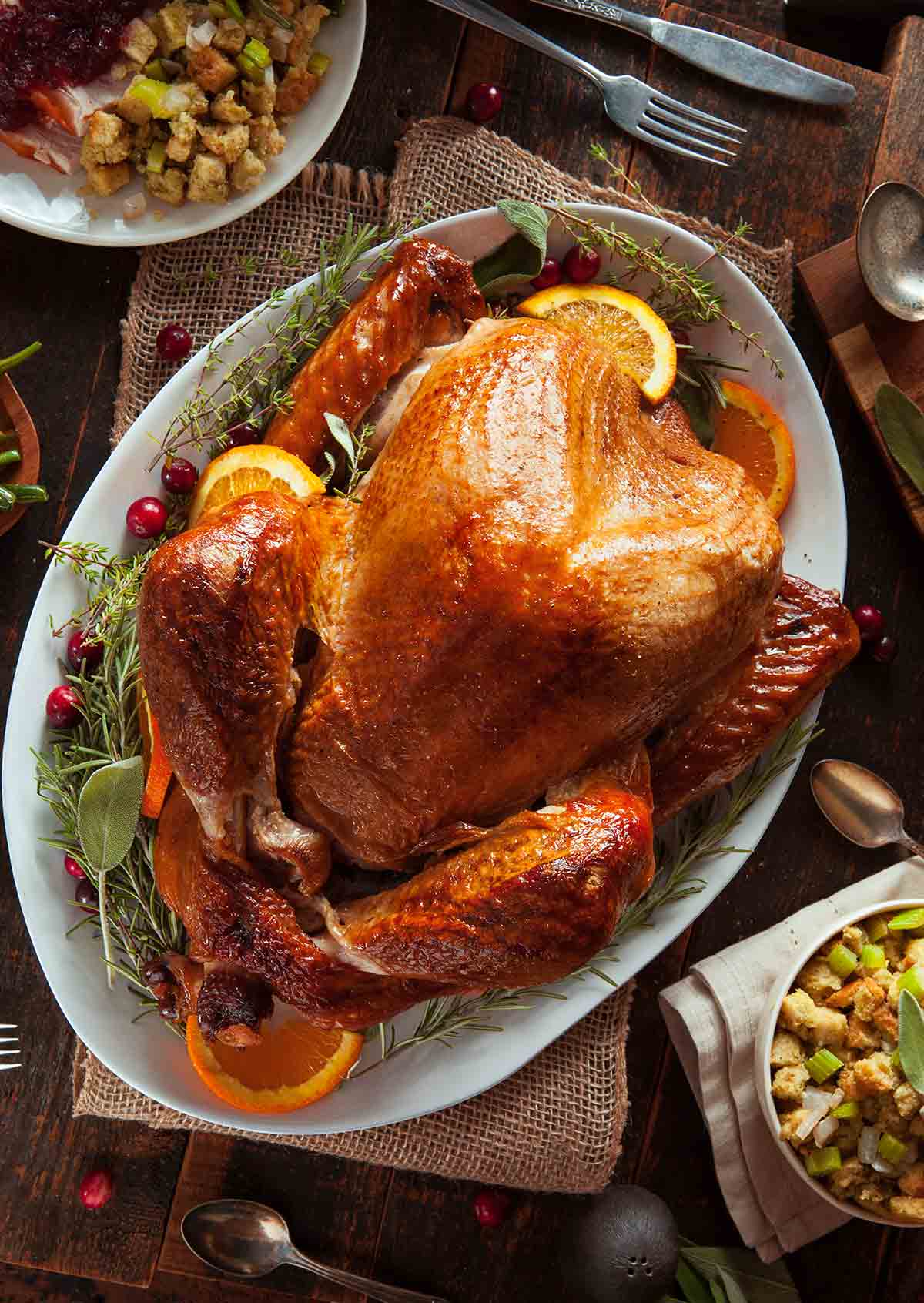 Simple roast turkey is an easy way to cook the perfect bird for Thanksgiving. And by that we mean the best, most juiciest roast turkey imaginable. A failproof technique, even for beginner cooks.
Recipe
Brandy-brined turkey breast. It's a simple and sure way to guarantee moist turkey. (Hiccup.)
Recipe
This maple glazed turkey is paleo friendly and gluten free and crowd pleasing and easy to make and, as if that's not enough, magnificent in taste.
Recipe
A 6- to 7-pound (2.75- to 3.25-kg) turkey—the perfect size for an intimate dinner party—will easily fit in your six-quart multicooker, and will produce the juiciest, most tender turkey your guests have ever had. To give the turkey a beautiful golden-brown finish, pop it under the broiler for about five minutes.
Recipe
Roasted and braised turkey makes certain that both the white and dark meat is cooked perfectly and with tons of flavor. Cooking them separately ensures that everything is succulent.
Recipe
This Texas style smoked turkey, which is smothered with a bold spice rub and slowly smoked on the grill, is welcome any time of the year, whether on your Thanksgiving table or your annual backyard shindig.
Recipe
This roast turkey breast is the answer to when you have more white meat lovers at Thanksgiving than you have white meat. Succulent, flavorful, and ready in 1 1/2 hours.
Recipe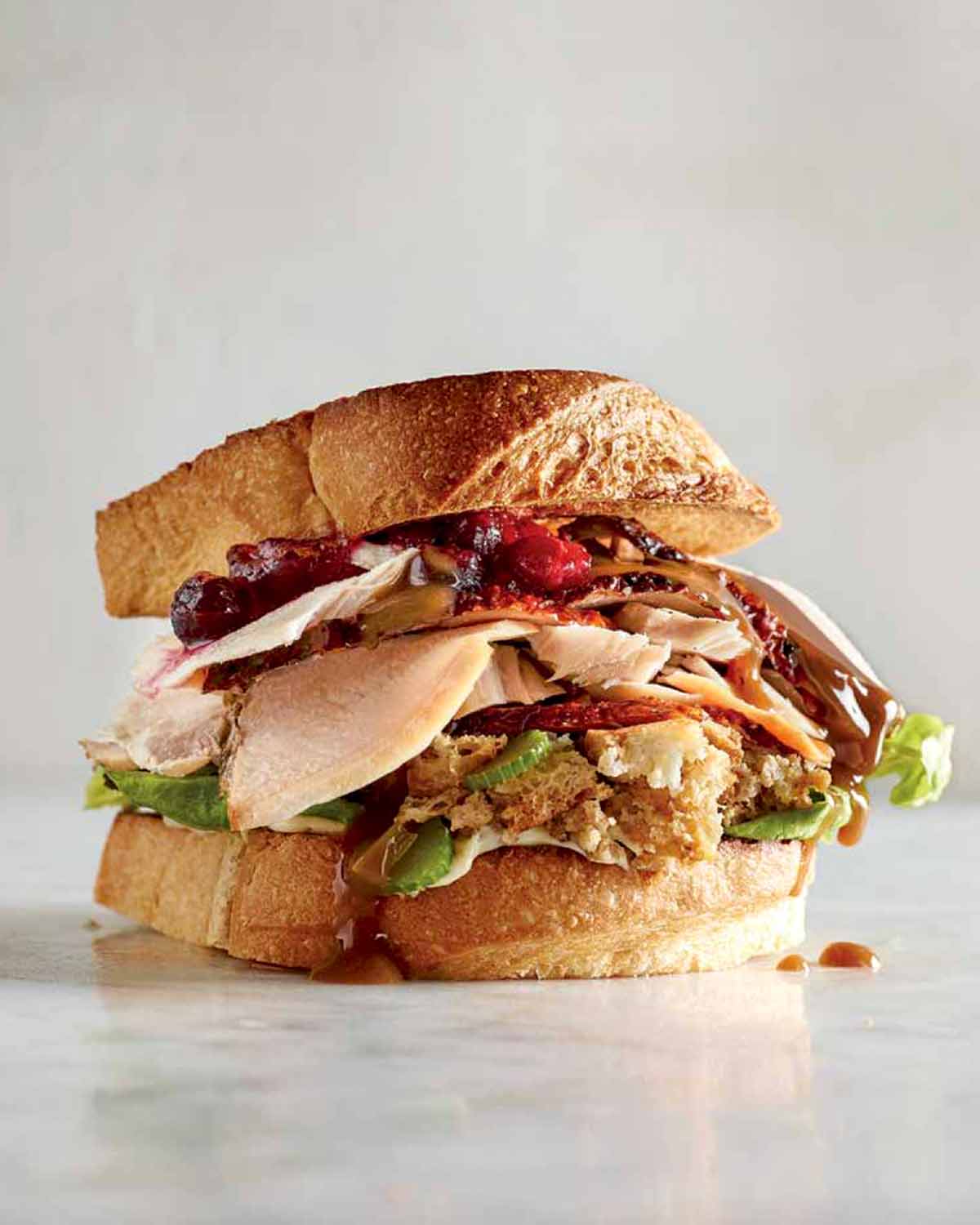 This turkey cranberry sandwich with stuffing is a classic post-Thanksgiving must. Slices of sturdy bread, mayo, cranberry sauce, turkey, stuffing, and gravy. The best part of Thanksgiving…besides the people at the table.
Recipe
This smoked paprika and fennel roast turkey with onion gravy is perfect for Thanksgiving. It's basted with a compound butter made with paprika and fennel and is unlike any turkey you've ever experienced. From chef Tom Douglas.
Recipe
© 2020 Leite's Culinaria. All rights reserved. All materials used with permission.