This brandy-brined turkey breast is certain to banish any misgivings you may have about turkey white meat being dry and bland. All you need is a boozy brine and an Asian-inspired tangerine glaze. As an added bonus, it requires no fussy carving around a carcass. Simply slice, sit back, and let the accolades roll in.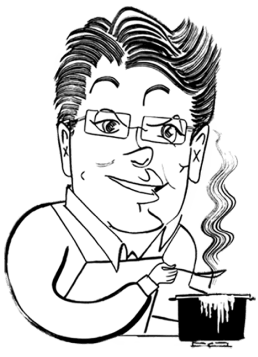 Why Our Testers Loved This
Tester Greg C. calls this grilled brined turkey breast "one of the most tender, juicy birds I've ever had." All of our testers commented on how incredibly moist the turkey breast was and were delighted that it's a holiday main dish that doesn't take up oven space.
Notes on Ingredients
Kosher salt–Depending on the brand of kosher salt you're using, you may need to adjust the amount of salt added to your brine. Crystal sizes in kosher salt can vary dramatically. So if you're using Diamond Crystal kosher salt, use 3/4 cups, and if you're using Morton kosher salt, use a heaping 1/3 cup. If you're uncertain of the brand, weigh your salt. You should have 3.75 ounces or 109 g.
Turkey breast–Ask your butcher to bone, roll, and tie your breast for you. It will save you a lot of time and frustration.
Soy sauce–Regular or low-sodium will work, and if you're keeping this gluten-free, use tamari or another gluten-free soy sauce.
Tangerine juice–If you can't get tangerines, regular orange juice will work.
How to Make This Recipe
Brine the turkey breast. Combine the brine ingredients in a stockpot and heat until the salt dissolves. Let it cool to room temperature. Place the turkey breast in a jumbo resealable bag, pour the brine over, and refrigerate for 12 to 24 hours.

Prepare the turkey. Drain the brine, rinse off the turkey, and let it sit in the fridge until the surface of the turkey begins to feel tacky.

Cook the turkey. Use a grill or smoker, adding wood chips as needed, to cook the turkey breast over indirect heat until the internal temperature reaches 165°F. Baste the turkey occasionally with olive oil.

Make the glaze. While the turkey is cooking, combine the glaze ingredients and boil until thick and syrupy. Strain.

Baste the turkey. During the last 5 minutes of cooking, baste the turkey with the glaze. Carve and serve with extra glaze on the side.
Recipe FAQs
What does brining do for a turkey breast?
The overnight brine will help draw the flavored liquid into the cells of the turkey breast, keeping it juicy and flavorful throughout the slow cooking process.
What's the best type of wood to use for smoked brined turkey breast?
Cherrywood is excellent with turkey, but you could also use apple, hickory, or mesquite.
How much boneless turkey breast do I need per person?
Plan on at least 1/2 pound of turkey breast per adult. Children will eat a little less, but always err on the side of a little extra.
Helpful Tips
If you can't find a large enough resealable bag to hold your turkey breast, put it in a canning pot and pour the brine over it. Make sure that the turkey breast is submerged in the brine.
If you don't have fridge space to hold your turkey while it's brining, you can put it in a cooler. Place the bag of brined turkey in a cooler and fill the rest of the cooler with ice. If you live in a cool climate, keep the cooler outside or in the garage.
This recipe is suitable for gluten-free and dairy-free diets.
Write a Review
If you make this recipe, or any dish on LC, consider leaving a review, a star rating, and your best photo in the comments below. I love hearing from you.–David
Brandy-Brined Turkey Breast
Brandy-brined turkey breast. It's a simple and sure way to guarantee moist turkey. (Hiccup.)
Ingredients
For the brined turkey
2

quarts

boiling water

3/4

cup

Diamond brand kosher salt or a heaping 1/3 cup Morton brand kosher salt

2

teaspoons

pink curing salt

,

optional

2

quarts

ice water

1/2

cup

brandy or Cognac

2

cinnamon sticks

2

strips

tangerine or orange zest (don't fret on the size)

One

(5.5- to 6-lb) whole

turkey breast

,

skin on, boned, rolled, and tied

Extra-virgin olive oil

1 1/2

cups

cherry or other hardwood chips

,

soaked for 30 minutes, then drained
For the tangerine glaze
1/2

cup

soy sauce

1/2

cup

fresh tangerine juice, from 3 tangerines

1/3

cup

honey

3

tablespoons

Asian (dark) sesame oil

5

strips

tangerine zest (1/2 inch or 12 mm each)

3

garlic cloves

,

peeled and lightly crushed with the side of a cleaver

3

scallions, white parts only

,

trimmed, lightly crushed with the side of a cleaver

Three

(1/4-inch) slices

fresh ginger

,

each peeled and lightly crushed with the side of a cleaver

1

cinnamon stick (3 inches or 8 cm)

1

star anise (optional)
Instructions
Brine the turkey
In a stockpot or large bowl, combine the boiling water, kosher salt, and curing salt, if using, and whisk until the salts dissolve, about 30 seconds. Stir in the ice water, brandy or Cognac, cinnamon sticks, and tangerine or orange zest. Let the brine cool to room temperature, about 1 hour.

Pat the turkey breast dry with paper towels. If the turkey breast is tied with string, leave it intact. Place the turkey in a jumbo resealable plastic bag. Pour in the brine, seal the bag, and place in a large bowl or roasting pan to catch any unexpected leaks. Refrigerator for at least 12 hours or as long as 24 hours, turning it several times to evenly infuse the turkey with the brine.

Remove the turkey breast from the brine, discarding the brine. Rinse the turkey and pat it dry. Place the turkey on a wire rack set inside a roasting pan and refrigerate until the surface feels dry yet tacky, 1 to 2 hours. Lightly brush the turkey breast with the olive oil.

If you're using a grill, set up the grill for indirect grilling and preheat to 350°F (180°C). Brush and oil the grill grate. Add the wood chips to the coals. Grill the turkey over indirect heat until the outside is golden brown and the internal temperature in the thickest part of the meat reaches 165°F (75°C), 1 to 1 1/2 hours. After 30 minutes, begin basting the turkey with extra-virgin olive oil, and continue basting every 15 minutes. If you're using a smoker, light your smoker according to the manufacturer's instructions and preheat to 250°F (120°C). Add the wood as specified by the manufacturer. Place the bird in the smoker. Smoke until the outside is bronzed with smoke and the internal temperature of the meat reaches 165°F (75°C), 2 1/2 to 3 hours. After 1 hour, begin basting the turkey with extra-virgin olive oil and continue basting every 45 minutes.
Make the tangerine glaze
While the turkey is cooking, set a medium saucepan over medium heat, stir together the glaze ingredients and bring to a boil. Reduce the heat slightly and simmer, uncovered, until the mixture is thick and syrupy, 8 to 20 minutes. Strain the glaze into a bowl.

During the last 5 minutes of cooking, baste the turkey with tangerine glaze. Transfer the turkey from the grill or smoker to a cutting board, cover loosely with aluminum foil, and let rest for 5 to 10 minutes.

Baste with more tangerine glaze. Remove the string and carve the turkey breast into slices. Serve the remaining glaze on the side.
Notes
Salt–If you're uncertain about the brand of your kosher salt, weigh it. You want to use 3.75 ounces or 109 g of kosher salt in your brine.
Turkey breast–Save some time and have your butcher bone, roll, and tie the turkey breast for you.
Brining vessel–If you can't find a bag large enough to hold your breast, stick it in a canning pot and cover it with the brine.
Dietary–This recipe is suitable for gluten and dairy-free diets. Make sure the brand of soy sauce you use is gluten-free or use tamari.
Nutrition
Serving:
1
portion
Calories:
370
kcal
Carbohydrates:
13
g
Protein:
55
g
Fat:
8
g
Saturated Fat:
1
g
Polyunsaturated Fat:
3
g
Monounsaturated Fat:
3
g
Trans Fat:
1
g
Cholesterol:
135
mg
Sodium:
1425
mg
Potassium:
675
mg
Fiber:
1
g
Sugar:
11
g
Vitamin A:
166
IU
Vitamin C:
5
mg
Calcium:
70
mg
Iron:
2
mg
Nutrition information is automatically calculated, so should only be used as an approximation.
Photo © 2017 Matthew Benson. All rights reserved.
---
Recipe Testers' Reviews
This brined turkey breast recipe is one of those that sneaks up behind you, taps you on the shoulder, and says, "Hey, look at me." This brined turkey was one of the most tender, juicy birds I've ever had.
Simple ingredients, nothing fancy, but great flavors. The brining was key to that and definitely paid off. As for the flavor, the smoke and the citrus glaze made for a really tasty combination of sweet and savory. I'll be brining all my turkeys from now on.
The Asian influence of soy, tangerine, ginger, garlic, scallion, sesame, cinnamon and honey, when boiled down into the thick lacquer (which took some time but worth it), really came through. And combining that intense flavor with the richness of a turkey breast smoked over hickory wood really made us stand up and take note.
Our mouths were watering from the moment the turkey came off the smoker and they watered more as we enjoyed the meal because the brining step really helped keep the turkey super moist. The brined turkey remained very moist the next day when we sliced up what was left for delicious hot turkey sandwiches (dressed with tangerine lacquer glaze, of course!).
This brined turkey satisfied my craving for turkey (when it was nowhere near Thanksgiving), didn't take up any space in my oven, and was a cinch to carve. Best of all, my guests RAVED about it.
The turkey came out incredibly moist with a light smoke ring and subtle smoke flavor. I didn't really detect any of the brandy or cinnamon or orange flavoring in the turkey, but it was moist and delicious.