This Texas style smoked turkey with a bbq rub may not be what you traditionally expect from a Thanksgiving bird, but the juicy, smoky meat will make it the star of your table. As an added bonus, while the spice-rubbed turkey is smoking on the grill, your oven remains completely free for all the other important (and essential) side dishes. We can attest that this hen is equally welcome at all other times of year as well.–Angie Zoobkoff
Texas Style Smoked Turkey
This Texas style smoked turkey, which is smothered with a bold spice rub and slowly smoked on the grill, is welcome any time of the year, whether on your Thanksgiving table or your annual backyard shindig.
Ingredients
One

(12-to 15-pound)

turkey

Extra-virgin olive oil

,

for drizzling

Kosher salt and freshly ground black pepper

1/4

cup

packed light brown sugar

1

tablespoons

ground cumin

,

or more, if desired

2

tablespoons

ground coriander

2

teaspoons

dried Mexican oregano

2

teaspoons

ground chile powder from a single chile pepper (such as New Mexico or ancho)

2

tablespoons

white wine vinegar

Wood chips

,

chunks, or logs for smoking
Instructions
At least 1 hour before cooking, spatchcock* (see below) the turkey. Alternatively, you can ask your butcher to do this for you.

Rinse the turkey under cold water, pat it dry with paper towels, and place it on a rimmed baking sheet. Drizzle both sides of the bird with oil and season generously with salt and pepper.

In a small bowl, stir together the brown sugar, cumin, coriander, oregano,paprika, chile powder, and vinegar until it forms a thick paste. Use your hands to slather the mixture over the turkey (and, if you want, a little can go under the skin) and let it rest while you prepare the fire.

If using a charcoal grill, prepare a charcoal grill for indirect cooking on medium-high When the coals are glowing red and covered with a fine gray ash, use your tongs to arrange them into a crescent moon shape.
If using a gas grill, heat it for indirect cooking.

Toss your smoke source (chips, chunks, or log) in the grill or smoker box, if your grill has one. Carefully wipe the preheated grill grates with a lightly oiled paper towel. Using a grill brush, scrape the grill grates clean, then carefully wipe with a lightly oiled towel again.

When the fire begins to produce a steady stream of smoke, place the turkey on the grill, breast side up, with the turkey legs and thighs situated over the direct heat of the coals and the breast toward indirect heat.

Close the grill, vent the grill for smoking, and smoke, adding hot coals or wood as necessary to maintain the temperature between 325°F (165°C) and 350°F (175°C), until an instant-read thermometer inserted into the thickest part of the thigh reads between 175°F (79°C) and 180°F (82°C) and the breast reads between 160°F (71°C) and 165°F (74°C), about 2 hours.

Transfer the turkey to a cutting board to rest for at least 20 minutes.

Slice the turkey into portions and serve immediately. The skin will be tough, as is usually the case with smoked poultry, so you may want to caution guests to simply set it off to the side.
Notes
What You Need To Know About Spatchocking A Turkey
"Spatchcocking" basically means butterflying a turkey by taking the backbone out, which enables you to flatten the bird which, in turn, ensures it cooks far more evenly on the grill than if it was in it usual form. The name "butterflying" presumably comes from the resemblance of the spread-out hen to a butterfly (well, maybe a little, after a few beers). Whatever you call this nifty trick, after you try it once, you're going to want to do it again. And again. And again. A pair of sturdy kitchen shears will make much quicker work of the task for the spatchcock-obsessed than even your trustiest chef's knife, though the latter comes in handy after you pull the turkey from the grill and need to divvy it up into parts.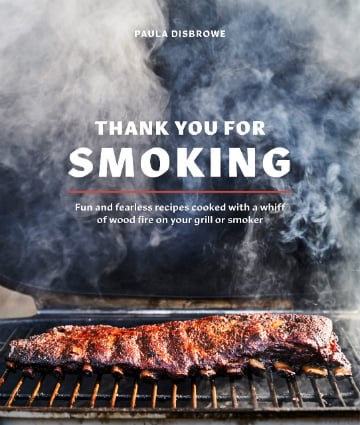 Nutrition
Serving:
1
portion
Calories:
487
kcal
Carbohydrates:
7
g
Protein:
93
g
Fat:
8
g
Saturated Fat:
2
g
Polyunsaturated Fat:
2
g
Monounsaturated Fat:
2
g
Trans Fat:
0.03
g
Cholesterol:
274
mg
Sodium:
485
mg
Potassium:
1009
mg
Fiber:
1
g
Sugar:
6
g
Vitamin A:
343
IU
Vitamin C:
2
mg
Calcium:
70
mg
Iron:
4
mg
Nutrition information is automatically calculated, so should only be used as an approximation.
Recipe © 2019 Paula Disbrowe. Photo © 2019 Johnny Autry. All rights reserved.
---
Recipe Testers' Reviews
Grilling a whole turkey might sound like a lot of work, but there are advantages that far exceed the few extra steps. For me, the flavor you get from grilling trumps an oven roasted turkey and adding just a bit of smoke takes it over the top.
I tend to stick with the standard poultry seasoning (parsley, rosemary, sage, lemon) so I was intrigued by the spice blend in this recipe. It has a Mexican vibe so I knew I wanted the whole meal to revolve around that.
My turkey weighed about 10 pounds and I spatchcocked it using poultry scissors. I used all the spices listed to make the paste and I had plenty to cover the turkey. The cumin was a little heavy so I think I would cut back on that next time.
I started the fire using lump charcoal to get the grill hot then topped off with briquettes to maintain. Once I got the bird on I added a handful of apple wood chips and put the lid on. The grill came up to temp rather quickly so I adjusted the vents. I used a digital probe thermometer stuck through the top vent to get a more accurate air reading. I only had to top off the coals and wood chips one time and that only took a minute to do.
I found that using my pizza peel to take the bird off the grill worked well to keep it from falling apart. The turkey was done in 2 hours and that gave me enough time to make the rest of the meal. I served it with black beans and rice, warm tortillas, roasted garlic, guacamole, and pico de gallo. The breast was very tender and juicy and not dry at all. This will be my go-to method for my next Thanksgiving turkey for sure.
This is a delicious, simple recipe using store cupboard essentials which could be used on many different meats in preparation for the bbq. It's addictive with its heat and sweetness and this is now my go-to rub for meats.
I really struggled with cooking this on the grill. The sugar makes it extremely prone to burning and controlling the heat was the biggest challenge. The rub itself is delicious and if you have a snazzy bbq and are more adept at this kind if cooking method I think this is a real pearl of a recipe.
I followed all instructions to the point of getting the meat on the bbq, but after about 30 mins of trying to control the heat and stop it going black I felt I had no option to admit defeat and knock the oven on and finish it off in there at 220°F and covered in foil. I would hold my hands up and say this could easily be my lack of ability with a bbq (!!) so may well not reflect an issue with the recipe.
I have to say, though, I still got a deliciously succulent turkey – very tasty indeed. I actually paired this with the magic sauce and it went beautifully.
This served 8 of us. (We are greedy.)
I used hickory wood chips.
The spice mix didn't make a paste. More of a dry crumble. I added an extra tablespoon of vinegar which still didn't make a paste but was easily enough smeared onto the turkey.