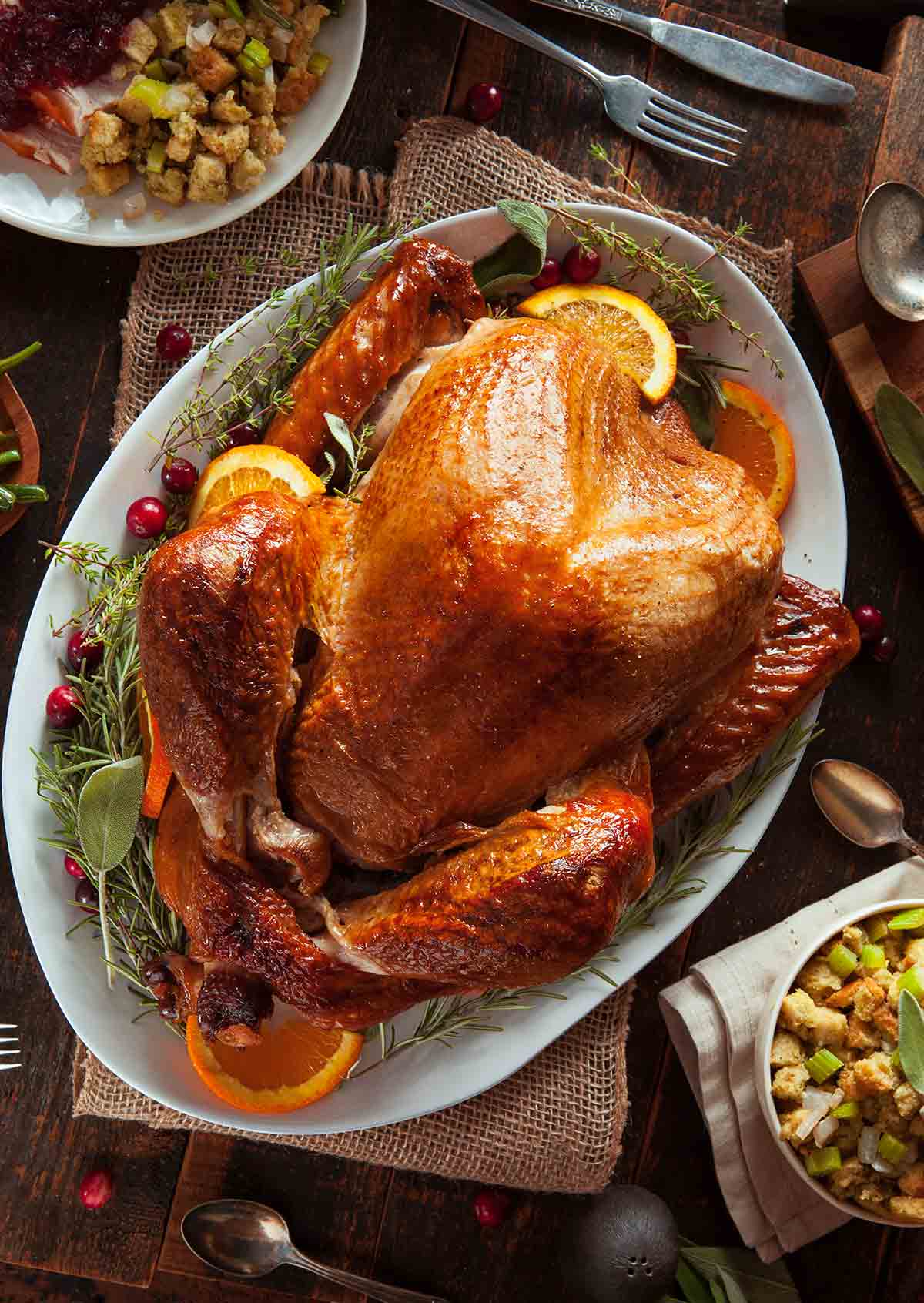 Simple roast turkey. It sounds sorta too good to be true, yes? And yet we're here to assure you, from our own experience as well as that of the venerable Barbara Kafka, that it is possible. And easy. And juicy. And quite possibly the best damn turkey you've ever experienced. Without further ado, here's how to cook the perfect turkey.–David Leite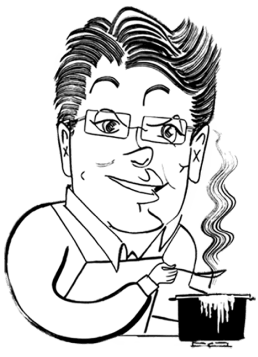 Why Our Testers Loved This
Our testers couldn't believe how quickly this oven-roasted turkey was ready. They were delighted that it could be cooked so fast, yet still turn out juicy and tender with crispy, golden skin.
Notes on Ingredients
Turkey–A 12-to-15-pound bird is perfect for the recipe. Make sure it's thawed and at room temperature before starting. Set the giblets and neck aside for making giblet gravy or freeze them then pull them out when making turkey stock.
Black pepper–We suggest, at a minimum, sprinkling the outside of your turkey with freshly ground black pepper. Feel free to stick some fresh herbs or other spices in the cavity to give it a little more flavor.
How to Make This Recipe
Heat the oven. Crank the oven to 500°F. Yes, you read that correctly. 500°F.

Prepare the turkey. Pat the turkey dry and season with pepper. If stuffing the turkey, add stuffing to both cavities and secure the openings.

Roast the turkey. Cook until the internal temperature reaches 165°F, about 2 hours. Let rest for 20 minutes before carving the turkey.

Make the jus. Set the roasting pan over medium heat, pour in water or stock, and simmer until reduced by half.
Recipe FAQs
What size turkey should I buy?
We go out of our way to seek out a 12- to 14-pound turkey not only because that's what fits readily in our roasting pan but because it cooks in a modest amount of time. Turkeys that are larger tend to cook more unevenly because by the time the dark meat is properly cooked, the leaner white meat tends to become dried out. When we need to feed a crowd, we simply snuggle a couple 12- to 14-pounders side by side in the roasting pan, turning them to face the short side of the pan.

That said, no matter what size your hen, you'll get superior results if you blast it at high heat, as in the recipe below, than if you use a lower temperature. Check out this handy roasting chart for approximate roasting times for a variety of weights.

Do I need to baste the turkey?
No. Since this turkey is roasting at a high temperature, you want to keep the oven door closed as much as possible. Basting the turkey will only result in lost heat, meaning that the turkey will take longer to cook, and possibly end up dried out.
How long does it take to thaw a frozen turkey?
Allow 24 hours for every 4 pounds of turkey. If you've got a 12-pound turkey, you'll need to move it to the refrigerator at least 3 days before cooking.
How can I tell when my turkey is done?
The turkey is ready when a meat thermometer inserted into the thickest parts of both the thigh and the breast (without touching the bone) registers 165°F (74°C).
Helpful Tips
Start with a clean oven. This high heat turkey recipe requires a very hot oven and any drips or spills that are lurking in there will create smoke. Nobody wants to have to call the fire department on Thanksgiving day.
If your turkey is browning too quickly, tent it with foil. If you find the legs are becoming very dark, rotate the roasting pan so that the breast is at the back of the oven, and wrap some foil around the end of the legs.
If you don't have a large roasting pan, there's no need to splurge on anything fancy. Pick up a large heavy-duty foil roasting pan. It's inexpensive, and you don't even have to wash it when you're done.
Don't toss out the drippings from your roast turkey. They can be served to drizzle over the turkey or use in classic turkey gravy.
Leftover roast turkey can be stored in the fridge for up to 4 days or in the freezer for up to 3 months. Looking for leftover Thanksgiving dinner recipe inspiration? Check out these 10 Dishes to Make with Thanksgiving Leftovers.
Write a Review
If you make this recipe, or any dish on LC, consider leaving a review, a star rating, and your best photo in the comments below. I love hearing from you.–David
Simple Roast Turkey
Simple roast turkey is an easy way to cook the perfect bird for Thanksgiving. And by that we mean the best, most juiciest roast turkey imaginable. A failproof technique, even for beginner cooks.
Ingredients
One

(15-pound)

turkey

,

thawed, if necessary, and at room temperature, wing tips removed, reserving giblets and neck for gravy, and the liver for stuffing

Freshly ground black pepper

,

to taste

1

cup

water, or turkey or chicken stock,

homemade or canned

Basic giblet gravy

,

optional
Instructions
Place oven rack on second level from bottom of oven. Heat oven to 500°F (260°C). [Editor's Note: If you haven't scrubbed that volcanic-looking burnt-on apple pie filling from the floor of the oven yet, now would be a good time to do so.]

Rinse the turkey inside and out and pat it dry. Sprinkle the outside with pepper. If stuffing the bird, stuff both cavities, securing the openings with long metal skewers. Do not truss the turkey.

Place the turkey in an 18-by-13-by-2-inch roasting pan, breast side up. Put it in the oven legs first. After 20 minutes, wiggle the turkey around with a sturdy spatula to keep from it from sticking to the pan. Roast until the leg joint near the backbone wiggles easily, and an instant-read thermometer inserted into the thickest part of the thigh reads between 165°F (74°C), about 2 hours.

Remove the turkey to a large platter. Let sit 20 minutes before carving.

Pour off the excess fat from the juices in the roasting pan so you are left with just a slick of pan juices. Place the pan on top of the stove, setting it over 2 burners, if necessary. Add the water or stock and bring to a boll while scraping the bottom of the pan vigorously with a wooden spoon, loosening all the crisp burnt-on bits, which will add intensity to the gravy. Let reduce by half. Serve the jus on the side in a sauce-boat or add it to a giblet gravy.
Notes
Use a disposable pan–If you don't have a large turkey roasting pan, buy a heavy-duty foil roasting pan. It's inexpensive, and you can toss it out when you're done.
Storage–Leftover turkey can be stored in the refrigerator in a sealed container for up to 4 days and frozen for up to 3 months.
Dietary–This recipe (without stuffing) is suitable for gluten-free and dairy-free diets.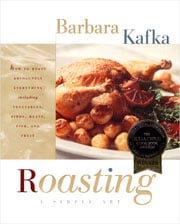 Nutrition
Serving:
1
portion
Calories:
570
kcal
Carbohydrates:
3
g
Protein:
85
g
Fat:
23
g
Saturated Fat:
6
g
Polyunsaturated Fat:
6
g
Monounsaturated Fat:
7
g
Trans Fat:
0.2
g
Cholesterol:
278
mg
Sodium:
703
mg
Potassium:
866
mg
Sugar:
1
g
Vitamin A:
216
IU
Calcium:
43
mg
Iron:
3
mg
Nutrition information is automatically calculated, so should only be used as an approximation.
Recipe © 1995 Barbara Kafka. Photo © 2011 bhofack2/Deposit Photo. All rights reserved.
---