Leftover Roast Chicken Soup
This leftover roast chicken soup is a cinch to make in your slow cooker and is a great way to use up any vegetables languishing in your fridge.
Recipe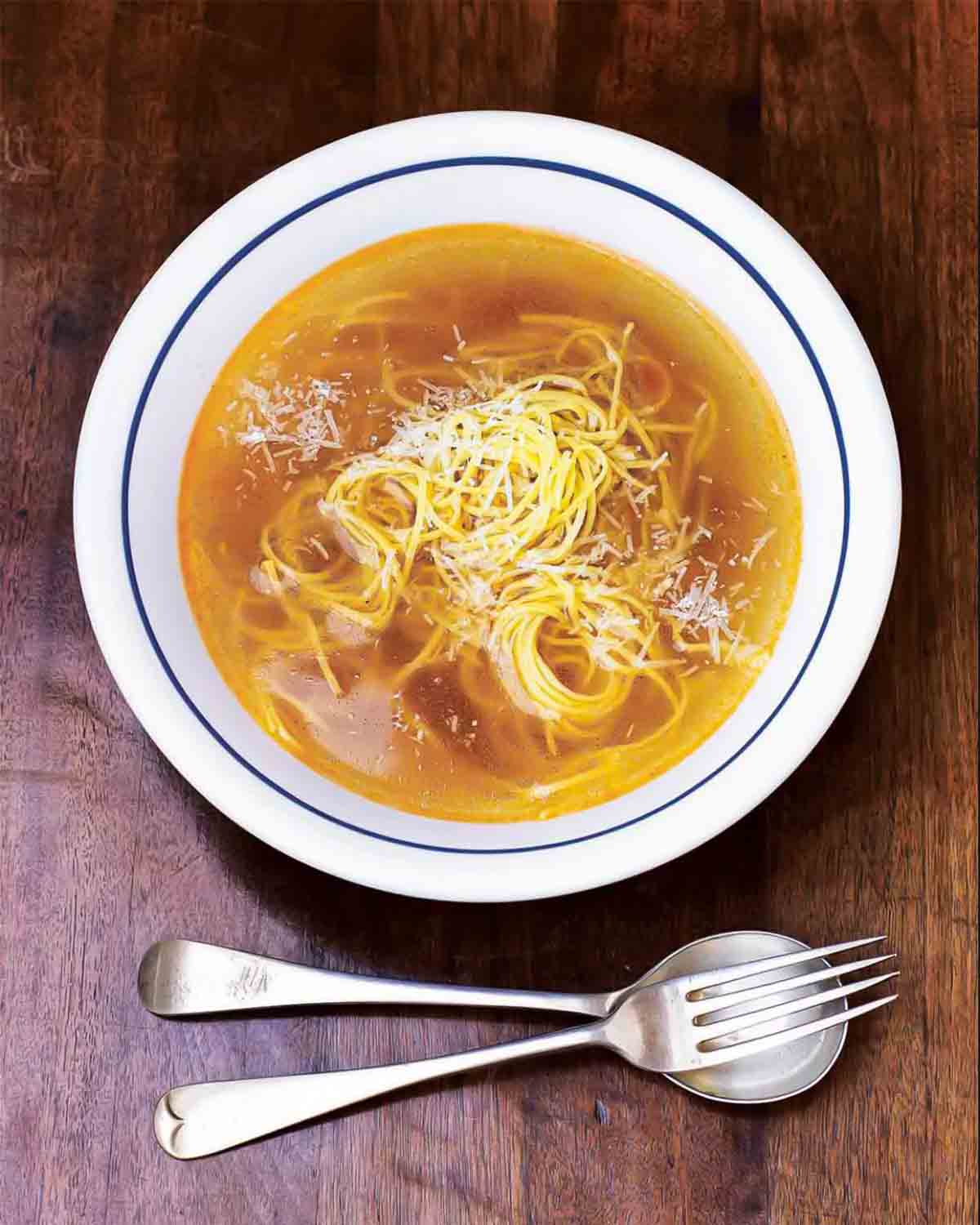 Brodo di Pollo ~ Italian Chicken Soup
Brodo di pollo. That's Italian for "the most gosh darn comforting and restorative chicken soup ever to cross the lips of someone who's under the weather or just needs some soothing sustenance."
Recipe
Hot and Sour Soup
Hot and sour soup may be something you're used to ordering from your closest Chinese restaurant. But this easy and authentic version, filled with ground pork, tofu, and mushrooms, is done in less time than it takes to order takeout. And, quite honestly, it's the best we've ever had.
Recipe
Gwyneth Paltrow's Carrot Ginger Soup
Carrot ginger soup is a creamy cool-weather classic happens to be vegan and is made with a few healthy and inexpensive ingredients including carrots, onions, garlic, ginger, coriander, cumin, and garam masala and, if desired, coconut milk. Ready in minutes.
Recipe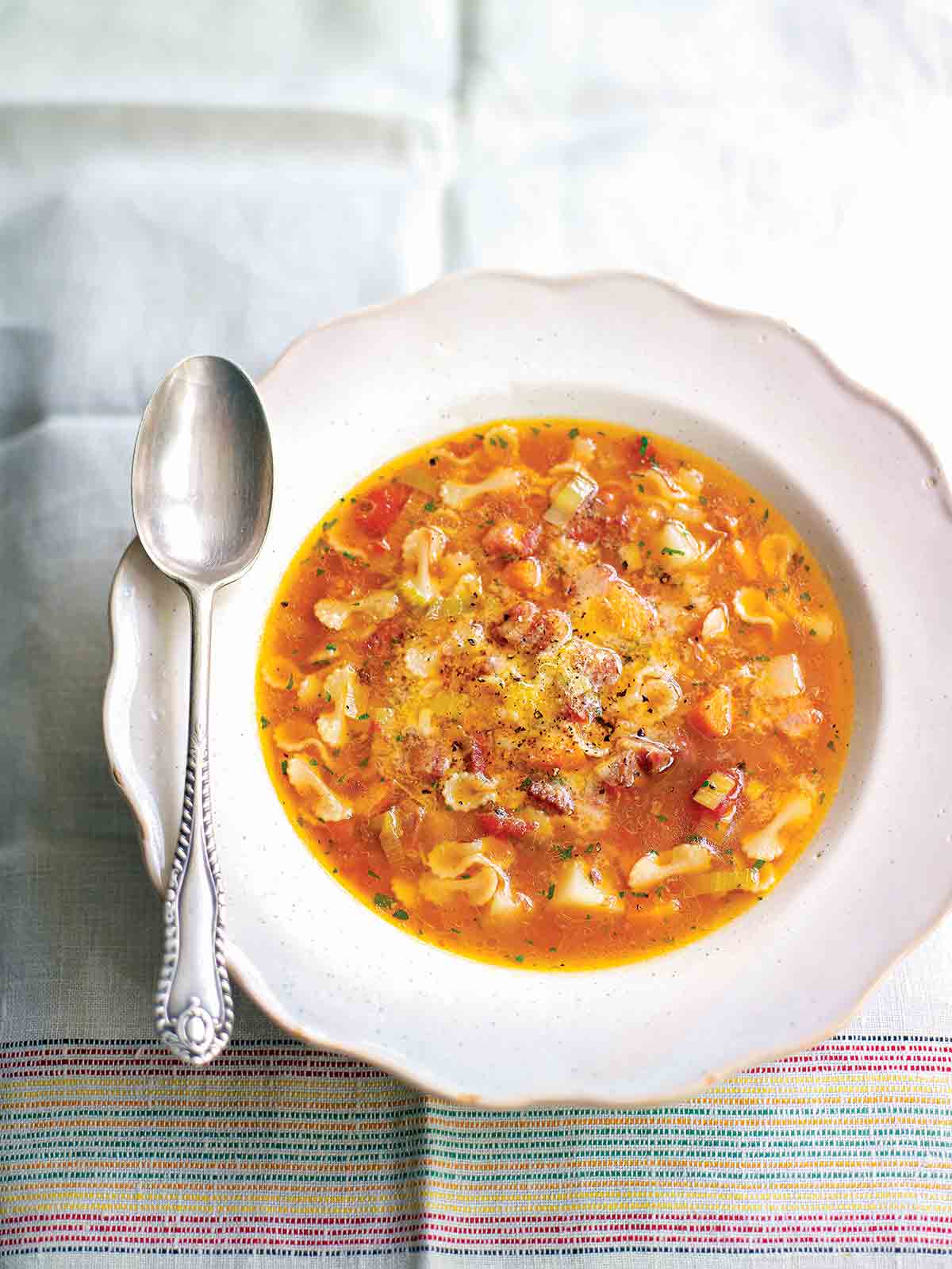 Pasta Soup with Potatoes and Pancetta
This pasta soup with potatoes and pancetta is a traditional Italian soup made with potatoes, carrots, and leeks, tender pasta and diced pancetta. Hearty cold-weather comfort food.
Recipe
North African Chicken Soup
This North African chicken soup is made with chicken stock, ras el hanout, couscous, and preserved lemon. It's an easy and inexpensive soup that is just as satisfying at dinner as it is at your desk for lunch the next day.
Recipe
Moroccan Lentil Soup
This warmly spicy, soul-satisfying Moroccan lentil soup blends red lentils, tomatoes, onion, celery, garlic, and cilantro with ras el hanout, a North African spice mix. On top? Chile-fried onions. Healthy doesn't taste any more soothing.
Recipe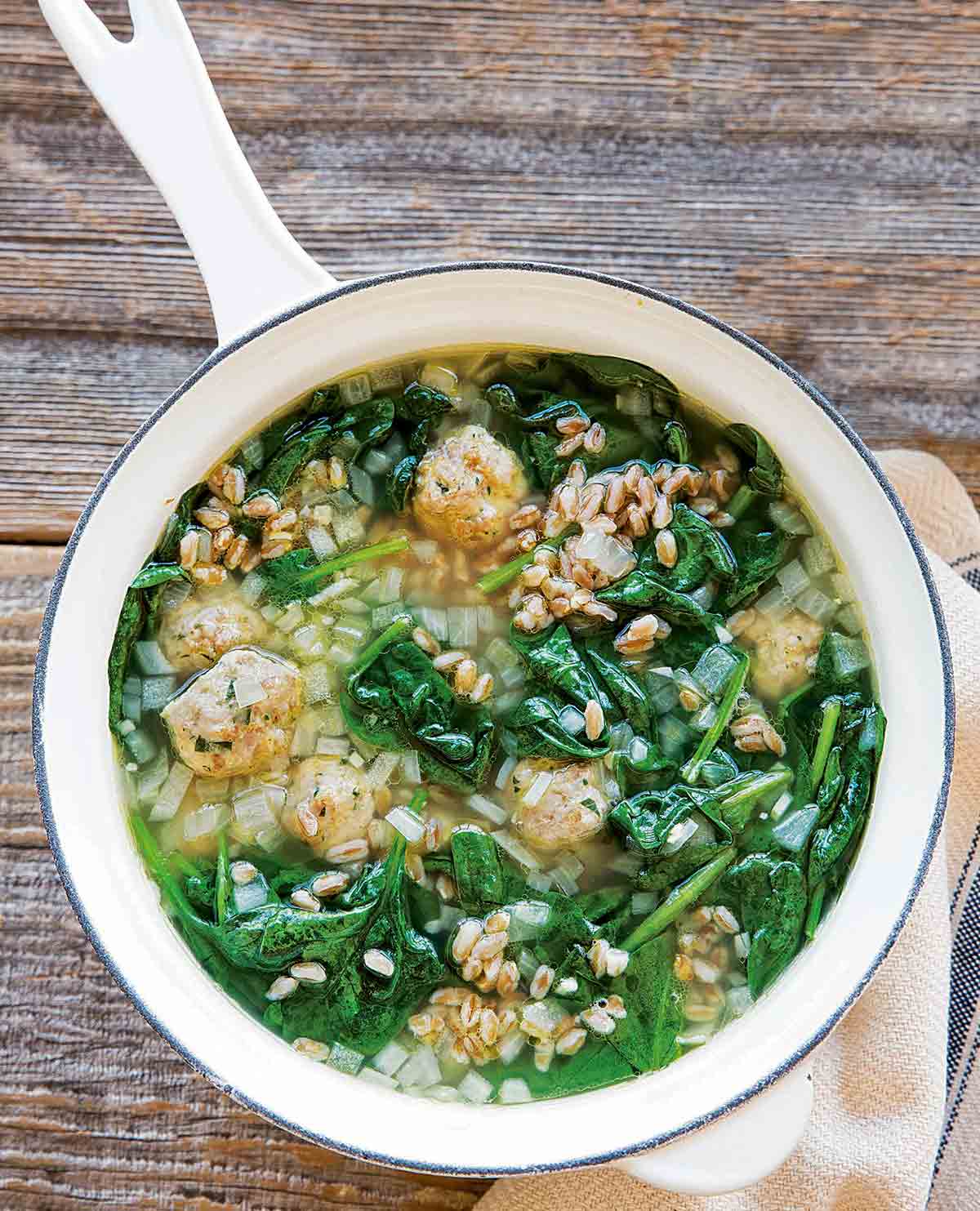 Turkey Meatball Soup
This turkey meatball soup with spinach is a healthier riff on Italian wedding soup and is made using mini meatballs made with turkey. Also includes farro, a nutty whole grain. A weeknight fix that's satisfying, simple, and kid-friendly.
Recipe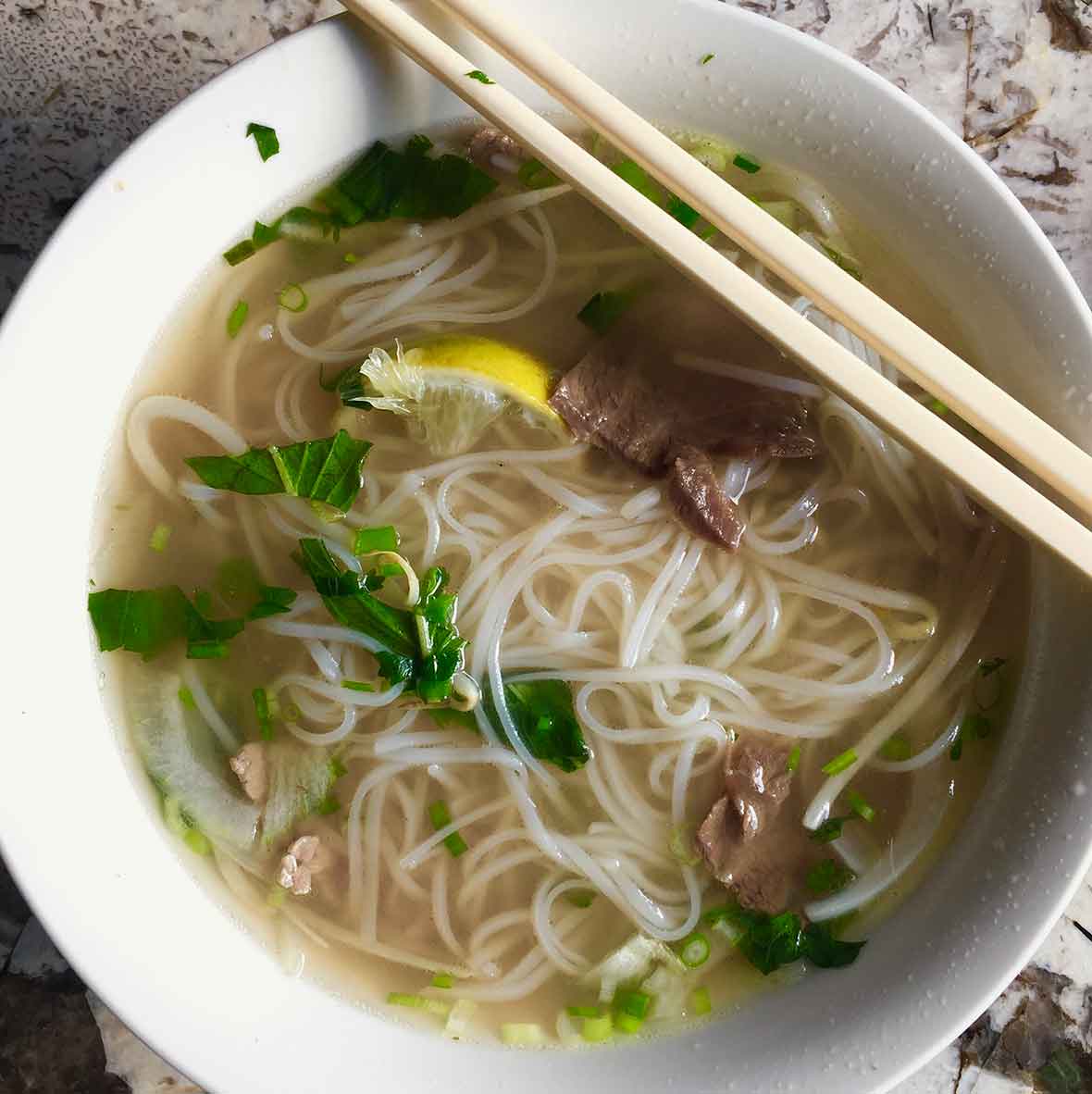 Authentic Vietnamese Pho
Vietnamese pho is a soup made with a beef broth rich with ginger, onions, star anise, fish sauce, and onions. Into that go rice noodles, beef, scallions, bean sprouts, and fresh herbs.
Recipe
Mexican Chicken Soup
This Mexican chicken soup is authentic Yucatan fare that's simply broth, avocado, lime, tortilla, and rice. The sum is far more than the parts. And it's comforting as heck.
Recipe
Ancho Chile Soup
This ancho chile soup recipe is made with a chile-spiked broth, queso fresco, avocado, sour cream, and fried tortilla strips.
Recipe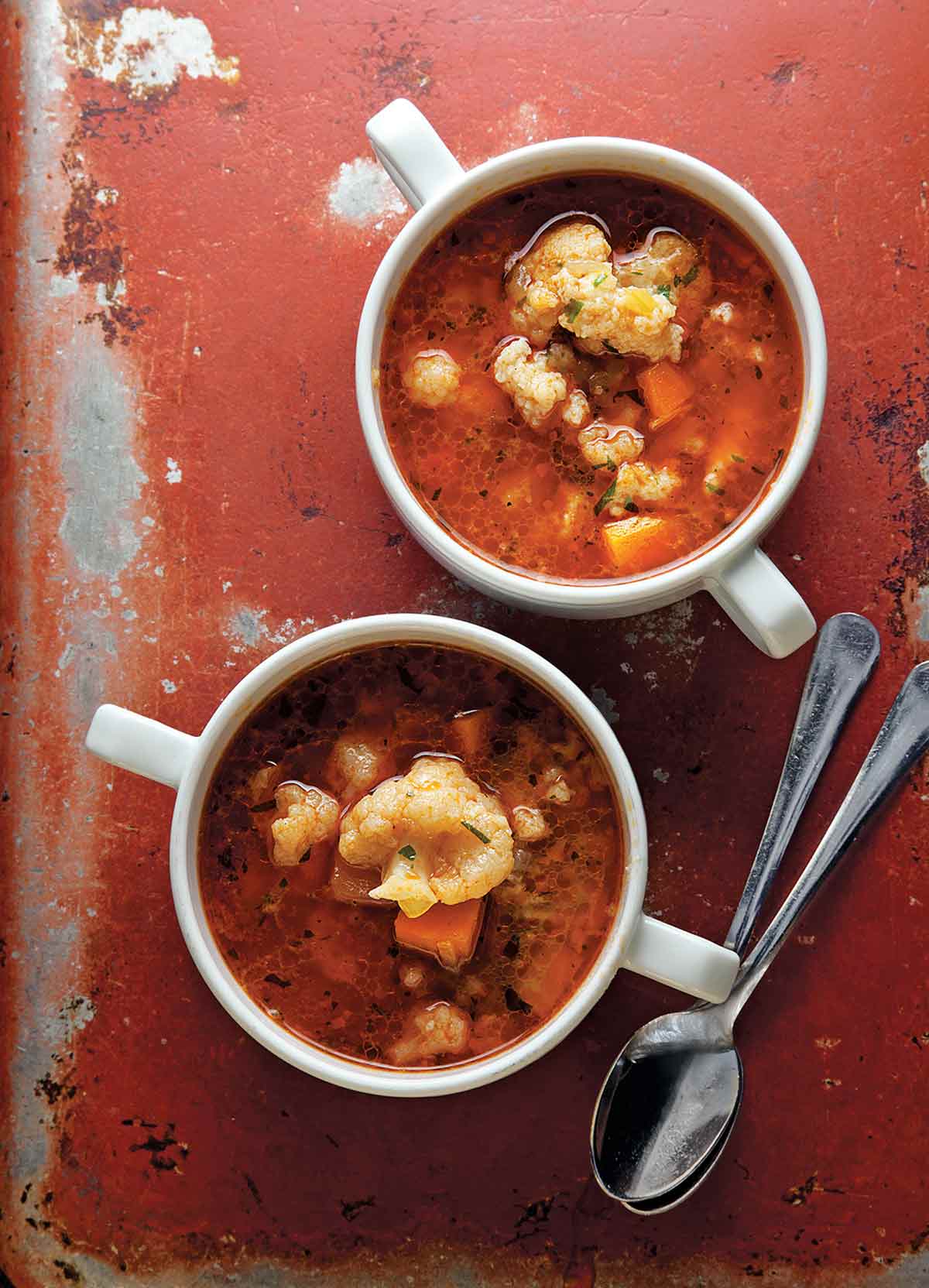 Hungarian Cauliflower Soup ~ Karfiolleves
Hungarian cauliflower soup with dumplings, also known as karfiolleves, is a quick, easy, frugal, pantry-friendly soup that's simple to make but complex in taste. It's made with lotsa spice and, quite frankly, is unlike any other soup you've experienced.
Recipe