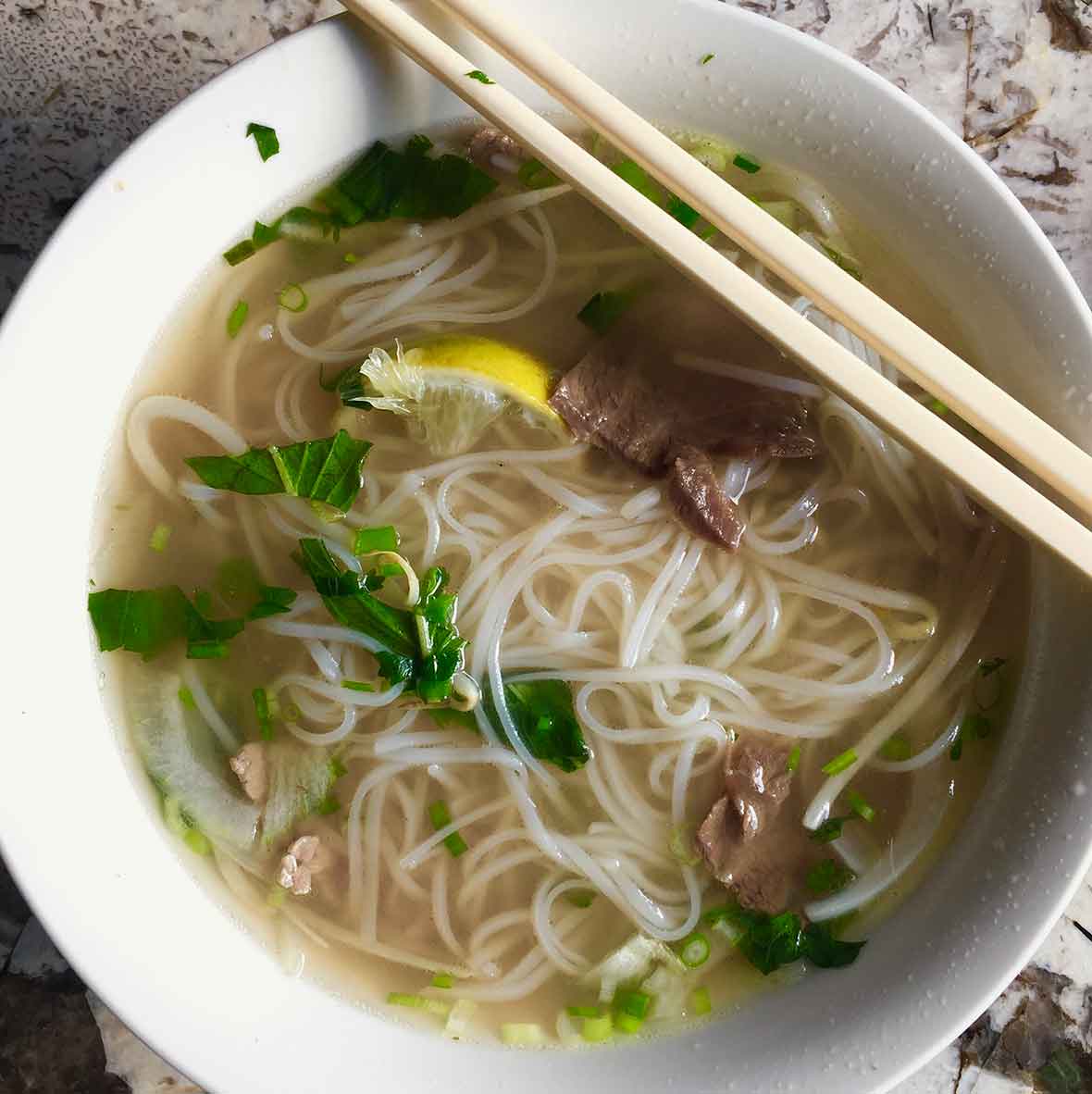 Pho (pronounced "fuh") is an exquisitely spiced soup constructed of a clear beef broth fragrant with ginger and star anise and slippery rice noodles. It's a beloved breakfast in Vietnam, and honestly, we can't think of a better reason to get out of bed… any time of day.–David Leite
How to Eat Pho
Lucky you! Cookbook author Mai Pham compiled a cheat sheet on how to properly slurp pho. Here's what she suggests… Many cookbooks call for the broth to be made with oxtail bones, but I prefer a combination of marrow bones and beef chuck, which is what pho cooks in Vietnam use. You can serve this soup with any of several different types of beef, whether rare to well-done chuck, brisket, meatballs, tripe, tendon, and so on. (The easiest ones to prepare at home are cooked and raw beef, as in the recipe that follows.) Begin by adding bean sprouts, fresh chiles, and a little squeeze of lime. Using your fingers, pluck the Asian basil leaves from their sprigs and, if saw-leaf is available, shred the leaves and add them to the soup. Add the herbs little by little, eating as you go. (If you put them in all at once, the broth will cool too fast and the herbs will overcook and lose their bright flavors.) Push the garnishes in the hot broth with your chopsticks and gently turn the noodles. Chili sauce and hoisin sauce are traditional condiments, but I avoid them because, to my taste, they mask the flavor of pho. Eat pho while it's piping hot. If you wait for it to cool down, the noodles will expand and become soggy and the dish will taste bland. (Some connoisseurs don't even talk while they eat their pho, preferring to save serious chatting for later). With spoon in one hand and chopsticks in the other, pull the noodles out of the broth and eat them, slurping the broth. It's perfectly acceptable to be seen with clumps of noodles dangling from your mouth, eyes squinting from the steam. The broth is served in large amounts to keep the noodles warm and to help season the dish. It's not meant to be consumed in its entirety. But if you're in the mood, it's not considered rude to tip the bowl and slurp down every last drop.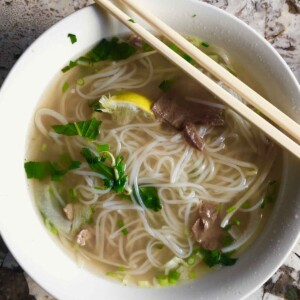 Authentic Vietnamese Pho
Vietnamese pho is a soup made with a beef broth rich with ginger, onions, star anise, fish sauce, and onions. Into that go rice noodles, beef, scallions, bean sprouts, and fresh herbs.
Ingredients
For the pho broth
5

pounds

beef marrow or knuckle bones

2

pounds

beef chuck

,

cut into 2 pieces

Two

(3-inch)

pieces ginger

,

halved lengthwise, lightly bruised with the flat side of a knife, and charred* (see below)

2

yellow onions

,

peeled and charred* (see below)

1/4

cup

fish sauce

3

ounces

rock sugar,

(found at Asian markets) or 3 tablespoons granulated sugar

10

whole

star anise

,

lightly toasted in a dry pan

6

whole

cloves

,

lightly toasted in a dry pan

1

tablespoon

sea salt

,

or to taste
For the pho
1

pound

dried 1/16-inch (2 mm) wide rice noodles (banh pho),

soaked and cooked according to package instructions

1/3

pound

beef sirloin

,

slightly frozen, then sliced paper-thin across the grain

1/2

yellow onion

,

sliced paper thin

3

scallions

,

cut into thin rings

1/3

cup

chopped cilantro

1

pound

bean sprouts

10

sprigs

Asian basil

,

(may substitute regular basil or mint)

1

dozen

saw-leaf herb leaves

,

(optional)

6

Thai bird chiles or 1 serrano chile

,

cut into thin rings

1

lime

,

cut into 6 thin wedges

Freshly ground black pepper

Chili sauce

,

to taste (optional)

Hoisin sauce

,

to taste (optional)
Instructions
Make the pho broth
Haul a large stock pot onto the stovetop and bring 6 quarts (24 cups) water to a boil.

Meanwhile, in a smaller pot, bring the beef bones, beef chuck, and just enough water to cover them to a vigorous boil and cook for 5 minutes. Remove the pot from the heat and, using tongs, transfer the bones and beef to the large pot of boiling water, discarding the water in which the meat cooked. (This reduces the impurities in the broth.)

When the water returns to a boil, reduce the heat to a gentle simmer. Skim any foam from the surface of the water. Add the charred ginger and onions, fish sauce, and sugar. Gently simmer, skimming any foam as it appears, until the beef chuck is tender, about 40 minutes. Do not allow the broth to come to a full boil. Only the occasional bubble should rise to the surface of the broth. (This reduces the chance of your broth being cloudy.)

Remove one piece of chuck from the broth, submerge it in a bowl of cold water for 10 minutes, and then drain the chuck and thinly slice it and refrigerate it. Let the other piece of chuck in the broth and let it gently simmer for 50 minutes more.

After the broth has simmered for a total of 90 minutes, wrap the star anise and cloves in a spice bag or piece of cheesecloth and drop it in the broth. Let the spices infuse the broth until fragrant, about 30 minutes more. (The broth will have been simmering for 2 hours total).

Remove and discard both the spice bag and the onions. Leave the chuck in the pot and continue to gently simmer, skimming any foam as necessary, until you're ready to assemble the pho. (The broth may taste slightly salty but will be balanced once the noodles and accompaniments are added.) Strain the broth, discarding any solids.
Make the pho
Place the cooked noodles in preheated bowls. (If the noodles are no longer hot, dip them briefly in boiling water to prevent them from cooling down the soup.) Place a few slices of the reserved thinly sliced beef chuck and raw sirloin on the noodles. Ladle 2 to 3 cups broth into each bowl. (Figure about 1 part rice noodles to 3 part broth.) The hot broth will gently cook the raw beef. Garnish with the thinly sliced onions, scallions, and cilantro. Serve immediately and let individuals garnish their bowls of pho with bean sprouts, herbs, chiles, lime juice, and black pepper. Originally published April 8, 2010.
Notes
*HOW TO CHAR ONION AND GINGER
To char ginger and onions as required above, hold the ingredient with the tongs directly over an open flame or place it directly on a medium-hot electric burner. Char, turning frequently, until the edges are slightly blackened and the ginger and onion are fragrant, 3 to 4 minutes. Peel and discard the blackened skins of the ginger and onions. Rinse what remains of the ginger and onion and add to the broth.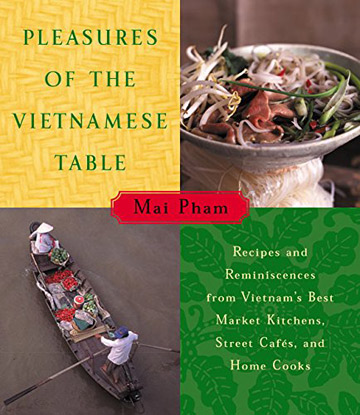 Nutrition
Serving:
1
portion
Calories:
576
kcal
Carbohydrates:
94
g
Protein:
27
g
Fat:
11
g
Saturated Fat:
4
g
Polyunsaturated Fat:
1
g
Monounsaturated Fat:
5
g
Trans Fat:
1
g
Cholesterol:
66
mg
Sodium:
2151
mg
Potassium:
803
mg
Fiber:
5
g
Sugar:
22
g
Vitamin A:
778
IU
Vitamin C:
84
mg
Calcium:
96
mg
Iron:
5
mg
Nutrition information is automatically calculated, so should only be used as an approximation.
Recipe © 2001 Mai Pham. Photo © 2001 David Leite. All rights reserved.
---
Recipe Testers' Reviews
Select a Tester
I've tried countless pho recipes over the past years, and my search stopped with this recipe. It's the closest thing I've found to the beefy elixir found in pho joints that never fails to soothe the soul and calm the mind. The scorched onion and ginger, the spices, everything here is in perfect proportion to one another. I rarely follow a recipe once I make something once, but you better believe I follow this one to the letter. Even my 12-year-old nephew, a very picky eater, mind you, doesn't turn his nose up at this.
I've made this pho recipe countless times. Whether you have family members that are under the weather or it's simply cold outside, this comforting soup will surely make everything better. The broth is outstanding—it's filled with flavor and the various textures of the ingredients make it that much better. I do love to add a little spice to my bowlful just before slurping it, but the rest of my family likes it just as-is.
Also, this recipe is so versatile, as you can add shrimp or make it just with vegetables and so on. Oh, and your house will be filled with the amazing aroma of the broth.