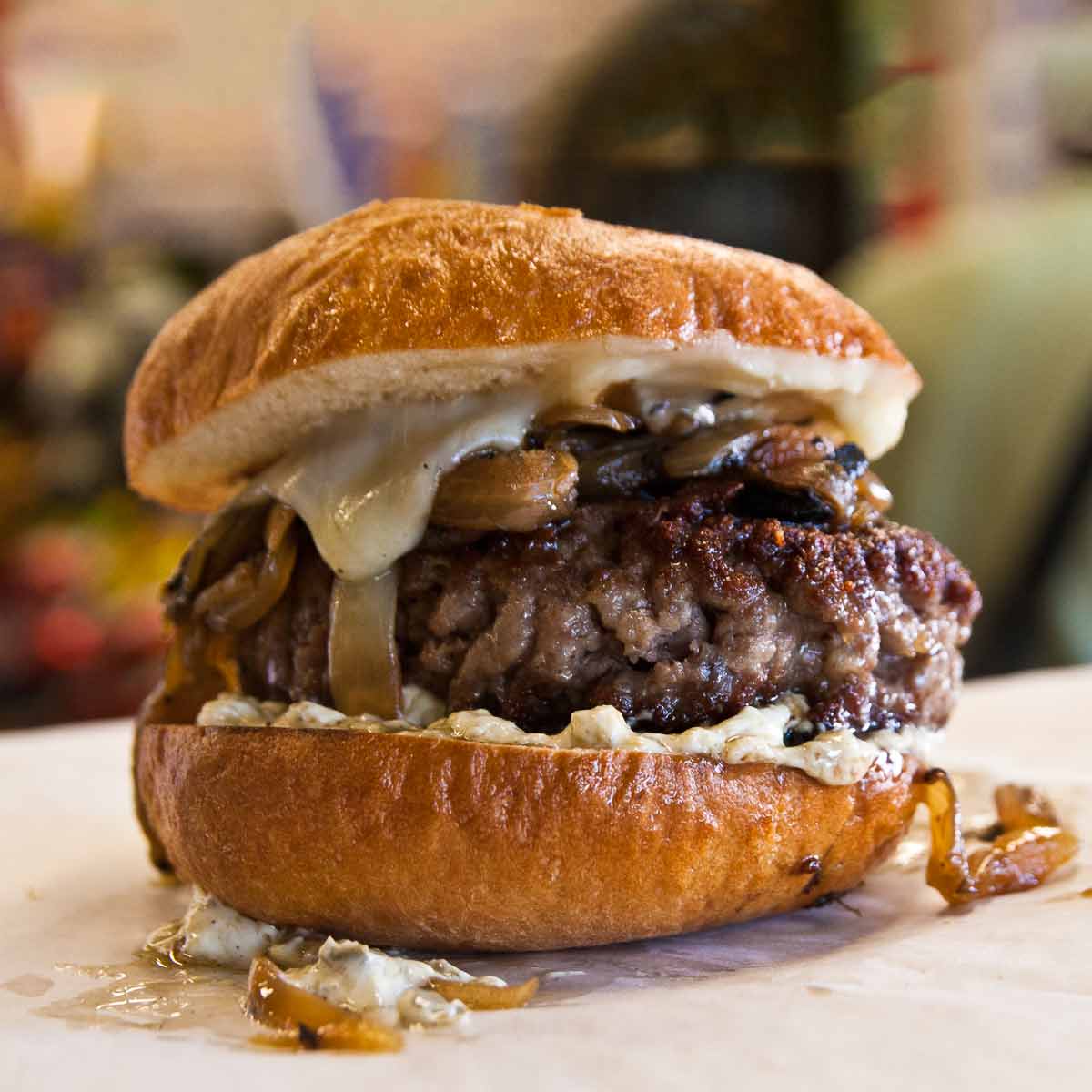 Best Burger
This best burger got its name for very good reasons. It's made with a mix of short ribs, brisket, and chuck for an incredibly juicy burger experience that's rich and lovely enough to serve naked. Although, you can dress it with your favorite condiments if you must.
Recipe
Lamb Burger with Arugula, Feta & Cucumbers
These lamb burgers with arugula, feta, and cucumbers are Greek salad-inspired burgers made with spiced ground lamb patties topped with feta cheese, arugula, and cucumber.
Recipe
Black Bean and Mushroom Burgers
These black bean and mushroom burgers are filled with plenty of wholesome goodness, including flaxseed, black beans, toasted walnuts, oats, and cremini mushrooms. They're topped with a homemade burger sauce and all your favorite fixins.
Recipe
Shake Shack's Roadside Double Burger
This roadside double burger is the same roadside double from the iconic Shake Shack. And it has everything you've ever wanted in a burger. Two burgers. Swiss cheese. And insanely tender and complex onions simmered in beer and bacon. Thank us later.
Recipe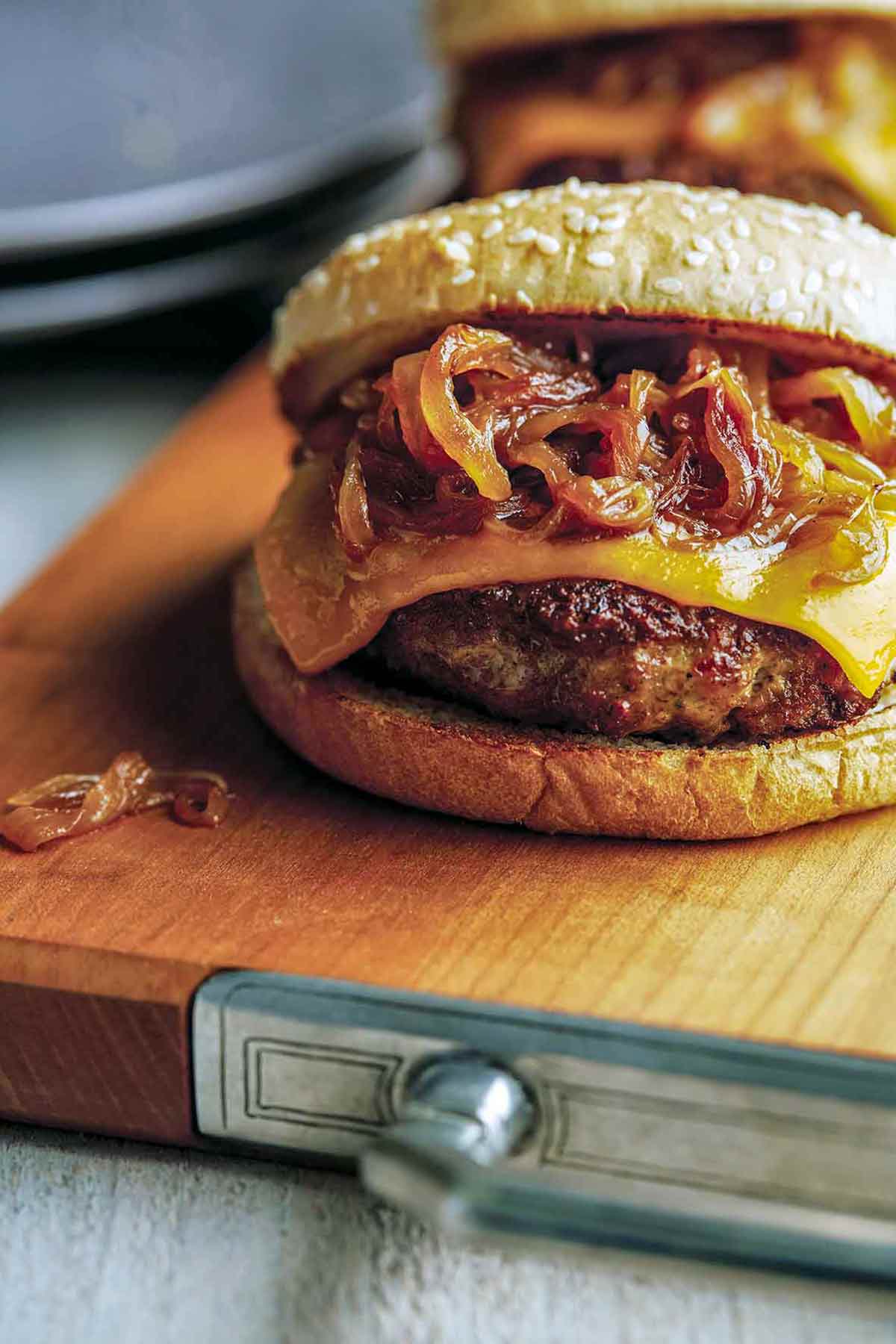 Turkey Burgers with Maple Caramelized Onions
This recipe works well for us because these lean turkey burgers don't bust my nutrition goals for the family, so I'm happy, and the intensely deep sweetness of the dark, caramelized onions keep my husband from missing a great burger experience, so he's happy.
Recipe
Burger FAQs
What's the secret to a juicy burger?
There are a few things you should do to ensure your burger is tender and juicy.
1. Fat equals flavor. Use a ground meat that has a higher fat content for the juiciest burgers.

2. Take care when you are forming your burgers. Don't overwork the meat or press the patties together too firmly. Gently mold them with your hands just until the meat holds together.

3. Start with cold meat. Chill your burgers until you are ready to cook. The chilled fat will quickly expand during the cooking process and result in pockets of juicy flavor evenly dispersed throughout your burger.

4. Don't press on your burgers while they are cooking or flip them too frequently. Start with a hot grill or skillet and let the burgers form a crust to encapsulate all that flavor before flipping them. They'll release easily from the grill or skillet when they're ready to be flipped.

When should I season my burger patties?
Wait until just before cooking your burgers before seasoning the patties. Salt draws out moisture and seasoning too early can lead to a dry, tough burger.
How do I stop my homemade burgers from puffing up in the center?
Since the edges of your burger will cook faster than the center, homemade burger patties can tend to swell up in the center as they cook. To keep a flat, even shape, use your thumb to make an indentation in the middle of the raw patty before cooking.
What are the best burger toppings?
This is a highly debated matter of choice. Some people prefer a plain unadulterated burger, only topped with a slice of cheese and nothing else. Others prefer to add every condiment they can find. Choose toppings that you enjoy. If you're serving guests, offer a selection of toppings, including ketchup, mustard, relish, mayonnaise, lettuce, tomatoes, sliced or caramelized onions, and pickles.