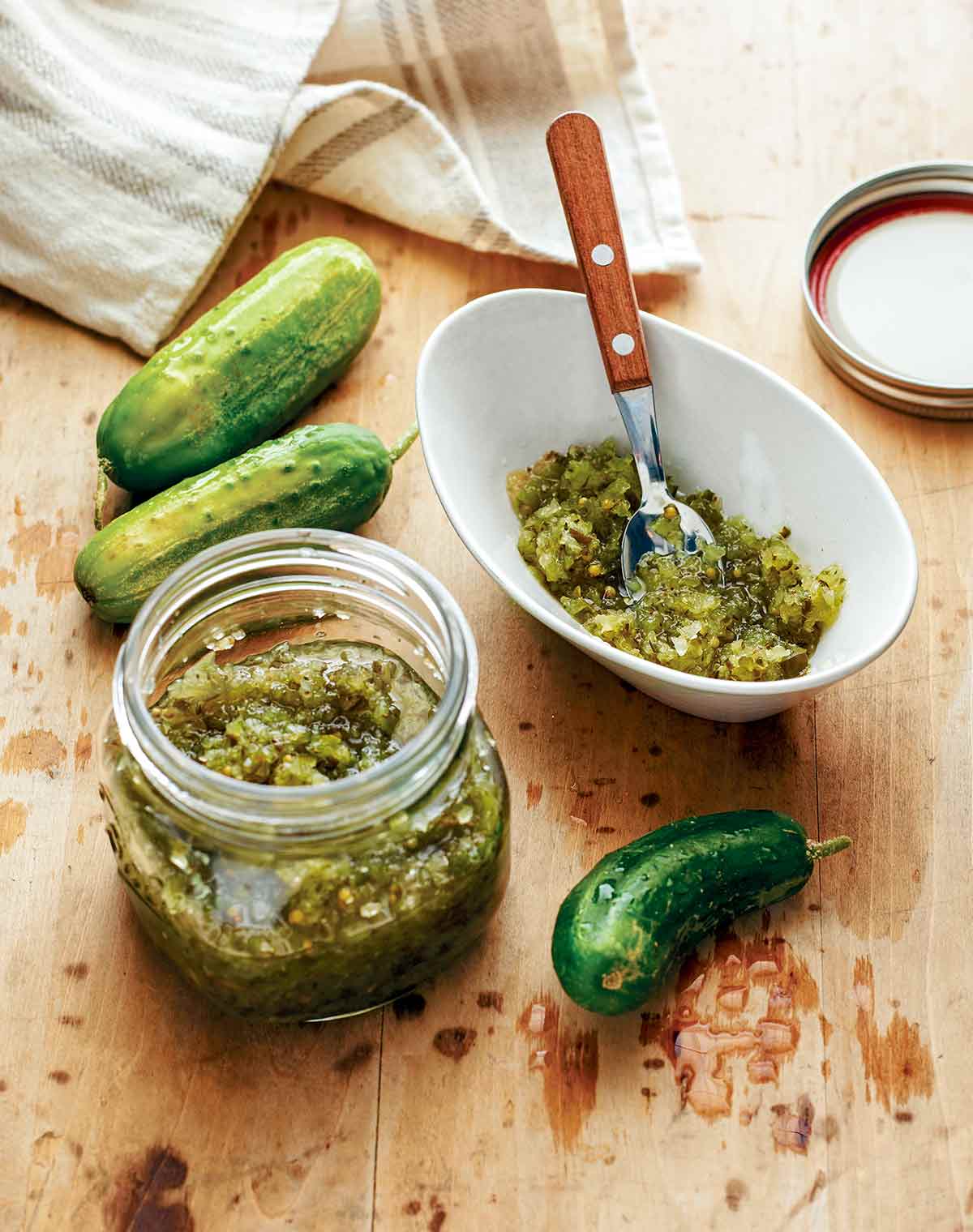 The temptation come late summer to pickle every cucumber coming out of your garden can be overwhelming. This sweet pickle relish is a pickle of another sort, offering a different form of garden-to-piehole-delivery-mechanism for cucumbers. And it's an undeniably superior alternative to the preservative-laden jars of store-bought pickle relish. Once you try your hand at making this simple sweet pickle relish recipe, there's no going back.–Linda J. Amendt
Sweet Pickle Relish FAQs
Can I use a food processor to chop the vegetables?
We'd caution you not to, even though there does seem to be a lot of chopping here. Use a food processor and you run the risk of just making a lot of mush, instead of a relish that has some texture. So, pull out that knife and chopping block and get to cutting.
Should I peel cucumbers when making relish?
We suggest that you leave the skins on your cucumbers, otherwise you might find that your relish lacks that green color you'd expect. Given the absence of coloring in the recipe, those vibrant peels are vital.
Sweet Pickle Relish
This sweet pickle relish, made with cucumbers, sugar, onion, salt, mustard seeds, celery seeds, and cider vinegar, is perfect for hamburgers and hot dogs and potato salad, and anything else. So long, storebought.
Ingredients
3 to 4

pounds

medium pickling cucumbers

,

unpeeled, finely chopped (6 to 8 cups)

2

cups

finely chopped onions

,

(2 to 3 medium onions)

3

tablespoons

pickling or kosher salt (or 2 tablespoons if using Morton brand kosher salt)

2 to 3

quarts

ice cold water

1 1/2 to 3

cups

granulated sugar

,

depending on just how sweet you like your relish

2

cups

cider vinegar

1 1/2

teaspoons

mustard seeds

1 1/2

teaspoons

celery seeds
Instructions
In a large bowl, layer the cucumbers, onions, and salt. Add enough of the cold water to completely cover the vegetables. Cover and let stand at room temperature for 2 hours.

Drain the vegetables in a large fine-mesh sieve or colander lined with a single layer of cheesecloth. Rinse well and drain again, pressing out the excess liquid.

In a 6- to 8-quart stainless steel pot, combine the sugar, vinegar, mustard seeds, and celery seeds. Bring the mixture to a boil over medium-high heat, stirring constantly until the sugar is completely dissolved, about 5 minutes.

Add the drained vegetables to the syrup and return to a boil. Reduce the heat and simmer, stirring frequently, for 10 minutes. Remove the pot from the heat. The mixture may look watery but that's okay. Ladle the relish into hot pint jars, leaving 1/2-inch headspace. Remove any air bubbles. Wipe the jar rims and threads with a clean, damp paper towel. Apply hot lids and screw bands.

If you're simply stashing the relish in the fridge, refrigerate the jars of relish for up to a few weeks. If you're properly canning the pickle relish, process 8-ounce jars in a water bath canner according to manufacturer's instructions for 10 minutes and process pint jars for 15 minutes. Remove from the water bath canner and let cool for 12 to 24 hours. Check the seals and remove the screw bands. Store jars in a cool, dry, dark place for up to 1 year.
Notes
Author note
Cucumbers are an easy crop to grow in a home garden, and freshly harvested cucumbers make the best pickles—and relish. For anything that you decide to can, use only commercially produced vinegar—never homemade. Vinegar must have a minimum acidity level of 5% for safe pickling.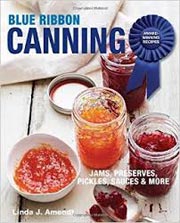 Nutrition
Serving:
1
portion, about 1 tablespoon
Calories:
25
kcal
Carbohydrates:
6
g
Protein:
1
g
Fat:
1
g
Saturated Fat:
1
g
Polyunsaturated Fat:
1
g
Monounsaturated Fat:
1
g
Sodium:
330
mg
Potassium:
43
mg
Fiber:
1
g
Sugar:
5
g
Vitamin A:
15
IU
Vitamin C:
1
mg
Calcium:
7
mg
Iron:
1
mg
Nutrition information is automatically calculated, so should only be used as an approximation.
Recipe © 2015 Linda J. Amendt. Photo © 2015 Andrew Purcell. All rights reserved.
---
Recipe Testers' Reviews
I'll admit that I've never been a sweet pickle relish fan, tending to reach for dill relish instead. This sweet relish recipe just might change that. It makes an excellent relish, and unlike most of the stuff at the supermarket, there's no yellow #5 involved. The recipe worked beautifully.
The relish looked a little watery when I ladled it into the jars, but 24 hours later, it had thickened to just the right consistency. The flavor is perfect, with each component coming through.
I did peel the cucumbers, but in the future, I won't bother, as, without the peel, the relish came out looking pale.
The water bath canning instructions and times given are spot-on, but you can skip the water bath as long as you store the relish in the refrigerator. Don't skip it if you want to store your jars at room temperature, or if you plan to give the relish away as a gift. I opted for smaller 8-ounce jars instead of pints.
This time of year we're pulling cucumbers from our garden each and every day. I'm certainly not complaining, but because of this, I'm always looking for new recipes to use up all these veggies. I love to make homemade pickles from our cucumbers but have never thought to make homemade relish.
This sweet pickle relish was wonderfully flavored with cider vinegar, celery seeds, and mustard seeds. My only change in terms of ingredients was that I only used 1 1/2 cups sugar and thought the relish was still plenty sweet.
I used pint jars, and the mixture fit into 4-pint jars perfectly. After I added the veggies to the mixture and cooked them for 10 minutes, they lost a bit of their vibrant green color and were tender, so I think 10 minutes was long enough.
Overall I was very pleased with the results of this pickle relish and love having another cucumber recipe in my recipe file to make again! Next time, I might add in some finely chopped red bell peppers for color along with the onions and cucumbers or maybe even a few red chile peppers for a touch of heat.