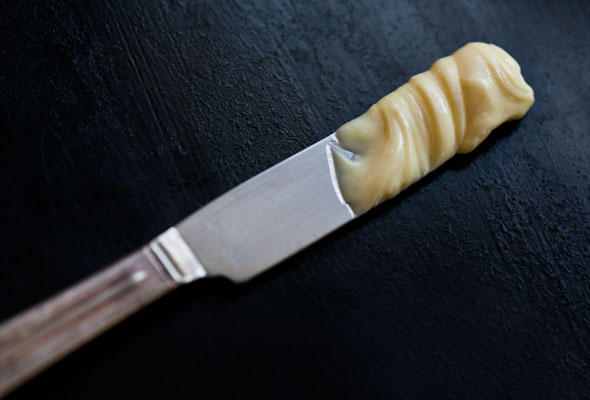 There are countless oils, each appropriate for different kinds of salads and vegetables: neutral-tasting oils such as grapeseed, sunflower, corn, and peanut (be aware that some people are acutely allergic to peanuts and therefore peanut oil); and more aromatic oils such as olive, walnut, hazelnut, and rapeseed, which can be very rich. Aromatic oils (including olive oil) are not appropriate for some sauces such as mayonnaise.–Joël Robuchon
LC Fixing Broken Mayo Note
"If your mayonnaise falls apart—that is to say, if the ingredients separate instead of remaining suspended in a homogeneous emulsion—all is not lost," says Robuchon. His advice? "Leave the broken mayonnaise out at room temperature for a half hour. Beat in a half teaspoon of mustard, preferably with an electric mixer. Put a spoonful of warm water in a bowl and beat in a spoonful of the broken mayonnaise, adding it bit by bit and beating at high speed. The mixture should foam. In the same way add a second spoon of the mayonnaise, and then a third. You should see the sauce thickening and 'taking.' Now using a small ladle, very gradually incorporate the rest of the broken mayonnaise into the new mixture. The finished product will be perfectly smooth and firm." (See how easy that was?)
Homemade Mayonnaise Recipe
Quick Glance
10 M
10 M

1 generous cup
Ingredients
1

egg yolk

1

teaspoon

Dijon mustard

(optional)

Salt

White pepper

Drops

of vinegar

, any kind

1

cup

neutral oil

(grapeseed, corn, or peanut, for example)
Directions
1. Take the egg and mustard out of the refrigerator at least 30 minutes in advance. This will facilitate emulsification and ensure a firm mayonnaise.

2. Put the yolk and mustard in a big bowl with a pinch of salt, a pinch of pepper, and a few drops of vinegar. You can put a folded dish towel under the bowl to stabilize it. If you can, use an electric mixer. Its speedy beaters will help the mayonnaise come together. Hold the beaters at an angle to the bottom of the bowl; this will also facilitate emulsification. Begin to beat at the highest speed, continuing until the contents of the bowl are completely combined. With the beaters running, begin to add the oil drop by drop and then in a thin stream. Stop adding oil but keep beating. You should soon see the mayonnaise "take," that is, begin to look like thick mayonnaise and not like an oily liquid. When this happens, you can resume adding the oil in a thin stream, still beating, but never add a large amount at once. This could cause the emulsion to liquefy.

3. Taste. If the mayonnaise needs salt, do not add salt directly, for the sauce will not be able to absorb it. Instead, put a pinch of salt in a bowl and add a bit of vinegar, about half a teaspoon. Dissolve the salt in the vinegar and then stir it into the mayonnaise.

4. The mayonnaise will keep for a few days when covered with plastic wrap and stashed in the back of the refrigerator.


Hungry for more?
Chow down on these:
Homemade Mayonnaise Recipe © 2008 Joël Robuchon. Photo © 2012 David Leite. All rights reserved.
If you make this recipe, snap a photo and hashtag it #LeitesCulinaria. We'd love to see your creations on Instagram, Facebook, and Twitter.