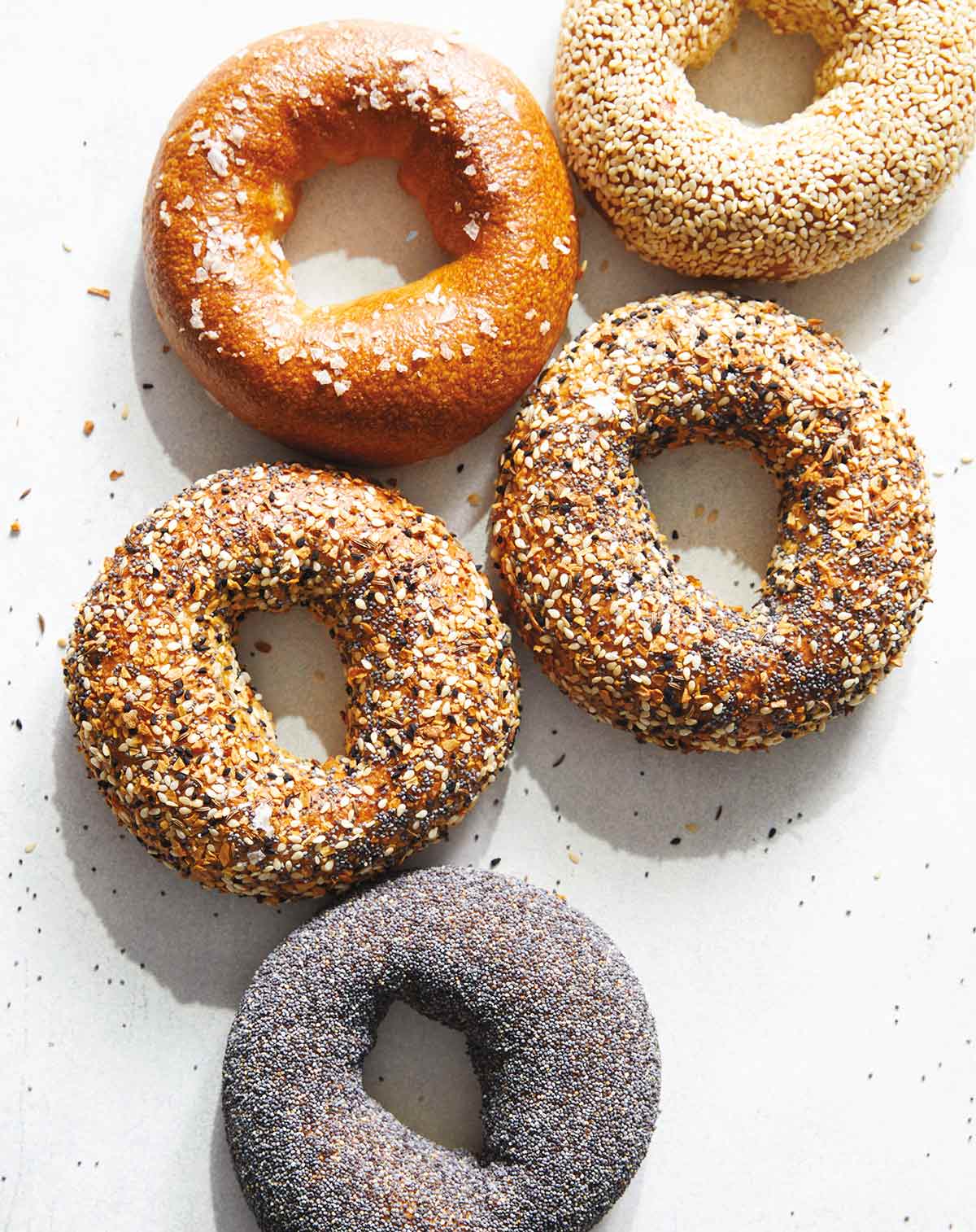 What makes a good bagel is the subject of a perennial debate. New Yorkers claim their tap water is the reason you can find a real bagel only in their city, but it takes only a basic understanding of bread making to know that a decent bagel can be made anywhere. These chewy round rolls with a shiny exterior and a hole in the center usually achieve their characteristic chewiness with bread flour, which is high in gluten. Kneading the dough sufficiently also builds a strong structure, capable of remaining tight after proofing, poaching, and baking. As for the shiny crust, you must simmer the bagels in malted water for a few seconds on both sides before baking.
If good bagels require high-gluten flour, why even consider using rye? Rye flour is infamously low in gluten and high in starch. Breads made entirely from rye flour are prone to collapsing because they lack sufficient strength to hold their shape. But when paired with the right amount of high-gluten flour, rye makes a gorgeous bagel with a rustic exterior and a desirably dense crumb that remains chewy and flavorful.
If you've made bread before, you're ready for bagels. If you haven't, read the directions carefully, so you can anticipate the dough's various stages. Always opt for dark rye flour, which is whole grain and contains the most bran. To prepare the dough, you'll have to make a rye sponge a few hours in advance. Nutritious rye yields a very active sponge and shouldn't be allowed to ferment for more than the indicated time. The final dough should be firm. Rather than rolling ropes and connecting them to form a loop, I use an unorthodox yet fun shaping method: roll each dough portion into a tight ball, then poke a hole in the center with your index finger and stretch from the inside out. The bagels are shaped the night before and allowed to rest overnight in the refrigerator. As tempting as it is, don't try to make this a one-day process; let the bagels have their sleep! This slow, cold rise is key to both texture and flavor. You can follow the suggested Prep and Baking Schedule to make the recipe just in time to have bagels ready for breakfast in the morning.
These days you can buy artisan everything toppings in specialty shops, but I recommend making your own. To really highlight the oniony flavor that everything topping is known for, the recipe calls for more onion flakes than the other ingredients. But you can play with the amounts in favor of your favorite component.–Roxana Jullapat
Rye Bagels
These rye bagels are best eaten the day they're baked, but leftovers keep for another day stored in a paper bag at room temperature. I always suggest toasting the day-old bagels, though. Rye bagels are delicious schmeared with the timeless duo of cream cheese and lox. If you're looking for alternative serving ideas, try homemade jam and ricotta or labneh, sumac, and avocado. There's really no wrong topping for a bagel.
Ingredients
For the rye sponge
1/2

cup

dark rye flour

1/4

teaspoon

fine sea salt

1/8

teaspoon

instant yeast

1/3

cup

cold (65° to 70°F | 18° to 21°C) water
For the dough
2/3

cup

lukewarm (98º to 105ºF | 37° to 41°C) water

1

teaspoon

instant yeast

2

cups

bread flour, plus extra for dusting

3/4

cup

whole wheat flour

3

tablespoons

whole milk

1

tablespoon plus 1 1/2 teaspoons

granulated sugar

1 1/2

teaspoons

fine sea salt

1

teaspoon

barley malt syrup*

Nonstick baking spray
For the topping
1 1/2

teaspoons

caraway seeds

1 1/2

teaspoons

nigella seeds

1 1/2

teaspoons

poppy seeds

1

tablespoon plus 1 1/2 teaspoons

sesame seeds

3

tablespoons

onion flakes

1/4

cup

barley malt syrup
Instructions
Make the rye sponge
In a small bowl, stir the flour, salt, yeast, and cold water together and mix with a wooden spoon or rubber spatula until well combined, about 30 seconds. The water temperature is important to ensure that the sponge rises at a slower rate; warmer water can cause the sponge to ferment too quickly, impacting the flavor of the bagels. Cover tightly with plastic wrap or a kitchen towel and ferment at room temperature for 4 hours.
Make the dough
When the sponge is ready, you can make the dough. Into a bowl, pour the lukewarm water and sprinkle the yeast over it. Stir and set aside to activate for 5 minutes. Be sure to use the correct temperature water; any hotter and the yeast can deteriorate.

In a stand mixer fitted with the dough hook attachment, combine the dissolved yeast mixture, rye sponge, flours, milk, sugar, salt, and barley malt syrup. Mix on low speed for 2 minutes just to combine. Increase the speed to medium and mix until the dough feels firm and bouncy, about 2 minutes.

Place the dough on a lightly floured surface and knead briefly to shape into a smooth ball. Place the dough in a bowl lightly coated with nonstick spray, cover tightly with plastic wrap, and let rest at room temperature for 20 minutes so the gluten can relax.

Coat a rimmed baking sheet with nonstick spray. Cut the dough into six equal pieces, about 4 1/2 ounces (125 g) each. Shape each piece into a tight ball. With your index finger, poke a hole in the middle of the ball to create a hollow center. Stretch the hole until it measures 1 to 1 1/2 inches (25 to 38 mm) in diameter.

Move the shaped bagels to the prepared sheet, making sure they're spaced at least 2 inches (5 cm) apart. Cover with plastic wrap and refrigerate overnight. The bagels will be ready to poach the next day.
Baking Day
Remove the bagels from the refrigerator and let them sit, uncovered, at room temperature for 1 hour.

Place an oven rack in the middle position and preheat the oven to 400ºF (204°C). Coat a rimmed baking sheet with nonstick spray.
Make the topping
In a small bowl, combine the caraway seeds, nigella seeds, poppy seeds, sesame seeds, and onion flakes.

To poach the bagels, bring a medium saucepan of water to a boil. Lower the heat until the water is at a simmer and stir in the barley malt syrup. The barley malt will help the exterior of the bagels brown while giving them an attractive sheen.

Working in batches of 2 or 3 bagels at a time, use a spider or slotted spoon to carefully lower each bagel into the water. Poach for 30 seconds, flip with the spider or slotted spoon, and poach for 30 seconds more. Use the spider or slotted spoon to transfer the poached bagels to the prepared baking sheet, placing them 2 inches (5 cm) apart, with the "prettier" side up. Sprinkle each bagel immediately with 1 tablespoon topping. Repeat with the remaining bagels.

Bake the bagels for 15 minutes. Then rotate the baking sheet and bake until the bagels are golden brown, 5 to 10 minutes more. Rotating the sheet halfway through the baking process will ensure that the bagels color evenly. Cool on a wire rack for 1 hour before serving.
Notes
*What is barley malt syrup?
One of the ingredients that make bagels bagelly (yeah, you heard us) is barley malt syrup. It gives bagels their shiny, golden crust and that specific malty flavor we all know and love. Barley malt comes from the sprouted grain barley, and the sprouting gives it a distinctive flavor. It's used extensively in beer making. A grain syrup and food sweetener, it's used in some baking applications but bagels rely on it. You won't need much but do try to get your hands on it if you can. If not, honey or molasses can be substituted but you won't get the malted flavor.
Nutrition
Serving:
1
bagel
Calories:
314
kcal
Carbohydrates:
65
g
Protein:
10
g
Fat:
3
g
Saturated Fat:
1
g
Cholesterol:
1
mg
Sodium:
698
mg
Potassium:
218
mg
Fiber:
5
g
Sugar:
13
g
Vitamin A:
17
IU
Vitamin C:
2
mg
Calcium:
68
mg
Iron:
2
mg
Nutrition information is automatically calculated, so should only be used as an approximation.
Recipe © 2021 Roxana Jullapat. Photo © 2021 Kristin Teig. All rights reserved.
---
Recipe Testers' Reviews
Having only dabbled towards making bagels (do sourdough pretzels that taught me boiling the dough was going to be OK, not scary, count?), and having experienced what I'm certain are some of the best bagels available as well as settled for what are only bagel-shaped objects, you either run towards or away from this rye bagel challenge. This time, it was time to dig in and I am very glad I did.
Were my bagels perfectly shaped? Actually, they are pretty darn close to round, though I might stretch more aggressively to keep the center hole open thru to the end. Of course, my slightly tighter center punch means I won't be dripping schmear (or butter or egg salad on my lap either). The step-by-step directions and clear segmented schedule will take you thru, and a batch of 6 will all fit on a half sheet pan when it comes time to bake. There's just enough structure to keep you headed in the right direction as well as an understanding of why certain choices will help you get there.
My bread flour had a decent gluten/protein profile plus it contained malted barley flour, which was a plus since I was unable to easily source the barley malt syrup and wanted help in the browning. In place of barley malt, a reasonable alternative is brown sugar, and if you like the results, now you're motivated to get the real thing for next time. I used stoneground local whole wheat and I ground my own rye and felt the dough was a success – in fact, the kneading time in the stand mixer made it a delight to work with when it came to shaping. This doesn't take very long the evening (or day) before, and then the day you bake, you bring the shaped bagels out from their overnight ferment while the oven is heating. Do not be afraid of the boiling part—slide each bagel in from a spider or skimming spoon, expect they'll capsize and what was the top will immediately turn over. I might also consider pulling them out of the oven as soon as they're golden – I went the full time but I think 5 minutes less would have left the bottoms a little less dark.
My toppings were an assortment—I made a small batch of the "everything," trimming the onion level back (and remembering that my nigella seeds are labeled Charnuska). I also topped two with sesame per request of a family member, and lastly, poppy seed and za'atar. A very cheerful weekend project–once you master this, you'll make them more often and get better and more relaxed.
The result was chewy yet tender, what I think of as a genuine, real bagel. What a joy.
I'm not an expert on bread making, but this recipe is a great guide for a novice! I've been a bit intimidated by bread and yeast and starters and sponges…This recipe for rye bagels is concise yet includes a roadmap to help walk you through what to expect for each step, in advance. It's also imperative to read through the recipe well before you want to make the bagels because a few of the ingredients took a while for me to find (online), but it was well worth it.
Throughout the recipe there are temperature measurements for your water, make sure you have your temperature probes or thermometers ready. Getting the temps in the right ranges was tedious, but I was rewarded with nicely browned and bakery-style bagels.
I wasn't sure what a sponge was supposed to do or look like, but trust the process and it will work out. I didn't notice any real difference on the surface but I did see underneath the surface was "spongy" with air pockets.
As for the end product, my onion topping browned a little too much, and in the future, I'd add salt flakes to the topping, but other than that I enjoyed my first homemade bagel—it was dense and chewy without being too hard or dry.
To complete my test, I made breakfast bagel sandwiches—loaded with scrambled eggs, cheese, and thick-cut bacon.