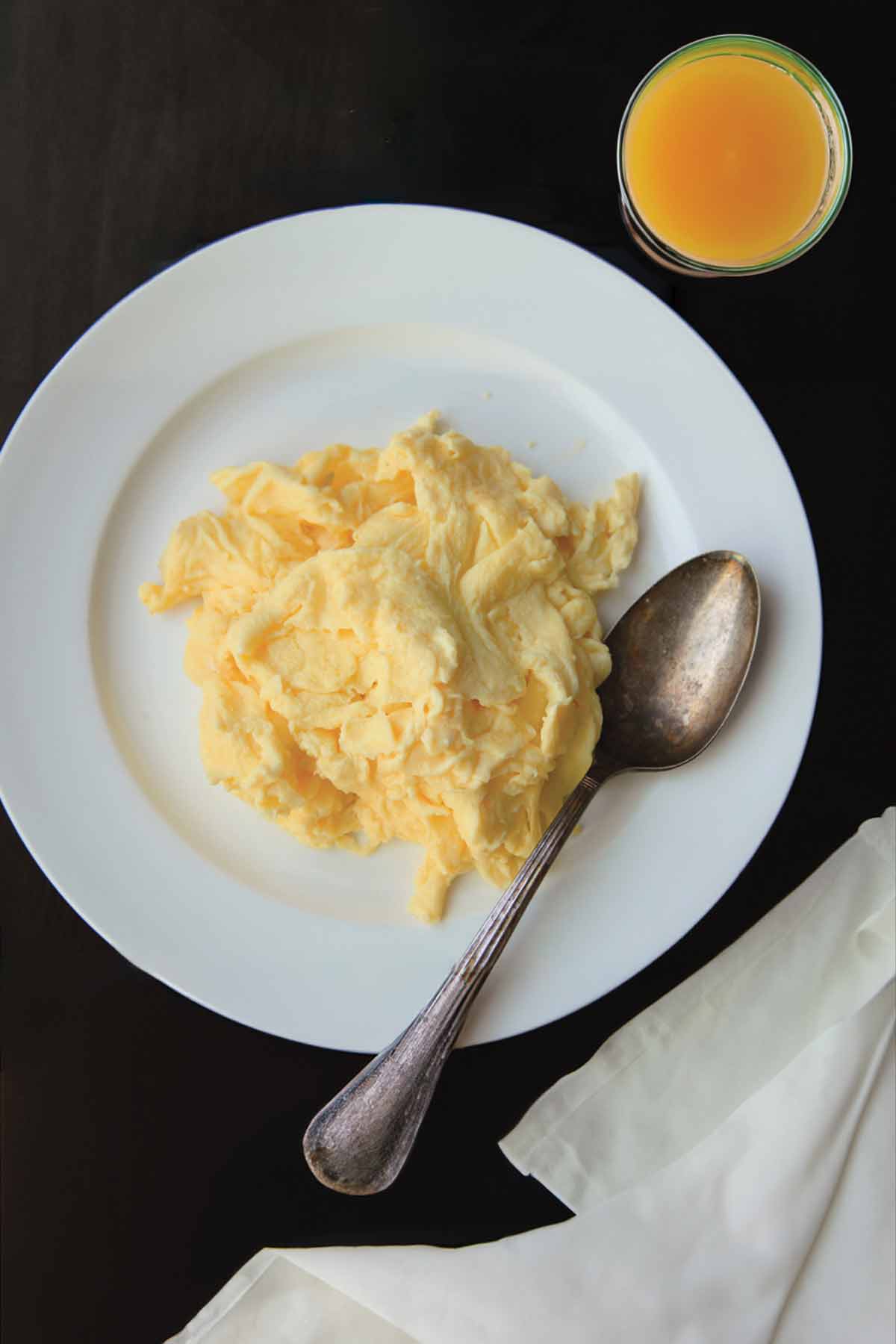 …perfect scrambled eggs that are light and fluffy.
Cooking perfect scrambled eggs is all about controlling the coagulation of egg proteins, the difference being that with scrambled eggs, not only are the proteins in the whites and yolks mixed together, but you also have the opportunity to mix in additional ingredients, as well as to control the way the eggs come together by moving them as they cook. For my testing, I decided to begin with just plain eggs in order to gauge the effects of stirring and other mechanical actions. The only additive I used was butter in the pan to prevent them from sticking.
A few things became clear immediately. The difference between dense and creamy scrambled eggs and light and fluffy scrambled ones has mostly to do with the amount of air they contain at the end. As beaten eggs are heated in a skillet, their proteins begin to set. At the same time, the moisture within them begins to evaporate, causing pockets of steam to build up within the eggs. Vigorous stirring or shaking will cause these pockets of steam and air to rupture, making the eggs denser. So, for the fluffiest scrambled eggs, your goal is to minimize the movement of the eggs in the pan, gently folding and turning them just enough to get them to cook evenly into large, golden, tender curds.
Heat had a great effect on final texture as well. When cooked over very low heat, even gently folded eggs won't get too fluffy. This is because there's not enough energy in the pan to cause water vapor to form or to cause air bubbles to expand vigorously. So, for fluffy scrambled eggs, you need to use relatively high heat (though if you let the pan get too hot, you risk overcooking—or, worse, browning—your eggs).
What about common additives to eggs—water, milk, and the like? There are basically two things they can do. First, they add some water to the mix, which makes for fluffier eggs (more water = more vaporization). Dairy ingredients also add fat, which can impeded egg proteins from linking with each other, creating a more tender curd.
| ADDITION | EFFECT ON TEXTURE AND FLAVOR | HOW IT WORKS |
| --- | --- | --- |
| Nothing | Eggs cook faster but are tougher | |
| Water | Increased fluffiness, diluted flavor | Extra water means more vaporization |
| Milk | Increased fluffiness and tenderness | Milk is mostly water |
| Cream | Not as fluffy, but rich, almost cheesy | The fat reduces bonding of proteins |
| Cold butter | Ultra creamy and dense | Butter cools the eggs |
With all this data, my light and fluffy perfect scrambled eggs were coming out great. I just had to make sure to whisk in some milk along with the eggs, to use relatively high heat, to keep the stirring and folding minimal, and to make sure to get 'em out of the hot pan before they were completely cooked. Even once out of the pan, moisture will continue to evaporate from the eggs, and the proteins will continue to set higher and tighter. Removing the eggs from the pan when slightly undercooked ensures that they arrive at the table perfectly cooked.–J. Kenji López-Alt
LC What Folks Are Saying About This Recipe Note
"Light, fluffy, slightly moist, perfect scrambled eggs." "Some of the best scrambled eggs that I have ever made!" "The lightest, fluffiest eggs." "Works perfectly." "Very nice." That's what folks are saying about this perfect scrambled eggs recipe. Looks like all J. Kenji López-Alt's efforts, for which we're quite grateful, were definitely not for naught.
Perfect Scrambled Eggs
This perfect scrambled eggs recipe turns out light and fluffy every time. An easy breakfast recipe for the entire family.
Ingredients
8

large

eggs

3/4

teaspoon

kosher salt

3

tablespoons

whole milk

2

tablespoons

unsalted butter
Instructions
Combine the eggs, salt, and milk in a medium bowl and whisk until the mixture is homogeneous and frothy, about 1 minute. Let rest at room temperature for at least 15 minutes. The eggs may darken in color significantly. [Editor's Note: On some rushed mornings and evenings, we confess to having blatantly ignored this direction to wait 15 minutes. And to be honest, the eggs still turned out terrific.]

Melt the butter in a 10-inch nonstick skillet, carbon-steel skillet, or cast-iron skillet over medium-high heat, swirling the pan as it melts to coat it evenly.

Add the egg mixture to the pan and wait, without touching the eggs, until the eggs seem to have firmed a little at the edges and on the bottom. You may need to reduce the heat to medium so as to prevent any browning. Scrape the pan with a silicone spatula as the eggs solidify. Then continue to cook, scraping and folding constantly, until the eggs have formed solid, moist curds and no liquid egg remains, about 2 minutes. The eggs should still appear slightly underdone but don't worry, the residual heat will continue to cook the eggs even after you remove them from the heat and onto a plate. Serve immediately.
Notes
Cooking For Two Variation
Follow the instructions exactly as above except use half the ingredients and a 6- to 7-inch skillet.
Nutrition
Serving:
1
portion
Calories:
200
kcal
Carbohydrates:
1
g
Protein:
13
g
Fat:
16
g
Saturated Fat:
7
g
Polyunsaturated Fat:
2
g
Monounsaturated Fat:
5
g
Trans Fat:
1
g
Cholesterol:
388
mg
Sodium:
584
mg
Potassium:
155
mg
Sugar:
1
g
Vitamin A:
733
IU
Calcium:
71
mg
Iron:
2
mg
Nutrition information is automatically calculated, so should only be used as an approximation.
Recipe © 2015 J. Kenji López-Alt. Photo © 2015 J. Kenji López-Alt. All rights reserved.
---