Chouquettes are like small cream puffs, but are made with more sugar and a touch of orange-flower water. The tops are egg-washed and then sprinkled with a distinctive coarse, opaque white French sugar — sometimes called "pearl sugar" — before baking. They're left unfilled and are eaten in France for quatre heures, the 4:00 p.m. after-school snack. These are deceptively addictive; it's impossible to eat just one. The recipe comes from Lise, our French nanny who's from Normandy, the land of butter and cheese.–Gale Gand
Why didn't my choux pastry rise?
Choux pastry isn't as hard as you might think but it does take some practice. Once you get the feel of it, you'll be able to confidently whip up these little "cabbages" (that's the literal translation from French) with no fear. A really common reason that those chouquettes didn't rise is not letting the flour mixture cool enough before adding the eggs. If this happens, the heat will cook the eggs before the pastry gets into the oven and, therefore, it won't rise. Add the eggs only when the flour mixture feels just warm to the touch. Be patient and you'll be rewarded with sweet dough kisses.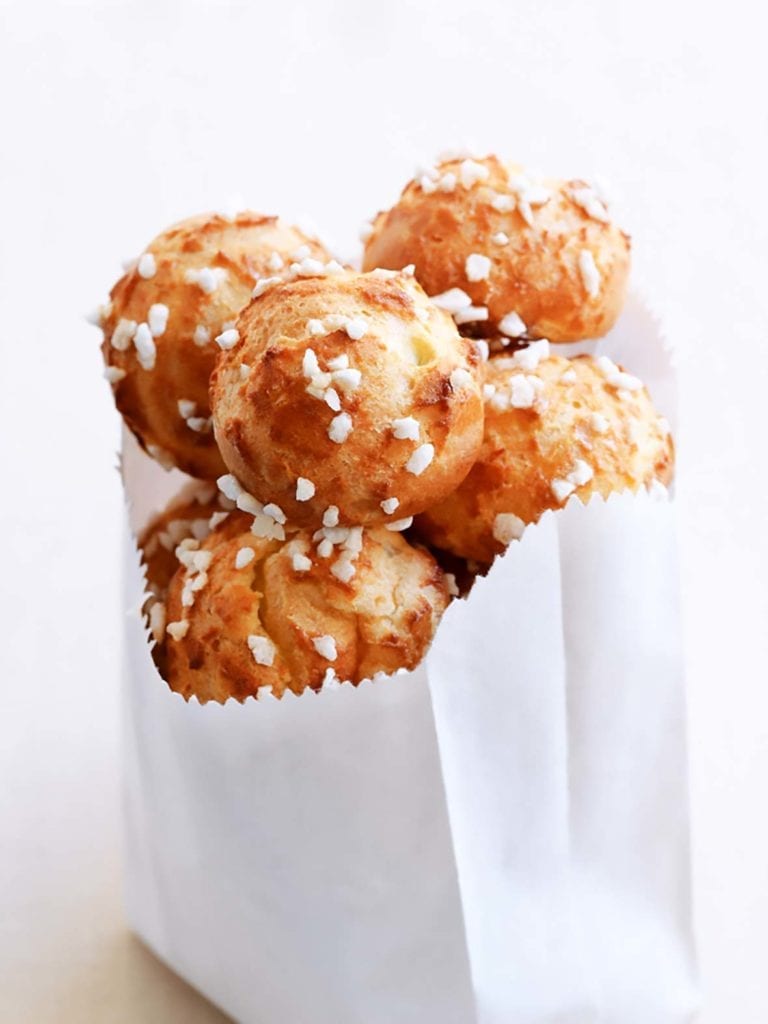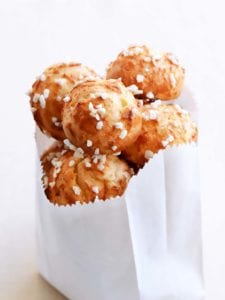 Chouquettes ~ Cream Puffs with Pearl Sugar
These chouquettes, or cream puffs with pearl sugar, are fancy French after-school snacks that are pastries infused with orange-flower water and sprinkled with sugar. Subtle yet oh so sophisticated.
Ingredients
1

cup

water

1

stick (4 oz)

unsalted butter

3

tablespoons

sugar

1/2

teaspoon

salt

1/2

vanilla bean

,

halved lengthwise

1

cup

all-purpose flour

4 to 5

large

eggs

1

teaspoon

orange-flower water

,

(optional)

Pearl sugar
Instructions
Preheat the oven to 425°F (220°C). Line a cookie sheet with parchment paper.

In a large saucepan, bring the water, the butter, sugar, salt, and vanilla bean to a boil over medium-high heat. Immediately remove the pan from the heat, and using a wooden spoon, add the flour all at once, stirring vigorously until all the flour is incorporated and absorbed, about 30 seconds. Return the pan to the heat and, continuing to stir, cook until some of the moisture evaporates and the mixture begins to dry out a little, about 30 seconds. Remove the vanilla bean.

Scrape the mixture into the bowl of a mixer fitted with the paddle attachment. Stir on medium speed for 20 seconds or so to allow some of the steam and heat to escape. With the mixer on low, add 3 of the eggs, one at a time, stopping after each addition to scrape down the sides of the bowl. Mix until the dough is smooth and glossy and the eggs are completely incorporated. The dough should be thick but still fall slowly and steadily from the paddle when you lift it out of the bowl. If the dough still clings to the paddle, add 1 more egg and mix until incorporated. Stir in the orange-flower water, if using.

Using a pastry bag fitted with a large (1/2-inch) plain tip, pipe 1-inch dough "kisses," spaced 2 inches apart to allow for expansion onto the prepared cookie sheet (see Note).

In a small bowl, beat the remaining egg with 1 1/2 teaspoons water. Brush the tops of the dough with the egg wash and sprinkle with the pearl sugar.

☞ TESTER TIP: Be sure to use pearl sugar (also called nib or hail sugar). It won't melt like other sugars and ruin your choux puffs.

Bake for 15 minutes, then reduce the heat to 375°F (190°C) and bake until the chouquettes are puffed up, light golden brown, and have no more yellow pastry color showing through, about 20 minutes more. (Try not to open the oven door because a decrease in oven heat will cause the chouquettes to deflate.) Remove from the oven and let cool on the cookie sheet.
Nutrition
Serving:
1
chouquette
Calories:
41
kcal
Carbohydrates:
2
g
Protein:
1
g
Fat:
3
g
Saturated Fat:
2
g
Polyunsaturated Fat:
1
g
Monounsaturated Fat:
1
g
Trans Fat:
1
g
Cholesterol:
27
mg
Sodium:
41
mg
Potassium:
10
mg
Fiber:
1
g
Sugar:
1
g
Vitamin A:
108
IU
Calcium:
4
mg
Iron:
1
mg
Nutrition information is automatically calculated, so should only be used as an approximation.
Recipe © 2006 Gale Gand. Photo © 2006 Jeff Kauck. All rights reserved.
---
Recipe Testers' Reviews
These little cream puffs are absolute heaven. The pastry is VERY light with a hint of orange water, and the pearl sugar is the perfect finish. I love how the dough puffs and has a hollow center. This recipe is from one of my favorite cookbooks, Chocolate and Vanilla by Gail Gand. It has BEAUTIFUL photographs and is a flip book, so as you read through it, the chocolate recipes are all in one direction, and if you wish to look at the vanilla recipes, you have to turn the book over and flip it.
I'm familiar with choux or cream puff pastry and really love its versatility for different applications. I wasn't familiar with chouquettes, though and the simplicity of these orange-flower mini puffs drew me to this recipe. As luck would have it, my refrigerated orange-flower water had expired a year ago. I also didn't have the pearl sugar. I didn't think it would matter if I used coarse sparkling sugar. I keep orange powder in my pantry. Feeling quite clever, I set out to test this recipe with my two alterations. Although tasty and still somewhat airy, my first attempt produced very dark cookie shaped non puffs. When I looked up pearl sugar and realized the reason it was called for in this recipe was to prevent melting in the oven, I knew I had to try the recipe again.
Armed with 1 kilogram of pearl sugar (I only used 1/4 cup) and orange-flower syrup as that's what was available, I set out to make perfect mini choux. This time, I also weighed the eggs as my farm-fresh eggs come in all different colours and sizes. My four eggs in the pastry dough were 206 grams. My dough was a bit stiffer than the first time around but still creamy and malleable. I used a 1/2 sheet pan lined with a macaron silicone mat to make it easy to pipe 1 inch puffs and also bake all the puffs in one tray. I found this trick to be very successful. My puffs were golden, rounded and airy, with a delicate vanilla-orange-flower aroma and taste. The pearl sugar provided a not overly sweet crunch and made for such a pretty garnish. As it didn't melt in the baking process, it didn't weigh the dough down or create extra caramelization.
My 40 mini puffs which by the way, looked like the ones in the photo, became 30 then 20 within an hour. I served mine in bamboo cones for portion control. They were truly addictive. The cones were too easy to refill. Truth be told, these little gems are also best fresh, while the exterior is still crunchy.