I grew up with hermit bars. The cookie kind, not the human kind. I liked them well enough, but they never seduced me.
Oreos, Kebbler Chocolate Chip Cookies, and Pepperidge Farm Brussels, on the other hand, knew how to flirt. Flashes of chocolate, indecent amounts of creamy fillings, that rapscallion crunch.
Hermit bars, on the other hand, had only raisins to boast about. We'd see them at homely farmstands and at really uninspired bake sales for the debate club. But they never made it to the snack table at the cool kids' parties, like the kind Donna Doane and Bobby Heron threw.
When this recipe from the King Arthur Baking Company Essential Cookie Companion crossed my desk I nearly passed on it. But everyone went on and on about how chewy and almost fudge-like the bars were.
Had they somehow elevated the humble hermit bar to something fashionable? Something retro-camp-deluxe? I had to try.
To say these are "good" is doing them a grave injustice. Calling them "great" is an understatement.
These were so exceptional, The One took immediate ownership of them and–are you ready–snuck them out of the house and absconded with them to the city when I wasn't paying attention. And keep in mind, this is the guy who turns up his nose at dessert if it doesn't have chocolate or pumpkin in it. So that speaks volumes.
The folks at King Arthur Baking Company are my new knights in shining armor (said in my best tremulous Katherine Hepburn voice).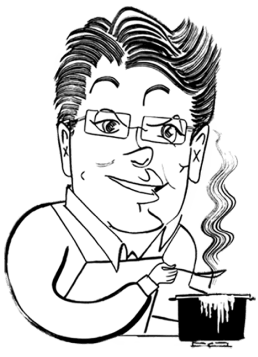 Why Our Testers Loved This
Our testers are gushing about this hermit recipe and for good reason. Jack V. is calling them the "best introduction" to hermit bars anyone could have and is delighted he has found "the perfect recipe." We couldn't agree more.
Notes on Ingredients
Molasses–Use regular unsulfured molasses, not blackstrap. It will be too overpowering for the bars.
Unsalted butter–If you substitute salted butter, decrease the amount of table salt to 1/2 teaspoon.
Raisins–You can substitute dried currants or dried cranberries, if you prefer.
How to Make This Recipe
Preheat the oven to 350°F. Butter a jelly roll or deep dish pizza pan.

Beat the shortening, sugar, and butter together until fluffy. Mix in the molasses, salt, spices, and baking soda. Beat the eggs in one at a time.

Mix in half of the flour. Add the water, followed by the remaining half of the flour, then fold in the raisins. Spread the batter in the prepared pan.

Bake the hermit cookies. When the edges are light brown, and the top is shiny, remove the hermit bars from the oven and cool to room temperature before glazing.

Glaze the bars. Mix the milk and sugar together and use a pastry brush to coat the tops of the bars.
Recipe FAQs
What can I substitute for the raisins?
I've used 2 cups of currants and, most recently, dried cranberries. Both worked beautifully. The cranberries did give these a different taste.
All I have is blackstrap molasses. Can I use that?
I'm afraid not. Blackstrap molasses has a strong flavor and will overpower the balance of the bars. Stick to plain ole molasses.
How do I make sure these chewy hermit bars are, um, really chewy?
At about 15 to 20 minutes, the bars will puff up and the top will look shiny. That's your sign to yank these immediately from the oven. You'll think it's too soon, but I promise you it's not. You'll be rewarded with chewy, almost fudge-like bars. Hubba hubba!
Helpful Tips
Store the bars in an airtight container in the fridge for up to 5 days or freeze for up to 1 month.
Use a pizza cutter to easily cut even squares.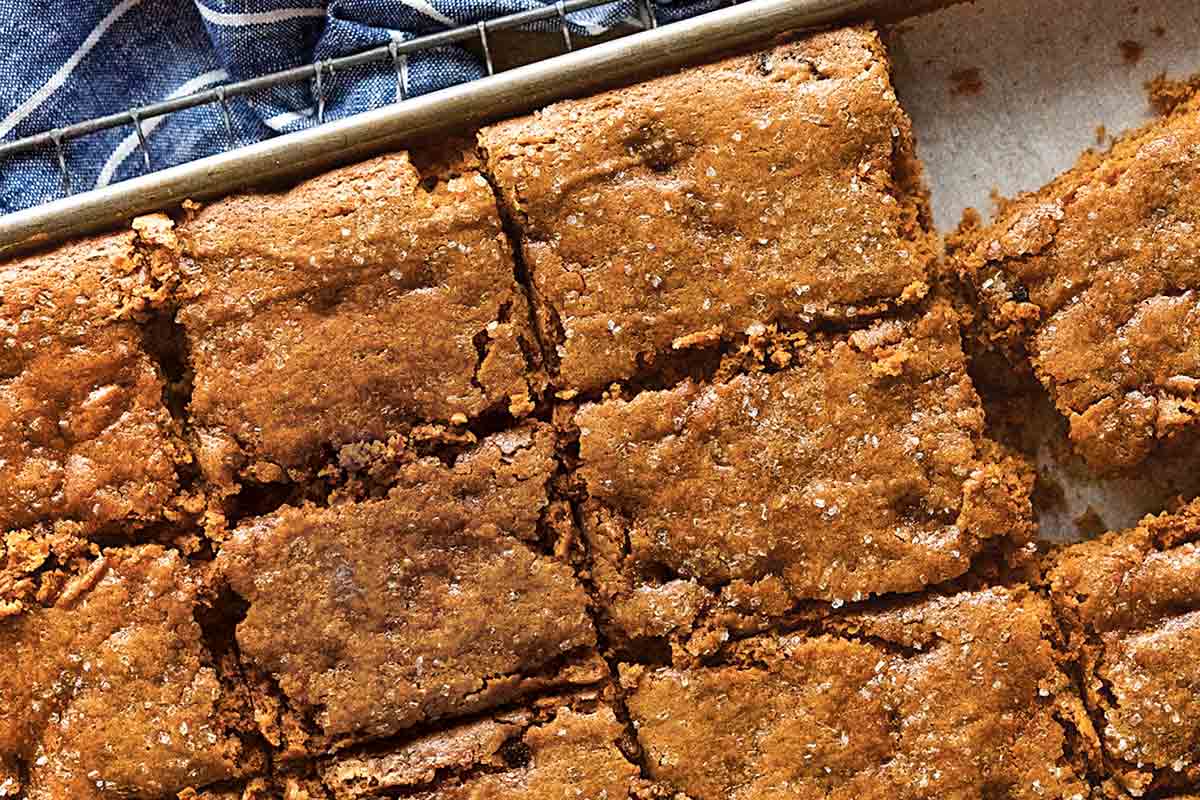 Write a Review
If you make this recipe, or any dish on LC, consider leaving a review, a star rating, and your best photo in the comments below. I love hearing from you.–David
Chewy Hermit Bars
Think of the most delicious hermit bar you ever ate, the moistest, chewiest, nicely spiced bar, with a crisp shiny top and dense center. Okay? This bar beats that one, we guarantee it. If you count molasses cookies, spice cake, or gingerbread—​any of the old-​fashioned, dark and spicy baked goods with their long international history—​among your favorites, you'll love these bars.
Ingredients
For the hermit bars
1/2

cup plus 2 tablespoons

vegetable shortening

,

plus more for the pan

1 1/3

cups

granulated sugar

4

tablespoons (2 oz)

unsalted butter

1/4

cup

molasses

3/4

teaspoon

table salt

3/4

teaspoon

ground allspice

3/4

teaspoon

ground cinnamon

1 3/4

teaspoons

baking soda

2

large

eggs

5

cups

cake flour

1/3

cup

water

2

cups

raisins

,

packed
For the glaze
3

tablespoons

whole milk

1

cup

confectioners' sugar
Instructions
Make the hermit bars
In the bowl of a stand mixer fitted with the paddle attachment or in a large mixing bowl using a , beat together the shortening, sugar, and butter, beating at medium speed until fluffy, 2 to 3 minutes.

Add the molasses, salt, allspice, cinnamon, and baking soda. Mix for 1 minute, then stop the mixer and scrape down the sides of the bowl. Add the eggs one at a time, beating well after each addition.

Mix in half the flour. Once it's mixed in, add the water, then the other half of the flour. When the batter is mixed completely, add the raisins and stir until combined. Spread or press the batter in the prepared pan.

Bake the hermits until the edges are light brown, 15 to 20 minutes. They'll puff up in the oven and the top will get shiny. As soon as you see this, pull the pan from the oven. The top will fall back down and the interior of the cookies will have an almost fudgy consistency. (If you leave them in the oven longer, you'll get a product that's more like a cake-type brownie, and it won't be as moist and irresistible.) Remove the hermits from the oven and cool them in the pan on a rack before glazing.
Make the glaze
In a small bowl, stir together the milk and confectioners' sugar until smooth; the glaze will be quite thin. Using a pastry brush, brush glaze on top of the hermits before cutting into bars.
Notes
Substitutions–Use dried currants or cranberries instead of raisins.
Storage–Keep hermit bars in a sealed container in the fridge for up to 5 days.
Freezing–The hermit bars can be frozen in an airtight container for up to 1 month.
Slicing–Use a pizza cutter to make evenly sliced bars.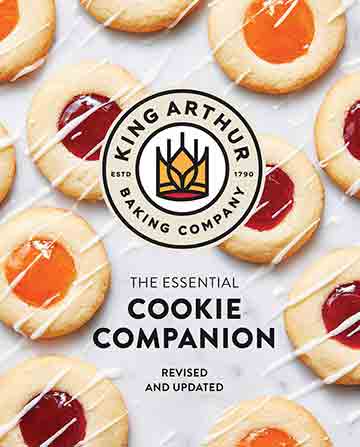 Adapted From
The King Arthur Baking Company Essential Cookie Companion
Buy On Amazon
Nutrition
Serving:
1
serving
Calories:
233
kcal
Carbohydrates:
46
g
Protein:
3
g
Fat:
5
g
Saturated Fat:
2
g
Polyunsaturated Fat:
1
g
Monounsaturated Fat:
2
g
Trans Fat:
1
g
Cholesterol:
14
mg
Sodium:
113
mg
Potassium:
129
mg
Fiber:
1
g
Sugar:
26
g
Vitamin A:
60
IU
Vitamin C:
1
mg
Calcium:
14
mg
Iron:
1
mg
Nutrition information is automatically calculated, so should only be used as an approximation.
Recipe © 2021 King Arthur Baking Company. Photos © 2021 Liz Neily. All rights reserved.
---
Recipe Testers' Reviews
Having shared these chewy hermit bars with the neighborhood, I had someone eat all the bars before their spouse got home because they were so good they didn't want to share. I had another offer to hire me to bake batches of these to give away as holiday gifts. Sure, in California these could just be novelty reactions to those who have never had (let alone heard of) hermit bars before, but I would argue this recipe is the best introduction someone could have.
What makes them so good? The key to success here is in the baking instructions: pulling from the oven as soon as the top is shiny and letting them collapse back onto themselves for a dense, fudge consistency.
I lived in New England for 6 years, and the downfall of so many hermit bars is they are overcooked, taking on a cakey texture that dries out after the first day. These bars were still delicious on day five, though I'd recommend eating the edge pieces first and saving the center pieces for last, since they last the longest. These were everything I hoped for and I can finally give up my grail quest for a perfect recipe.
Tasty, traditional chewy hermit bars. I got 49 bars, so I'm glad they are supposed to keep well. I used a 12-by-12-inch ovenproof baking dish which worked well. Next time, I might divide into 9-by 9-inch and an 8-by 8-inch pan and freeze one of them.