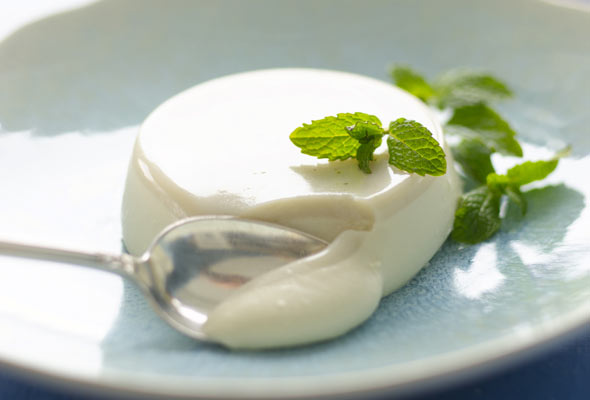 This recipe is inspired by a dish from that dynamic brotherly duo, Matt and Ted Lee. I think of them as the Donny and Marie of the food world. Not because they have huge Chiclet teeth and big hair, but because, to paraphrase an Osmond lyric, they're a little bit country, a little NYC. They split their time between Charleston, SC, and New York, which imbues their cooking and their sensibilities with tradition and innovation. This creamy panna cotta is a perfect example. They borrow the main ingredients from the mint julep—that iconic, cool concoction so intrinsically associated with the Kentucky Derby—and mix them up in a light and elegant panna cotta—a beloved dessert of Italy. The result? Minty, creamy spoonfuls of lightness laced with the faintest oaky notes of vanilla from the finest Kentucky bourbon. So make a batch, don your finest millinery creations, and lounge about as you revel in the Kentucky Derby, cheering on your chosen thoroughbred between satiny mouthfuls of this amazing creation.–David Leite
LC No Panna Cotta For You Note
Mind you, though this incarnation of the julep has lost its cocktail shaker or, if you prefer, its stirrer, the dessert didn't lose its booze. Be mindful of serving it to anyone for whom getting even a wee tipsy is ill advised.
Mint Julep Panna Cotta
Quick Glance
30 M
2 H, 30 M

Serves 6
Special Equipment: 6 small (6-ounce) ramekins or dishes
Print Recipe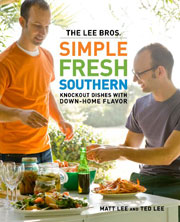 Ingredients
1 1/2 teaspoons unflavored gelatin powder (we prefer Knox brand)

3 tablespoons room-temperature water

1/2 teaspoon lightly flavored oil, such as canola

1 cup whole milk

2 cups heavy cream

1/4 cup granulated sugar

1 cup packed mint leaves, plus more for garnish

1/4 cup Kentucky bourbon or Tennessee whiskey
Directions
1. Stir the gelatin into the water in a small bowl, making sure there are no lumps, and set the concoction aside to soften. Drizzle a paper towel with the oil and coat the ramekins or dishes, being careful to really get into where the sides meet the bottom so the panna cotta will release easily.

2. Pour the milk, cream, and sugar in a small saucepan, drop in the mint leaves, and heat over low heat, stirring occasionally. Once the mixture boils, after about 30 minutes (really, it will take nearly half an hour) remove the pan from the heat. Fish out the mint leaves and toss. Set the pan aside.

3. Bring the bourbon to a boil in a medium saucepan over medium heat and let roil for 30 seconds. Pour in the mint-infused cream mixture and warm just until the mixture reaches 175° F (80°C). Remove the pan from the heat, scoop in the gelatin, and stir until dissolved.

4. Pour the panna cotta mixture into a large measuring cup, pour it into the oiled dishes, and refrigerate until set, about 1 1/2 hours. (If not serving the panna cotta the same day, press small squares of plastic wrap against the surface of the desserts, and refrigerate for up to 2 days.)

5. Carefully run a thin knife around each dish to loosen the panna cotta and then invert each onto a serving plate with a quick rap. Serve immediately with a flourish of mint leaves on the side.
Mint Julep Panna Cotta Recipe © 2009 Matt and Ted Lee. Photo © 2009 Ben Fink. All rights reserved. All recipes and photos used with permission of the publisher.
If you make this recipe, snap a photo and hashtag it #LeitesCulinaria. We'd love to see your creations on Instagram, Facebook, and Twitter.