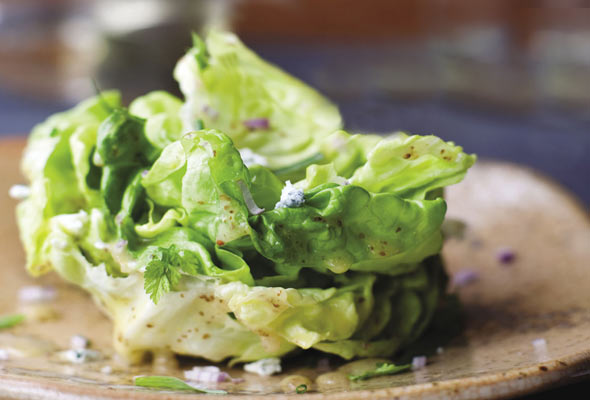 Hands down every time, this is what I make if I'm going to have a salad as a starter. The blue cheese is creamy and sharp, rich and fresh, and the dressing has little bit of heat from the whole-grain mustard. Classic.–Andrew Swallow
LC Unconventional Classic Note
This elegant, effortless butter lettuce salad is a classic, though an unconventional one. It has it all over its ancestor, that unwieldy wedge of iceberg plunked on a plate beneath a blob of bottled blue cheese dressing. If you can't source any Maytag blue cheese, as the chef suggests, not to worry. Gorgonzola or Roquefort work just as well.
Butter Lettuce and Fresh Herbs with Maytag Blue Cheese Recipe
Quick Glance
15 M
15 M

Serves 4
Ingredients
For the dressing

1/2

cup

pear or champagne vinegar

1

tablespoon

minced shallot

1

tablespoon

whole-grain mustard

1/2

cup

extra-virgin olive oil

1/4

cup

grapeseed oil

Salt and freshly ground black pepper

For the salad

2

heads

butter lettuce

Salt and freshly ground black pepper

1/2

cup

Maytag blue cheese

(or feel free to substitute Gorgonzola or Roquefort)

4

shallots

, finely diced

Leaves from 1 bunch tarragon

Leaves from 1 bunch chervil
Directions
Make the dressing

1. Combine the vinegar, shallots, and mustard in a blender. With the motor running, add the olive oil, a few drops at a time at first and then gradually increasing to a slight but steady stream, and blend until emulsified. Repeat with the grapeseed oil. Season with salt and pepper to taste.

Make the salad

2. Wash the lettuce and separate the leaves. For each serving, toss 5 large leaves with 2 tablespoons of the dressing. Taste and season accordingly with salt and pepper.

3. Place the leaves for each serving on individual plates, stacking them from largest to smallest. Sprinkle each stack with 2 tablespoons blue cheese, 1 tablespoon diced shallot, 1 teaspoon tarragon leaves, and 1 teaspoon chervil leaves.
Hungry for more?
Chow down on these:
Butter Lettuce and Fresh Herbs with Maytag Blue Cheese Recipe © 2010 Andrew Swallow. Photo © 2010 Sara Remington. All rights reserved.
Hey, there. Just a reminder that all our content is copyright protected. Like a photo? Please don't use it without our written permission. Like a recipe? Kindly contact the publisher listed above for permission before you post it (that's what we did) and rewrite it in your own words. That's the law, kids. And don't forget to link back to this page, where you found it. Thanks!