If you live in the Boston area and you're finally planning an outdoor soirée, we're got a suggestion for you. LC's recipe tester Shauna Hinchen-Joyal and her Blue Bird Mobile Dessert Bar. A little blue camper that's stuffed with big desserts and coffee.
If you've been paying attention, you've noticed just how brilliant our 200-plus recipe testers are. You've also seen how proud we are that they're part of our team. Let us introduce you to yet another tester with loads of talent to spare.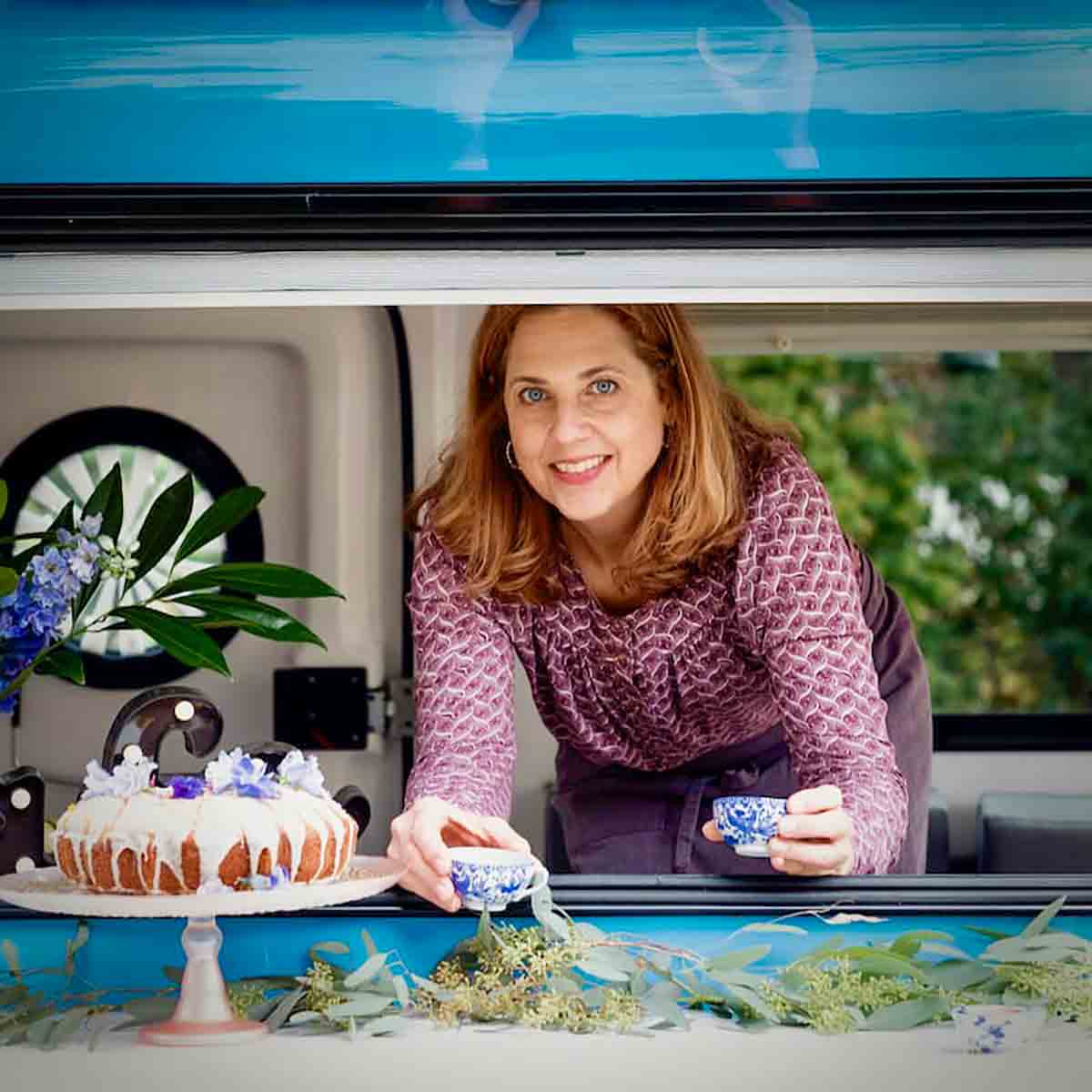 Shauna Hinchen-Joyal, a tester for more than four years, has recently launched a baking business with her charming Blue Bird Mobile Dessert Bar. And we're seriously swooning over it, darlings. Bringing people together, especially after the pandemic, was Shauna's inspiration to combine her love of baking and party planning. The idea is simple: Bring the party to you in a sweet blue Happier Camper. It's unique, charming, and guaranteed to tempt guests with lush pastries, elegant coffees, and a few bespoke cocktails.
Based in Boston, MA, Shauna has been in the baking industry for more than 20 years, designing wedding cakes and creating endless signature pastries. In addition, she and her husband/partner Bob were trained at Atomic Coffee Roasters by expert baristas. And they'll happily whip you up an espresso made with their brilliant La Marzocco machine. See? We told you that she knew her stuff.
The inspiration for the Blue Bird camper came from Shauna's father. And it's the first HC1 painted top to bottom in stunning blue. "The name and concept are also an homage to my late father, an avid skier," says Shauna. "He would use the familiar ski term, 'Blue Bird day' when the sky was bright blue, and the sun was shining." She continues, "He loved espresso and pastries. He bought me Doris Greenspan's 'Paris Sweets,' which was my impetus to go to culinary school." The combination of nostalgia and luxurious touches, to say nothing of the actual food and bevvies on offer, are just what a party needs.
Not only does Shauna bring the goods, but the Blue Bird comes equipped with a gorgeously decorated outdoor lounge. It makes a lovely spot for gathering and some stunning photo ops at your bridal shower, graduation party, or whatever big event you're celebrating. Honestly, we're thinking about just celebrating the concept that someone is willing to bring us macarons and cocktails. If you're in the Boston area, contact Shauna Hinchen-Joyal thru the Blue Bird Mobile Dessert Bar.