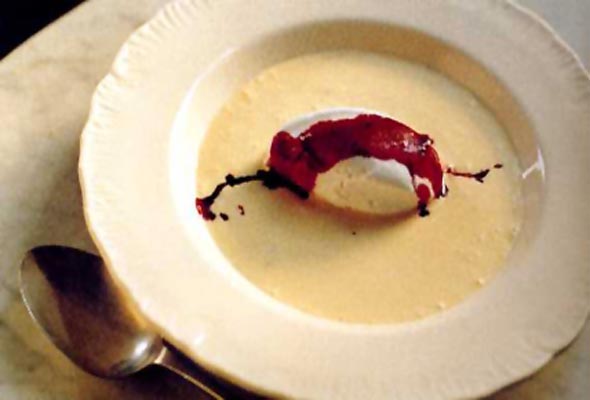 This is a simplified version of a French bourgeois classic: an island made with a fluffy poached meringue floating on a sea of cool custard, trickled with a nice sharp fruit purée. The coffee in the meringue is optional, but it does help take the sticky sweet edge off what is a very rich dish. Try it, you'll be surprised.–Hugh Fearnley-Whittingstall
LC But What If I Don't Have Any Black Currants? Note
No black currants? Not to worry. As the author notes, "Black currant is my favorite fruit for the sauce, but raspberries, gooseberries, red currants, blackberries, blueberries, etc. will each all do very nicely." There you have it. So have your meringues with whatever fruit you fancy.
Floating Islands with Black Currant Sauce
Quick Glance
1 H
1 H

Serves 8 to 10
Print Recipe
Ingredients
Email Grocery List
For the custard

4 large eggs

4 large egg yolks

1/2 cup superfine sugar (or just blitz granulated sugar in a blender until finely ground but not powdery)

2 cups heavy cream

2 cups whole milk

1 vanilla bean, split lengthwise

For the black currant sauce

2 pounds black currants

1 cup water

1/2 to 1 cup superfine sugar

For the meringues

4 large egg whites

1 cup superfine sugar

1 tablespoon very strongly brewed black coffee (optional)

Fresh fruit, such as raspberries and strawberries, for garnish (optional)
Directions
Make the custard

1. Beat the eggs and egg yolks together with the sugar until well mixed. Put the cream and milk in a heavy saucepan, add the vanilla bean, and scald (that means to bring the milk almost but not quite to a boil). Remove and discard the vanilla bean. Pour the cream and milk over the eggs, whisking constantly.

2. Pour the custard mixture into a large, heavy pan over low heat and stir gently until it thickens enough to coat the back of the spoon. Remove from the heat and stir for 1 to 2 minutes more. Strain the custard through a fine sieve into a bowl. Let cool.

Make the black currant sauce

3. Pick over the black currants, removing any twigs, leaves, or stalks, and gently wash the currants. Place them in a pan over low heat with the water and 1/2 cup sugar and cook, stirring occasionally, until the currants begin to break down. Simmer gently for 5 minutes. Remove from the heat. Let the currants cool slightly.

4. Press the currant mixture through a sieve. Taste the resulting purée while it is still warm and stir in more sugar if you think it needs it (remember the custard is sweet, so the sauce should be quite tart). Let the sauce cool completely.

Make the meringues

5. Whisk the egg whites until they form stiff peaks. Whisk in the sugar 1/3 at a time, plus the coffee if using, and continue whisking until you have a thick, creamy meringue that keeps its shape when scooped.

6. Using 2 tablespoons, form the meringue into individual meringues in the shape of quenelles (football shapes). You do this by scraping a little heap of the meringue from 1 spoon to the other. It's hard to describe but easy to do with a little practice. Place the meringues, 2 or 3 at a time, in a wide pan of gently simmering water. Cover the pan and poach the meringues until puffed up and lightly set, about 2 minutes. Remove from the pan with a slotted spoon.

7. While the meringues are poaching, pour a pool of cold custard into individual serving plates or shallow bowls. Float a couple of meringues on each pool of custard and drizzle 2 or 3 tablespoons of the sauce over the top. Garnish with extra fruit such as fresh raspberries or sliced strawberries, if you like.
Recipe Testers Reviews
Floating Islands with Black Currant Sauce Recipe © 2008 Hugh Fearnley-Whittingstall. Photo © 2008 Simon Wheeler. All rights reserved. All materials used with permission.
If you make this recipe, snap a photo and hashtag it #LeitesCulinaria. We'd love to see your creations on Instagram, Facebook, and Twitter.