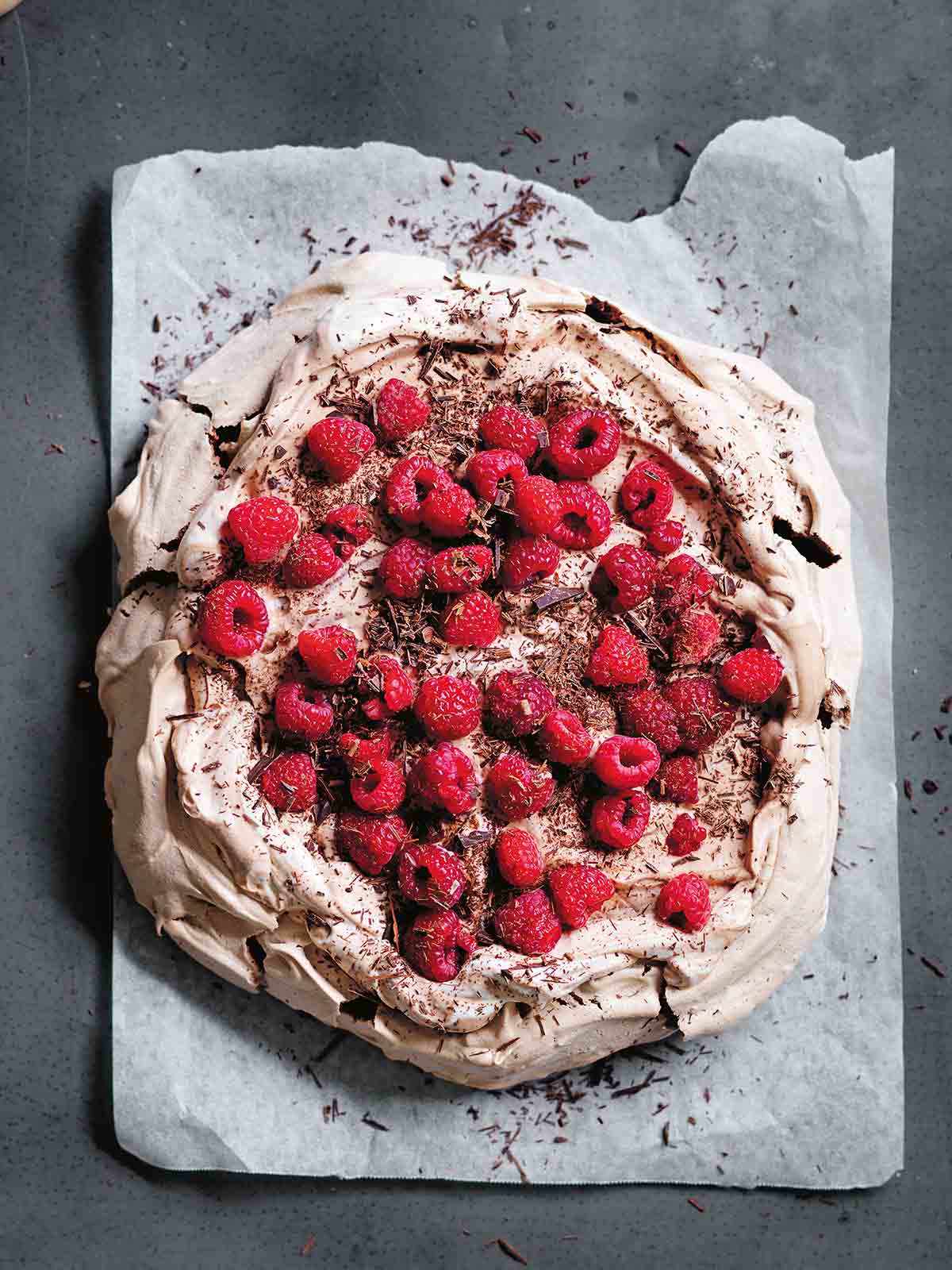 A traditional, fluffy, virginal white pavlova is a fine thing, but we say double the pavlova repertoire, double the fun. This pavlova base (chewy and chocolatey, almost torte-like) is based on a recipe of Nigella's, but where she used plain whipped cream for the topping, we show no such restraint and use a mixture of cream and hazelnut cocoa spread. Oh, my.—Sophie Gilliat and Katherine Westwood
Chocolate Pavlova with Raspberries FAQs
What's the difference between pavlovas and meringues?
Pavlovas and meringues are quite similar–both are sweet egg-white-based desserts. Where they differ is a meringue is dried completely making it crispy. A pavlova, on the other hand, is softer and has varying textures; the outside is crisp while the inside is chewy and marshmallow-like.


Chocolate and Cinnamon Swirl Meringues
Why can't you make meringues in a plastic bowl?
It's crucial not to use a plastic mixing bowl for meringues or pavlovas. They often are coated with a film of fat from previous foods that were prepared in them. That fat can prevent you from getting billowy and luscious meringue. Instead, always use a meticulously clean and dried glass, stainless steel, or ceramic bowl when whipping egg whites.
Why do you leave the pavlova in the oven overnight?
Turning off the oven and leaving the pavlova inside it overnight helps to prevent the pavlova from cracking and collapsing.
Why do you add vinegar to meringue?
The addition of vinegar–in this recipe, balsamic vinegar–strengthens the egg whites and makes them more stable. It also helps form that marvelously marshmallowy interior.
How can you store this pavlova?
You can store the cooled, untopped pavlova in an airtight container for up to several days. When it's time to serve the dessert, simply top with raspberries and dollop with the Nutella whipped cream.
Chocolate Pavlova with Raspberries
For this easy chocolate pavlova with raspberries, a dark chocolate meringue is topped with a layer of whipped Nutella cream and a jumble of fresh raspberries. Go on, indulge yourself. We certainly did.
Ingredients
For the pavlova base
6

large

egg whites

Pinch of table salt

1 1/3

cups

caster (superfine) sugar (or blitz granulated sugar in a food processor until finely ground)

2

heaping tablespoons

cocoa powder

1

teaspoon

balsamic vinegar

1/3

cup

good-quality dark chocolate, finely chopped

,

plus 1/3 cup extra, grated or shaved for serving (optional)
For the topping
2

cups

light cream

7

ounces

hazelnut cocoa spread

,

such as Nutella

9

ounces (about 2 cups)

fresh raspberries
Instructions
Make the pavlova base
Using a fitted with the whisk attachment or an , in a very clean stainless steel or glass bowl, whisk the egg whites and salt until stiff, then gradually rain in the sugar, a little at a time, continuously whisking until the mixture is satiny. Sift in the cocoa powder and stir through the vinegar and dark chocolate.

Pile the meringue mixture onto the baking sheet in a 10-inch (25-cm) diameter circle and place in the oven. Bake until the pavlova appears dry and set in the center, 60 to 90 minutes. Turn the oven off but leave the pavlova in the oven to cool and dry out further, at least 2 hours but ideally overnight.
Make the topping
In the bowl of a stand mixer fitted with the whisk attachment, or using an electric hand mixer, whip the cream until soft peaks form, 3 to 5 minutes. Fold through the hazelnut cocoa spread.

When ready to serve, spoon the cream on top of the meringue and dot the raspberries on the cream top – either in concentric circles, or in a haphazard jumble, depending on your artistic bent and level of perfectionism.

Finish with a flurry of shaved or grated chocolate, if you wish.
Nutrition
Serving:
1
portion
Calories:
427
kcal
Carbohydrates:
58
g
Protein:
6
g
Fat:
20
g
Saturated Fat:
15
g
Polyunsaturated Fat:
1
g
Monounsaturated Fat:
4
g
Trans Fat:
1
g
Cholesterol:
34
mg
Sodium:
64
mg
Potassium:
291
mg
Fiber:
5
g
Sugar:
50
g
Vitamin A:
318
IU
Vitamin C:
9
mg
Calcium:
65
mg
Iron:
2
mg
Nutrition information is automatically calculated, so should only be used as an approximation.
Recipe © 2021 Sophie Gilliat | Katherine Westwood. Photo © 2021 Ben Dearnley. All rights reserved.
---
Recipe Testers' Reviews
This recipe for chocolate pavlova with raspberries is delectable and intoxicating! Attention chocolate lovers!!! I've never made this dessert before and I can't believe how effortless it was from beginning to end. But the hardest part is leaving it to sit in the oven.

The texture of the chocolate pavlova is crisp and chewy at first and then it melts in your mouth. If you have ever had a macaron cookie it has the same texture. This dessert was so rich with flavor from the dark chocolate and cocoa powder. I especially enjoyed the tiny melted pockets of dark chocolate pieces I found in every bite! The hazelnut whipped cream and the fresh berries were the perfect accoutrements. Best of all, the different textures and components of this dessert came together beautifully to please all the taste buds! A show-stopper dessert!
Unfortunately, due to time constraints, I wasn't able to make the base ahead of time. I would recommend cooking the base and then leaving it to dry out overnight in the turned-off oven. I only cooled my base for about 20 minutes as I wanted to get on with the dish.
The mixture of cream and Nutella was lovely and will be a useful way of using up leftover Nutella in future. Now, I opted for a random dotting of raspberries delighting in plopping them into the cream. I served my pavlova on its own. It didn't cut well into neat slices, more of a spoonful or two each. I felt that the dish would have benefited from overnight drying out, but it was still delicious.