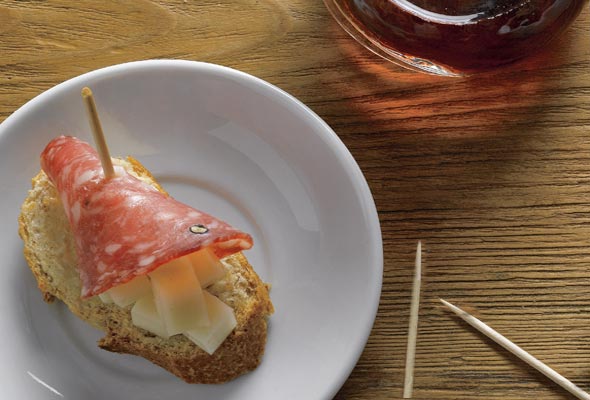 Once upon a time in Spain, a small, free tapa was served with drinks in bars, often a piece of sliced cold meat, such as cured ham or chorizo, or a piece of cheese. According to culinary legend, these tapas were used to cover wine glasses to keep the aroma in and to keep the flies and insects out. (The word tapa originally meant "cover," a reference to this practice.) In parts of Spain, pinchos are a type of tapas consisting of small pieces of bread on which different toppings are held in place with a toothpick. Nothing goes better with a glass of wine or a cold beer.–Inés Ortega
LC Spain of Yesteryear Note
Based on what we just read above, we want to move to the Spain of yesteryear….
Salami and Cheese Tapa Recipe
Quick Glance
15 M
15 M

Makes 12
Ingredients
Butter

, at room temperature

Country-style bread

(12 slices if using a baguette; 3 slices, cut into quarters, if using a broader loaf of bread)

12

slices

salami

6

ounces

Manchego cheese

, rind removed, cheese cut into cubes
Directions
1. Spread a little butter onto 1 side of each slice of bread.

2. Roll up each slice of salami like a cone. Place the rolled salami on top of the bread and fill it with a few cheese cubes.

3. Secure the salami with a toothpick.

4. Serve. And accept accolades.
Hungry for more?
Chow down on these:
Salami and Cheese Tapa Recipe © 2010 Simone and Inés Ortega and José Andrés. Photo © 2010 Mauricio Salinas. All rights reserved.
Hey, there. Just a reminder that all our content is copyright protected. Like a photo? Please don't use it without our written permission. Like a recipe? Kindly contact the publisher listed above for permission before you post it (that's what we did) and rewrite it in your own words. That's the law, kids. And don't forget to link back to this page, where you found it. Thanks!