[Editor's Note: Before we indulge you with the recipe for these Phyllo Crisps, we want to share a few words about the author's history with phyllo.] Phyllo is the backbone of many Turkish desserts, and I have fond memories of it. When I was four years old, I would watch in wonder as my mom, my aunts, and my grandma stretched fresh phyllo on the tabletop and then layered it to make crisp, sweet baklava. Like raising a child, stretching fresh phyllo into its paper-thin wonder really does take a village—or at least a large family. I thank Buddha for good-quality store-bought phyllo every time I pull it out of the freezer.
Phyllo is so wonderfully crisp, and when baked with butter and glazed with the honey syrup, it's addictive. I find these phyllo crisps much easier to make than baklava, as the pieces are more manageable and they can get really golden brown and crisp. You can use the resulting crisps to give texture to parfaits, layer them as a mille-feuille or napoleon, even place a stack on a cheese platter. Whatever you do, enjoy them, and imagine that a wide-eyed four-year-old is watching you make them.–Yigit Pura
LC Phyllo Phenom Note
We imagine all manner of occasions where these phyllo crisps would be welcome. In addition to the plate of assorted cheeses mentioned above, we're thinking alongside a singular aged cheese as well as some sliced pears and toasted nuts. Or a cup of tea. Some fresh figs and Greek yogurt. We could go on, although actually, tell you what, why don't you fill in the blank for this phyllo phenom, sorta like those choose-your-own-adventure stories. Just let us know in a comment below.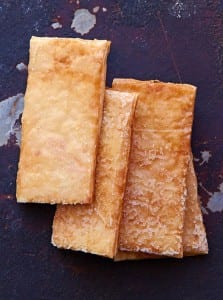 Phyllo Crisps
Phyllo crisps are sweet, crispy, and just as flaky as you would imagine. Flavored with orange zest, cardamom, and a drizzle of runny honey, they might not even need an accompaniment besides a cup of tea.
Ingredients
Grated zest of 1/2 orange

,

preferably organic

1/2

cup

granulated sugar

,

plus more for sprinkling

2 1/2

teaspoons

ground cinnamon

1/4

teaspoon

ground cardamom

6

sheets

frozen phyllo dough

,

thawed according to package directions

1/3

cup

unsalted butter

,

melted

2

tablespoons

pale, runny honey
Instructions
Line a rimmed baking sheet with parchment paper. Have a second baking sheet ready.

Combine the orange zest with the sugar in a small bowl, using your fingertips to rub the orange zest into the sugar to release its essential oils. Add the cinnamon and cardamom and mix to combine.

Place 2 sheets phyllo on the parchment-lined baking sheet. (When working with phyllo, always keep a clean, moist kitchen towel over the stack of dough that you're not handling. Phyllo is very thin and will dry out quickly, becoming brittle and impossible to work with.) Using a pastry brush, gently apply a thin layer of melted butter to the top sheet of phyllo and sprinkle liberally with some spiced sugar. Place another 2 sheets phyllo dough on top of the first layer and press lightly. Brush with a little more melted butter and sprinkle with more spiced sugar. Then top with 2 sheets phyllo and, once again, lightly brush with butter and sprinkle with spiced sugar. You may have some leftover spiced sugar.

Completely cover the layered phyllo with damp paper towels or plastic wrap to prevent the fragile phyllo dough from drying out and cracking and refrigerate until the butter returns to a solid state, at least 10 minutes. (Don't worry, the sugar didn't stick to the damp paper towels, even though we thought it might.)

Preheat the oven to 325°F (165°C).

When the butter is solid, remove and discard the paper towels or plastic wrap. Using a pizza cutter or a very sharp knife, cut the layers into approximately 2-inch (5-centimeter) squares. Cover with a sheet of parchment paper and the second baking sheet to weight the phyllo for baking— this ensures that they puff just enough to be flaky while still maintaining a crisp, linear look.

Bake the phyllo crisps for 10 minutes. The crisps should be lightly browned, especially along the edges. Remove the top baking sheet and rotate the bottom baking sheet 180°, then bake for another 10 to 12 minutes, until the crisps become evenly golden, crisp, and flaky.

While the crisps are baking, place the honey in the microwave for 20 seconds or in a small saucepan over low heat for 1 minute. You want the honey to be warm and runny and spreadable.

Immediately after removing the phyllo crisps from the oven, brush them with the warm honey and sprinkle with a pinch granulated sugar (or, if desired, any leftover spiced sugar). Let cool at room temperature. The crisps are best served fresh that day but can be covered with parchment paper and kept overnight at room temperature.
Nutrition
Serving:
1
portion
Calories:
59
kcal
Carbohydrates:
8
g
Protein:
0.4
g
Fat:
3
g
Saturated Fat:
2
g
Polyunsaturated Fat:
0.1
g
Monounsaturated Fat:
1
g
Trans Fat:
0.1
g
Cholesterol:
7
mg
Sodium:
23
mg
Potassium:
6
mg
Fiber:
0.2
g
Sugar:
6
g
Vitamin A:
79
IU
Vitamin C:
0.02
mg
Calcium:
4
mg
Iron:
0.2
mg
Nutrition information is automatically calculated, so should only be used as an approximation.
Recipe © 2014 Yigit Pura. Photo © 2014 Frankie Frankeny. All rights reserved.
---