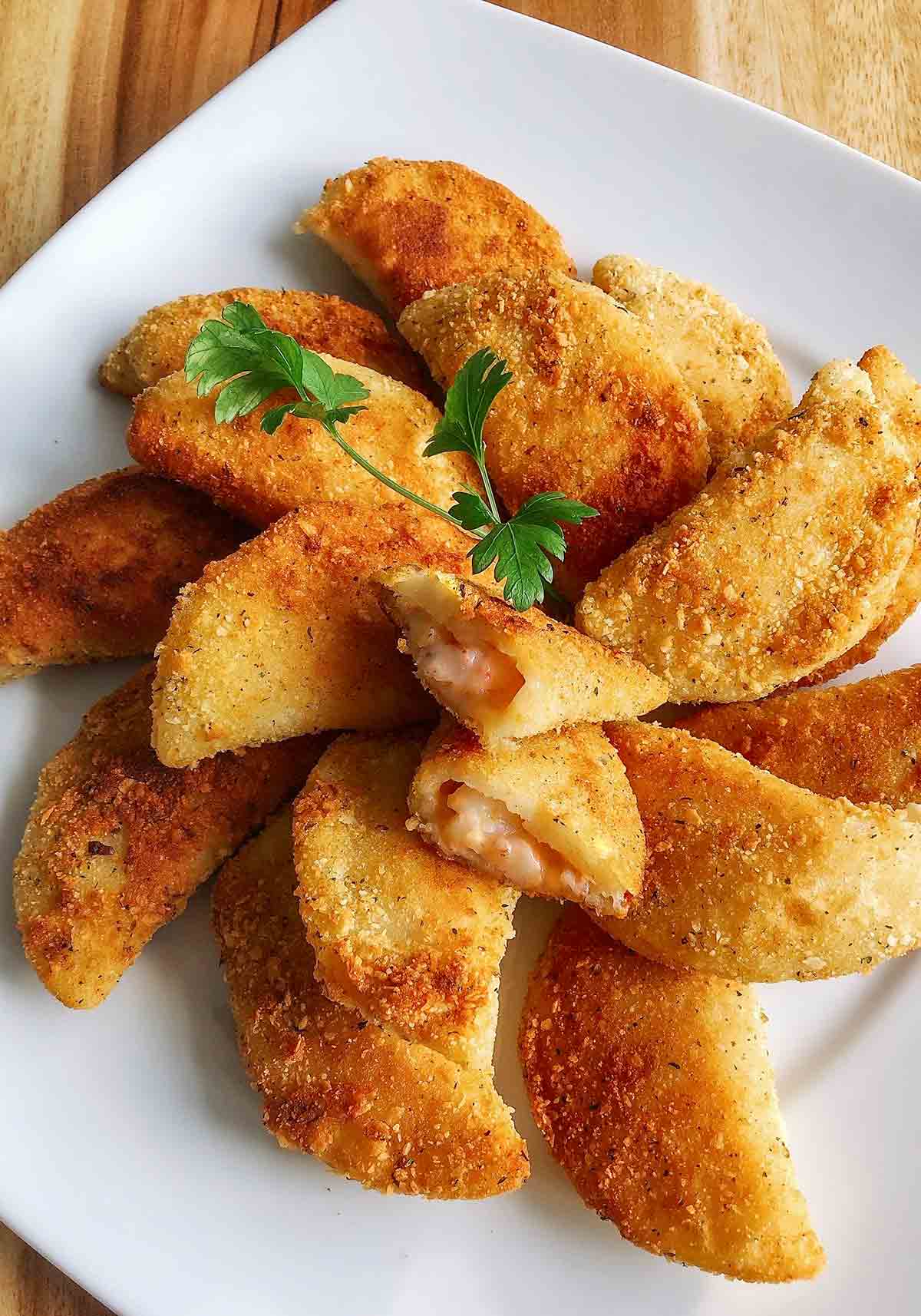 These delectable Portuguese turnovers (rissóis) adapted from my friend, Isaura, can be served as an appetizer, single course, or snack. Make them small or make them a bit larger, but make them. Serve with your favorite wine.–Ana Patuleia Ortins
Shrimp Turnovers FAQs
Can I make these with a different type of filling?
Yes, you can. Although shrimp is traditional, you can fill them with chicken, rabbit, or salt cod. See the variation below the recipe for instructions on how to do this.
Can I freeze these turnovers?
Yes! We recommend you freeze them in a single layer on a sheet pan after step 12, before frying. When you are ready to fry, let them rest at room temperature for 10 to 15 minutes before cooking.
Can I bake these instead of frying them?
We don't recommend it. Baking won't result in the same crispy texture as frying.
Portuguese Shrimp Turnovers ~ Rissóis de Camarão
Portuguese shrimp turnovers, or rissóis de camarão, are a traditional appetizer (or, let's face it, any-time-of-day nosh) that deliver the homey comfort of being in your Portuguese grandma's kitchen. Even if you never had a Portuguese grandma.
Ingredients
For the rissóis pastry
2

cups

milk

4

tablespoons (2 oz)

unsalted butter

1

teaspoon

salt

2

cups

all-purpose flour

,

plus more for the work surface
For the rissóis filling
2

tablespoons (1 oz)

unsalted butter

1/4

cup

finely chopped onion

1

cup

milk

1/2

tablespoon

finely chopped cilantro or parsley

1 to 2

teaspoons

store-bought or homemade hot-pepper sauce,

or more to taste

1/2

teaspoon

coarse salt

,

or more to taste

1/2

teaspoon

freshly ground white pepper

1/4

teaspoon

freshly grated nutmeg

2

tablespoons

cornstarch or flour

2

tablespoons

water

1/2

pound

shrimp

,

peeled, deveined, cooked, well drained, and coarsely chopped (about 1 1/2 cups)
For the frying
3

large

eggs

,

beaten with 1/4 cup water for egg wash

Fine plain bread crumbs

Olive oil or other mild oil,

for frying
Instructions
Make the rissóis pastry
In a 2-quart saucepan over medium-high heat, warm the milk, butter, and salt until bubbles begin to form at the edge of the pan. Do not let the milk boil.

Reduce the heat to medium-low. Using a wooden spoon, vigorously stir the flour into the milk. Keep stirring over medium-low heat until the mixture forms a dough. When the dough forms a ball that pulls away from the sides of the pan, remove the pan from the stove.

Turn the dough out onto a lightly floured surface. Using a dough scraper or wooden spoon, turn the warm dough to sorta briefly knead it until smooth and the dough springs back slightly when pressed with your finger. Be careful not to overwork the dough.

Divide the dough in half and shape it into 2 balls. Cover each with an upside-down bowl. Let cool to nearly room temperature, about 1 1/2 hours.
Make the rissóis filling
In a 1-quart saucepan over medium-high heat, melt the butter. Add the onion and cook, stirring occasionally, until lightly golden, about 10 minutes. You can turn the heat down a touch if the onions start to brown.

Reduce the heat to medium-low, pour in the milk, and heat until bubbles begin to form at the edge of the pan. Do not let the milk boil. Remove the pan from the heat.

Stir in the cilantro or parsley, hot pepper sauce, salt, pepper, and nutmeg.

In a small bowl, stir together the cornstarch or flour with the water to form a slurry. Stir the slurry into the milk and simmer over medium-low heat, stirring constantly, until it thickens, 2 to 4 minutes. (Don't overcook it or the cornstarch will break down and the mixture will lose its thickening abilities.)

Stir the chopped shrimp into the milk mixture in the pan and leave on the heat just until warmed through, about 1 minute. Remove the pan from the heat. Let cool completely.
Assemble and fry the rissóis
Take half the dough and roll it on a lightly floured surface to 1/8 inch thickness. Using a round cookie or biscuit cutter that's 3 1/2 to 4 inches in diameter (smaller if making appetizers for a party), cut out disks of dough.

Place 1 teaspoon of filling in the middle of a circle. Fold the dough over to form a half circle, pressing the edges together. Place the filled dough on a baking sheet lined with plastic wrap. Repeat until all the filling is used. (The rissóis can be made ahead and frozen before frying. When you have unexpected guests, just take as many as you need from the freezer, thaw them, and proceed to batter and fry them. See * below for more instruction.)

☞ TESTER TIP: If, when pressing the edges of the dough together, they don't stick, moisten your fingertips with water and slide them along the edge of the dough and try again.

Working with 1 filled turnover at a time, dip it in the beaten egg, turning to coat all sides, and then quickly dip it in the bread crumbs, turning to coat it and gently shaking off any excess crumbs. Repeat with the remaining turnovers.

Heat 2 or 3 inches of oil in a deep skillet over medium-high heat to a temperature of 350°F (175°C) or until small piece of pastry sizzles as soon as you slip it in the oil. Fry the rissóis, 2 or 3 at a time, until golden brown.

Place the fried turnovers on paper towels or a brown paper bag to drain. Repeat with the remaining turnovers.

Serve your shrimp turnovers hot or at room temperature.
Notes
Portuguese Shrimp Turnovers ~ Rissóis de Camarão Variation
Although these are usually made with shrimp, a filling of chicken or shredded poached salt cod is tasty as well. Substitute 1 1/2 cups finely chopped cooked chicken, rabbit, or shredded poached salt cod for the shrimp. Stir briefly, add 1 tablespoon finely chopped celery, stir, and assemble.
To freeze, line a sheet pan with plastic wrap and set the pastries down in a single layer without overlapping. Cover well with plastic wrap, smoothing out as much air as possible. Freeze. They will keep for at least a month, but you most likely will use them before that time.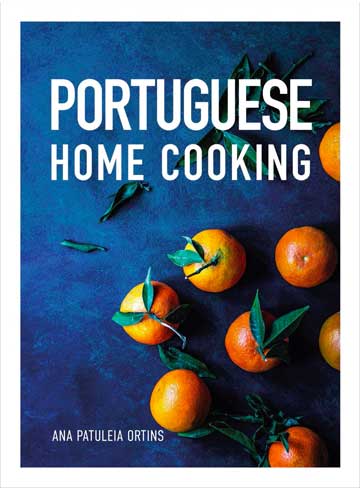 Nutrition
Serving:
1
turnover
Calories:
59
kcal
Carbohydrates:
7
g
Protein:
2
g
Fat:
3
g
Saturated Fat:
2
g
Polyunsaturated Fat:
1
g
Monounsaturated Fat:
1
g
Trans Fat:
1
g
Cholesterol:
22
mg
Sodium:
115
mg
Potassium:
45
mg
Fiber:
1
g
Sugar:
1
g
Vitamin A:
123
IU
Vitamin C:
1
mg
Calcium:
29
mg
Iron:
1
mg
Nutrition information is automatically calculated, so should only be used as an approximation.
Recipe © 2001 Ana Patuleia Ortins. Photo © 2020 Ilda Costa-Sarnicki. All rights reserved.
---
Recipe Testers' Reviews
Shrimp turnovers or rissóis, as they're called in Portuguese, always graced food trays at banquets and celebrations when I was growing up. They were rarely served at home except at weddings or baptisms.
In Canada, you can get them homemade in various shops in Portuguese communities. You can get them frozen, ready to fry, or fresh from bakeries. I've had really good ones and a slew of mediocre ones that either had a great crisp exterior and a meh filling or vice versa. Sometimes you weren't really sure the filling contained any shrimp…
When I read this recipe, I didn't really believe that I could make these to look like the photo. The ingredients, however, sounded like they would create a turnover reminiscent of my better experiences. Notwithstanding, this was my chance to learn how to make these at home. I was surprised that the pastry was as easy to make as choux pastry. That was my first thumbs up.
The instructions for both the pastry and the filling were clear and easy to follow. Even though the entirety of the recipe was hands-on, the flow was dynamic and each step created anticipation for the finished product. The timing really didn't feel like 2 hours and a bit more had elapsed.
I really liked that the shrimp mixture was cooked enough for tasting before committing it to the filling. I especially loved that the shrimp were coarsely chopped.
For the hot sauce, I used my own piri-piri sauce which seemed rather fitting. Although the recipe called for cilantro or parsley, I used parsley as that was the flavor I remembered.
The pastry was forgiving (I love that in pastry dough!) and I rolled it as thin as I could without poking holes in it. Using a 10-cm cookie cutter I was only able to obtain 26 turnovers and not 36. Also, I had 1/2 cup of filling leftover. When I cut through a finished turnover, the pastry did look like it could have been rolled a bit thinner. As for the pastry, I'm sure it was not the fault of the recipe but my newbie attempt. My turnovers did look like the whole ones in the photo!
The filling…oh, the filling…best combination of flavor and texture I'd ever had. Shared a few with a couple of Portuguese friends and I got the same response. The shapes were perfect. The leftover filling was not a problem at all! I enjoyed it on toasted Calabrese bread with an extra sprinkling of chopped parsley.
Already looking forward to making these again.
You'll love these shrimp turnovers with a soft dough, a creamy filling, and a delicious shrimp flavor. They're a perfect starter or snack, but they can also be served as a meal. We like to serve them with tomato rice and a good green salad. Whenever you prepare them, make an additional quantity and freeze, so you always have this snack on hand!
Instead of water, I used 5 tablespoons (with only 2 tablespoons, the filling won't be creamy) of the following seafood stock: pour the shrimp in boiling water, without salt, and after a few minutes, depending on the size of the shrimp, place them in a bowl with water, ice, and plenty of salt, until they cool. Reserve the cooking water. Peel the shrimp and reserve the heads. Place the heads in a blender, add 1 cup of the cooking water and grind. Pass through a sieve. The broth you do not use can be frozen (I use it for seafood rice and paella).
Combine the cornstarch or flour with 4 tablespoons of the shrimp water and mix well. Stir into the milk and simmer over medium-low heat, stirring constantly until it thickens, about 4 minutes (if using cornstarch, don't overcook it or the cornstarch will break down and the mixture will loosen). Stir in the chopped shrimp, heat through for 2 minutes, and remove from the heat. Let cool completely. The amount of filling was appropriate for the dough.
If, when pressing the edges, the dough doesn't stick well, moisten your fingertips and pass through the edges, so that they stick more easily.