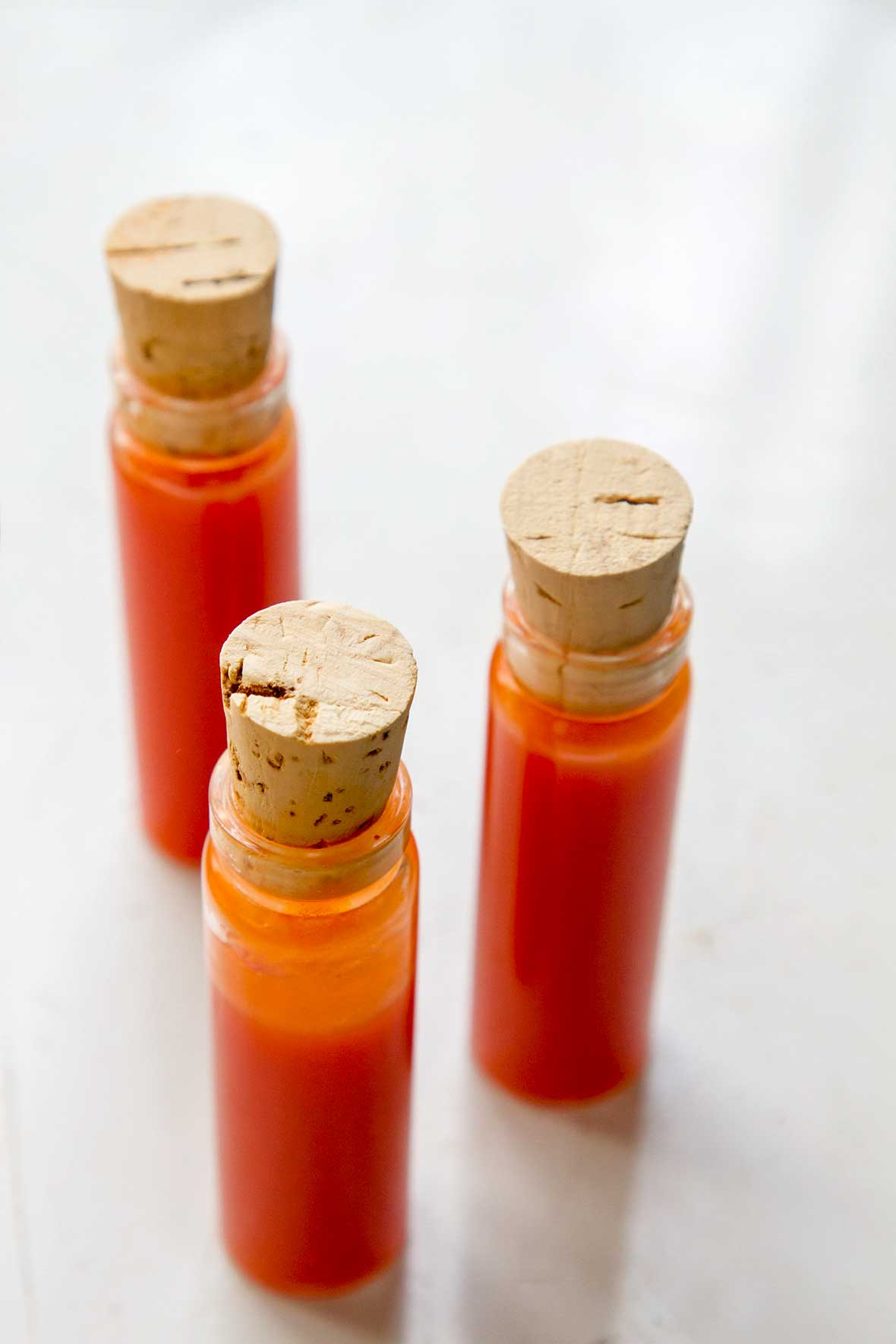 "Spectacular." That's the word more than one of our recipe testers used to sum up their feelings about this homemade hot sauce recipe. Another referred to it as "a best-of-all-worlds hot sauce." And someone else said "I have NEVER tasted a hot sauce so complete and, to use an overused yet perfect word to describe it, complex." We're not going to argue. Trust us when we say that with this recipe, you'll earn bragging rights as the maker of the best hot sauce ever. And with all those little homegrown good sorts of bacteria that come from fermented foods. Just doing what we can to keep you healthy and sated.–Renee Schettler Rossi
*What is pickling salt?
Don't let a single potentially unfamiliar ingredient keep you from making this homemade hot sauce recipe. The ingredient in question is pickling salt. It's simply pure granulated salt without any anti-caking agents. And it's more readily obtainable than you may think. Go on. Google it. Look for it at your grocery store. And then make this recipe.
Homemade Hot Sauce
Homemade hot sauce is easy to make with just hot peppers, salt, vinegar, and patience (aka to make it fermented). That's all you need. Well, that and this recipe. Without further ado, here's how to make the best hot sauce ever from scratch.
Equipment
Mason jars with O-rings (that's the metal ring thinger)
Ingredients
1

pound

fresh cayenne peppers

,

stemmed (about 4 cups)

About 2

tablespoons

water

1 1/2

teaspoons

pickling salt* (see *What is pickling salt? above)

2

cups

distilled white vinegar
Instructions
Pack the peppers in a food processor and pour in the water. Pulse until the peppers form a chunky mass made of small pieces and then add the salt. (If you're the sort of home cook who likes to use weights and measures, you're going for about 2.5% salinity in your initial fermentation.)

Place the peppers in a large Mason jar, cover it with a square of paper towel, and secure the towel with the jar's O-ring (the metal ring thinger). Store the jar in a dark spot that hovers around 70°F (20°C)—a kitchen cabinet works well—and let it do its thing, undisturbed, for 48 hours.

Skim any accumulated mold from the surface and stir the peppers. Cover again with the paper towel and the jar's O-ring and repeat the skimming and stirring every day or so for 5 more days. The total fermentation time is 1 week.

After skimming any accumulated mold from the surface on the last day, dump the fermented peppers into the food processor and pulse a couple of times.

Strain the mixture into a large pitcher or other container, pressing on the solids with the back of a spoon or with a small spatula to remove all the liquid. Add the vinegar to the strained liquid and stir. Pour the hot sauce into jars, cover tightly with rings and lids, and refrigerate for up to several weeks.
Nutrition
Serving:
1
tablespoon
Calories:
4
kcal
Carbohydrates:
1
g
Protein:
1
g
Fat:
1
g
Saturated Fat:
1
g
Polyunsaturated Fat:
1
g
Monounsaturated Fat:
1
g
Sodium:
55
mg
Potassium:
23
mg
Fiber:
1
g
Sugar:
1
g
Vitamin A:
67
IU
Vitamin C:
10
mg
Calcium:
2
mg
Iron:
1
mg
Nutrition information is automatically calculated, so should only be used as an approximation.
Recipe © 2014 Hugh Acheson. Photo © 2014 Rinne Allen. All rights reserved.
---
Recipe Testers' Reviews
SPECTACULAR! If I could use just a single word to describe this homemade hot sauce recipe, it would be spectacular.
I used a pound of VERY hot, small, green Thai peppers, as the markets near me had no cayenne peppers. I kept the jar on a high shelf in a kitchen cabinet so it wouldn't fall into enemy hands.
After 2 days, the surface had a thin layer of a furry green mold, which I scraped off with a spoon and discarded. In the following days, I noticed very little, if any, mold growth. What I did notice was a bit of liquid forming at the bottom and a powerfully GOOD smell, which actually surprised me.
After 7 days, I put the peppers in a food processor. There really was not a lot of fluid. I pulsed everything to a nice puree. I used a small strainer over a jar to collect the liquid, and again there was very little liquid, so I used a small silicone spatula to press the very thick liquid from the peppers and into the jar. This step was by far the most time-intensive, taking nearly 20 minutes.
For the final step, I poured 2 cups vinegar through the remaining pulp and seeds in the strainer, stirring until it ran dry. The overall time was a week. Would I do this again? Was it worth it? Absolutely! I have NEVER tasted a hot sauce so complete and, to use an overused yet perfect word to describe it, complex.
I love hot sauce—a lot. My cabinet and fridge are full of various bottles of hot sauce from all over the world, and I reach to each one for specific types of food. This homemade hot sauce is a best-of-all-worlds hot sauce.
I made a few changes to meet my needs. I didn't have cayenne peppers on hand, but I did have a ton of other kinds of peppers, hot and sweet. I used a blend of them, leaning heavier on the spicy pepper side. I used my pickling salt from Penzey's and stored my mixture in a quart-size Mason jar covered with cheesecloth in the pantry. The proportions are good. My peppers didn't accumulate actual mold during the entire process. At the end of the week, I blended everything together in a blender and loved the flavor and texture so much that I didn't want to strain it. Instead, I left it a little thicker, and it was still easy to pour from a jar.
I brought about 4 cups in a huge bottle to a big party, and it was gone before dinner was finished being served. The remaining sauce is in the fridge, and I have found it to be delicious on everything from tacos, eggs, Vietnamese food, and more. I'll definitely be making this again and look forward to seeing the variations in flavor as the availability of peppers at the market change.
This homemade hot sauce recipe took me about 10 minutes and then a week of patient waiting. I ended up with a foam-like "growth" on top of my peppers, which I easily skimmed off. I didn't want to waste the peppers, so I mixed them with a cup vinegar and shook it up. I let that sit overnight, and it made a delicious pepper sauce as well.