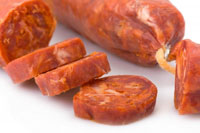 Picando means spicy or prickly in Portuguese, and this distinctive burger certainly lives up to its name. There's the spicy chouriço, the tangy orange aioli, and few things are more prickly than a pineapple. Although not a Portuguese classic, this burger arranges familiar Portuguese flavors in unexpected harmony. The recipe hails, curiously enough, from cook, opera singer, and musical performer Susan Mello. In 2002, she and this sassy little number were finalists in Sutter Home's Build a Better Burger Contest.–LC Editors
LC O Sweet Rolls, Sweet Rolls, Wherefore Art Thou Sweet Rolls? Note
For the uninitiated, Portuguese sweet rolls are rich, buttery, squishy in a good way, and swell match for these spicy burgers. They're also elusive outside of Portugal, so if they prove too tricky to procure for your Tuesday night dinner, go on and swap another slightly sweet roll or bread, whether shirttail relation Hawaiian sweet rolls, challah, or brioche. They're not exaaaaaactly the same, but close enough. [Editor's Note: Uh, just don't tell David we said that.]
Portuguese Pineapple Picando Burger
Quick Glance
25 M
40 M

Makes 4 burgers
Ingredients
For the orange-garlic aioli
1/3 cup store bought or homemade mayonnaise

Pinch grated orange zest, preferably organic

2 tablespoons fresh orange juice

1 tablespoon minced garlic

For the burgers
1/2 pound ground Portuguese chouriço, linguiça, or other dry-cured spicy sausage

2 tablespoons olive oil

3 tablespoons Zinfandel

2 tablespoons tomato sauce

1 1/2 pounds ground sirloin

Vegetable oil, for brushing grill rack

4 Portuguese sweet rolls, split and toasted

1 cup loosely packed cilantro leaves

4 slices fresh pineapple, cored
Directions
Make the orange-garlic aïoli

1. In a small bowl, combine the mayonnaise, orange zest, orange juice, and garlic. Cover and refrigerate until ready.

Make the burgers

2. Prepare a gas or charcoal grill for medium direct heat cooking.

3. In a large skillet over medium heat, heat the olive oil. Add the ground chouriço or linguiça and sauté until lightly browned. Add the wine and tomato sauce and stir to combine. Remove from the heat and let cool.

4. In a large bowl, combine the cooled chouriço, linguiça, or other sausage and the ground sirloin and gently form the mixture into 4 patties. When the fire is ready, carefully brush the grill rack with oil. Grill the patties, turning once, until the desired doneness, 4 to 5 minutes per side for medium-rare or 6 to 8 minutes per side for medium. During the last few minutes of cooking, place the rolls, cut side down, along the outer edge of the grill just until lightly toasted.

5. Spread the orange mayo mixture on the rolls. Sprinkle the bottom half of each roll with cilantro and then top with a burger and a pineapple ring. Sandwich with the tops of the rolls and serve immediately.
Portuguese Pineapple Picando Burger Recipe © Susan Mello. All rights reserved. All recipes and photos used with permission of the publisher.
If you make this recipe, snap a photo and hashtag it #LeitesCulinaria. We'd love to see your creations on Instagram, Facebook, and Twitter.