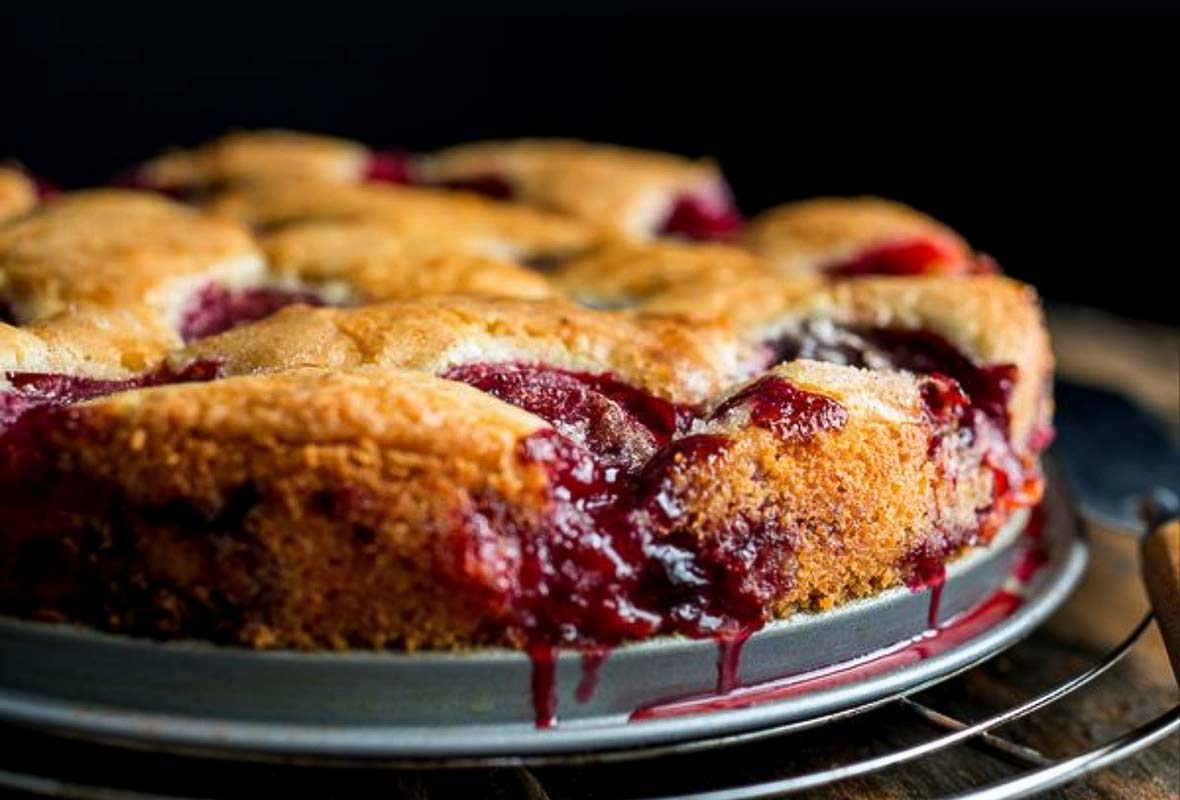 This plum torte is both the most often published and the most requested recipe in the Times archives. By my count, Marian Burros (who was given the recipe by Lois Levine, with whom Burros wrote Elegant but Easy) ran the recipe in the paper twelve times. And when I asked readers for recipe suggestions for this book, 247 people raved about the torte. The plum torte happily lives up to its billing: crusty and light, with deep wells of slackened, sugar-glazed fruit.
I've thought a lot about why this torte struck such a chord with people: the answer, I think, is that it's a nearly perfect recipe. There are only eight ingredients, all of which, except for the plums, you probably already have in your kitchen. There are just four steps, most of which are one sentence long. You need no special equipment, just a bowl, a wooden spoon, and a pan. The batter is like pancake batter, which most everyone is comfortable making. And baked plums are sweet and tart, making the flavor more complex and memorable than a hard-hitting sweet dessert.
It also freezes well. "A friend who loved the torte said that in exchange for two, she would let me store as many as I wanted in her freezer," Burros wrote one year when she ran the recipe. "A week later, she went on vacation for two weeks and her mother stayed with her children. When she returned, my friend called and asked, 'How many of those tortes did you leave in my freezer?'
"'Twenty-four, but two of those were for you.'
"There was a long pause. 'Well, I guess my mother either ate twelve of them or gave them away.'"
In later versions of the plum torte recipe, Burros cut back the sugar to 3/4 cup—feel free to if you like—and added variations, such as substituting blueberries or apples and cranberries for the plums (I haven't tried either, but Burros was a fan). She jumped the shark, in my view, though, when she created low-fat variations with mashed bananas and applesauce. While I respect her enthusiasm for innovation, this is one recipe that needs no improvement.
I like this best with oval Italian plums, available in early fall.–Amanda Hesser
LC When This Recipe First Appeared Note
September 21, 1983: "Food Notes," By Marian Burros.
Plum Torte
Quick Glance
25 M
1 H, 15 M

Serves 8
Special Equipment: 9-inch springform pan
Print Recipe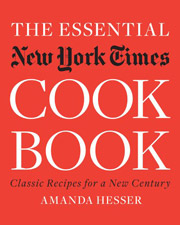 Ingredients
1 cup all-purpose flour

1 teaspoon baking powder

Large pinch of salt

1 cup sugar, plus 1 tablespoon, or more or less, depending on the tartness of the plums

8 tablespoons (1 stick) unsalted butter, softened

2 large eggs

12 purple plums, halved and pitted

2 teaspoons fresh lemon juice, or more or less, depending on the tartness of the plums

1 teaspoon ground cinnamon
Directions
1. Heat the oven to 350°F (176°C). Sift the flour with the baking powder and salt.

2. Cream 1 cup sugar and the butter in a large bowl with a hand mixer (or in a mixer) until light in color. Add the dry ingredients and then the eggs.

3. Spoon the batter into an ungreased 9-inch springform pan. Cover the top of the batter with the plum halves, skin side up. Sprinkle with the remaining tablespoon of sugar and the lemon juice, adjusting to the tartness of the fruit. Sprinkle with the cinnamon.

4. Bake the plum torte until the cake is golden and the plums are bubbly, 45 to 50 minutes. Cool on a rack, then unmold.
Recipe Testers Reviews

For this recipe, I substituted 1 1/2 cups of blueberries for the plums and eliminated the lemon juice. The torte came out wonderfully moist, and just sweet enough. The texture of my batter resembled pate choux dough, not the pancake batter consistency noted in the introduction of the recipe. I spread it with a spatula until it was an inch thick, and it continued to spread and fill the pan once it was in the oven. You can get eight to ten servings out of this, but likely you'll hand out seconds, so don't plan on feeding more than four to six people. Overall, a simple and delicious recipe.
Plum Torte Recipe © 2010 Amanda Hesser. Photo © 2010 Andrew Scrivani. All rights reserved. All materials used with permission.
If you make this recipe, snap a photo and hashtag it #LeitesCulinaria. We'd love to see your creations on Instagram, Facebook, and Twitter.