This sweet pastry dough recipe is an all-butter dough that has a flakiness to make vegetable shortening jealous. Honestly, this recipe is perfect for a beginner–pay attention to the instructions and you'll be rewarded with some incredibly good pie.
Let's make sweet pastry dough! Besides great ingredients, the biggest key to flaky, perfect pastry is minimal manipulation of the dough. Flour contains gluten. The last thing you want to do is get it all worked up, or you will have tough, miserable pastry. Begin by having all your ingredients measured and nearby in a preferably cool kitchen. Butter should be very cold but not frozen solid. Refrigerator-cold is not quite cold enough. I freeze refrigerated butter for at least 30 minutes before using it and take mine out of the freezer for 10 minutes before I cut it and then use it immediately. Water should be literally ice-cold. I fill up my liquid measuring cup with ice and top it off with cold tap water and place it in the freezer for 15 minutes before using it. This can be done either with a food processor or by hand, blending the ingredients in a large bowl using a pastry blender.–Holly Herrick
LC Sweet Pastry Love Note
We're in love. Sweet pastry love, to be exact. See, this easy-to-handle sweet pastry dough turns into crust that's both sturdy and flaky—admirable and often mutually exclusive traits in pastry. And it's worded safely enough for pastry dough virgins—those so chaste that their fingertips have never known what it is to meld butter, flour, and salt into a crumbly goodness. It's foolproof, equally suited for tarts and pies, and is so lovely we'd even suggest you make it for such an epic food event as Thanksgiving, say as the foundation for the equally foolproof Drunken Pumpkin Bourbon Tart. We know, we're gushing. But that's love. You sort of have to experience it to understand. What are you waiting for?
Sweet Pastry Dough
This sweet pastry dough turns out a deliciously flaky, yet sturdy, crust. Perfect for beginners or someone who just needs a pastry refresh. Don't overmix it and you're all set.
Ingredients
2 1/4

cups

all-purpose flour

preferably White Lily

1/4

cup

granulated sugar

Generous

pinch

sea salt or kosher salt

2

sticks (1 cup)

unsalted butter

cold, cut into 1/4-inch (6-mm) cubes

About 3

tablespoons

ice-cold water

or just enough to hold the pastry together
Instructions
Combine the dry ingredients by pulsing 10 to 12 times in a food processor or blending it with a pastry blender. The next and very important step is incorporating the butter. Do this with love. Think of this step as "wrapping" the butter with tiny packages of flour that will help the pastry rise as it bakes. The butter needs to be quickly blended in until it resembles the size of very coarse sand or sea salt. In a processor, this should take between 40 and 50 quick, successive pulses. With a pastry blender, it takes about the same number of times cutting the butter into the flour. Use your eyes and don't be afraid to look, just don't touch, at least not excessively, as hot hands are pastry's worst enemy.

Similarly, you don't want to over-water the pastry, which is the next step, and the one that took me so long to master. Too much water wreaks havoc with the gluten and requires over-manipulation and additional flour—both of which make for tough pastry. The amount of water the pastry will take largely depends on the humidity level of the flour. In my kitchen, this pastry usually takes between 2 and 3 tablespoons of water. Whether in a processor or in a bowl with a blender, trickle the water very slowly into the pastry while pulsing or cutting. The second the pastry begins to form a big, messy ball, you're there, so STOP! (Note: If the dough turns gummy and sticky and messy, try adding 2 tablespoons of flour. If that can't fix it, throw it out and try again. You'll get it right the next time! And it's just flour, water, and butter.)

Turn the pastry dough out onto a lightly floured surface and very quickly divide it in half. Shape each portion into a thick round disk with your hands, scooping up any stray bits and working them into the disks. It should feel and look a little like Play-Doh, or, as I once thought to myself, a very firm little baby's bottom. Look for bits of butter peeking through the pastry—this is a good thing. Wrap the dough in plastic wrap and refrigerate for at least 30 minutes or wrap super duper well in plastic and then place in a resealable plastic bag and freeze for up to a month. Roll out and bake according to your tart recipe.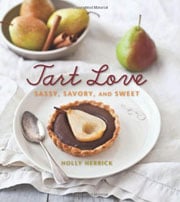 Nutrition
Serving:
1
serving
Calories:
77
kcal
Carbohydrates:
17
g
Protein:
2
g
Fat:
0.3
g
Saturated Fat:
0.1
g
Polyunsaturated Fat:
0.1
g
Monounsaturated Fat:
0.04
g
Trans Fat:
0.004
g
Cholesterol:
0.3
mg
Sodium:
1
mg
Potassium:
19
mg
Fiber:
0.5
g
Sugar:
3
g
Vitamin A:
3
IU
Calcium:
3
mg
Iron:
1
mg
Nutrition information is automatically calculated, so should only be used as an approximation.
Recipe © 2011 Holly Herrick. Photo © 2011
Hélène Dujardin
. All rights reserved.
---
Recipe Testers' Reviews
This is a quick go-to recipe for making pastry dough. I used 3 tablespoons of water and just a pinch of salt as I prefer a sweeter dough for pastries and pies. The dough formed quickly in the food processor although I would think this would be almost as quick if you had to make this by hand. After being in the fridge for 45 minutes, the dough rolled out nicely, yielding a little more than was needed for the 9-inch tart I was making. I balled the leftovers and refrigerated them for a couple of tarts later on. The resulting pastry was buttery and flaky. I will certainly use this recipe again.
Let me start by saying that baking is not my strength so I was really worried about making the sweet pastry crust. But the explanations were very helpful and I was actually able to make it to perfection.
Originally published November 14, 2011