This dyed Easter eggs recipe does magic with safe, natural ingredients by combining kitchen items you have on hand, including red beets, onion skins, coffee, blueberries, curry, and more, to make beautiful colored eggs.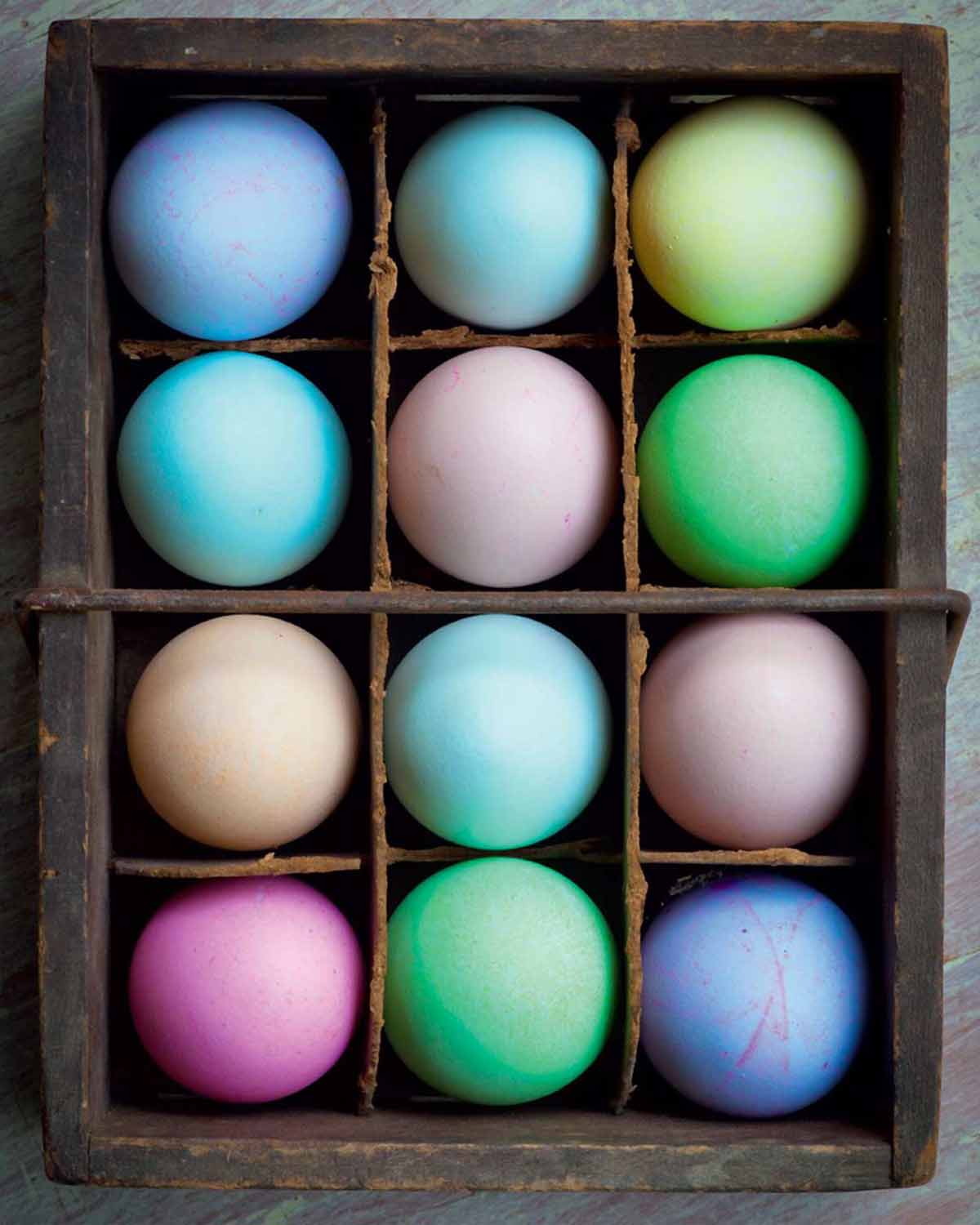 How Can The Kids Help Dye Easter Eggs?
Lest you get caught up in your second childhood and find yourself monopolizing the whole Easter egg making thing, author Leslie Jonath gently notes that the kids ought to be part of the whole dyed Easter egg process, not just the dipping and dyeing. So back off and let them help brainstorm, assemble, and prep the ingredients for dyeing the Easter eggs, just as they do with regular ingredients when it comes time to make dinner (uh, they do help cook, right?). It may take a little more time, but they'll be so much more invested in the outcome. And their creative brilliance may surprise you.
Dyed Easter Eggs
Quick Glance

(1)

15 M
45 M
Makes

1

or more
Print Recipe
Special Equipment: Patience. Lots and lots of patience.
Ingredients
Directions
To prepare the eggs, gently place them in a large pot and add enough cold water to completely cover them. Bring to a boil over high heat, then turn off the heat. Let the eggs stand in the hot water for 20 minutes. Using a spoon, carefully remove the eggs from the water and pat them dry. Set aside until cool enough to handle.
To prepare the dyes, for each color bring 3 cups water to a boil in a large pot and then add 1 to 2 tablespoons vinegar and the dyeing ingredient for the desired color. Return the water to a boil. Cover the pot, reduce the heat to medium-low, and simmer for 20 to 30 minutes. Carefully strain the dyeing liquid into a bowl or wide-mouth jar, discarding the solids. Let the liquid dye cool. Repeat with each dyeing ingredient.
To dye the eggs, when both the eggs and the dyeing liquid are cool, add an egg or two to each bowl of dye. Set aside, turning occasionally, until the desired hue is achieved. (Naturally, the longer you leave the eggs in the dye, the more robust the color. Depending on the desired color, the eggs may need to sit as little as a few minutes or as long as overnight.) Transfer the eggs to a plate lined with a paper towel or return them to their egg carton until dry to the touch. Originally published March 26, 2012.
Print Recipe
Color Me A Rainbow Variations
Red Beets for Magenta- or Red-Dyed Eggs

Use 6 medium red beets, grated, or 4 cups canned beets, chopped. (The longer the eggs remain in the solution, the closer they become to brown. For a more true red, use brown not white eggs.)

Red Cabbage for Pale Blue-Dyed Eggs

Use 4 cups chopped red cabbage, 4 additional cups water, and 3 additional tablespoons white vinegar Then add a pinch of baking soda.

Garam Masala for Caramel-Dyed Eggs

Use 3 to 4 tablespoons garam masala (an Indian staple that's a blend of up to 12 spices).

Blueberries for Lavender-Dyed Eggs

Use 4 cups fresh or frozen blueberries.

Coffee for Mocha-Dyed Eggs

Substitute strongly brewed coffee for the full amount of water.

Red Wine for Burgundy- to Purple-Dyed Eggs

Substitute red wine for the full amount of water. (Not your best Cabernet Sauvignon, mind you. Any plonk will do. And bear in mind, the egg will turn a darker shade as it dries…sort of like that splotch of carmenere on your rug.)

Curry Powder for Pale Yellow-Dyed Eggs

Use 3 to 4 tablespoons curry powder.

Turmeric for Vibrant Yellow-Dyed Eggs

Use 3 to 4 tablespoons ground turmeric. (Wipe the excess ground spice from the eggs with a damp cloth after extricating them from the dye.)

Yellow Onion Skins for Pale Yellow-Dyed Eggs

Use 4 or more yellow onion skins.
Recipe Testers' Reviews
It's fairly easy to cook enough eggs all at once to do each dyed Easter egg variation, although I didn't do all the color variations. One does need to watch that the boiling water doesn't go crazy or the eggs may crack. I put the eggs into each dye and then let them sit overnight. Then I pulled each one out and set them on a rack to dry.
BLUE: This result was so beautiful and so different from the store bought packages. The amount of effort is quite high, though. I did have so much leftover that I could just take the dye out of the fridge to use with more eggs later.
YELLOW: I used curry powder. It was hard to strain out the powder. I ended up just rinsing them off. This required a little bit of work but not excessive.
Prior to testing these dyed Easter eggs, I already knew about a few of these dyes, as I always prefer to do them this way rather than use the chemical store-bought dyes. Most colors are certainly not as vivid, but that is part of the reason I love these techniques, as Easter for me is all about pale colors.
Using white eggs is indeed important so that the colors really stand out more. The toddler LOVED the eggs dyed with red beets. My teen loved the lavender ones and our exchange student liked the red wine ones. As for me, truthfully, I just love them all together.
Also, feel free to glue some string or tiny shapes such as hearts, circles, triangles, and so on, cut out of paper. After dying, the shapes underneath are colored, but not as strongly.
Dyed Easter Eggs Recipe © 2012 Renee Schettler. Photo © 2012
Sheri Giblin
. All rights reserved. All materials used with permission.