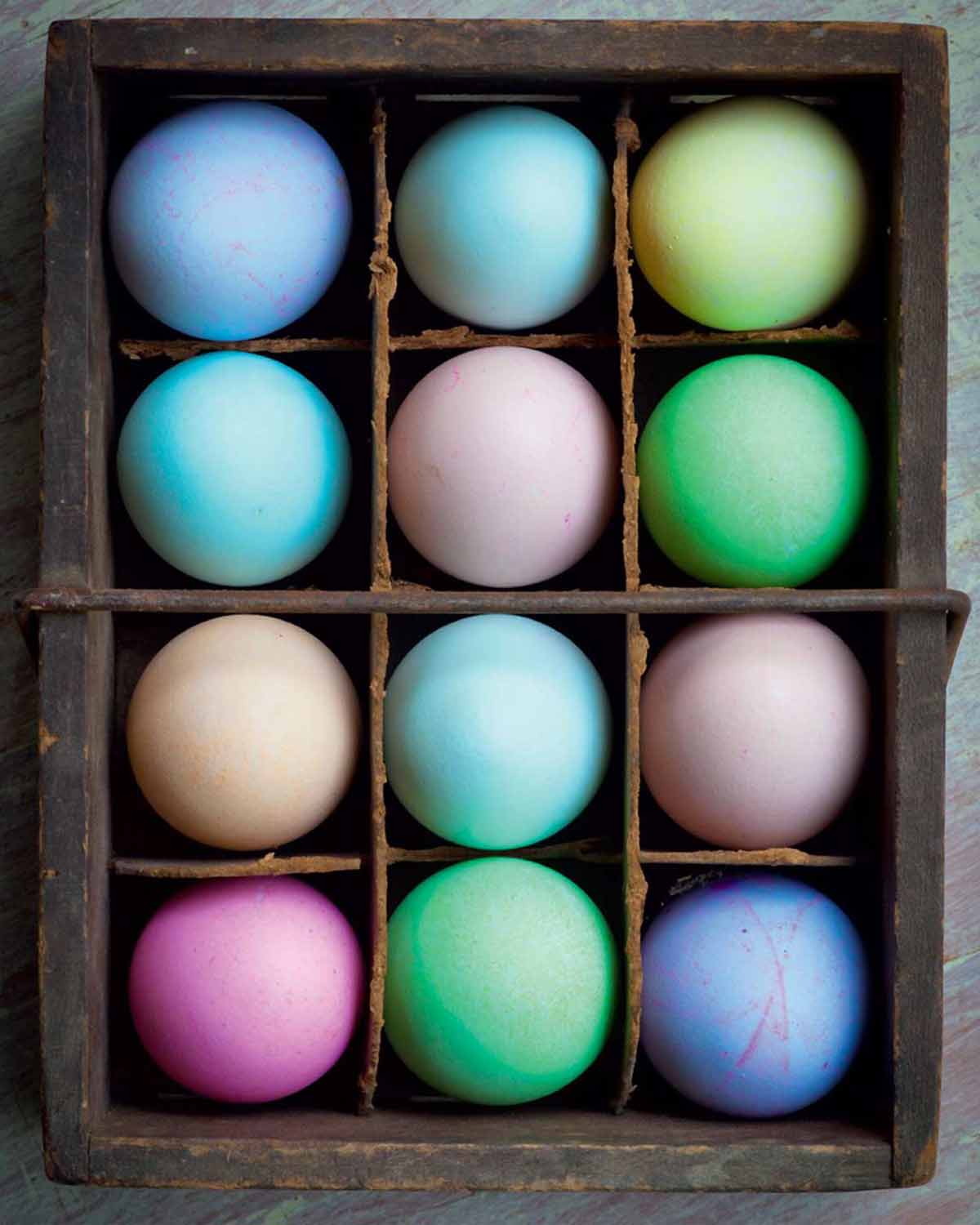 PAAS is so predictable. What we find far more intriguing in terms of dyed Easter egg escapades is eschewing the expected fizzy tablets and embracing kitchen scraps. Yes. Scraps. The half pot of coffee left from this morning. That tin of musty turmeric. The bag of frostbitten blueberries. Even that half glass of wine that went undrunk last night (for shame!). They're all naturally inspired approaches to dyed Easter eggs that create a lovely pastel-ish, non-lurid hue. We snooped around our kitchens like crazy. Then we tinkered with all manner of ingredients languishing in our kitchens to come up with some really swell dyes. Although we've listed almost enough ideas to fill an egg carton, though don't let our suggestions squash your curiosity or your creativity. And if you do, let us know in a comment below.–David Leite
How Can The Kids Help Dye Easter Eggs?
Lest you get caught up in your second childhood and find yourself monopolizing the whole Easter egg making thing, author Leslie Jonath gently notes that the kids ought to be part of the whole dyed Easter egg process, not just the dipping and dyeing. So back off and let them help brainstorm, assemble, and prep the ingredients for dyeing the Easter eggs, just as they do with regular ingredients when it comes time to make dinner (uh, they do help cook, right?). It may take a little more time, but they'll be so much more invested in the outcome. And their creative brilliance may surprise you.
Dyed Easter Eggs
This dyed Easter eggs recipe does magic with safe, natural ingredients by combining kitchen items you have on hand, including red beets, onion skins, coffee, blueberries, curry, and more, to make beautiful colored eggs.
Equipment
Patience. Lots and lots of patience.
Ingredients
Eggs

,

preferably white and not brown

White (distilled) vinegar

Cold water

Dye ingredients

,

(ideas follow, but feel free to follow your instincts and go all zany)
Instructions
To prepare the eggs, gently place them in a large pot and add enough cold water to completely cover them. Bring to a boil over high heat, then turn off the heat. Let the eggs stand in the hot water for 20 minutes. Using a spoon, carefully remove the eggs from the water and pat them dry. Set aside until cool enough to handle.

To prepare the dyes, for each color bring 3 cups water to a boil in a large pot and then add 1 to 2 tablespoons vinegar and the dyeing ingredient for the desired color. Return the water to a boil. Cover the pot, reduce the heat to medium-low, and simmer for 20 to 30 minutes. Carefully strain the dyeing liquid into a bowl or wide-mouth jar, discarding the solids. Let the liquid dye cool. Repeat with each dyeing ingredient.

To dye the eggs, when both the eggs and the dyeing liquid are cool, add an egg or two to each bowl of dye. Set aside, turning occasionally, until the desired hue is achieved. (Naturally, the longer you leave the eggs in the dye, the more robust the color. Depending on the desired color, the eggs may need to sit as little as a few minutes or as long as overnight.) Transfer the eggs to a plate lined with a paper towel or return them to their egg carton until dry to the touch. Originally published March 26, 2012.
Nutrition
Serving:
1
portion
Calories:
72
kcal
Carbohydrates:
0.4
g
Protein:
6
g
Fat:
5
g
Saturated Fat:
2
g
Polyunsaturated Fat:
1
g
Monounsaturated Fat:
2
g
Trans Fat:
0.02
g
Cholesterol:
186
mg
Sodium:
71
mg
Potassium:
69
mg
Sugar:
0.2
g
Vitamin A:
270
IU
Calcium:
28
mg
Iron:
1
mg
Nutrition information is automatically calculated, so should only be used as an approximation.
Recipe © 2012 Leslie Jonath | Ethel Brennan. Photo © 2012 Sheri Giblin. All rights reserved.
---
Recipe Testers' Reviews
It's fairly easy to cook enough eggs all at once to do each dyed Easter egg variation, although I didn't do all the color variations. One does need to watch that the boiling water doesn't go crazy or the eggs may crack. I put the eggs into each dye and then let them sit overnight. Then I pulled each one out and set them on a rack to dry.
BLUE: This result was so beautiful and so different from the store bought packages. The amount of effort is quite high, though. I did have so much leftover that I could just take the dye out of the fridge to use with more eggs later.
YELLOW: I used curry powder. It was hard to strain out the powder. I ended up just rinsing them off. This required a little bit of work but not excessive.
Prior to testing these dyed Easter eggs, I already knew about a few of these dyes, as I always prefer to do them this way rather than use the chemical store-bought dyes. Most colors are certainly not as vivid, but that is part of the reason I love these techniques, as Easter for me is all about pale colors.
Using white eggs is indeed important so that the colors really stand out more. The toddler LOVED the eggs dyed with red beets. My teen loved the lavender ones and our exchange student liked the red wine ones. As for me, truthfully, I just love them all together.
Also, feel free to glue some string or tiny shapes such as hearts, circles, triangles, and so on, cut out of paper. After dying, the shapes underneath are colored, but not as strongly.
This is a great way to use up stuff in the kitchen and the dyed eggs come out rustic and beautiful. It's nice to have a chemical-free alternative to dying Easter eggs.
These dyed Easter eggs are not a quick project. It's wise to plan on the better part of a day to make the dyes and color the eggs.
Because red is my favorite color, I began with beets. It's easy enough grate the beets and simmer the dye. Once the cooking of the beets finished, it took a lot of pressing to get to the liquid from the solids. I quickly added a cooked white egg and waited 15 minutes. The egg emerged from the dye more magenta than red. I reheated my dye in the microwave for 20 seconds and tried again with a brown egg. This time, I added a longer dying time (about 45 minutes), and a beautiful red egg surfaced! Next, I tried the wine dye. My first egg came out burgundy, but turned purple as it dried. I gave the next egg a longer soak, and it came out of the dye purple. I also used turmeric and coffee. The coffee produced a latte-colored egg. The turmeric dye was thicker than the other dyes, even after straining. When I pulled my egg out of that dye, it was covered with a thick blanket of turmeric. When I wiped the egg clean, it was colored a bright sunny yellow.
My teenage son really liked the eggs dyed in the wine. The purple color was muted but very cool. My favorite was the brown egg dyed in the beet dye that came out a true red.