Two beloved Portuguese dressings: a chouriço-bread dressing with spicy sausage, onions, garlic, crushed red pepper, and paprika. Another dressing with sweet sausage, potato, butter, nutmeg, and spices.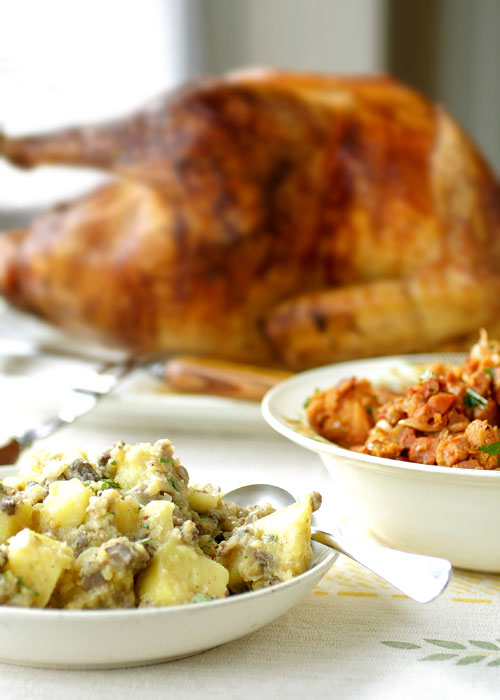 When I was growing up, Thanksgiving was part holiday, part carnival. We'd gather around the table and all the women (that's not as sexist a remark as it may seem; it was the '60s, after all) would become carnie barkers. Right after my grandfather finished grace, the air would explode with their babble—Hey, you, young man! How about you, little lady!—trying to coax you to step up and try their kale soup, sausage stuffing, or meringue cookies. Sides were heavily drawn along immediate family lines, until that first brave (read: foolish) cousin dared dip his fork into an aunt's paprika-and-chouriço-roasted potatoes, and all hell broke lose. Matrilineal allegiances would drop like canaries in a mine shaft and the annual holiday season had begun.
I always tried to stay true to my mother and her cooking for several reasons. 1.) She was a damn good cook; 2.) I worshipped her; and, perhaps most important, 3.) she was one hell of a force to be reckoned with when you displeased her. But on God's sanctioned Holiest of Holy Food Days, according to a mash-up of catechism and playground philosophy, I betrayed her. Yes, her capons were impossibly juicy with taunt mahogany-burnished skin George Hamilton would envy. (Poppa Leite doesn't like turkey, so it was emasculated roosters for us.) But she tripped up in the stuffing department—actually, I should say, dressing department because no one in my family ever stuffed a bird.
Avó Costa, my maternal grandmother, and Dina short for madrinha (which is "godmother" in Portuguese), were the two reigning monarchs when it came to stuffing. My grandmother's stuffing was bread-based and had all kinds of love in it. To wit: Day-old Vienna bread, chouriço (as you should know by now, the incomparable sausage of Portugal, whose aroma my grandmother wore like Chanel No. 5), onion, garlic, massa de pimentão (a red-pepper paste spiky with heat), wine, tomato paste,  herbs, and (her favorite) white pepper. And the Portuguese voodoo that only she pulled off? Despite all that soaked bread, what should have clunked onto the table like a medicine ball was airy instead–like mashed potatoes right after you've whipped them into a cloud of fluff. It was a feat no one else could master. But then again, no one else had the upper-arm strength of that woman.
The other stuffing that graced the table, the one that was secretly my favorite, was what Dina relished calling "French stuffing," as she liked to downplay the 50 percent of her DNA that was Portuguese. Now stay with me here, because its provenance is quite confusing. There is indeed a dish called French stuffing—made with ground pork, potato, cinnamon, and nutmeg—that is mistakenly referred to by some as gouton, gorton, or corton, depending on where on New England's South Coast you come from. No matter how you pronounce it, it's actually a bastardization of cretons, a Canadian pork pâté that's distinctly different from French stuffing. But for many, including my godmother, it was a short leap from Canadian to French Canadian to French. Hence it all was French stuffing. And to her anything French, even by way of Montréal, trumped Portuguese.
But it isn't French at all—well, at least not exclusively French. See, when I lived in Portugal a few years ago, I uncovered a touching tidbit of information, a detail that gave meaning to our table and a sense of unity to our family. I discovered, while flipping through an antiquated cookbook in a dusty store in Lisbon, that the Portuguese make several types of stuffings to go with their turkey, none of which have anything to do with Thanksgiving, as they don't celebrate the holiday. (Are you still with me?) One dressing is almost a fraternal twin of my grandmother's bread stuffing. But I found another stuffing, one that is a kissing cousin to Dina's version. So close are they that I guess you could call them French-kissing cousins. (She'd love that.) This old stuffing is plump with potatoes, pork sausage, onions, garlic, milk, a sprinkling of herbs, and—differing from Dina's dish—the chopped and sautéed liver of the turkey. She may have called hers French stuffing, and it may have been handed down by her French-Canadian mother, but I firmly believe that her Portuguese father had a gentle influence, too.
By the time I discovered this, Dina was long dead. How I wish I could have sat there, thumping the dining room table with my fist while she leaned back implacable, pulling on a Lucky Strike cigarette, her lipstick leaving Lucille Ball-red half moons on the end. "Davis," as she liked to call me, "Davis, you can say my French stuffing is Portuguese until the cows come home, but it just ain't true." And while I know that they're different but strikingly similar, I would tease, cajole, and argue, because in our family, that was the price of admission to our carnival.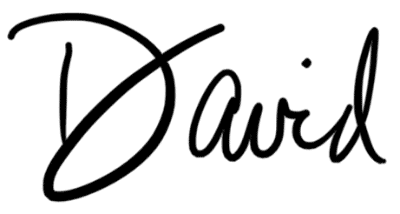 This is the same paprika-sprinkled turkey that I grew up with. My grandmother Costa always rubbed her poultry with salt and let it sit in the fridge for several hours prior to roasting, believing that it drew out impurities. Her ritual is similar to the koshering process, in which poultry is coated with salt and later rinsed several times. The benefit—voodoo aside—is a bird that's juicy and richly flavorful. That's why I insist you buy a kosher turkey.–David Leite
LC Gravy If You Please Note
Though gravy is considered a requisite side for turkey here in the states, it's relatively unheard of in Portugal—although in David's family it's reserved as a right that's occasionally exercised. It's not that this turkey needs it, as this roast turns out remarkably moist and insanely delectable. But the entire experience is all the better if you can muster a splash of stock, a little flour, and some arm power.
Portuguese Turkey with Two Stuffings
Quick Glance
1 H
3 H

Serves 8
Print Recipe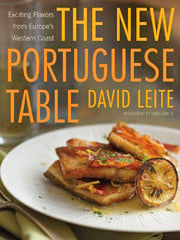 Ingredients
For the turkey

One 12- to 14-pound kosher turkey, liver reserved for the dressing

1 small orange, cut into wedges

1 small lemon, cut into wedges

Kosher salt and freshly ground black pepper

4 Turkish bay leaves

6 tablespoons unsalted butter, melted

2 teaspoons sweet paprika

For the gravy (optional, seeing as it's not the Portuguese way...but so worthwhile)

Up to 3 cups homemade chicken stock or low-sodium chicken broth

1/4 cup unsalted butter, at room temperature

1/4 cup all-purpose flour

Kosher salt and freshly ground black pepper

For Dina's potato dressing

1 1/2 pounds Yukon Gold potatoes, peeled and cut into 1‑inch cubes

Kosher salt

2 tablespoons unsalted butter, plus more if needed

3/4 pound ground sweet Italian pork sausage

1 large yellow onion, chopped

2 garlic cloves, minced

Reserved turkey liver, chopped

2 large egg yolks, beaten

1/2 cup whole milk, plus more if needed

Healthy pinch ground nutmeg

2 tablespoons chopped flat-leaf parsley leaves

Freshly ground black pepper

For Avó Costa's bread dressing

1/4 pound thick-sliced slab bacon, cut crosswise into 1/4-inch pieces

1 pound chourico, linguica, or dry-cured smoked Spanish chorizo, roughly chopped

Olive oil, if needed


2 medium yellow onions, chopped

4 garlic cloves, minced

1/4 teaspoon crushed red pepper flakes


2/3 cup dry white wine


3 tablespoons Amped-Up Red Pepper Paste
2 tablespoons double-concentrate tomato paste, or three tablespoons regular store-bought or homemade tomato paste

12 cups 3/4-inch cubes of day-old rustic bread


About 2 cups homemade beef stock plus 1 cup water or 3 cups store-bought low-sodium broth

Kosher salt and freshly ground black pepper

1/4 cup chopped flat-leaf parsley leaves
Directions
Roast the turkey

1. Position a rack in the bottom of the oven and crank up the heat to 425°F (218°C).

2. Remove any pin feathers from the turkey and pat the bird dry with paper towels. Rub the cavity with a wedge of orange and of lemon, season well with salt and pepper, and stuff with the remaining wedges and the bay leaves. Tuck the wing tips under the bird and tie the legs together. Mix together the melted butter, paprika, 1½ teaspoons salt, and 1 teaspoon pepper and brush about half of it over the turkey. Place the bird breast side down on a V-rack set in a roasting pan.

3. Slip the turkey into the oven, pour 2 cups of water into the pan, and roast for 30 minutes. Lower the heat to 350°F (176°C), flip the bird breast side up, and brush with some of the remaining butter-paprika mixture.

4. Continue roasting and brushing the turkey every 30 minutes, until an instant-read thermometer inserted into the thickest part of the thigh registers 165°F (74°C), 1 1/2 to 2 hours more. Tent the bird with foil if browning too quickly.

5. Transfer the turkey to a serving platter and let stand, tented, for 20 minutes. Although it's not the custom in Portugal, you can make gravy (see Variação, below).

Make Dina's potato dressing

6. Meanwhile, plonk the potatoes into a large pot of cold water. Add 1 tablespoon salt, cover, and bring to a boil over high heat. Cook until tender, 10 to 15 minutes. Drain the potatoes in a colander, return half to the pot, and mash well. Set the rest aside and keep warm.

7. Heat the butter in a medium skillet over medium-high heat until the foaming subsides. Crumble in the ground sausage and cook, breaking up the clumps, until well browned, 10 to 12 minutes. Using a slotted spoon, scoop the sausage into the pot with the mashed potatoes. Lower the heat to medium and, if the skillet is dry, add a bit more butter. Drop in the onion and cook, stirring occasionally, until golden, about 12 minutes. Scrape in the garlic and cook for 1 minute more. Add the chopped reserved liver and sauté until browned, about 3 minutes. Scoop the mixture into the pot with the mashed potatoes.

8. Whisk the yolks and milk into the potatoes until smooth; if the dressing is too thick, whisk in more milk. Place the pot over medium heat and stir to cook the yolks, about 3 minutes. Fold in the reserved potatoes, sprinkle in the nutmeg and parsley, and season well with salt and pepper to taste. Keep warm.

Make Avó Costa's bread dressing

9. Heat a Dutch oven over medium-low heat. Add the bacon and cook, stirring often, until the fat has rendered and the meaty bits are crisp, 12 to 15 minutes. Using a slotted spoon, transfer to paper towels. Pour off all but a thin film of fat from the pot into a cup and reserve. Bump up the heat to medium-high, add the chourico, and cook, stirring often, until lightly browned, about 7 minutes. Using a slotted spoon, transfer the sausage to a bowl. Pour off all but 2 tablespoons of fat, adding it to the bacon fat. If the pan is dry, add 2 tablespoons of oil.

10. Lower the heat to medium, add the onions, and cook until soft, 7 to 10 minutes. Add the garlic and pepper flakes and cook for 1 minute more. Splash in the wine, add the red pepper paste and tomato paste, scrape up any stuck-on bits, then let burble for a few minutes to cook the mixture.

11. Turn the heat to low, add the bread and the reserved bacon and chourico fats, and pour in just enough of the stock-water combination, beating well with a spoon, to make the mixture moist. If you use all the liquid and the pot is still dry, add water as necessary. Fold in the bacon and chourico and continue beating to lighten the mixture. Take a taste and season with salt and pepper if needed. Scoop the dressing into a bowl and speckle with the parsley.

12. To serve, plate the turkey, scoop the dressings into decorative bowls, and take everything to the table pronto.
Gravy, Gravy, Bo Bravy
To make gravy, spoon the fat from the roasting pan. Set the pan over two burners and pour in enough homemade chicken stock or store-bought low sodium broth to the pan juices to equal 3 cups. Bring the liquid to a boil over medium-high heat, scraping the bottom to loosen any browned bits. Blend together 1/4 cup softened unsalted butter and 1/4 cup all-purpose flour in a small bowl to form a smooth paste. Scoop the paste into the stock, whisking constantly, until the gravy thickens and no floury taste remains, 5 to 10 minutes. Strain and season with salt and pepper to taste.
Recipe Testers Reviews
Portuguese Turkey with Two Stuffings Recipe © 2009 David Leite. Photo © 2009 Holly Jennings. All rights reserved. All materials used with permission.
If you make this recipe, snap a photo and hashtag it #LeitesCulinaria. We'd love to see your creations on Instagram, Facebook, and Twitter.