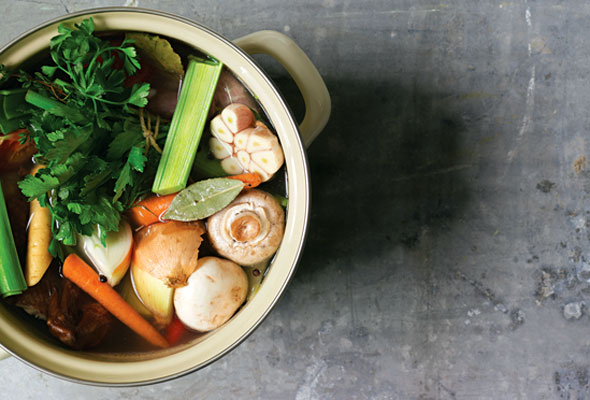 There's no match—in quality or flavor—for homemade stock. It's peerless for making soups, risottos, and more; the perfect tonic when you're feeling under the weather; even a satisfying midday snack, sipped from a mug on a chilly day. And you're using ingredients you might otherwise throw away: a picked-over roast chicken carcass; an odd carrot, celery stalk, or onion; a stray herb sprig or two. These are the basics, but making stock is an improvisational endeavor. If you like, add a chunk or two of peeled celery root, a coarsely chopped parsnip, a piece of Parmigiano-Reggiano cheese rind, mushroom caps or stems, a halved tomato or two, and/or a couple of whole dried chiles. The longer the stock simmers low and slow, the richer it becomes—make a light or rich brew, it's up to you. A rich stock can always be stretched with a little water if you don't have enough for a recipe.–Mindy Fox
LC A Stocked Freezer Note
We and other frugal home cooks have long done what the lovely author Mindy Fox advises in her lovely collection of chicken recipes—that is to say, she suggests you hoard chicken carcasses in the freezer. You heard us. After you roast a whole hen, cram the carcass into a resealable plastic bag and toss it in the freezer (if you're the type who's as economical about freezer space as you are your grocery allowance, you'll need to wrest the unwieldy assemblage of bones into manageable chunks). After you've amassed the bones of a couple hens, you're good to go, whether on the stovetop or with this handy slow cooker chicken stock recipe. [Editor's Note: The exact same approach also works for turkey.]
Roast Chicken Stock Recipe
Quick Glance
10 M
6 H

Makes about 2 to 3 quarts
Ingredients
1 or 2

roast chicken carcasses

, skin and meat removed, plus any additional chicken necks, if you have them

1

medium

onion

, unpeeled, quartered

2 to 4

smashed garlic cloves

, unpeeled

1 to 2

large

carrots

, washed and cut lengthwise into 2-inch pieces

1 to 2

stalks

celery

, washed and cut lengthwise into 2-inch pieces

1

teaspoon

whole black peppercorns

A

handful

flat-leaf parsley sprigs

, and/or other savory herb sprigs, such as rosemary, oregano, marjoram, sage, and thyme
Directions
1. Place all of the ingredients in a large pot and add enough cold water to cover by several inches. Bring to a simmer over medium heat. Do not allow the stock to boil raucously. Reduce the heat to a bare simmer, which is to say, you want an almost steady stream of bubbles to lazily burble their way to the surface. Cook, skimming any scum that appears on the surface, until the stock is reduced and flavorful, which will generally take 2 to 3 hours for a light broth, or 3 to 6 hours for a richer broth. Go ahead and take a sip, blowing on the stock to cool it first, natch.

2. Strain the stock into a large roasting pan, discarding any solids. If a pristine stock with a nice sheen is desired, strain it several more times. Let the stock cool to room temperature, then transfer to resealable containers and refrigerate for up to 3 days or freeze for up to 3 months.
Hungry for more?
Chow down on these:
Roast Chicken Stock Recipe © 2010 Adapted from Mindy Fox. Photo © 2010 Ellen Silverman. All rights reserved.
Hey, there. Just a reminder that all our content is copyright protected. Like a photo? Please don't use it without our written permission. Like a recipe? Kindly contact the publisher listed above for permission before you post it (that's what we did) and rewrite it in your own words. That's the law, kids. And don't forget to link back to this page, where you found it. Thanks!