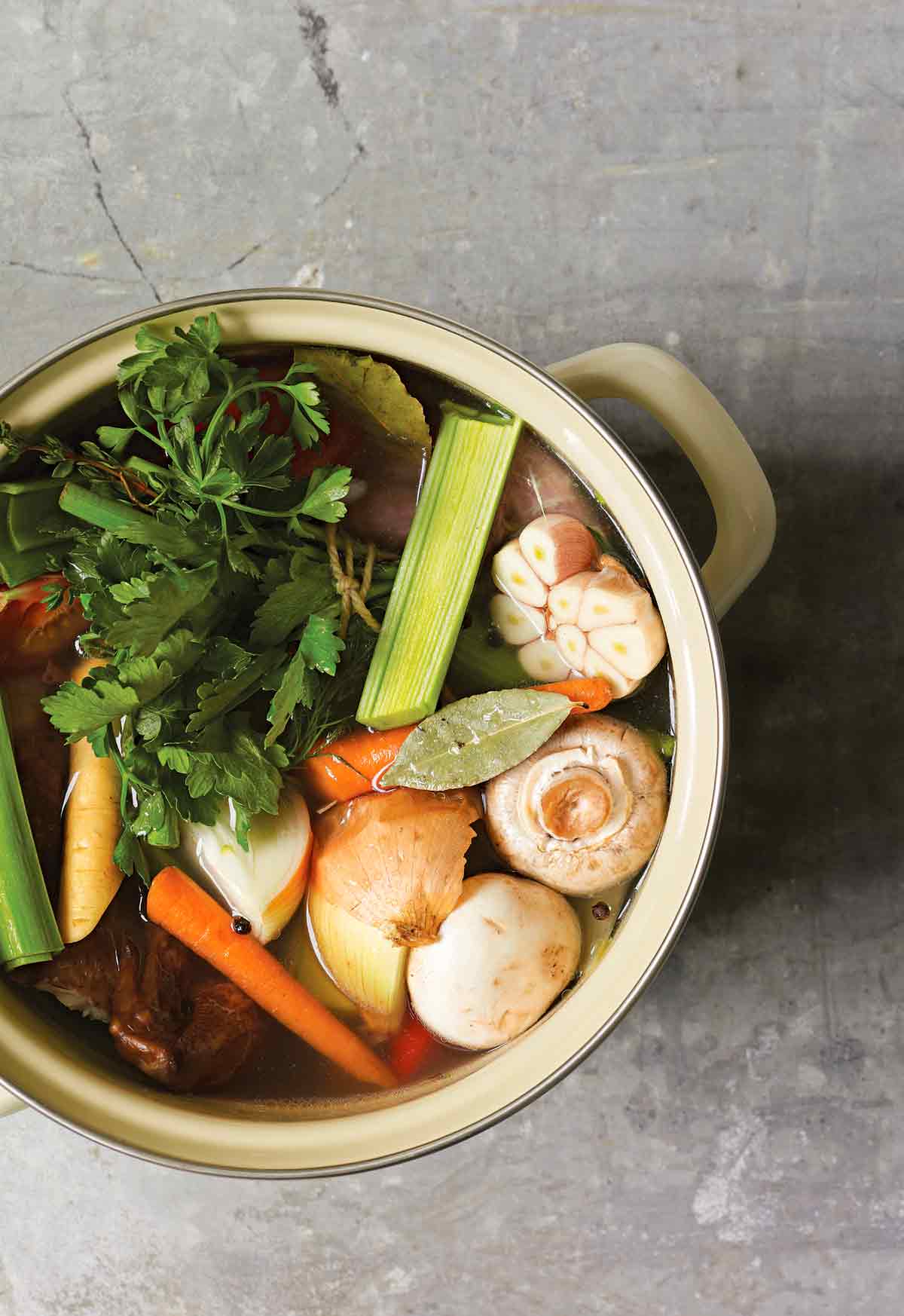 Roast chicken stock is as frugal as it is flavorful, relying on a roast chicken carcass you've stripped of meat at dinner rather than pounds of raw chicken parts whose only intention is for stock. The taste is vastly more rich and complex and soulful than any other stock you've had.–Renee Schettler Rossi
Roast Chicken Stock
This roast chicken stock, made with a leftover chicken carcass and assorted vegetables, not only makes use of scraps, it tastes incomparably better than the stuff that comes out of a carton.
Ingredients
1 or 2

roast chicken carcasses

,

skin and meat removed, plus any additional chicken necks, if you have them

1

medium

onion

,

unpeeled, quartered

2 to 4

smashed garlic cloves

,

unpeeled

1 to 2

large

carrots

,

washed and cut lengthwise into 2-inch (5-cm) pieces

1 to 2

stalks

celery

,

washed and cut lengthwise into 2-inch (5-cm) pieces

1

teaspoon

whole black peppercorns
Instructions
Place all of the ingredients in a large pot and add enough cold water to cover by several inches.

Bring to a simmer over medium heat. Do not allow the stock to boil raucously. Reduce the heat to a bare simmer, which is to say, you want an almost steady stream of bubbles to lazily burble their way to the surface. Cook, skimming any scum that appears on the surface, until the stock is reduced and flavorful, which will generally take 2 to 3 hours for a light broth, or 3 to 6 hours for a richer broth.

Strain the stock into a large roasting pan, discarding any solids. If a pristine stock with a nice sheen is desired, strain it several more times. Let the stock cool to room temperature.

Transfer the stock to resealable containers and refrigerate for up to 3 days or freeze for up to 3 months.
Notes
What You Need To Know About Making This Stock From Anything
You're using ingredients you might otherwise throw away: a picked-over roast chicken carcass; an odd carrot, celery stalk, or onion; a stray herb sprig or two. These are the basics, but making stock is an improvisational endeavor. If you like, add a chunk or two of peeled celery root, a coarsely chopped parsnip, a piece of Parmigiano-Reggiano cheese rind, mushroom caps or stems, a halved tomato or two, and/or a couple of whole dried chiles. The longer the stock simmers low and slow, the richer it becomes—make a light or rich brew, it's up to you. A rich stock can always be stretched with a little water if you don't have enough for a recipe.
Nutrition
Serving:
1
cup
Calories:
88
kcal
Carbohydrates:
9
g
Protein:
6
g
Fat:
3
g
Saturated Fat:
1
g
Polyunsaturated Fat:
1
g
Monounsaturated Fat:
1
g
Cholesterol:
7
mg
Sodium:
346
mg
Potassium:
266
mg
Fiber:
1
g
Sugar:
4
g
Vitamin A:
24
IU
Vitamin C:
1
mg
Calcium:
10
mg
Iron:
1
mg
Nutrition information is automatically calculated, so should only be used as an approximation.
Recipe © 2010 Mindy Fox. Photo © 2010 Ellen Silverman. All rights reserved.
---
Recipe Testers' Reviews
This is perfect, as I had several chicken carcasses waiting in my freezer for this very purpose. I had a combination of carcasses from hens roasted at home and rotisserie hens from the store, which resulted in a slightly spiced broth. Because of this, I used the finished broth in an enchilada recipe with tomatillos. I loved the extra body and depth of flavor this brought to the sauce.
This is a good standby and is a wonderful way of making use of leftover bones from roasts. I often make a double stock using this very method to add extra flavor to a store-bought broth.
Nothing could be easier and the results? Delicious. This is a great basic recipe to convert to the slow cooker. I just put everything in the pot, set it on high, and let it burble away for 6 hours. At that time, I checked and thought it could use some more time, so I turned it down to low and let it go for another 2 hours. (It was good at 6 hours, but I like to make a strong, reduced stock.)
I tried it again the next day using a new slow cooker. This time I took the bones and browned them in a hot oven. I also browned the vegetables after I took the bones from the pan. I put it all in the slow cooker with the water and herbs and let it go. This gave just as good a result, the only difference was that the browning of the bones resulted in a brown chicken stock. Both work wonderfully well.
Select a Tester
This stock is less a recipe than it is a gentle nudge, reminding us to save the spent chicken carcasses from our roast hens. This frugal act is an act of thriftiness, yes, but it's also a stroke of genius given how it imparts an uncommon richness and complexity to the resulting stock. I've been practicing this for years, and I've been making Mindy's stock for months—I can attest to this stock being eminently adaptable to your mood, to your preference, and to your produce bin and whatever is withering within.
I tend to prefer my stocks with sweet and not bitter notes, so I toss in just onion and carrot and peppercorns. Or, if the stock is destined for chicken pho, then cilantro stems, scallion ends, and ginger nubbins. Bear in mind that if you marinated or smoked the hen, the resulting stock will be imbued with those flavors, too, so consider yourself forewarned…it may be more cost-efficient in the long run to just trash those carcasses and not spending the time and other ingredients on a bad batch of stock. To me, nothing tastes worse than smoked chicken stock; it's like licking the floor of the fireplace.
Making stock from the stripped bones is one of those small projects that makes use of not only leftovers from the hen but transforms other ingredients you might have lingering in the fridge, like the last of the of lunchbox carrots and a collection of sad half-used onions. According to this recipe, just toss everything in a large pot and let it bubble away while you get on with other things around the house. I let the pot simmer for about 3 hours, and what I got was a perfectly balanced stock. I froze half the stock in 4-ounce portions and the other half became the base for a simple matzo ball soup. I love how much good food was made from just a single roast chicken!
I made this stock from chicken necks only since I had a package of about 25 necks in my freezer. What a wonderful, flavorful perfect stock that emerged! After about 2 1/2 hours, I had a lovely light stock. I took about 1/3 out and continued simmering the remainder for another 1 1/2 hours. The result was a darker, richer stock to use as a soup base. I would suggest adding a small amount of salt, though not too much because as the stock reduces the salt concentrates.