This easy french fries recipe from Joel Robuchon is made with potatoes, salt, and oil and uses a surprising technique: frying at a low temperature for up to an hour.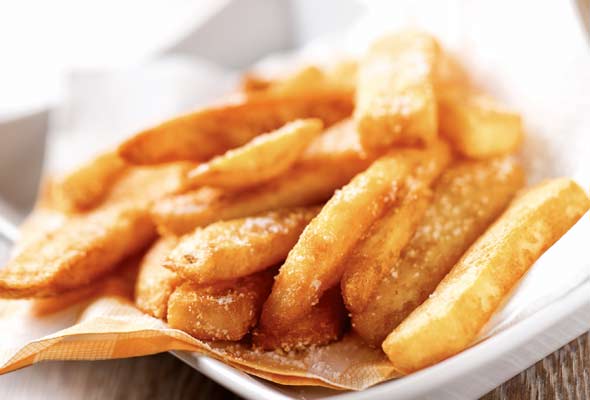 This easy french fries recipe flagrantly flies in the face of much of what we thought we knew regarding the perfect technique for frying french fries, yet it works dangerously well. Like, let's-cancel-our-plans-for-the-rest-of-the-day-and-fry-another-batch well. It's a "cold fat" method popularized by Joël Robuchon, and by "cold fat," we mean immersing potatoes in oil and then gradually heating the oil to the frying temperature, which effectively avoids oil splattering.
According to author Timothy Ferriss, this method also uses less fat than usual, which obviously is a boon. And, seeing as the lower temps "don't damage fatty-acid chains as higher temps do," says Ferriss, you can reuse the oil to fry that second (and third) batch. The only downside? This technique takes far longer to fry your fries. But after tasting these, we gotta say, patience has never before seemed such a virtue.–Renee Schettler Rossi
Easy French Fries
Quick Glance
15 M
2 H

Serves 3 to 4
Print Recipe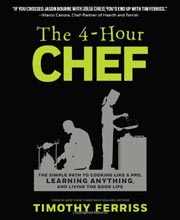 Ingredients
4 russet potatoes or sweet potatoes (2 pounds)

Sea salt, to taste

1 tablespoon distilled white vinegar

Coconut oil or canola oil, for frying
Directions
1. Peel the 4 potatoes and cut lengthwise into 1/4-inch-thick sticks or slabs. Toss in a large bowl and add enough cold water to cover. Stir in a pinch salt and the vinegar and soak for at least 30 minutes or up to overnight.

2. Drain the potatoes and then pat them as dry as possible. Put the potatoes in a Dutch oven or deep pot and pour in enough oil to cover them. Place over medium-low heat and cook until the potatoes are very tender, about 45 minutes. (You'll see bubbles after about 15 minutes, but not the splattering kind.)

3. Raise the heat to medium and cook, stirring gently if you'd like, until the fries are nicely browned, another 15 to 30 minutes.

4. Place a folded paper bag
 or several layers of paper towels near the stovetop. Using a slotted spoon or tongs, remove the fries from the oil, letting as much of the oil drip back into the pot as possible, then spread the fries on the paper bag or towels to drain. Season with salt while still hot and serve immediately.
Fry Variations
Quicker Fried Fries
Baked Fries
If frying just ain't your thang, baked fries are your friend. Try this approach. It also works with sweet potatoes.
1. Preheat the oven to 400°F (200°C).
2. Cut the potatoes into thin wedges. Toss the slices with olive oil and spread
 in a single layer on a baking sheet. For even more flavor, create a mixture of 2 to 3 tablespoons olive oil, 2 teaspoons ground cumin (this is the key), 2 teaspoons cayenne pepper, and 1 teaspoon cinnamon (just remember the "3 c's"). Douse each wedge with the mixture before placing it on the baking sheet, or—my preference—put them on the baking sheet and paint this mixture on all of them. Thirty minutes in the oven and they're done. Season with salt while still hot and serve immediately.
Fries Made With A Fancier Fat
Show Nutrition
Easy French Fries Recipe © 2012 Timothy Ferriss. Photo © 2012 Daniel Krieger. All rights reserved.
If you make this recipe, snap a photo and hashtag it #LeitesCulinaria. We'd love to see your creations on Instagram, Facebook, and Twitter.