This blend of homemade root vegetable chips is typical of some commercial brands. However, you should feel free to substitute other vegetables. You could include purple potatoes, Chioggia beets, golden beets, or parsnips.–Erin Coopey
LC Those Other Root Vegetable Chips Note
Know those other root vegetable chips? Yeah, those outrageously priced, fancy schmancily named, and sexily packaged root vegetable chips? That was the inspiration behind this homemade rendition. Not only are these just as impressive as store-bought—and for a fraction of the froufrou cost—but we can customize which root veggies we use and in what proportions. (At last, no more rooting around for the taros and leaving the beets behind!) They're stunning with wine or cocktails at holiday parties but also make a quite noble side for, say, a simple steak or roast hen. They're also very capable little somethings to crush atop creamy root vegetable soups. And hello, Hanukkah! Deep-fried loveliness for any and all occasions. So, uh, what exactly are you waiting for?
Homemade Vegetable Chips
Not only are these just as impressive as store-bought—for a fraction of the cost—and you can customize which root veggies you use. You could include purple potatoes, Chioggia beets, golden beets, or parsnips in any proportion.
Equipment
Mandoline or handheld slicer; deep-fry or candy or instant-read thermometer
Ingredients
1

pound

taro root

,

washed and peeled

1

pound

sweet potatoes

,

washed and peeled

1

pound

yams

,

washed and peeled

1

pound

red beets

,

washed and peeled

About 8

cups

rice bran oil, canola oil, or grapeseed oil

,

for frying

Sea salt

,

to taste
Instructions
Using a handheld slicer or mandoline, slice the vegetables as thinly as possible and no thicker than 1/16 to 1/8 inch. It's imperative that you slice the chips evenly so they cook at the same rate. Group the vegetables by type into separate bowls of ice water and set aside for 30 minutes.

In a deep fryer or heavy-bottomed stock pot, heat the oil to 300°F (150°C).

Prepare 2 baking sheets by lining them with multiple layers of paper towels or a brown paper bag cut open.

Drain and pat each group of vegetables completely dry using paper towels. (You can use clean kitchen towels if you'd like to save a tree, but you probably want to use paper towels on the beets as they stain something awful.)

Fry the vegetables in small batches, adding just a handful of chips at a time. (I suggest frying the beets last because they can stain the oil slightly and make all the chips a little rosy.) Fry the chips, stirring the vegetables gently using a long slotted spoon or stir-fry spider or chopstick to ensure even browning, until lightly golden and crisp, 2 to 5 minutes per batch. Try to maintain the temperature between 300°F (150°C) and no more than 325°F (170°C) so the chips don't scorch. The exact cooking time will vary depending on the oil temperature and thickness of chips. When the chips are crisp, remove them from the fryer with tongs or a slotted spoon, allowing excess oil to drain away before placing the chips on the paper towels or bags. Salt the hot chips immediately and start the next batch of vegetables.

When you've fried all the chips, allow them to cool to room temperature (if you can manage to wait), toss them in a large bowl, and serve.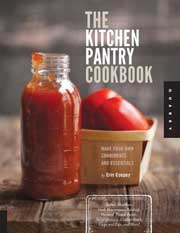 Nutrition
Calories:
416
kcal
Carbohydrates:
97
g
Protein:
7
g
Fat:
1
g
Saturated Fat:
0.1
g
Polyunsaturated Fat:
0.3
g
Monounsaturated Fat:
0.1
g
Sodium:
175
mg
Potassium:
2396
mg
Fiber:
16
g
Sugar:
13
g
Vitamin A:
16368
IU
Vitamin C:
32
mg
Calcium:
124
mg
Iron:
3
mg
Nutrition information is automatically calculated, so should only be used as an approximation.
Recipe © 2013 Erin Coopey. Photo © 2013 Rina Jordan. All rights reserved.
---
Recipe Testers' Reviews
Wow, these chips are such a great idea! I used beet, yam, parsnips, and batata (a white, low-moisture, Cuban sweet potato). Four pounds of veggies make A LOT of chips, which is great, because these are yummy. My thickest veggies were a hair less than 1/8-inch and this was much too thick. The veggies cut on the thinnest slicer of my mandolin made the best chips. They got brown and crisp and stayed crisp. The recipe also states to fry the veggies "in batches," but not how large or small a batch. This is super important, as a too-large batch will drop the oil temperature down way too much and the chips will become greasy. Unfortunately, I learned the proper batch-size the hard way. All my chips, except for the beets, were crisp initially, but unless they had been cut ultra thin, did not stay that way. The flavor of the batata was our favorite. The parsnips was nice, too. The yams were tasty, but cut too thick, were too soft. The beets were just not "chippy" at all. All were cooked between 5 and 8 minutes, as stated in the recipe.