This breakfast pizza recipe was devised by baker Joanne Chang as an alternative to the many buttery, sugary, sweet breakfast treats that she offers at Flour, her beloved bakery with locations throughout Boston. The breakfast pizza brilliantly caters to those customers who sorta need bacon and eggs in the morning but in a grab-and-go sorta fashion. Of course, we prefer to linger over it while seated at the table, but that's just us. As Chang says, "it's a bit of a messy breakfast, but you won't care once you taste how good it is."–David Leite
What makes brioche different from other bread dough?
Chang relies on rich, buttery, ever so slightly sweet, indulgent brioche dough for this breakast pizza, which she allows to rest overnight in the fridge before she stretches and pulls it like pizza dough for this breakfast creation. Soft, pillowy, and golden, brioche is an enriched French dough that's used for everything from artisan hamburger buns to seriously good French toast. What sets is apart from other breads is the amount of eggs and butter used in the dough. That is—a lot of butter and eggs. Brioche has a soft texture and a sweeter taste than a lot of other breads, making it an excellent choice for recipes like this one. Though homemade brioche is lovely here, we've swapped it out for our most trusted pizza dough and we've heard no complaints. Either serves as a magnificent platform for a bacon pizza blanketed with cheese and baked until the eggs are barely set.
Breakfast Pizza
This breakfast pizza is quite simple to make from scratch with pizza crust loaded with bacon and eggs and cheese. Sounds like all the makings of a proper breakfast to us. It also seems like a pretty darn good reason to get out of bed.
Ingredients
12

slices

thick-cut, applewood-smoked bacon

1

batch

pizza dough

1/2

cup

crème fraîche

1

cup

Caramelized Onions

8

large

eggs

2

cups

shredded part-skim mozzarella cheese
Instructions
Preheat the oven to 300°F (150°C) and place 1 rack in the center of the oven and another in the top third of the oven. Line a rimmed baking sheet with parchment paper.

Arrange the bacon slices in a single layer on the prepared sheet and bake for 20 to 30 minutes, or until the slices are about half barely crisp and half a little bendy. Remove the bacon from the oven and let cool.

Increase the oven temperature to 350°F (180°C). Line 2 rimmed baking sheets with parchment paper.

Shape the pizza dough into a rectangle about 8 inches long and 4 inches wide and 1 inch thick. Using a ruler and a knife, divide the pizza dough in half horizontally and then divide it vertically into strips 2 inches wide. You will have eight 2-inch squares, each about 3 1/2 ounces. Stretch each square of pizza dough into a circle about 5 inches in diameter as if you're making a small pizza.

Stretch the inner part of the circle so that it's quite thin and shape the edge of the circle to create a rim that will contain the runny egg. The center should be almost paper-thin. Place the dough circle on 1 of the prepared baking sheets and repeat with the remaining dough squares, spacing them 2 to 3 inches apart and using both baking sheets.

Using the back of a spoon, spread 1 tablespoon crème fraîche over the base of each circle of dough, spreading it evenly over the base but leaving the raised rim bare. Cut the bacon slices in half and press 3 half slices bacon up against the rim of each circle of dough to create a reinforcing bacon wall just within the rim. Divide the caramelized onions evenly among the circles of dough, spooning and spreading the onions next to the bacon but leaving the center of the circle bare except for the crème fraîche.

Bake the pizzas for about 15 minutes, or until the edges of the pizzas start to turn light brown, switching the baking sheets between the racks and rotating them back to front about halfway during baking. Remove the baking sheets from the oven and carefully crack an egg into the center of each pizza. Sprinkle about 1/4 cup mozzarella on top of each pizza, covering both the egg and the exposed rim of dough.

Bake for another 8 to 10 minutes (again switching the baking sheets between the racks and rotating them back to front about halfway through baking) or until the cheese has melted, the edges of the egg are cooked but the yolk is still wiggly, and the edges of the pizza are golden brown. Remove from the oven. Let the pizzas cool for 8 to 10 minutes to allow the eggs to set up a bit before serving.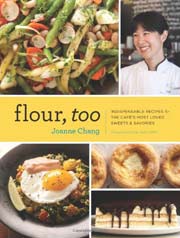 Nutrition
Serving:
1
pizza
Calories:
454
kcal
Carbohydrates:
28
g
Protein:
21
g
Fat:
28
g
Saturated Fat:
11
g
Polyunsaturated Fat:
4
g
Monounsaturated Fat:
10
g
Trans Fat:
0.1
g
Cholesterol:
238
mg
Sodium:
824
mg
Potassium:
217
mg
Fiber:
1
g
Sugar:
5
g
Vitamin A:
562
IU
Vitamin C:
2
mg
Calcium:
192
mg
Iron:
3
mg
Nutrition information is automatically calculated, so should only be used as an approximation.
Recipe © 2013 Joanne Chang. Photo © 2013 Michael Harlan Turkell. All rights reserved.
---