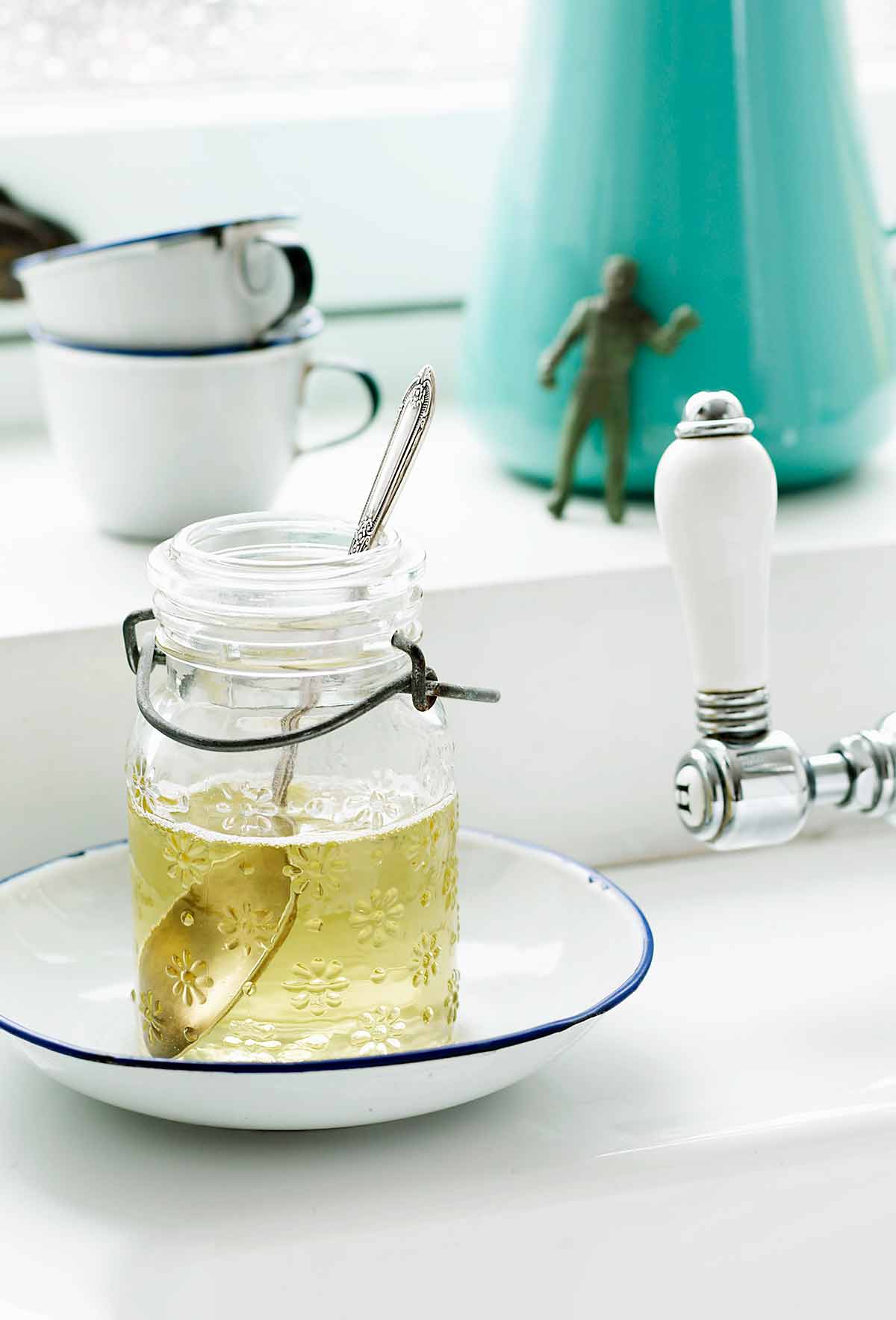 Adapted from Paul Lowe | Sweet Paul Eat & Make | Rux Martin/HMH, 2014
This homemade dish soap is a godsend for home cooks who get a little giddy about something that's gentle on the hands, natural and free from chemicals and unpronounceable preservatives, and relatively inexpensive. Seriously, this liquid dish soap is going to change your life. Well, sorta. It's only mildly sudsy compared to standard dish soap. But don't let that fool you—it still does the trick. It's particularly perfect for delicate china and glassware, although it's effective at everyday dishwashing as well. (If you're about to tackle a crusty lasagna pan or brownie baking dish with lots of baked-on chocolate goodness, you may find it necessary to reach for an extra squirt of this soap and a scrubber. And we swear our hands have gotten softer since we started using this natural alternative. –Renee Schettler Rossi
Homemade Dish Soap
INGREDIENTS
Container to hold your soap (a Mason or other vintage glass jar with a screw-top lid works nicely)
6 tablespoons unscented liquid Castile soap (such as Dr. Bronner's)
2 teaspoons vegetable glycerine (available online and in pharmacies)
5 drops essential oil of your choice (optional)
2 cups water
DIRECTIONS
1. In the container, combine the Castile soap, glycerin, and essential oil, if using.
2. Top with the water and gently mix. Keep at room temperature. You may need to stir to recombine prior to using and when scrubbing messy pots and pans you may need to use a touch more soap. Originally published July 15, 2014.
Excerpted from Sweet Paul Eat & Make © 2014 Paul Lowe. © 2020. All rights reserved. All materials used with permission.