This celery marmalade is an easy preserve made with celery, sugar, wine, grappa, lemon, and chile flakes. The result is an unconventional yet sweet and stunning spread that pairs beautifully with cheese. Swear.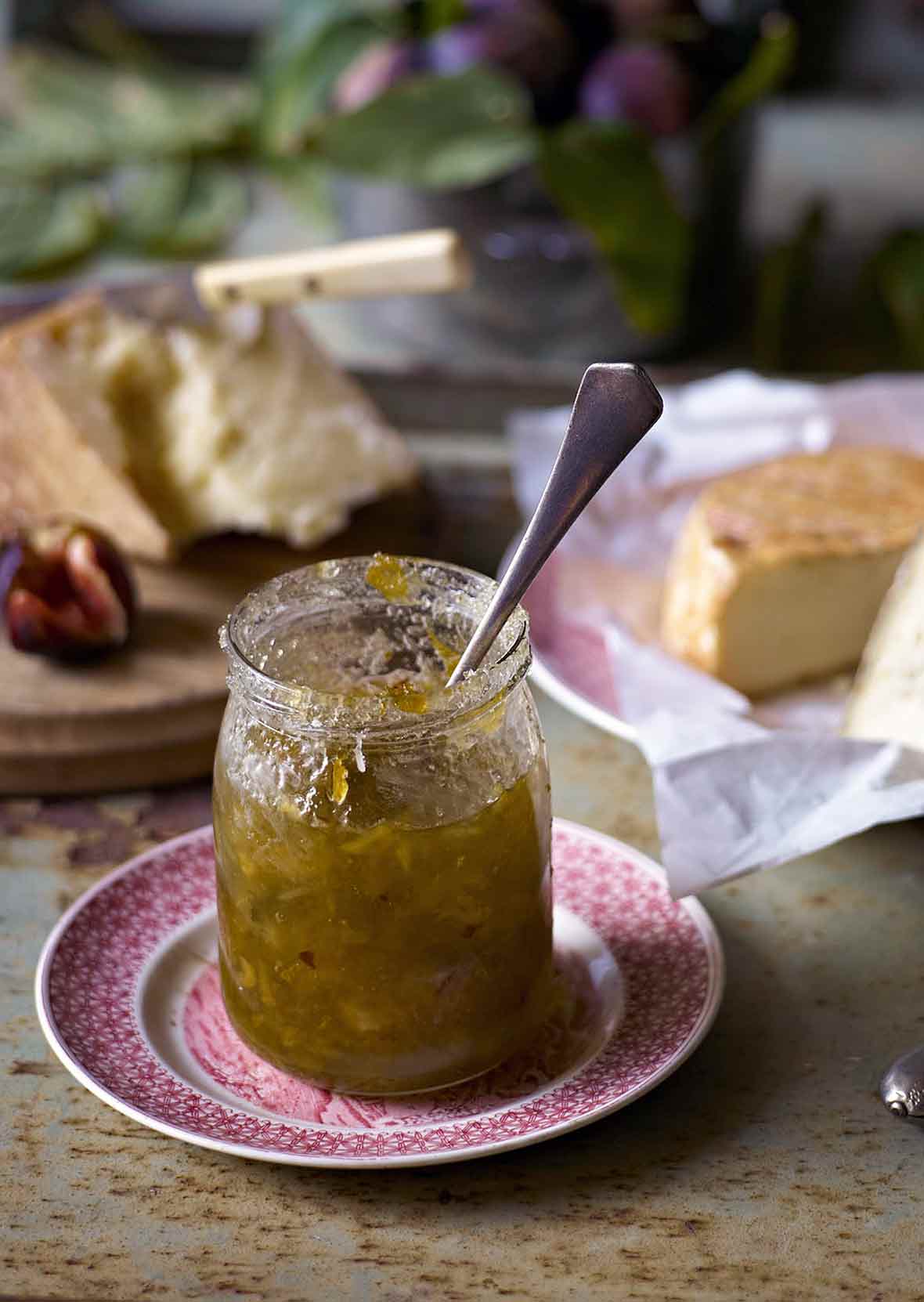 Celery marmalade? We know. It's defiantly unconventional. And most definitely odd. Yet it's a magnificent throwback to a time when if you found yourself with a bunch of something languishing in the fridge, you figured out a way to put it to use. Granted some things were far more inspired than others. Yet this stunning addition to a cheese or charcuterie plate that takes more of sweet than celery is guaranteed to start conversations. And in the best possible way.–Angie Zoobkoff
What To Do With Celery Marmalade?
Before we can explain what to do with celery marmalade, we want to explain when to make celery marmalade. Most folks we know have a heck of a lot of leftover celery the day after Thanksgiving. Yet with a fridge crammed full of leftover pumpkin mashed potatoes, stuffing, cranberry sauce, and turkey, guess what's going to draw the short straw on fridge space. And so when you tire of peanut butter and raisins on celery stalks, make this little number and set it out alongside some cheese and watch it lend the entire situation an air of sophistication.
Celery Marmalade
This celery marmalade is made with celery stalks, sugar, grappa, chile flakes, lemon, and white wine, and is excellent served with cheese.
Ingredients
1

bunch

celery

5

cups

granulated sugar

Good pinch

chili flakes

Finely grated zest of 1 lemon

preferably organic (about 2 tablespoons)

Juice of 1 lemon

(about 1/4 cup)

2/3

cup

white wine

2/3

cup

cold water

plus more as needed

4

tablespoons

grappa
Directions
Wash and trim the celery and cut it into stalks. You will need about 10 ounces inner stalks with their leaves and 1 1/3 pounds thick outer stalks. Set the inner stalks aside from the thicker stalks.

Remove the strings from the thick stalks with a small, sharp paring knife by digging in at one end of the stalk, then lifting the strings and dragging them down. Strip all the strings away. Roughly chop the thick stalks and then blitz them in a food processor, pulsing them and being careful not to make it too fine as some small chunks of celery are lovely in the finished marmalade.

Take a look at the tender inner stalks. They probably won't need the strings removed. Slice these stalks and their leaves into thin rounds so they'll show up in your jars.

Dump all the celery in a large pot along with the sugar, chili flakes, lemon zest and juice, wine, and water and bring to a gentle boil. Lower the heat and simmer, uncovered, stirring extremely often to check that nothing is sticking or caramelizing. If it seems to be going along too quickly and the sugar is starting to turn a golden brown hue way before the celery begins to soften, add a little more water. Continue simmering and stirring for 45 minutes to 1 hour, until it's a bit jammy but still loose and somewhere around 220°F (104°C). This takes a while. Patience, please. To test when the marmalade is ready, drop a teaspoonful onto a small saucer and tilt. It shouldn't slide down easily but rather drag with a little resistance.

Add the grappa to the pot and let it cook for a couple minutes more and then turn off the heat. Ladle the marmalade into warm sterilized jars and either process in a hot water bath or seal the lids tightly according to manufacturer's directions and turn the jars upside down before cooling completely, turning upright, and storing in the pantry. Once opened, keep the celery marmalade in the fridge.
Show Nutrition
Serving:
1
serving
Calories:
262
kcal
(13%)
Carbohydrates:
63
g
(21%)
Protein:
0.1
g
Fat:
0.2
g
Saturated Fat:
0.003
g
Polyunsaturated Fat:
0.01
g
Monounsaturated Fat:
0.001
g
Sodium:
4
mg
Potassium:
20
mg
(1%)
Fiber:
0.2
g
(1%)
Sugar:
63
g
(70%)
Vitamin A:
12
IU
Vitamin C:
2
mg
(2%)
Calcium:
4
mg
Iron:
0.1
mg
(1%)
If you make this recipe, snap a photo and hashtag it #LeitesCulinaria. We'd love to see your creations on Instagram, Facebook, and Twitter.
Recipe Testers' Reviews
I'm smitten with yet very perplexed by this celery marmalade recipe. Here's why: The marmalade is delicious, sweet, tender, and aromatic. A truly inspired recipe that's fearless and innovative. But what to pair it with? I went down the list and here are my top recommendations:
* A cheese plate is this marmalade's BFF, but I digress.
* Roasted and grilled meats can be cozied right up next to this pretty bejeweled green spread.
* Pork, not just as a roasted or grilled meat but specifically the belly, be it cured as bacon or brined and roasted and made succulent.
* Break tradition and celery marmalade can sub for mint jelly alongside a thick slice of roasted lamb.
*Tomatoes. Believe it, there is an attraction between the two ingredients. The umami and acid in the tomatoes works beautifully with the transformed celery. Think in terms of a thick slice of prime summer tomato, a schmear of marmalade, and a sprinkling of flaked sea salt.
My equation for a pairing: go salty, cured or acidic.
My cook times were just slightly longer then the times recommended in the recipe. As for preserving, whether you pack the marmalade straight into a glass jar and preserve it via refrigeration or you preserve it by fully following the USDA-prescribed canning process for jams and jellies, be sure to sterilize your jars, lids and equipment at a rolling boil for 10 minutes. When you intend to store jams and jellies at room temperature for the long term there is no substitute.
This is certainly a different kind of preserve. Perhaps you've made jalapeño jelly in the past, and know that it tastes mostly just of sweetness and only slightly of jalapeño? Then you'll have an idea what to expect from this preserve, which is very sweet and tastes only faintly of celery.
It might be tempting to reduce the sugar, but keep in mind that the sugar is the primary preserving agent in this recipe. With the celery being very low in acid, and only minimal added acid from the alcohol and lemon juice, I would not advise reducing the sugar. If you intend to store this jam at room temperature, I would recommend processing in a hot water bath for at least 10 minutes.
We enjoyed this a few different ways. I liked it as a topper for crackers that had been spread with goat cheese. We also had it on top of some brie. My husband loved it on some toast with peanut butter.
NOTES: My standard supermarket-size bunch of celery only weighed 2 pounds before trimming. That yielded about 15 stalks after trimming. I scaled the sugar to match the weight of celery (after trimming but before peeling). I did not scale down the lemon juice, zest, or chile flakes. The mixture took a bit over an hour to cook down. One could use a thermometer and cook to 220 degrees F (if at sea level). The method given for packing into sterilized jars can work but doesn't give a good seal as reliably as a hot water bath. I would recommend processing in a hot water bath for 10 minutes.
Originally published March 05, 2019
Recipe © 2013 Tessa Kiros. Photo © 2013
Manos Chatzikonstantis
. All rights reserved. All materials used with permission.
If you make this recipe, snap a photo and hashtag it #LeitesCulinaria. We'd love to see your creations on Instagram, Facebook, and Twitter.