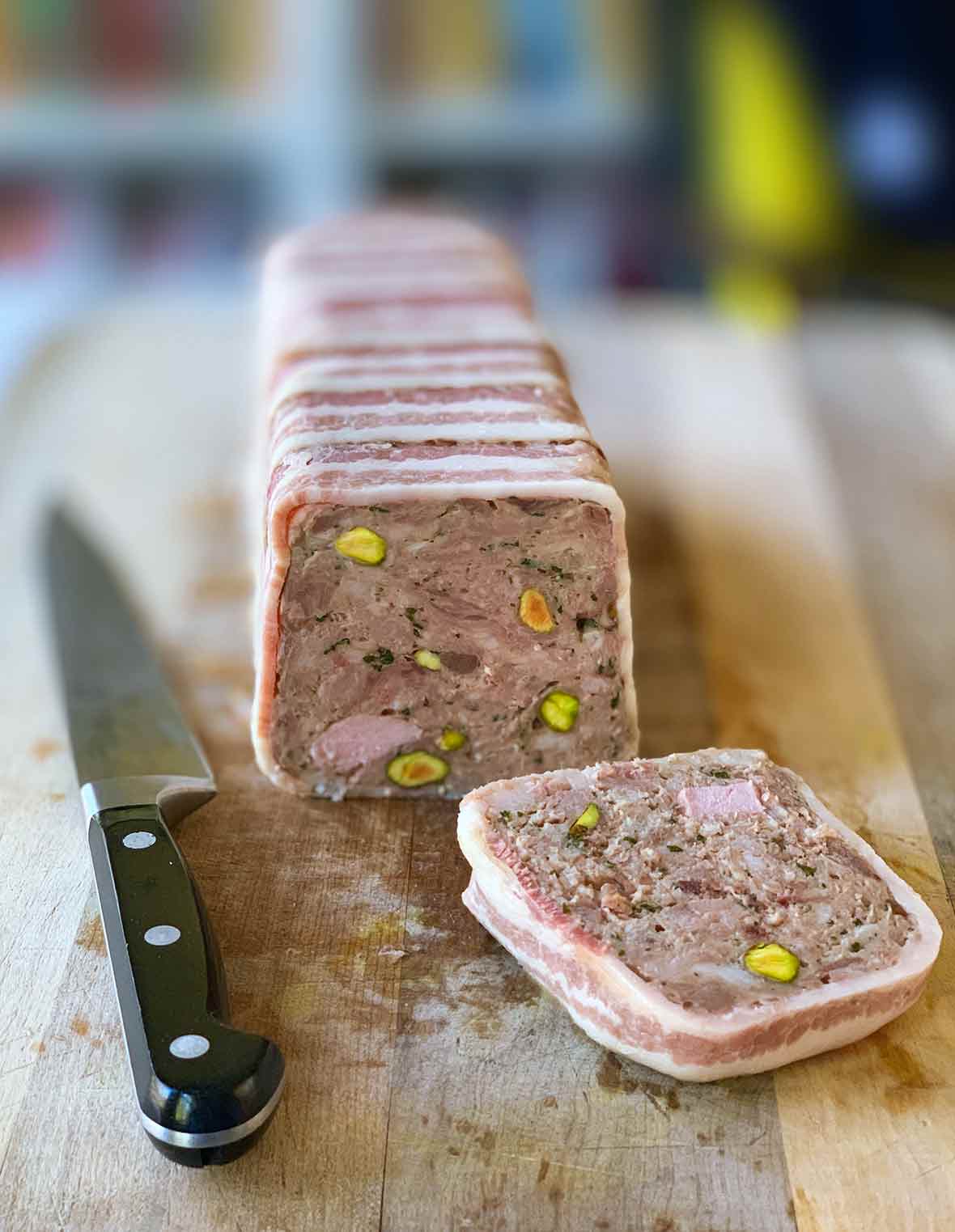 I swear, if you look at this recipe, roll your eyes, and say, "What is it with Leite's long recipes?" I will hunt you down, tie you to a chair, and force-feed you this pâté. As our tester Elie Nassar says: This pâté is just a wee bit harder to make than plain ole Wednesday night meatloaf. Honest. So make it. Now. And the seemingly long recipe? We want to make sure you flip over this as much as we did. So, I included a few tricks and techniques we learned along the way. End of lecture.–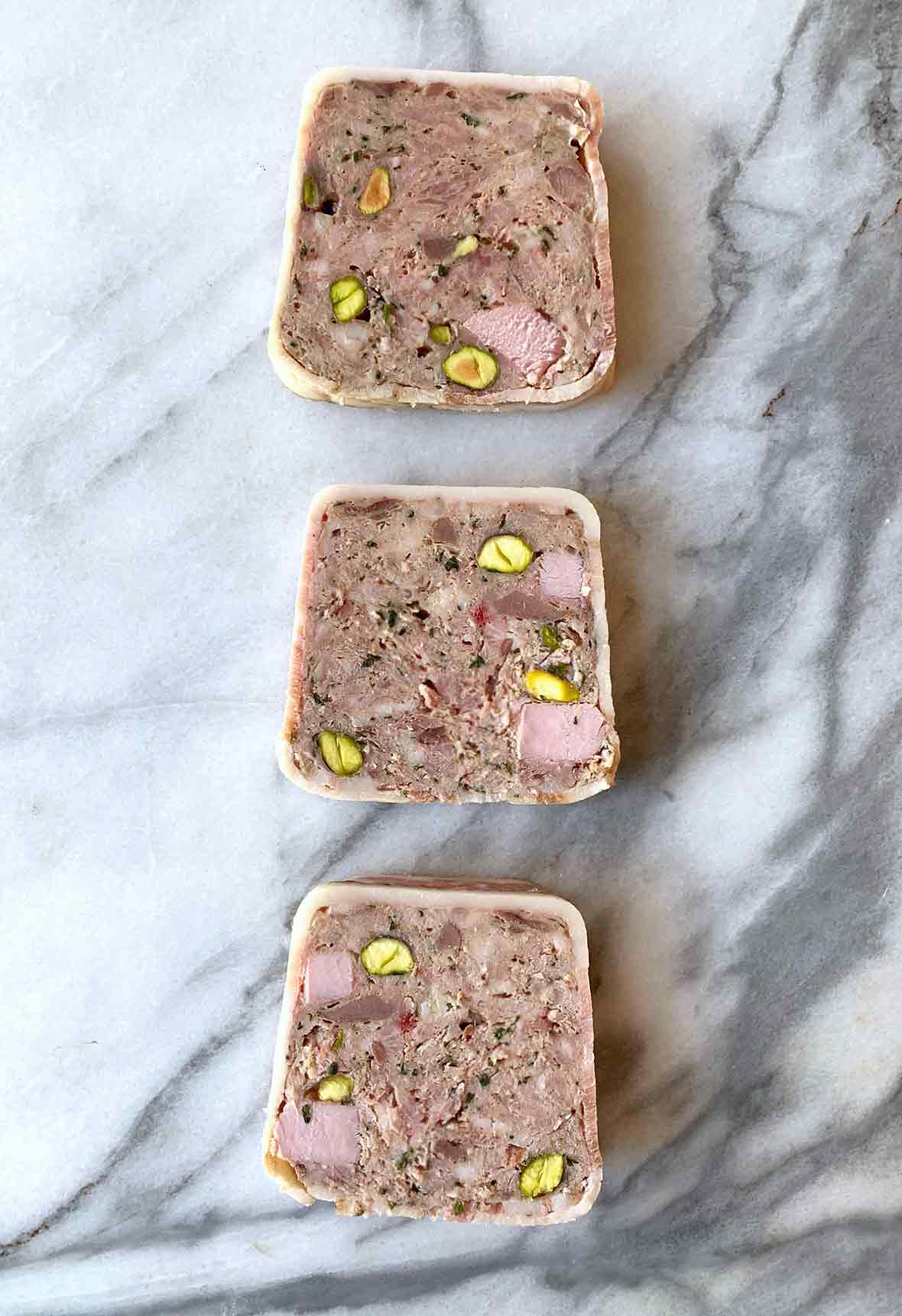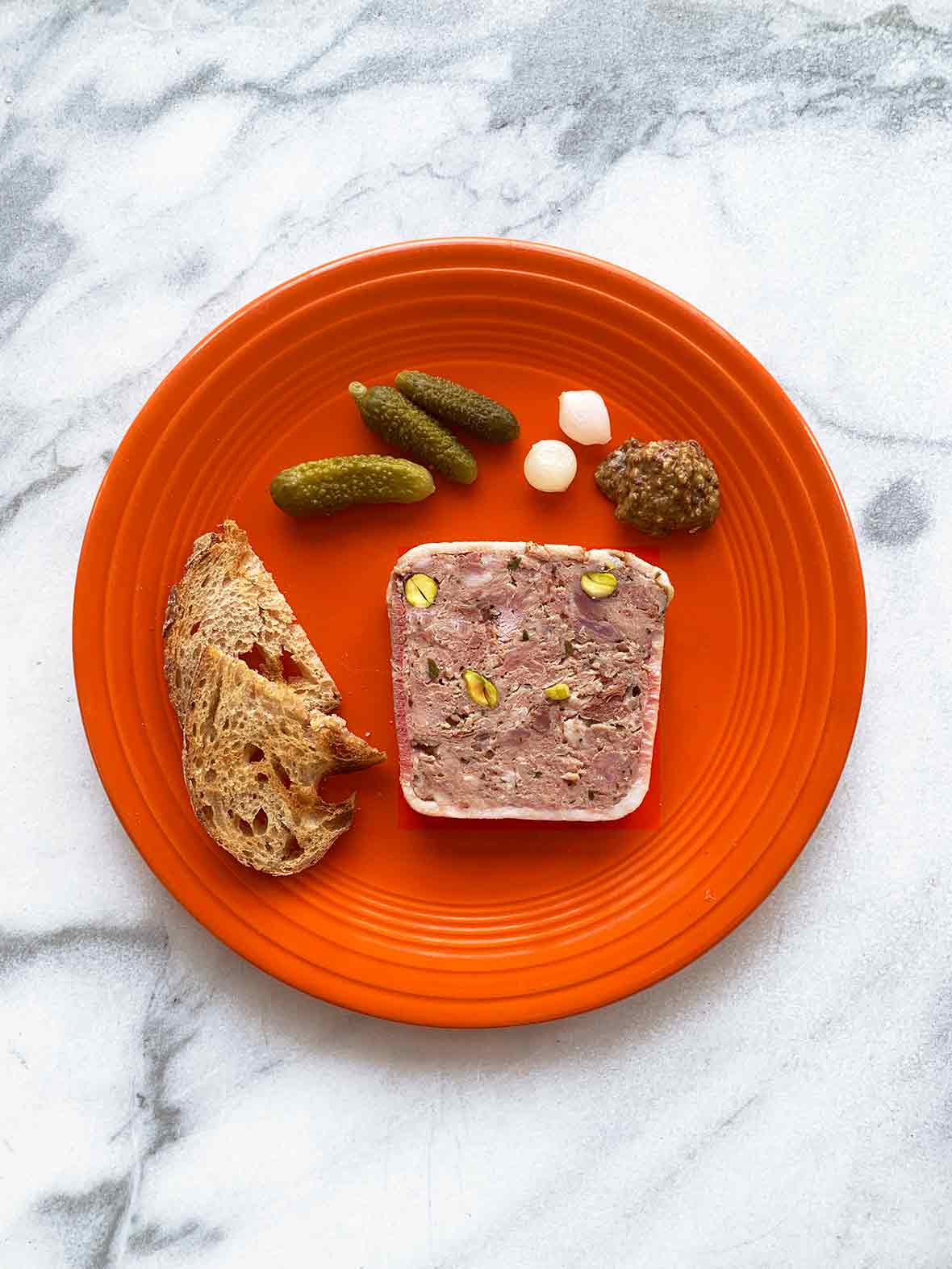 Country Pâté
This country pâté is made by cooking pork shoulder and liver with spices, heavy cream, and a splash of brandy. Perfect for entertaining and a stunning addition to any charcuterie plate.
Equipment
Meat grinder or meat-grinder attachment for your stand mixer, a 1 1/2-quart (1.5-liter) terrine mold
Ingredients
For the spice mix
1

ounce

white peppercorns

,

(3 tablespoons plus 1 teaspoon)

1/2

ounce

sweet Hungarian paprika

,

(2 tablespoons plus 1 teaspoon)

1/2

ounce

ground bay leaves

,

(about (1/3 cup)

1/4

ounce

dried marjoram leaves

,

(1/4 cup)

1/4

ounce

dried thyme leaves

,

(5 teaspoons)

1/4

ounce

ground nutmeg

,

(1 tablespoon)

1/4

ounce

ground mace,

(4 teaspoons)

1/4

ounce

ground ginger

,

(1 tablespoon)

1/4

ounce

ground cloves

,

(1 tablespoon)
For the country pâté
4

ounces

pork livers or chicken livers

,

veins and connective tissue removed, cut into 1-inch (2.5-cm) dice

2

pounds

boneless pork shoulder

,

cut into 1-inch (2.5-cm) dice

1/4

cup

roughly chopped onion

1 1/2

tablespoons

minced garlic

1/2

cup

coarsely chopped fresh flat-leaf parsley

3

tablespoons (30 g)

Diamond Brand kosher salt

,

OR 2 tablespoons Morton's kosher salt (30g)

1

teaspoon

freshly ground black pepper

2

tablespoons

all-purpose flour

2

large

eggs

1/2

cup

heavy cream

2

tablespoons

brandy

1

cup

chopped pistachios

,

diced smoked ham, duck confit, or cooked mushrooms (optional)

6 to 8

slices

bacon
For serving
Plenty of

cornichons, pickled onions, grainy mustard, preseved prunes, jams of all sorts
Instructions
Assemble the spice mix
In a dry skillet over medium-low heat, toast the peppercorns for a minute or so, shaking the skillet occasionally. Transfer to a spice or coffee grinder.

Add the remaining ingredients and pulverize into a powder. (You'll have more than you need for the recipe. Store the rest in an airtight container in a cool, dry place.)
Prep the pork and chicken livers
Preheat the oven to 300°F (150°C). Add enough water to a large roasting pan to measure a couple inches deep and slide it in the oven.

Place the livers in the freezer to chill. Meanwhile, fill a large bowl with ice and place the bowl of a stand mixer in the ice. Grind the pork through a 3/8-inch (9-mm) die into the stand mixer bowl.

Remove the livers from the freezer. In another large bowl, combine the livers, 1/3 of the ground pork, the onion, garlic, parsley, salt, pepper, and 1/2 teaspoon spice mix.

Grind the liver mixture through a 1/8-inch (3-mm) die into the bowl with the remaining ground pork. Refrigerate or freeze the mixture until it's thoroughly chilled, about 20 minutes.
Mix the pâté
In a small bowl, combine the flour, eggs, cream, and brandy and stir to blend. Stir this into the seasoned ground pork. Stir in any optional ingredients, if desired.

Fit the bowl of seasoned ground pork into the standing mixer and, using the paddle attachment, mix on medium-high until everything is uniformly mixed and sticky, about 1 minute.

Scoop a small spoonful of the pork mixture into a small skillet over medium heat. Cook for a few minutes, turning once, until it's cooked through and then cool slightly.

☞ TESTER TIP: Taste and adjust the seasoning if necessary, remembering that the flavors of the finished pate will be slightly less pronounced when chilled.
Cook and chill the pâté
Line a 1 1/2-quart (1.5-liter) terrine mold or a loaf pan with plastic wrap. If using the bacon to impart a slight smokiness to the pâté, place the slices side by side on the plastic with the ends of the bacon strips hanging over the edges of the mold or pan. Fill the mold or pan with the pâté. If using bacon, fold the ends of the bacon slices over the pâté so they meet on top. Fold the plastic wrap over the pâté.

Cover the mold or pan with a lid or aluminum foil, place it in the water bath, and cook until the mixture reaches an internal temperature of 145°F (63°C), about 65 minutes. Remove the mold or pan from the water bath.

When the mold or pan is cool enough to handle, weight the pâté by covering the top with a piece of cardboard cut to be just smaller than the pan. Place cans of tomatoes or other reasonably heavy objects evenly across the top.

Refrigerate the pâté until thoroughly chilled. Remove the weights and cardboard and unmold the pâté onto a platter or cutting board. You can remove and discard the bacon, if desired, prior to serving. Slice and serve the pâté. (Cover and refrigerate any leftovers for up to a week.)
Nutrition
Serving:
1
portion
Calories:
358
kcal
Carbohydrates:
13
g
Protein:
30
g
Fat:
21
g
Saturated Fat:
7
g
Polyunsaturated Fat:
4
g
Monounsaturated Fat:
8
g
Trans Fat:
1
g
Cholesterol:
151
mg
Sodium:
2265
mg
Potassium:
660
mg
Fiber:
4
g
Sugar:
2
g
Vitamin A:
3878
IU
Vitamin C:
11
mg
Calcium:
92
mg
Iron:
7
mg
Nutrition information is automatically calculated, so should only be used as an approximation.
Recipe © 2019 Brian Polcyn | Michael Ruhlman. Photos © 2019 David Leite | Elie Nassar. All rights reserved.
---
Recipe Testers' Reviews
I have made many terrines and pâtés and this one ranks among the best. It's a clearly written recipe that seems to streamline the sometimes laborious process of making a proper pâté, consolidates a couple of steps, and produces a delightful piece of charcuterie.
For a beginner pâté maker, this is just slightly more complicated than making a meatloaf. The flavor is a great balance of spice and pork that's mildly gamy from the chicken liver and pungent with garlic. Some country pâtés are too livery for my taste, so this one was a welcome change in the judicious use of the chicken livers. The liver flavor is there, though in the background, so if one is a liver phobe, they can certainly enjoy this with no problem. Sliced thick and served with mustards, cornichons, pickled prunes, and some crusty bread, this makes for a perfect meal.
Before grinding the liver mixture, I placed it in the freezer for about 15 minutes while I was grinding the first batch. The semi-frozen livers grind much better.
To chill all the meat mixture before mixing it, I left it in the freezer for 20 minutes. This gets it semi-firm so the fat won't melt when mixing in the Kitchenaid.
I love the idea of using flour instead of the more common bread soaked in milk that I have used in other recipes. The flour has a similar impact as the bread but is much easier to incorporate into the meat.
I took a cue from the picture and used pistachios for a flourish. I used about a cup of blanched pistachios.
I used a terrine mold and I lined it with bacon slices. Looks great and gives it a hint of smokiness. I do peel the bacon from each slice, though, before eating. The texture of the bacon isn't great when cooked like that.
To evenly weigh the terrine down, I used a rectangle of cardboard that I cut out to fit on top. I wrapped it with aluminum foil and then plastic wrap. I placed that on the surface of the meat and put a couple of cans of tomatoes on it. Works great.
This pâté keeps very well. I made it over a week ago and, wrapped well in the fridge, it still tastes good today. Thinking of making some banh mi sandwiches with the rest. Pâté is a classic banh mi filling and this garlicky one works great in a baguette with hoisin and carrot daikon Vietnamese pickle.
I have very fond memories of terrines. The first I ever experienced was souse meat made by my grandmother. She also made boudin blanc and many other fresh and cured sausages. I suppose that is where I got my fascination with all things charcuterie.
This French country pâté was a gentle reminder of those fond memories and I wanted to make it for the woman who introduced me to "forcemeat." It does take a little time but it's worth it. It's not expensive yet you are rewarded with a rich taste of history. If you don't have a terrine mold, no problem, use a bread pan. The important thing is that you cook it to temperature. Play around with the seasoning to get it where you like it. I encourage you to give it a try. You won't be disappointed.