In this bacon bourbon butterscotch popcorn recipe, bourbon-spiked, butterscotch-coated popcorn rises to a whole new level of irresistible with the addition of crisp, salty bacon.–Morgan Murphy and Editors of Southern Living
LC Goes Well With Beer Note
When you're about to sit down to the Oscars or the game or whatever show you're currently binge-watching and you find yourself craving something beguilingly salty, sweet, and crunchy, remember the toffee-like undertones of this stunningly indulgent bacon bourbon butterscotch popcorn and how it goes spectacularly—magnificently, even—with beer. Then reach for this recipe.
Bacon Bourbon Butterscotch Popcorn
Quick Glance
30 M
1 H, 30 M

Makes about 14 cups
Print Recipe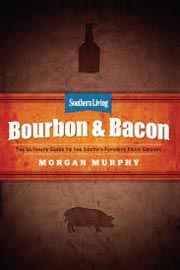 Ingredients
14 cups store-bought or home-popped popcorn (from 1/2 to 3/4 cup kernels)

1/2 cup cooked and crumbled bacon (about 4 slices)

1 cup granulated sugar

12 tablespoons (6 ounces) butter, plus more for the baking sheets and spatula

1/2 cup light corn syrup

2 to 3 tablespoons bourbon

1 teaspoon vanilla extract

3/4 teaspoon sea salt

1/2 teaspoon baking soda
Directions
1. Preheat the oven to 250°F (121°C). Line 2 rimmed baking sheets with parchment paper and butter the parchment.

2. Discard any unpopped kernels from the popcorn. Divide the popcorn and crumbled bacon evenly between the baking sheets.

3. Place the sugar, butter, and corn syrup in a 2-quart or other deep-sided saucepan. Bring to a boil over medium heat, stirring constantly. Remove the pan from the heat and carefully stir in the bourbon, vanilla, salt, and baking soda. Be aware that the baking soda is going to make the mixture boil and bubble like you're in trouble, but you're not. It'll simmer down quickly.

4. Immediately pour the bourbon syrup evenly over the popcorn and bacon and, working quickly, toss everything with a lightly buttered spatula to coat it. (If you prefer, transfer the mixture to a large pot and toss it in there.) Spread the popcorn mixture in an even layer and bake for 50 to 60 minutes, stirring every 15 minutes. You want the candied popcorn to be sorta dry to the touch and, you know, done.

5. Spread the popcorn on a fresh sheet of parchment paper to cool, breaking apart large clumps once the popcorn is not too hot to handle. The popcorn will become crisper and crunchier as it drops in temperature. Store any leftover popcorn in an airtight container.
Bacon Bourbon Butterscotch Popcorn Recipe © 2014 Morgan Murphy and Editors of Southern Living. Photo © 2014 Hélène Dujardin. All rights reserved. All recipes and photos used with permission of the publisher.
If you make this recipe, snap a photo and hashtag it #LeitesCulinaria. We'd love to see your creations on Instagram, Facebook, and Twitter.