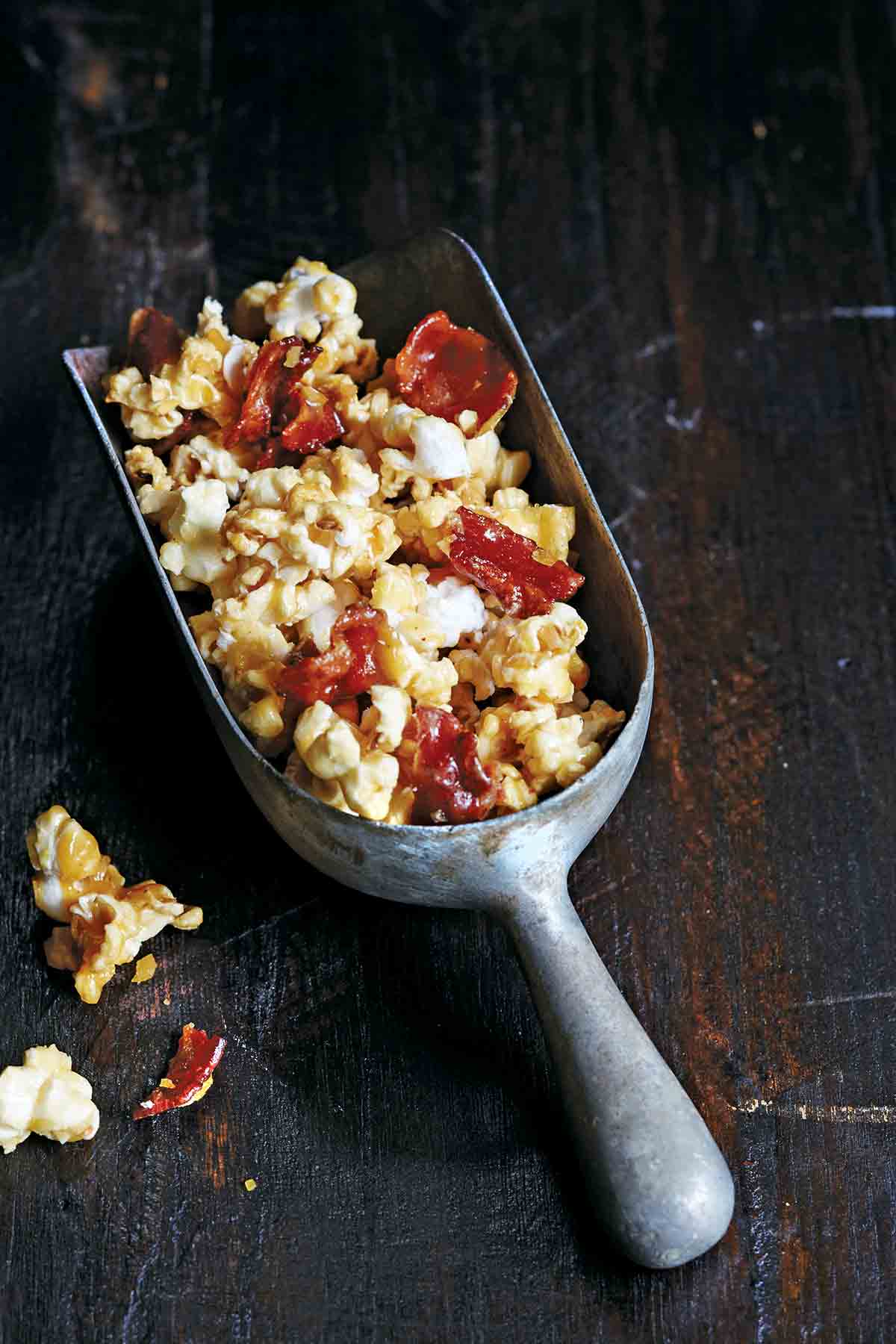 In this bacon bourbon butterscotch popcorn recipe, bourbon-spiked, butterscotch-coated popcorn rises to a whole new level of irresistible with the addition of crisp, salty bacon.–Morgan Murphy and Editors of Southern Living
LC Goes Well With Beer Note
When you're about to sit down to the Oscars or the game or whatever show you're currently binge-watching and you find yourself craving something beguilingly salty, sweet, and crunchy, remember the toffee-like undertones of this stunningly indulgent bacon bourbon butterscotch popcorn and how it goes spectacularly—magnificently, even—with beer. Then reach for this recipe.
Bacon Bourbon Butterscotch Popcorn
We know we said you can use a store-bought bag of popcorn here and it'll do in a pinch but we strongly feel that freshly popped corn with bacon, bourbon, and butterscotch is the way to go.
Ingredients
14

cups

store-bought or home-popped popcorn,

(from 1/2 to 3/4 cup kernels)

1/2

cup

cooked and crumbled bacon

,

(about 4 slices)

1

cup

granulated sugar

12

tablespoons

butter

,

plus more for the baking sheets and spatula

1/2

cup

light corn syrup

2 to 3

tablespoons

bourbon

1

teaspoon

vanilla extract

3/4

teaspoon

sea salt

1/2

teaspoon

baking soda
Instructions
Preheat the oven to 250°F (121°C). Line 2 rimmed baking sheets with parchment paper and butter the parchment.

Discard any unpopped kernels from the popcorn. Divide the popcorn and crumbled bacon evenly between the baking sheets.

Place the sugar, butter, and corn syrup in a 2-quart or other deep-sided saucepan. Bring to a boil over medium heat, stirring constantly. Remove the pan from the heat and carefully stir in the bourbon, vanilla, salt, and baking soda. Be aware that the baking soda is going to make the mixture boil and bubble like you're in trouble, but you're not. It'll simmer down quickly.

Immediately pour the bourbon syrup evenly over the popcorn and bacon and, working quickly, toss everything with a lightly buttered spatula to coat it. (If you prefer, transfer the mixture to a large pot and toss it in there.) Spread the popcorn mixture in an even layer and bake for 50 to 60 minutes, stirring every 15 minutes. You want the candied popcorn to be sorta dry to the touch and, you know, done.

Spread the popcorn on a fresh sheet of parchment paper to cool, breaking apart large clumps once the popcorn is not too hot to handle. The popcorn will become crisper and crunchier as it drops in temperature. Store any leftover popcorn in an airtight container.
Nutrition
Serving:
1
cup
Calories:
250
kcal
Carbohydrates:
32
g
Protein:
2
g
Fat:
13
g
Saturated Fat:
7
g
Polyunsaturated Fat:
1
g
Monounsaturated Fat:
4
g
Trans Fat:
0.4
g
Cholesterol:
30
mg
Sodium:
215
mg
Potassium:
52
mg
Fiber:
2
g
Sugar:
24
g
Vitamin A:
324
IU
Calcium:
6
mg
Iron:
0.4
mg
Nutrition information is automatically calculated, so should only be used as an approximation.
Recipe © 2014 Morgan Murphy | Southern Living. Photo © 2014 Hélène Dujardin. All rights reserved.
---
Recipe Testers' Reviews
This bacon bourbon butterscotch popcorn recipe is an easy, boozy, delicious take on caramel popcorn. I didn't think my kids would like this because of the hint of bourbon, but they devoured it!
I used a Whirly Pop stovetop popcorn popper, and it held about 16 cups. Next time I won't bother measuring the popcorn.
I would definitely double the amount of bacon next time because I thought it kind of got lost in the butterscotch. Definitely also make sure the bacon is very crisp and crumbly.
The syrup didn't brown at all in the pot. It was light-colored when I poured it over the popcorn but became subsequently more caramel-colored each time I tossed it during baking, and by the end of the hour, it was perfectly caramelized and delicious. I forgot to butter my silicone spatula, yet I didn't have any issues with the caramel sticking.
The popcorn was surprisingly easy to toss, and it was easy to tell by the beautiful brown color that it was done. I set the baking sheets on my granite countertops, and the mixture cooled very quickly.
It was completely gone within 5 minutes after coming out of the oven! Success!
The only things I would change about this recipe are to double the amount of bacon and add a sprinkle of sea salt after the popcorn comes out of the oven.
This bacon bourbon butterscotch popcorn recipe was so good that I'll be making it again and again. It's not the deep caramel color that you normally get with caramel corn, although you could easily make it that way by cooking the butterscotch a little longer. Personally I liked the lighter color, as you get a good contrast of sweet from the butterscotch and smoky from the bacon.
My only difficulty was when you first combine the popcorn with the butterscotch. You really need to mix everything well, which doesn't work well on baking sheets, although once everything was mixed, I had no trouble giving it a light toss while it was in the oven. I ended up transferring the popcorn back to the original pan in which I'd popped it, working in batches, to give everything a good stir. Then I spread the popcorn out on the baking sheets.
Making this bacon bourbon butterscotch popcorn recipe is a fun project with a hint of danger: the bubbling butterscotch is molten and sticks to your fingers, as well as everything else. If you follow the instructions as written, you'll get through the process unscathed and end up with a delightful snack that would go very well with beer on Super Bowl Sunday.
The butterscotch is light in color compared to caramel and very buttery. I only had 2 tablespoons bourbon in the house (leftover from making pecan pie), so I used that and upped the vanilla by 1/2 teaspoon, and the butterscotch was plenty bourbon-y for my taste. When you add the butterscotch to the popped corn, it may seem as if there's too much, but don't fret, it all works out in the end.
I stirred the popcorn every 15 minutes, as instructed, to keep coating and coating the popcorn. I could've taken my popcorn out of the oven a bit shy of 60 minutes, as my bacon was quite done—not quite burned, but close—at 1 hour. Once you've taken the popcorn out of the oven, it cools pretty quickly and is easier to remove from the parchment once it's solidified.
My bacon-loving 16-year-old could hardly wait to demolish it.