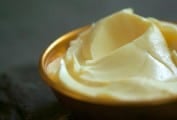 David recounts his first experience with homemade butter, in which he didn't even recognize the beauty in front of his face. Recipe included.
Man does not live by hot sauce alone. That's why this authentic Burmese hot sauce also has notes of tart and sweet.
No more excuses about how there's a dearth of decent bagels in your neighborhood. Nope. Not when you can make these.
Quick Glance
3 H
3 H, 50 M