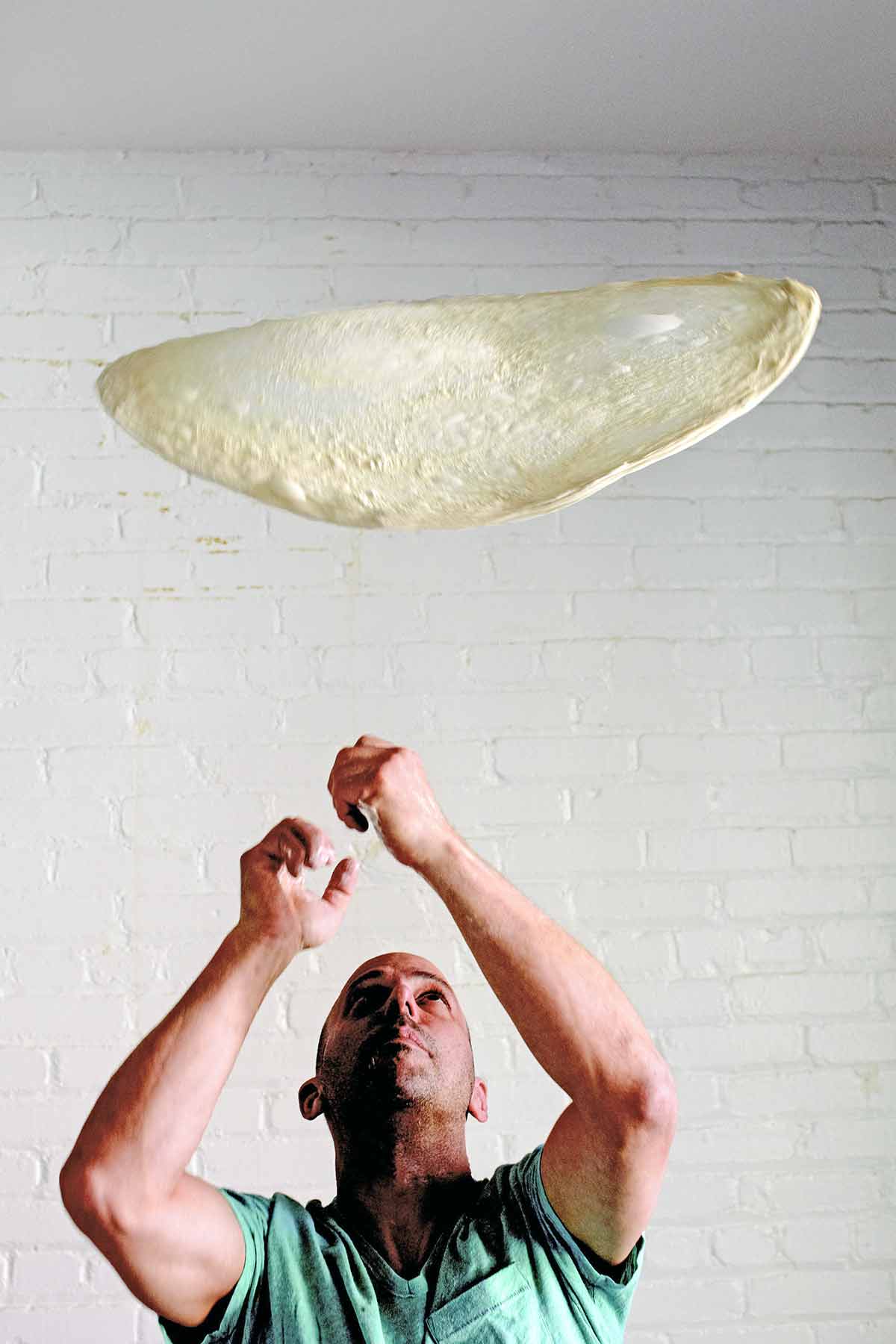 We know you've always wanted to fling pizza dough like a boss. And Jim Lahey is going to help you get there. We just want to caution that it may not come naturally to you at first fling. It may instead feel that you're something of a dough-flinging fool at first. Not to worry. It'll happen. You just need to practice. If you're the wallflower sort of home cook, Lahey also offers a nonflinging option that allows the dough to remain safely grounded on the counter as you stretch it. But the flinging instructions are still there, as are the inspired and really quite informational photos below, just in case. Speaking of inspired, whatever plans you've got for this dough, we strongly encourage you to diss them for Lahey's white pizza.–Renee Schettler Rossi
Jim Lahey's Pizza Dough
Jim Lahey's pizza dough allows you to create the sort of quality pizza crust at home that you've only ever experienced at the best of Italian bakeries and pizzerias. And it's easier than you'd expect.
Ingredients
17 1/2

ounces (about 3 3/4 cups)

all-purpose flour

,

(do not use bleached flour), plus more for the work surface

1/4

teaspoon

active dry yeast

2

teaspoons

fine sea salt

1 1/2

cups

tepid water
Instructions
In a medium bowl, thoroughly blend the flour, yeast, and salt. Add the water and, with a wooden spoon or your hands, thoroughly mix the ingredients.

Cover the bowl with plastic wrap and let the dough rise at room temperature for 18 hours, or until it's more than doubled.

☞ TESTER TIP: Figure room temperature is about 72°F (22°C). It will take longer in a chilly room and less time in a very warm one.

Flour a work surface and scrape out the dough. Divide it into 4 equal portions. Working with 1 portion of dough at a time, start with the right side of the dough and pull it toward the center; then do the same with the left, then the top, then the bottom. (The order doesn't actually matter; what you want is 4 folds.) Shape each portion into a round and turn it seam side down. The dough may be sticky and wet as you work with it, but that's okay. Mold the dough into a neat circular mound. The mounds should not be sticky; if they are, dust with more flour. Place the dough on the lightly floured work surface and repeat with the remaining portions of dough. (If you don't intend to use the dough right away, wrap the balls individually in plastic wrap and refrigerate for up to 3 days. Return to room temperature by leaving them out on the counter, covered in a damp cloth, for 2 to 3 hours before needed.)

To delicately shape the dough on the work surface: Take 1 ball of dough and generously flour it, your hands, and the work surface. Then press it down and gently stretch it out to 6 to 8 inches. Very carefully continue the process, massaging it into a roundish disk of 10 to 12 inches, stroking and shaping with the palms of your hands and with your fingers. Don't handle it more than necessary, though; you want some of the gas bubbles to remain in the dough. It should look slightly blistered. Flour a peel and lift the disk onto the center.

To boldly fling the dough in the air like a boss: Take 1 ball of dough and generously flour it, your hands, and the work surface. Then press it down and gently stretch it out to 6 to 8 inches. Supporting the disk with your knuckles toward the outer edge and lifting it above the work surface, keep stretching the dough by rotating it with your knuckles, gently tugging it wider and wider until the disk reaches 10 to 12 inches in diameter. Set the disk on a well-floured peel.

☞ TESTER TIP: Treat the dough gently so it holds its character. When you get around to shaping, go easy as you stretch it to allow it to retain a bit of bumpiness so not all of the gas is smashed out of the fermented dough.

The dough is now ready to be slathered with sauce and toppings and baked. If it's going to be more than a few minutes before you top and bake it, you can store the unshaped balls in the refrigerator, wrapped in plastic wrap, for up to 3 days. Don't freeze the dough.
Notes
Whole-Wheat Pizza Dough Variation
I've found over the years that I personally prefer less whole wheat in the mixture than others might. Too much of it, to my taste, makes the crust gritty. To make whole-wheat pizza dough, use 2/3 white flour to 1/3 whole wheat, and double the yeast used.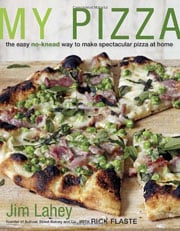 Nutrition
Serving:
1
batch
Calories:
454
kcal
Carbohydrates:
95
g
Protein:
13
g
Fat:
1
g
Saturated Fat:
1
g
Polyunsaturated Fat:
1
g
Monounsaturated Fat:
1
g
Sodium:
1170
mg
Potassium:
140
mg
Fiber:
4
g
Sugar:
1
g
Vitamin C:
1
mg
Calcium:
22
mg
Iron:
6
mg
Nutrition information is automatically calculated, so should only be used as an approximation.
Recipe © 2012 Jim Lahey. Photo © 2012 Squire Fox. All rights reserved.
---