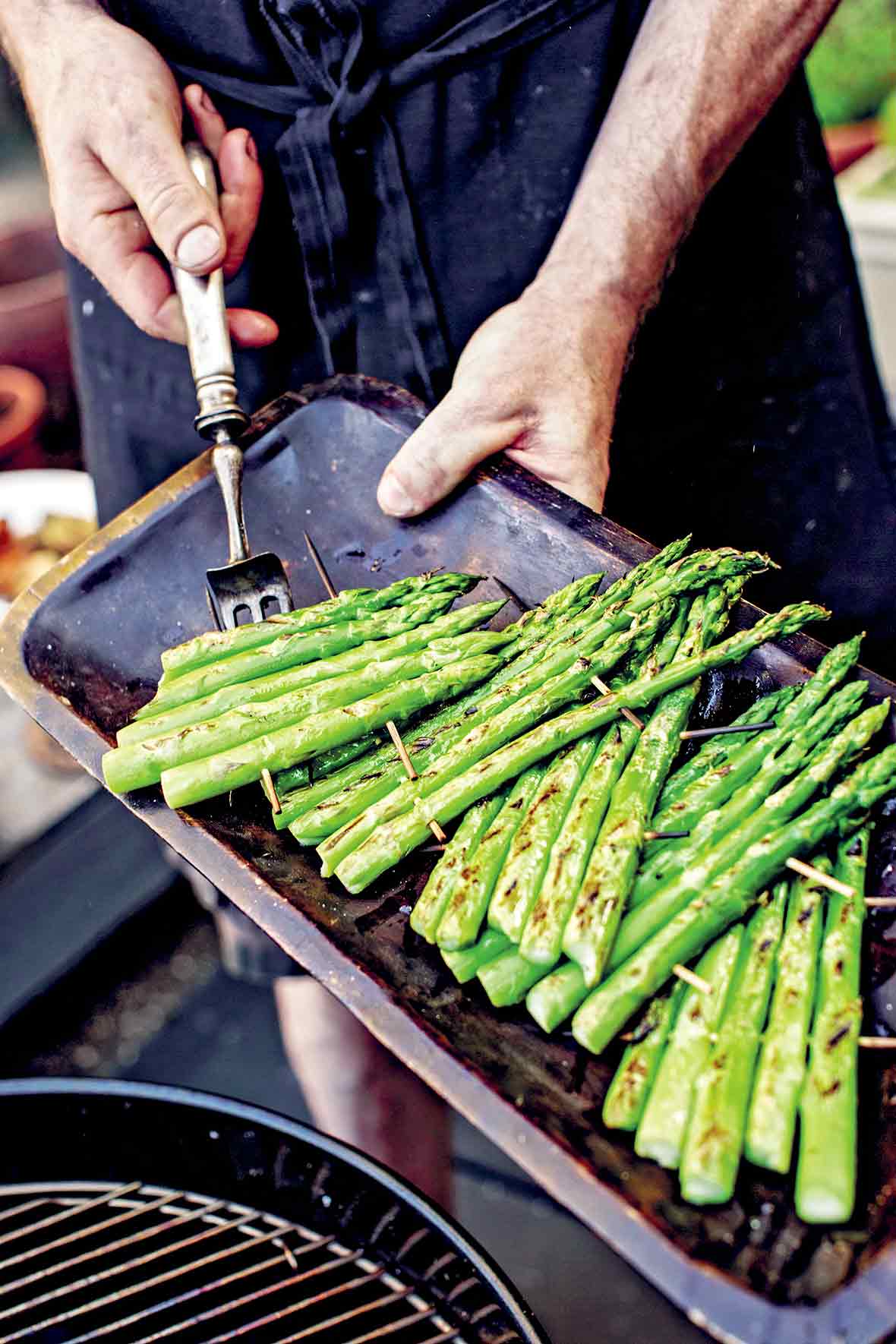 Here's how to grill asparagus without some spears ending up charred into oblivion and others ending up crunchy and still others slipping through the grill rack (and you cursing up a storm). This easy approach relies on a reliable and simple technique of skewering several spears together into a raft of sorts, which makes it easier to flip the asparagus and to ensure all the spears are evenly cooked.–Renee Schettler Rossi
How to Grill Asparagus
Wondering how to grill asparagus without cursing up a storm when your spears fall through the grill rack? It's easy once you know this simple trick.
Equipment
About 12 skewers (metal or bamboo)
Ingredients
2

bunches (about 2 lbs)

jumbo asparagus

1

tablespoon

extra-virgin olive oil

Freshly ground black pepper

1

lemon

,

cut into wedges
Instructions
Preheat the grill and oil the grill rack. Bring a large pot or wide saucepan of salted water to a boil. Fill a large bowl halfway with salted ice water.

Holding an asparagus spear in your hands, with one end in each hand, bend the spear until it snaps near the stem end. Toss the stem end in the compost and set the spear aside. Repeat with the remaining asparagus.

Toss all the spears in the boiling water for 1 minute and then, using tongs, plunge them in the ice water for 30 seconds. Drain and dry the asparagus. Place the spears flat on a cutting board and line up the tips. Meanwhile, if using bamboo skewers, place them in the hot blanching water for a few minutes to help prevent them from burning on the grill.

About 1 inch (2 1/2 cm) from the bottom of a spear, push a skewer perpendicular through the center of its spear. Pass the skewer through 5 more spears. Repeat this step with another skewer, pushing it through the 6 spears about 1 inch below their tips. You will end up with a raft of 6 spears connected by skewers at the top and bottom. Repeat with the remaining asparagus.

Brush each asparagus raft with the olive oil and season with salt and pepper on both sides. Grill the asparagus rafts until they're slightly charred, turning each raft once using tongs, 2 to 3 minutes on each side.

Serve with the lemon wedges on the side for squeezing.
Notes
Grilled Asparagus With Sorrel Cream Variation
Heat 1/2 cup (118 ml) heavy cream in a saucepan over medium-low heat. Add 2 cups fresh sorrel leaves (available only for a short time during spring), thinly sliced into ribbons, along with 1 tablespoon chopped fresh chives, 1/4 teaspoon salt, and a few turns of black pepper. Let the sorrel leaves wilt in the sauce for about 2 minutes. Spoon the sauce over the grilled asparagus.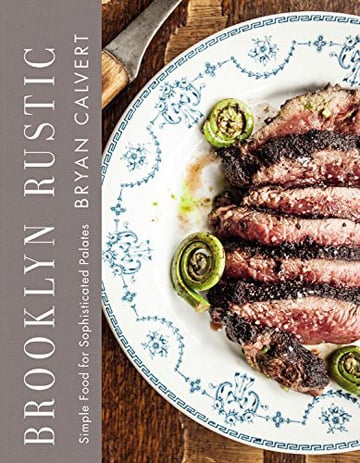 Nutrition
Serving:
1
portion
Calories:
39
kcal
Carbohydrates:
3
g
Protein:
1
g
Fat:
4
g
Saturated Fat:
1
g
Polyunsaturated Fat:
1
g
Monounsaturated Fat:
3
g
Sodium:
1
mg
Potassium:
38
mg
Fiber:
1
g
Sugar:
1
g
Vitamin A:
10
IU
Vitamin C:
14
mg
Calcium:
7
mg
Iron:
1
mg
Nutrition information is automatically calculated, so should only be used as an approximation.
Recipe © 2016 Bryan Calvert. Photo © 2016 Ed Anderson. All rights reserved.
---