This plum crumble pie boasts a traditional pastry crust, a bubbling fruit filling, and an easy crumble topping that's easy to toss together and really quite difficult, if not impossible, to stop nibbling.
It's a pie! It's a tart! It's a crumble! This plum crumble pie is a mutant combo in the best possible way with its traditional pastry crust, it's oozy and boozy filling that's insanely plummy and slightly tipsy with a touch of bourbon, and a rich, buttery, crunchy crumble topping that's easy to toss together and really quite difficult, if not impossible, to stop nibbling. If you can come up with a better name for this collision of loveliness, kindly let us know in a comment below.–Renee Schettler Rossi
Plum Crumble Pie
Quick Glance
45 M
2 H

Serves 8 to 12
Special Equipment: A 10-inch deep-dish pie dish
Print Recipe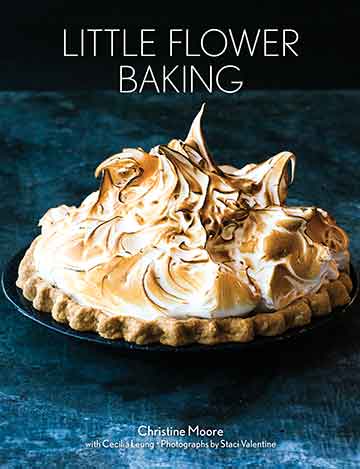 Ingredients
For the pie crust

All-purpose flour, for the work surface

1 pie crust recipe for a single-crust pie or 1/2 pie crust recipe for a double-crust pie

For the plum pie filling

2 to 2 1/4 pounds (990 grams) plums, preferably dark skinned, cut into 1/4-inch (6 mm) slices (about 6 cups)

1/2 cup (100 grams) granulated sugar

2 tablespoons (14 grams) cornstarch

1 vanilla bean, split

2 tablespoons (30 ml) bourbon

For the crumble topping

1 1/2 cups (180 grams) all-purpose flour

3/4 cup (150 grams) granulated sugar

3/4 cup (160 grams) packed light brown sugar

1/2 teaspoon (3 grams) sea salt

2 sticks (228 grams) unsalted butter, cut into 1/4-inch (6-mm) cubes and chilled
Directions
Make the pie crust

1. Lightly flour your work surface. Roll the pie dough to a 15-inch (38-cm) circle with a thickness of 1/8 inch (3 mm). Gently fold the pie dough in half and then in half again and transfer the pie dough to a 10-inch deep-dish pie plate. Place the pointed tip of folded dough in the center of the pie pan and gently unfold the pie crust, pressing the dough onto the bottom of the pie plate and tucking the dough into the edges and sides of the pan. Roll any dough hanging over the edge of the pie plate under itself and, if desired, flute the edge. Place the formed pie crust in the freezer for at least 1 hour before baking.

Make the filling

2. Place the sugar and vanilla bean in a bowl. Rub the sugar and vanilla bean together with your fingertips to remove all the seeds. Add the cornstarch and mix until combined. Add the sliced plums and bourbon and toss to coat the plums well. Set aside at room temperature for 30 minutes.

Make the crumble topping

3. In the bowl of a stand mixer fitted with the paddle attachment, combine the flour, sugar, brown sugar, and salt on low speed for 1 minute. Gradually add the butter and mix on low speed until pea-size lumps form, 3 to 5 minutes. Do not overmix; the mixture should resemble wet sand. To test it for doneness, take a handful of topping, squeeze, and then unclench. The topping should hold together for 5 to 10 seconds before crumbling apart. (You can cover and refrigerate the topping for up to 2 weeks.)

Assemble the plum crumble pie

4. Preheat the oven to 375°F (190°C).

5. Remove the chilled pie crust from the freezer and place it on a rimmed baking sheet. Line the pie crust with parchment paper and fill with pie weights, dried beans, or uncooked rice. Bake for 25 to 30 minutes or until the exposed crust is golden. Remove the parchment paper and pie weights and continue to bake, uncovered, until the bottom of the pie crust is a light shade of golden brown, about 10 minutes more.

6. Remove the vanilla bean from the plum mixture and discard. Fill the pie crust with the plum filling. Cover with the crumble topping. (You don't have to use all the crumble topping, but trust us when we say that you'll be glad if you did.) Place the pie on a rimmed baking sheet lined with foil and bake for 30 minutes. Rotate the baking sheet 180° and continue to bake until the plum filling bubbles, the juices thicken into a jam, and the crumble topping is golden brown, 20 to 30 minutes more. Let cool for 2 hours before slicing and serving.
Plum Crumble Pie Recipe © 2016 Christine Moore. Photo © 2016 Staci Valentine. All rights reserved. All recipes and photos used with permission of the publisher.
If you make this recipe, snap a photo and hashtag it #LeitesCulinaria. We'd love to see your creations on Instagram, Facebook, and Twitter.