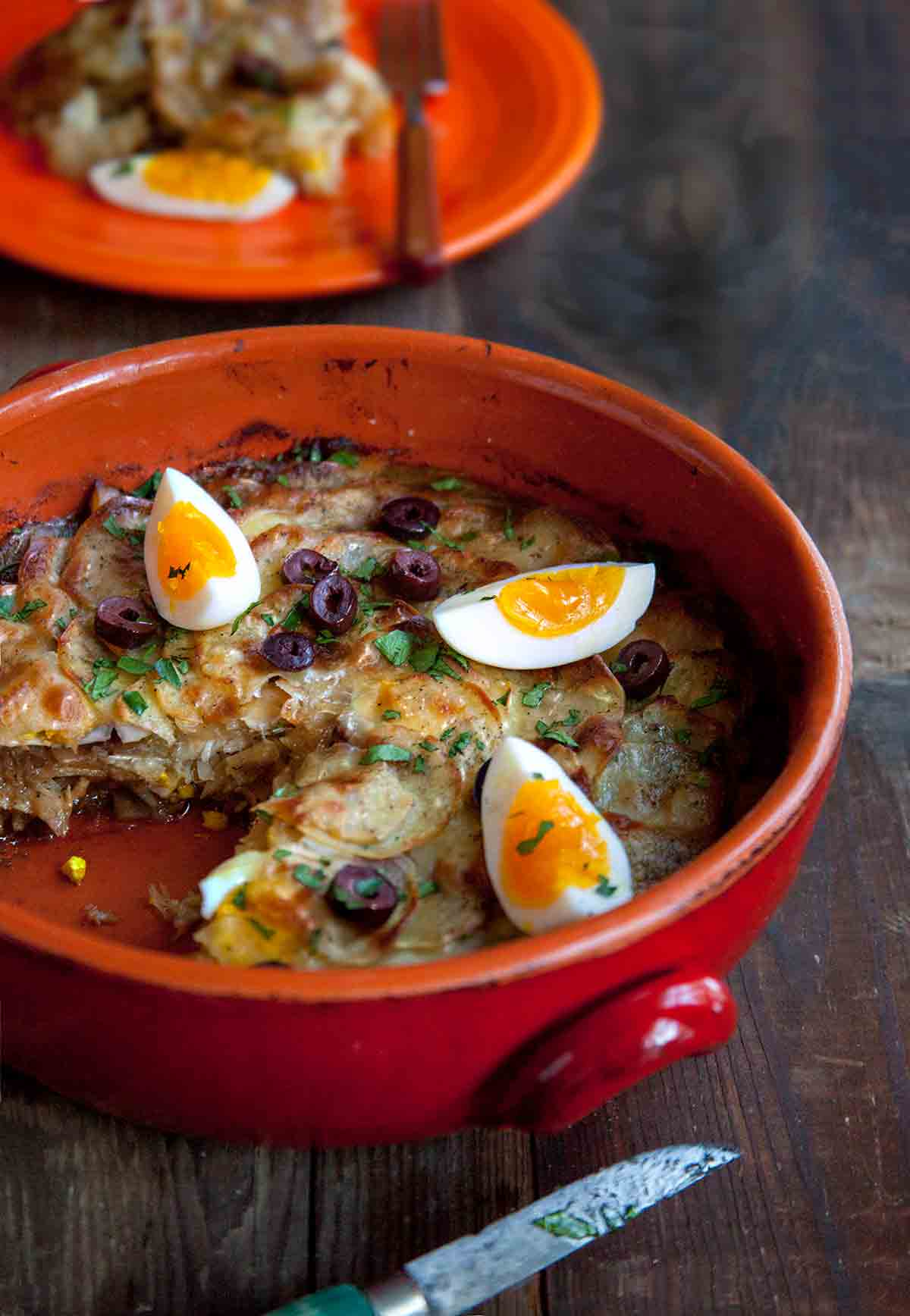 I grew up being served bacalhau à Gomes de Sá. Eating it was something entirely different. I refused to eat anything Portuguese when I was a kid. (Or at least I tried.) But over the years, I watched as my father consumed mountains of this dish, one of his absolute favorites. It wasn't until I was an adult that I understood the pleasures of this homey and classic casserole.
Traditionally, the potatoes in the dish are peeled, boiled, cooled, and sliced 1/4 inch thick. I found that I could save nearly an hour's worth of prep if I simply sliced the potatoes even more thinly and allowed them to cook in the oven.
Bacalhau à Gomes de Sá
This classic bacalhau a Gomes de Sa, or Portuguese salt cod-potato-onion casserole, is authentic in all ways but one: Instead of peeling, boiling, and cutting the potatoes, they're very thinly sliced, layered in the dish, and cooked in the oven.
Ingredients
2

large

Spanish onions

,

cut in half and then sliced into half moons

4

garlic cloves

,

minced

Salt and freshly ground pepper

1 3/4

pounds

Yukon Gold potatoes

,

sliced 1/16-to-1/8-inch (1 to 3 mm) thick

1 1/2

pounds

salt cod

, soaked and cooked

2/3

cup

pitted Kalamata olives in oil

,

sliced, plus more for garnish

6

large

hard boiled eggs

,

4 eggs cut crosswise into 5 or 6 slices each; the remaining 2 eggs cut lengthwise into quarters

2

tablespoons

chopped flat-leaf parsley
Instructions
Position a rack in the middle of the oven and crank the heat to 350°F (176°C).

Drizzle a good glug of the oil (maybe 3 to 4 tablespoons) in a large skillet and set over medium-high heat. When the oil shimmers, add the onion slices and bay leaves. Cook, covered, stirring occasionally, until the onions are golden and soft, 20 to 25 minutes. Add the garlic and cook 1 minute more. Slide off the heat and let cool slightly.

Meanwhile, liberally coat a 2-quart casserole dish with olive oil. Sprinkle the bottom with salt and pepper.

Line the bottom with some of the potato slices, overlapping them in concentric circles, creating a flower pattern.

Scatter some of the cooked onions and olives over the potatoes.

Place some of the chunks of cooked salt cod on top of the olives and potatoes.

Top with one sliced hard-boiled egg.

Cover with a layer of potatoes and top with a good glug of olive oil and a generous amount of salt and pepper.

Continue layering the onions and olives; salt cod; sliced egg; and potatoes, salt, and pepper–ending with potatoes. Occasionally press down on the casserole to make sure the layers are even and flat.

Cover the pan with foil and slide it into the oven. Cook until the potatoes are tender when pricked with a fork or skewer, 30 to 60 minutes, depending how many layers you have. Uncover the casserole and continue cooking until the top is lightly browned, about 10 minutes more.

Remove the pan from the oven and let the casserole cool slightly. Strew the remaining olives, the parsley, and top with the egg quarters. Proudly carry the pot to the table and wish everyone bom appetite!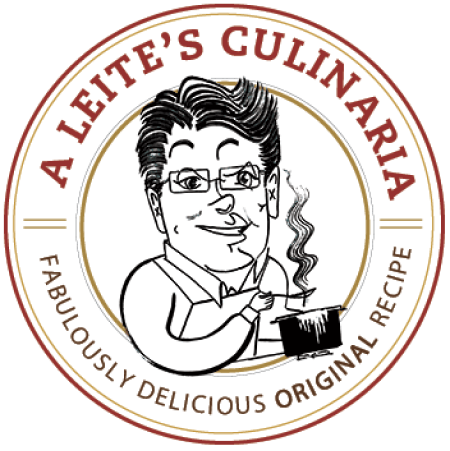 Nutrition
Serving:
1
portion
Calories:
830
kcal
Carbohydrates:
45
g
Protein:
122
g
Fat:
16
g
Saturated Fat:
4
g
Polyunsaturated Fat:
3
g
Monounsaturated Fat:
6
g
Cholesterol:
538
mg
Sodium:
12412
mg
Potassium:
3552
mg
Fiber:
7
g
Sugar:
6
g
Vitamin A:
894
IU
Vitamin C:
54
mg
Calcium:
371
mg
Iron:
7
mg
Nutrition information is automatically calculated, so should only be used as an approximation.
Recipe © 2018 David Leite. Photo © 2018 David Leite. All rights reserved.
---
Recipe Testers' Reviews
Bacalhau à Gomes de Sá recipe is quite familiar to me. At least twice a year it makes it to my table, and when I visit my family in the Azores yearly, there is always someone who cooks this for us. While it's served as a casserole, either individual size or family-style in a baking dish, I've never actually made or had a version that was not all cooked separately then assembled.
This recipe intrigued me for it's truly a one-dish preparation (except the onions and the eggs).
I also liked that the olives were pitted and sliced, as these are small olives and the pits can surprise you and not in a good way. I used Galega olives and wondered if my golden potato slices would be tinted but that was not a problem.
What I did find was that the Yukon gold potatoes retained a "bite" even after baking for 60 minutes and even though they were easy to spear with a fork, I would have enjoyed a creamier texture. I also missed parsley throughout the layers instead of just on top.
As for the egg layers, the top layer which was not baked was perfect. The layered egg slices, however, were slightly rubbery. The recipe just calls for hard-boiled eggs, but I forgot that these would be cooked again and fully cooked mine before baking in the casserole. Softer eggs however, would be more difficult to slice and then become mushy inside the layers.
For my next rendition of this recipe (yes, I will definitely make it again!), I would make 5-minute eggs, coarsely mash them, layer eggs and parsley, and use fully cooked egg slices at the end to finish the top. Even though the Yukon gold potatoes retained a bit too much bite, I wouldn't exchange these because I also liked how the thin slices retained their shape. Next time, I would add another 10 minutes to the baking time.
The potato to cod and onion ratios were perfect. The quantities were also perfect for my 2-quart cast-iron Dutch oven. I also suspect that because I had 6 layers of potatoes in this pan, that would explain my needing a longer cook time.
Nonetheless, I wouldn't sacrifice the presentation of this beautifully tall, layered cod casserole in my "cocotte" by making it in the usual shallow pan. Looking forward to serving this version with a few tweaks to my family on my next visit! I would "proudly carry the pot to the table," and the easily recognizable flavors combined with the unexpected thin potato wafers will be sure to wow them!
Served this casserole with a fresh garden salad dressed with a red wine vinaigrette and a goblet of Valpolicella Ripassa for good measure. Sorry, Douro, was fresh out of reds from your region…next time for sure!
Select a Tester
I love. Love. Love bacalhau. It is one of those food items that brings me both to my childhood and my adult life. I grew up in a place where having bacalhau meant both happiness and sorrow. We ate bacalhau to feed a big crowd at a party and we ate it while viewing the dead.
My husband is Portuguese, and from the moment I set foot in his country I fell in love with the food, more so with the 1001 ways to make bacalhau. I have made this recipe many times before, but this version, as a casserole, I have never seen ​or tried. I had to make it. It was a fun and long process​ and ​I enjoyed every minute of it.
I started by reconstituting the salt cod fish. I do mine for 36 hours as I like it a bit salty​ ​and not completely bland. This is something I ha​ve​ been doing over the years and I learned that is the right ​amount of ​time, at least for me.
Once ​the salted cod is ready it takes about 50 minutes to cook, cool​, ​and clean. During this time, I also cooked the eggs and placed them in an ice bath to peel later. I started with cold water and brought to a boil. Once the water comes to a boil I shut off the stove, covered the pan, and let the eggs sit for exactly 10 minutes. They come out perfect, every time.
I have an authentic Portuguese casserole and I was so happy to use it. As it says in the recipe, I took the casserole proudly to the table after letting it rest for a few minutes.
I added the parsley at the end as instructed but I added the eggs and the olives to each of the plates. I also added another drizzle of olive oil.
At the first bite, I was transported. Salt, creamy potatoes, eggs, it was incredible. The potatoes were tender and everything in this plate made sense. The casserole was not dry, the seasoning was spot on. I paired the casserole with a nice, not too sweet​,​ rosé I had on hand.
My husband and I enjoyed this dish very much. We are having leftovers tonight and I cannot wait ​for this beautiful flower pattern of potatoes and goodness.
I was pretty dubious about this bacalhau a Gomes de Sa recipe, which is why I tried it. We get salt fish easily here in the Caribbean because it's a Jamaican staple and we have a significant Jamaican population, but to date, I had never actually used salt fish in any home cooking. So it really appealed to me to try it out, and I am SO GLAD I did (as is my partner)!
This is a super satisfying, perfectly balanced, one-dish meal that's easy to make and will also make excellent leftovers. It takes a while to prep the salt fish, but it's very little active prep time and is totally worth it.
I would happily prep and bring this dish to a dinner party; it looks simple, even humble, but with the first bite the flavor completely sweeps you off your feet.
I ended up with 4 layers of potatoes (which I had sliced to 1/8 inch thick using my mandoline), and I might try slightly thinner next time, but it layered perfectly into my dish. I had just enough!
Again, I was dubious, and given how long it took from start to finish, I would have been sad if it hadn't turned out so well…but I have yet to be led astray by LC, and this is a win in my book.